Inside Trump's Proposed $4.7 Trillion Budget Request
WASHINGTON (AP) — President Donald Trump's $4.7 trillion budget request proposes steep cuts to domestic spending, a funding boost for the Pentagon and $8.6 billion for his signature border wall with Mexico. Leading Democrats immediately rejected the plan, signaling another bruising fight just weeks after a standoff that led to a 35-day partial government shutdown, the longest in U.S. history.
A look at the highlights from the White House proposal.
BORDER WALL FIGHT RENEWED
Trump's proposal for the fiscal year that begins Oct. 1 includes $8.6 billion to build the U.S-Mexico border wall. The proposal shows Trump is eager to renew his confrontation with Congress over the wall, a centerpiece of his agenda that congressional Democrats have staunchly resisted.
The budget request for more than 300 miles of new border wall would more than double the $8.1 billion potentially available to the president for the wall after Trump declared a national emergency at the border last month. The politically contentious declaration would circumvent Congress, although there's no guarantee Trump will be able to use the money in the face of a legal challenge from California and other states. Lawmakers from both parties oppose the emergency declaration, but Congress appears to lack a veto-proof margin to block Trump.
House Speaker Nancy Pelosi and Senate Democratic leader Chuck Schumer said Trump "was forced to admit defeat" after Congress refused to fund the wall in the current budget, and they predicted a similar outcome if he continues to press for money for the wall. Money targeted for the wall "would be better spent on rebuilding America," they said.
BIG BOOST FOR DEFENSE, CUTS IN DOMESTIC SPENDING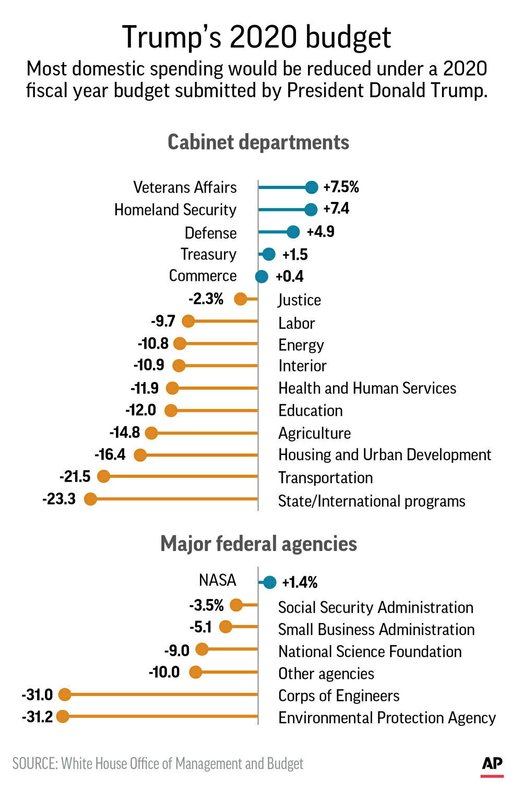 Trump's budget proposes increasing defense spending to $750 billion — and building the new Space Force as a military branch — while reducing nondefense accounts by 5 percent. The $2.7 trillion in proposed domestic spending cuts over the next decade is higher than any administration in history. Proposed cuts include economic safety-net programs used by millions of Americans.
To stay within prescribed budget caps, the proposal shifts about $165 billion in defense spending to an overseas contingency fund, an action critics view as an accounting gimmick.
RED INK FLOWS
Under Trump's proposal, the budget deficit is projected to hit $1.1 trillion next year — the highest in a decade. The administration is counting on robust economic growth, including from the 2017 Republican tax cuts, to push down the red ink. Some economists say the economic bump from the tax cuts is waning, and they project slower growth in coming years. The national debt is $22 trillion.
Even with his own projections, Trump's budget would not come into balance for a decade and a half, rather than the traditional hope of balancing in 10 years.
Maya MacGuineas, president of the Committee for a Responsible Federal Budget, warned that the debt load will lead to slower income growth and stalled opportunities for Americans.
ENVIRONMENTAL SPENDING SLASHED
Trump again is asking Congress to slash funding for the Environmental Protection Agency by about a third, a request that Congress has previously rejected. The budget request seeks $6.1 billion for the EPA, down 31 percent from current spending. The White House says it aims to ensure clean air and water and chemical safety, while "reducing regulatory burden and eliminating lower-priority activities."
But Ken Cook of the Environmental Working Group says it would work to appease Trump's political base and boost the fossil fuel and chemical industries.
REPEALING OBAMACARE — AGAIN
The budget request would re-open two health care battles Trump already lost in his first year in office: repealing "Obamacare" and limiting future federal spending on Medicaid for low-income people. Under the budget, major sections of both the Affordable Care Act and Medicaid would be turned over to the states starting in 2021.
With Democrats in charge of the House, Trump's grand plan has no chance of being enacted. And few Republican lawmakers want to be dragged into another health care fight.
EDUCATION CUT, SCHOOL CHOICE EXPANDED
The budget request would cut Education Department funding by 10 percent while expanding money for school choice, school safety and apprenticeship programs. The $64 billion proposal would eliminate 29 programs, including a $2 billion program meant to help schools improve instruction and a $1.2 billion program to create community centers.
Meanwhile, it would add $60 million for charter schools and $200 million for school safety initiatives.
Education Secretary Betsy DeVos says the plan would end programs better handled at the state or local level. She also proposed up to $5 billion in federal tax credits to support school choice scholarships.
MORE CHOICE FOR VETERANS
The White House is seeking just over $93 billion for the Department of Veterans Affairs, an increase of $6.5 billion from current spending.
The request would support implementation of a law Trump signed last year to give veterans more freedom to see doctors outside the troubled VA system, a major shift aimed at reducing wait times and improving care by steering more patients to the private sector. The plan again targets reducing veteran suicides as a top priority and sets aside $4.3 billion to improve the department's computer system and website.
US Supreme Court Upholds Abortion Clinic Protest Zone Limits In Chicago, Harrisburg, Pennsylvania
WASHINGTON (Reuters) – The U.S. Supreme Court on Thursday left in place policies in Chicago and Pennsylvania's capital Harrisburg that place limits on anti-abortion activists gathered outside abortion clinics.
The justices declined to hear two appeals by anti-abortion groups and individual activists of lower court rulings upholding the cities' ordinances.
The Chicago policy bars activists from coming within eight feet (2.4 meters) of someone within 50 feet (15 meters) of any healthcare facility without their consent if they intend to protest, offer counseling or hand out leaflets. The Harrisburg measure bars people from congregating or demonstrating within 20 feet (6 meters) of a healthcare facility's entrance or exit.
Both cases pitted the free speech rights of anti-abortion protesters against public safety concerns raised by women's healthcare providers regarding demonstrations outside clinics. There is a history of violent acts committed against abortion providers.
At issue before the Supreme Court was whether the ordinances violate free speech rights protected by the U.S. Constitution's First Amendment.
The Chicago-based 7th U.S. Circuit Court of Appeals last year upheld the Chicago ordinance, which was introduced in 2009. The Philadelphia-based 3rd U.S. Circuit Court of Appeals ruled in favor of Harrisburg in 2019. That measure was enacted in response to disruptions by protesters outside two abortion clinics in the city.
The cases did not directly implicate abortion rights. In a major ruling on Monday, the struck down a Louisiana law placing restrictions on doctors that perform abortions.
Also on Thursday, the court directed a lower court to reconsider the legality of two Indiana abortion restrictions – one that would require women to undergo an ultrasound procedure at least 18 hours before terminating a pregnancy and another that would expand parental notification when a minor seeks an abortion. The lower court had struck down both measures.
Abortion remains a divisive issue in the United States. The Supreme Court in its landmark 1973 Roe v. Wade ruling legalized abortion nationwide, finding that women have a constitutional right to the procedure. In recent years, numerous Republican-governed states have sought to impose a series of restrictions on abortion.
Federal Judge Reverses Trump Asylum Policy Due To Government Failing To Abide By Administrative Procedure Act
(Law & Crime) — A federal judge appointed by President Donald Trump on Tuesday evening overturned the Trump Administration's second and most restrictive asylum policy, all because the government failed to abide by the Administrative Procedure Act (APA), the judge reasoned.
In a 52-page opinion, U.S. District Judge Timothy Kelly of Washington, D.C. held that in enacting the rule, which required immigrants to seek asylum in any country they passed through before they could claim asylum in the U.S., the Trump administration "unlawfully dispensed" with mandatory procedural requirements allowing the public to weigh in on proposed rule changes.
Kelly, who was appointed to the court in 2017, rejected the Trump administration's assertion that the asylum rule fell within exceptions to the APA permitting the government to disregard the notice-and-comment requirement if there's "good cause" such commentary is unnecessary or if the rule involves a military or foreign affairs function.
"[The court] also holds that Defendants unlawfully promulgated the rule without complying with the APA's notice-and-comment requirements, because neither the 'good cause' nor the 'foreign affairs function' exceptions are satisfied on the record here," Kelly wrote. "Despite their potentially broad sweep, the D.C. Circuit has instructed that these exceptions must be 'narrowly construed' and 'reluctantly countenanced.' The Circuit has also emphasized that the broader a rule's reach, 'the greater the necessity for public comment.' With these baseline principles in mind, the Court considers whether either the good cause or foreign affairs function exception applies here. Neither does."
According to Kelly, the Immigration and Nationality Act (INA) generally allows any person physically in the U.S. seeking refuge to apply for asylum — with some exceptions for immigrants who have committed certain crimes or who had previously been "firmly resettled" prior to arriving in the U.S.
"The Court reiterates that there are many circumstances in which courts appropriately defer to the national security judgments of the Executive. But determining the scope of an APA exception is not one of them," Kelly wrote. "As noted above, if engaging in notice-and-comment rulemaking before implementing the rule would have harmed ongoing international negotiations, Defendants could have argued that these effects gave them good cause to forgo these procedures. And they could have provided an adequate factual record to support those predictive judgments to which the Court could defer. But they did not do so."
Claudia Cubas, the Litigation Director at CAIR Coalition, one of the plaintiffs in the lawsuit, praised the decision as removing an "unjust barrier to protection" for those in need.
"By striking down this rule, Judge Kelly reaffirmed two fundamental principles. The protection of asylum seekers fleeing for safety is intertwined with our national values and that the United States is a country where the rule of law cannot be tossed aside for political whims," Cubas said.
Read the full opinion below:
Asylum Ban Decision by Law&Crime on Scribd
US Supreme Court Rules Public Funds Allowed For Religious Schools In State Tax Credit Program
Read the US Supreme Court ruling here or below.