Trump Announces National Emergency On Border While Signing Bill Averting Shutdown
What You Need To Know
10 a.m. ET: President Trump appeared in the White House Rose Garden to sign the compromise funding bill to avert a government shutdown — and announce a slate of executive actions to fund the wall, a White House official said.
What's in Trump's plan? It's expected to include a declaration of national emergency, which he would use to reallocate money for a total of $8 billion in government money to fund the wall.
President Trump declared a national emergency today, in order to reallocate money for a total of $8 billion in government money to fund the wall.
Watch the NBC News Special Report that aired earlier today.
But it won't be the only active national emergency: In fact, there are 31 others currently in effect — and the oldest dates back to 1979.
Another 26 national emergencies have been declared and ended in that time period.
Here's a look at them: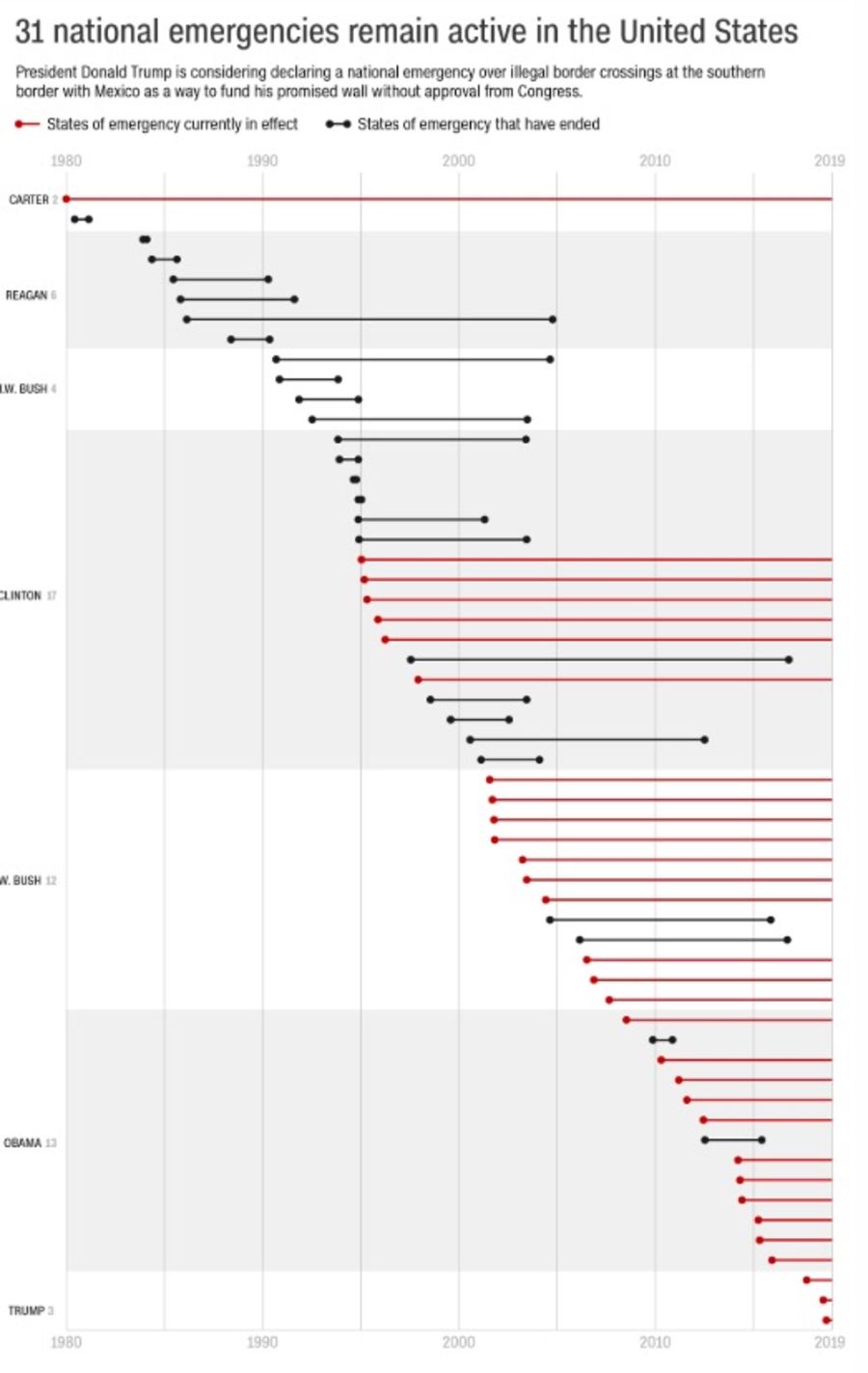 Read the full national emergency declaration here.
Live coverage of Trump's remarks and the imminent backlash starts below.
January 11, 2019 7:12 pm
LIVE
Latest update 1 year ago
Fact check: Trump said he has "built a lot of wall," but none of it was new mileage
During his immigration speech in the Rose Garden earlier today, President Trump said, "I have a lot of money, and I built a lot of wall" -- a misleading claim.
As of Friday, no new miles of wall have been constructed during Trump's tenure. The walls that have been built during Trump's time in office have been replacement projects for already existing structures.
A number of contracts have been awarded for these projects: Among them, nearly $300 million to build 40 miles of replacement structures in multiple locations. As of December, 35 of those 40 miles had been completed, according to Andrew Meehan of Customs and Border Protection.
However, there are preparations for new wall construction underway. CBP has awarded contracts for around 14 miles of new wall. Construction in the Rio Grande Valley of Texas is expected to begin this month. Site preparations have already begun, according to a senior CBP official. 
Fact check: Trump said there was gunfight on the border close to where he visited. CNN has found no reports of such a clash.
In his immigration speech in the Rose Garden, President Trump claimed that "two weeks ago, 26 were killed in a gunfight on the border a mile away from where I went." 
During the funding stalemate that shut down the government, the President visited McAllen, Texas in January. 
Here's what we know: A day before his visit, Mexican authorities found a grisly scene that they described as a gang clash: At least 20 bodies, many of them burned, and military-style bullets, according to Irving Barrios Mojica, the attorney general of Tamaulipas.
But the bodies were found near the Mexican town of Miguel Aleman, located nearly 130 miles northwest from McAllen, according to Google Maps. 
CNN has found no reports of 26 people killed in a gunfight within a mile of the area Trump visited.
Trump: "I'm going to be signing a national emergency"
Speaking from the Rose Garden, President Trump confirmed he will declare a national emergency in order to secure funding to build a wall at the southern border.
NEW: "The U.S. Chamber urges the president not to attempt to declare a national emergency," U.S. Chamber president says.

"Angel moms" on hand for @realDonaldTrump emergency declaration to build #BorderWall showing photos of lost loved ones.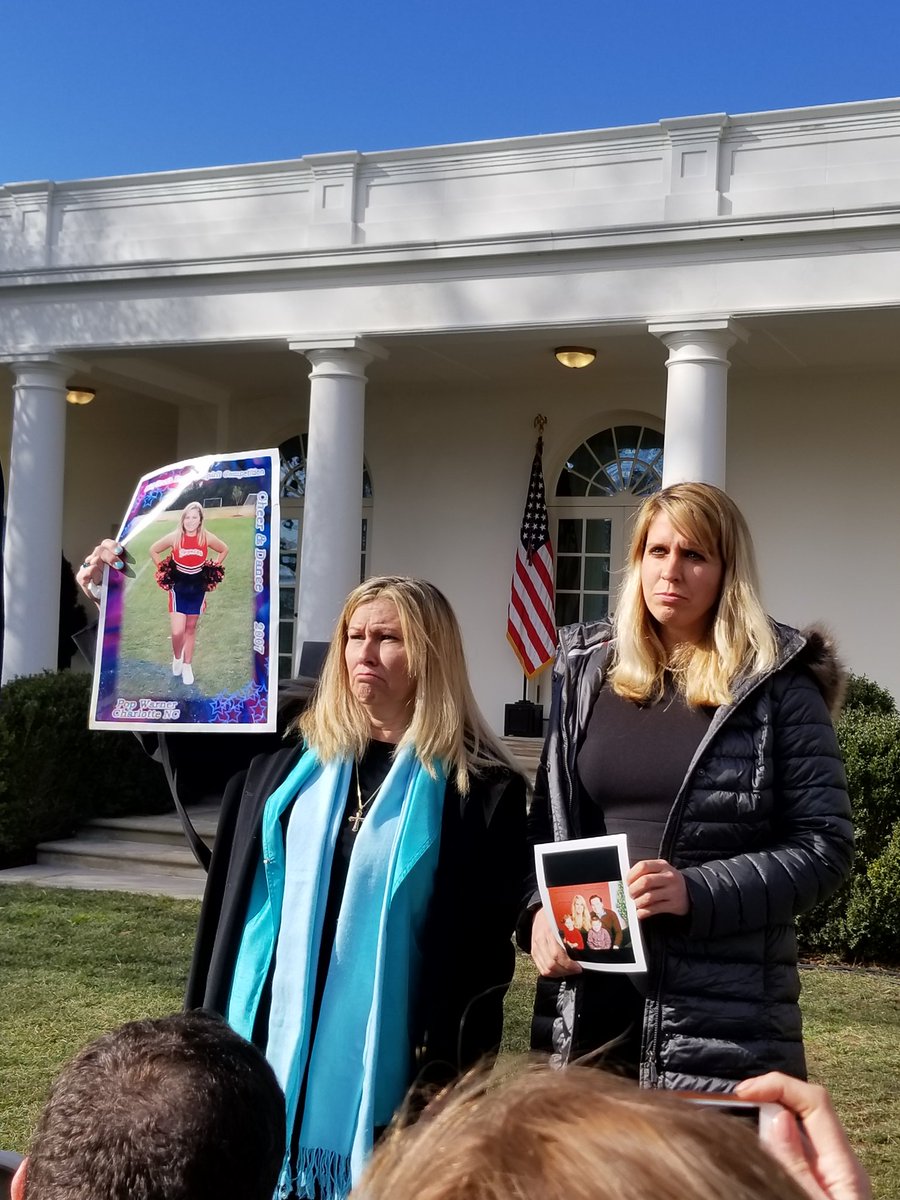 Network correspondents doing their standups here in the Rose Garden as we wait for Trump
Here's where the government money for Trump's wall will come from
President Trump is expected to soon sign a compromise deal that will fund the government and avert another shutdown. But the deal will only provide $1.375 billion for border barriers — far short of what the President has asked for to build his long-promised border wall.
So Trump is expected to turn to executive action to secure another $8 billion in government money to fund the wall.
A White House official said Trump will both sign the funding bill and the paperwork for his executive actions, including the national emergency, at an event in the Rose Garden at 10 a.m. today.
That White House official said the funding will break down as:
$1.375 billion 

from the Homeland Security appropriations bill. This money cannot be used to build a wall but can be used to build other types of border barriers due to the way the bill is written

$600 million 

from the Treasury Department's drug forfeiture fund, which would come from an executive action

$2.5 billion

 from the Defense Department's drug interdiction program, which would come from an executive action

$3.5 billion

 from the Defense Department's military construction budget, which would require a national emergency
Democratic leaders are discussing options on how to stop Trump's national emergency
House Democratic leaders plan to make it a top priority to try to approve a resolution to block Trump's emergency declaration, but they are still trying to sort out exactly how that plays out, per multiple sources involved in the discussions.
The Democrats are studying their various legislative options, and multiple committees will likely be involved, however the House Judiciary Committee might take the lead.
But they have time: The House is in recess next week, so they have some time to discuss their options before they return to session.
Trump's wall will be the US's 32nd active national emergency
Why declaring a national emergency is such a big deal
President Donald Trump has signaled to lawmakers that, though he will sign the compromise border security legislation, he also plans to declare a national emergency to secure funding for a border wall.
This would allow him to us money already allocated by Congress for other purposes.
Here's why that matters: If Trump moves forward with the national emergency, it may be a major constitutional breach. Article 1, Section 9, Clause 7of the Constitution says that while the executive branch can ask for whatever it wants, it's up to Congress to decide where the money actually goes.
We already know that a national emergency will be legally challenged. House Democrats are expected to sue, and landowners along the border whose property is at risk of being seized to mount physical barriers could also file suit.
House Speaker Nancy Pelosi and Senate Minority Leader Chuck Schumer said in a joint statement that declaring a national emergency would be a "lawless act, a gross abuse of the power of the presidency."
Legality aside, this decision also sets a potential precedent for future presidents to push their own agenda items -- imagine a Democratic president declaring a national emergency to fight climate change, or restrict gun ownership.
House Republicans have now been handed a political grenade. They are forced into either supporting a national emergency -- and its dangerous precedent -- or rebuking a Republican president still popular with the base on his signature issue.
Load More
House Passes $2 Trillion Coronavirus Stimulus Bill
(CNN) — The House of Representatives on Friday approved a historic $2 trillion coronavirus response stimulus package, clearing the way for President Trump's signature.
The far-reaching legislation stands as the largest emergency aid package in US history. It injects a massive financial boost into a struggling economy with provisions aimed at helping American workers, small businesses and industries grappling with the economic disruption.
Key elements of the package include sending checks directly to individuals and families, an expansion of unemployment benefits, money for hard-hit hospitals and health care providers, financial assistance for small businesses and $500 billion in loans for distressed companies.
"No bill is perfect, but we want to make sure that it at least comes near part of the way to being sufficient," House Speaker Nancy Pelosi said on the House floor. She said she is already working towards a fourth coronavirus response measure: "We know that this cannot be our final bill."
A bipartisan swath of lawmakers passed the stimulus package by voice vote, a process commonly used in the House for uncontroversial measures, after Kentucky Republican Thomas Massie attempted to force a full roll call vote — a scenario that had members scrambling to get back to the Capitol from around the country on Friday.
Congressional leaders blocked Massie's effort, saying an insufficient number of members supported his request. A quorum of the House — 216 members — was needed to block Massie's attempt. Members who made it to DC for the debate attempted to maintain social distancing, with some staying on the House floor while others sat in the upstairs gallery above the chamber, where the public usually sits.
Essentially, hundreds of lawmakers traveled to the Capitol in the 24 hours leading up to the vote, not to hold a full vote, but in order to prevent a full vote from happening. If a roll call vote had been taken, it would have been very slow: members would have voted in alphabetical groups in order to limit their social interactions.
Massie wrote on Twitter ahead of the showdown that House Speaker Nancy Pelosi and Minority Leader Kevin McCarthy worked together "to block a recorded vote just to insulate members of Congress from ACCOUNTABILITY."
"Biggest spending bill in the history of mankind, and no recorded vote? #SWAMP," he said.
Trump Signs First Veto Of Presidency, Reversing National Emergency Rescission Passed Through Congress
WASHINGTON — President Trump on Friday issued the first veto of his presidency, rejecting legislation that opposed his declaration of a national emergency to fund a wall along the southern border. The bill blocking Mr. Trump's emergency declaration had attracted significant Republican support in Congress.
"Today I am vetoing this resolution," Mr. Trump told reporters in the Oval Office. "Congress has the freedom to pass this resolution and I have the duty to veto it." The president called the resolution "dangerous" and "reckless."
The president was flanked by Vice President Mike Pence, Attorney General William P. Barr and Kirstjen Nielsen, the Homeland Security secretary. Mr. Barr said that the president's emergency order was "clearly authorized under the law" and "solidly grounded in law."
The president's veto, which was expected, will send the legislation back to Congress, which most likely does not have enough votes for an override, meaning that Mr. Trump's declaration will remain in effect.
The national emergency declaration is back in effect.
Congress Overturns Trump National Emergency Declaration
Washington (CNN) The Senate delivered a high-profile rebuke to President Donald Trump over his signature agenda issue Thursday when 12 Republicans joined Democrats to overturn the President's national emergency border declaration.
The vote was 59-41, an overwhelming vote against the President's executive action.
Lawmakers don't have enough votes, however, to override a certain veto from the President, but passage of the resolution in the Senate after it passed the House last month is nevertheless an embarrassing blow to Trump delivered by his own party over the President's top campaign pledge of a wall at the US-Mexico border.
The setback for the President also comes on the heels of another high-profile break with his administration after the Senate voted just one day earlier to curtail US military support for a Saudi-led war in Yemen, which has created a humanitarian crisis in that country.
Senate Republicans have struggled for weeks over how to vote on the resolution to overturn the national emergency.
The vote forced many to choose between loyalty to a President unafraid to attack members of his party who defy him and an emergency declaration that conservative critics describe as executive overreach and warn could set a precedent used by Democratic presidents to declare emergencies over liberal priorities such as action on climate change.
"Declaring a national emergency to access different funds sets a dangerous new precedent," GOP Sen. Rob Portman of Ohio warned in remarks on the Senate floor ahead of the vote. "It opens the door for future presidents to implement just about any policy they want."
The senator went on to say, "a future President could seize industries … a future President may well say that climate change is a national emergency and use emergency authorities to implement the Green New Deal," referencing a sweeping progressive policy proposal to tackle global warming.
Portman announced during his remarks that he would support the resolution, but made a point to say — as have many other Republicans — that he believes "President Trump is right about the crisis at the border."
Republicans had to take a tough vote on the border declaration after House Democrats pushed for a resolution to terminate the national emergency that the President announced last month in an effort to unlock money for wall construction at the southern border.
The President declared an emergency when it became clear that Congress would not meet his demand for more than $5 billion in border wall funding. The resolution is privileged, which means that Senate Majority Leader Mitch McConnell could not block it from coming to the floor for a vote.
Enough Republican senators had already stated their support for the resolution ahead of Thursday's vote to guarantee it would pass. But the President continued to publicly pressure Republicans to vote against the resolution in the hours leading up to the vote, framing the vote as a choice between supporting border security or siding with liberal Democrats on immigration.
A number of GOP senators announced ahead of the vote on Thursday that they would vote in favor of the resolution, including Mitt Romney, Lamar Alexander and Pat Toomey.
Prior to the day of the vote, GOP Senators Rand Paul, Lisa Murkowski, Susan Collins and Thom Tillis had said they planned to vote for the resolution.
In an apparent last-minute reversal, however, Tillis announced just ahead of the vote on Thursday that he would vote against the resolution, despite previously saying he would vote in favor in a Washington Post op-ed.
"Today, I come to the floor to say that I do not intend to vote for the resolution of disapproval," the senator said, adding "The White House has been very gracious and I should say very patient given my initial position in working with us."
This story has been updated with additional developments Thursday.