Mississippi Lieutenant Governor Was Member of College Fraternity Under Fire For Racism
Mississippi Lt. Gov. Tate Reeves (R) was a member of a college fraternity that was known for pro-Confederate displays and run-ins with black students.
Reeves, who is running for governor this fall, was in Kappa Alpha Order at Millsaps College in Jackson, Mississippi. A 1993 yearbook lists him as a freshman that year, and he was featured as a Kappa Alpha member starting in the 1994 yearbook. The fraternity, which is still active at Millsaps, looks to Confederate Gen. Robert E. Lee as its spiritual leader.
On Oct. 8, 1994, members of Kappa Alpha and another fraternity "donned Afro wigs and tied large Confederate flags around their necks," according to an article in The Clarion-Ledger at the time. Some of them were also reportedly in blackface. The fraternity brothers "got into a shouting match" over the incident with some black students. The state fraternity leader defended the chapter, saying it was "getting a bad rap" and blamed a few rogue individuals.
Members of the Black Students Association asked for the fraternity to be suspended.
One of the students leveling the charges against Kappa Alpha was Kiese Laymon, the opinions editor of the student paper. Even before the incident, in August, Laymon wrote a piece about Kappa Alpha's reputation, lumping the fraternity in with the KKK and neo-Nazis in their love of the Confederate flag.
"At Millsaps, I know we've overcome racism," Laymon wrote sarcastically in a column, "and if the word 'n****r' is ever muttered, it could only be echoed from the walls of the Kappa Alpha house." 
In response, a month later, the paper published an anonymous letter from a Kappa Alpha member who acknowledged Laymon was right about the attitudes of his fraternity ― but said that, privately, not all of them were racist and sexist and did want things to change.
In 1995, the Kappa Alpha yearbook page showed a group of students standing with a Confederate flag in military attire. It's not clear if Reeves is in the photo, although he was also pictured as a member of the fraternity that year.
The images were first uncovered and published by the Democratic super PAC American Bridge on its website, the American Ledger.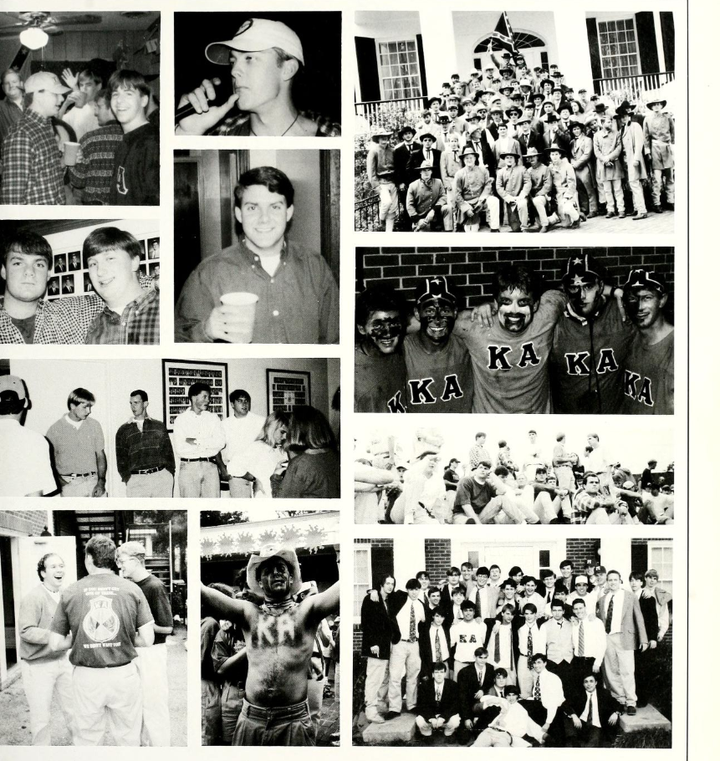 In the 1993 yearbook, before Reeves pledged, the fraternity's page showed students in a form of blackface, mocking Pacific Islanders ― with darkened faces, wearing grass skirts and leis ― and wearing Confederate flag paint.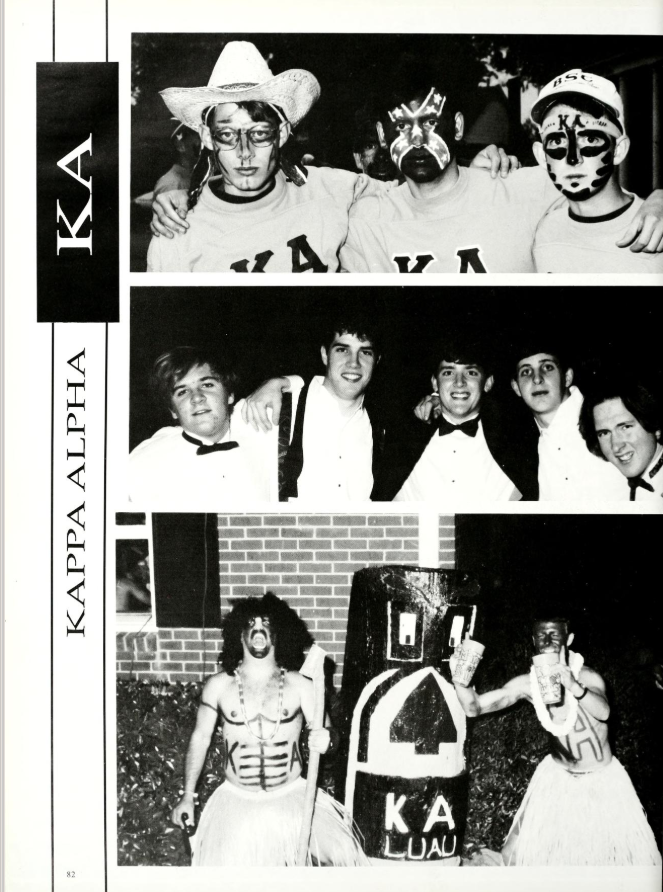 College yearbooks are coming back to haunt politicians.
Three of Virginia's top state officials are currently embroiled in scandals about their use or acceptance of blackface. It started with the governor's yearbook page, featuring a photo of two men, one in blackface and one in a KKK outfit. (Democrat Ralph Northam insists he isn't one of the men pictured.) Since then, the Democratic attorney general has admitted to once wearing blackface at a college party, and the GOP leader of the state Senate edited a college yearbook containing racist pictures and slurs.
Even if they're not pictured in blackface, they seemed to gladly accept a privileged white culture that found entertainment in the racist pastime.
In 2013, Reeves spoke at an event for Sons of Confederate Veterans, a neo-Confederate organization that claims the Civil War was not about slavery. From his Facebook page: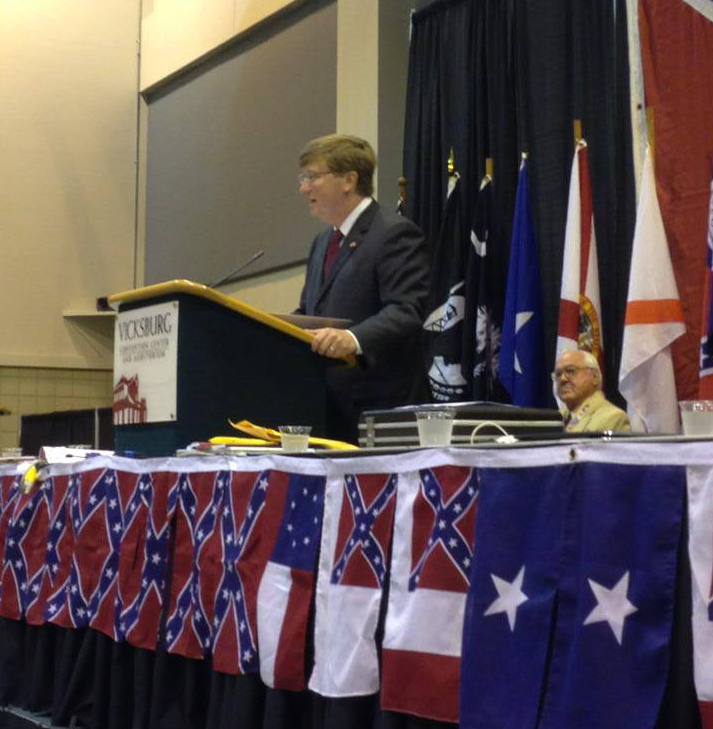 Reeves' office did not return requests for comment about whether the lieutenant governor ever appeared in blackface or Confederate attire, and to give his thoughts on his fraternity's behavior.
The Mississippi gubernatorial primary is on Aug. 6.
NHS VOLUNTEERS TO START BEGIN WORK TUESDAY
Hundreds of thousands of NHS Volunteer Responders will tomorrow be able to 'report for duty' to relieve pressure on the NHS.
Thousands of volunteers will be sent tasks Tuesday via an app, the tasks are posted by health professionals, pharmacists and local authorities.
Catherine Johnstone CBE, Chief Executive at Royal Voluntary Service said:
"During the coming weeks and months they will be called upon to help those who are vulnerable and at risk who are self-isolating for their own protection. Not only will this help to relieve pressure on the NHS – but it will also save lives."
Volunteers will be carrying out tasks to aid 2.5 million at risk people by;
· delivering medicines from pharmacies
· driving patients to appointments
· bringing them home from hospital
· making regular phone calls to check on people isolating at home
· transporting medical supplies and equipment for the NHS
The Duchess of Cornwall, President of the Royal Voluntary Service thanked the 750,000 people who signed up to volunteer;
"As the proud President of the Royal Voluntary Service, I wanted to send my warmest thanks to all the NHS Volunteer Responders who have come forward in unprecedented numbers to offer help to the NHS.."
She also thanked NHS workers;
"Everyone working in the NHS is under unimaginable pressure day and night in this crisis. I feel sure that the presence of so many wonderful volunteers will encourage, as well as support, them. I salute each one of you – and thank you with all my heart."
The Duchess of Cornwall also did a 'check in and chat' call with Doris Winfiele, 85 from Hertfordshire. Doris who lives alone and has been self-isolating for the last two weeks said:
"Having a chat with HRH The Duchess of Cornwall meant the world to me. I've been incredibly lonely over the last couple of weeks and it was wonderful to talk to her. We talked about life in isolation and shared hobbies, she was very interested in my family and how I was coping without them. It's really cheered me up!"
‪Prime Minister Boris Johnson in intensive care
Prime Minister Boris Johnson has been admitted to hospital for tests, Downing Street has said.
Prime Minister Johnson has had coronavirus for ten days and continued to have persistent symptoms, including a high temperature.
A Downing Street spokesperson said:
"On the advice of his doctor, the Prime Minister has tonight been admitted to hospital for tests.
"This is a precautionary step, as the Prime Minister continues to have persistent symptoms of coronavirus ten days after testing positive for the virus.
"The Prime Minister thanks NHS staff for all of their incredible hard work and urges the public to continue to follow the Government's advice to stay at home, protect the NHS and save lives."
Buckingham Palace says the Queen is being 'kept informed' by No10 on the Prime Minister's condition.
Reaction
Health Secretary Matt Hancock
https://twitter.com/MattHancock/status/1247259244182806528?s=20Chancellor Rishi Sunak
Labour Leader Keir Starmer
First Minister of Scotland Nicola Sturgeon
Mayor Of London Sadiq Khan
Ivanka Trump, Daughter Of President Trump
My thoughts and prayers are with @BorisJohnson and his family.

Godspeed Mr. Prime Minister!

— Ivanka Trump (@IvankaTrump) April 6, 2020
Former Prime Minister Theresea May
My thoughts and prayers are with @BorisJohnson and his family as he continues to receive treatment in hospital.

This horrific virus does not discriminate. Anyone can get it. Anyone can spread it. Please #StayHomeSaveLives

— Theresa May (@theresa_may) April 6, 2020
Former Prime Minister David Cameron
President of France Emmanuel Macron
Leader Of The Brexit Party Nigel Farage
Midwife Who Died After Contracting Coronavirus Named As Lynsay Coventry
Princess Alexandra Hospital in Harlow has confirmed the death of Midwife Lynsay Coventry, aged 54, who had tested positive for coronavirus.
Midwife Lynsay Coventry died on Thursday at Mid Essex Hospital Services NHS Trust.
Lynsay Coventry's family have released a statement:
"As a family, our hearts are broken at the loss of our loving, wonderful and caring mum, sister, daughter and grandmother.
"We each know how much she loved and cherished us. Her love for us all was unfailing and her strength in the way she cared and supported us will fill our memories.
"What we also know is how proud she was to be an NHS midwife. Lynsay followed her dream and trained as a midwife later in life. It was a role she committed herself to and saw the midwifery team at the Princess Alexandra Hospital as her other family. She was a very well-respected midwife who supported many hundreds of women as they welcomed their babies into the world.
"We ask that our privacy is respected as we grieve together. We will not be releasing any other statements. Thank you."
Chief midwifery officer for England, Jacqueline Dunkley-Bent said:
"I was deeply moved and saddened to hear about the death of Lynsay Coventry.
"Lynsay was clearly a highly regarded midwife whose dedication to women, babies and their families will be remembered and cherished by her own family and her colleagues – my deepest thoughts are with them, her children, grandchildren, parents and siblings.
"The outpouring of support for NHS staff as we respond to this outbreak has been extraordinary, but the best way for people to do their bit for midwives, nurses, doctors and other NHS staff is to help protect us by following the government's advice to stay at home and save lives."