'Empire' Actor Jussie Smollett Hospitalized In Alleged Racist/Homophobic Hate Crime
UPDATE: Actor Jussie Smollett has broken his silence on the attack that he endured, exclusively to Essence.
"Let me start by saying that I'm OK," Smollett said in an exclusive statement to Essence on Friday. "My body is strong but my soul is stronger. More importantly I want to say thank you. The outpouring of love and support from my village has meant more than I will ever be able to truly put into words," he added.
There have been false and inaccurate reports, mostly from right wing media, which Smollett challenges in his remarks.
"I am working with authorities and have been 100 percent factual and consistent on every level. Despite my frustrations and deep concern with certain inaccuracies and misrepresentations that have been spread, I still believe that justice will be served," he says.

"As my family stated, these types of cowardly attacks are happening to my sisters, brothers and non-gender conforming siblings daily. I am not and should not be looked upon as an isolated incident. We will talk soon and I will address all details of this horrific incident, but I need a moment to process. Most importantly, during times of trauma, grief and pain, there is still a responsibility to lead with love. It's all I know. And that can't be kicked out of me. With Love, respect & honor … Jussie."
---
UPDATE: The letter sent to the studio where Empire is filmed prior to the attack contained a white powder, CNN reports. Chicago PD spokesman Anthony Guglielmi said that the powder-filled letter, received at Cinespace Studios Jan. 22, prompted a response from a HAZMAT unit, though its contents were later determined to be aspirin.
---
UPDATE: Jussie Smollett's family has responded to the Chicago Police Department in a statement, per Buzzfeed News. Smollett is resting at home in recovery from his injuries.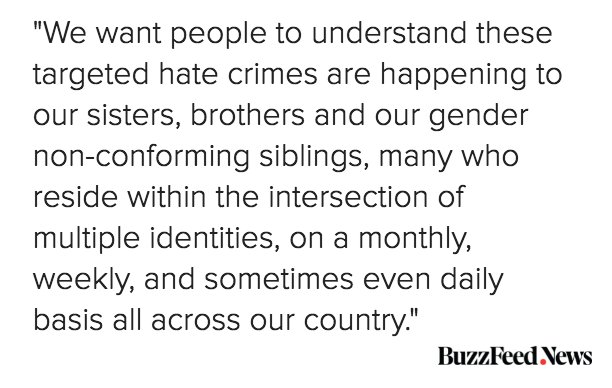 ---
UPDATE: Chicago Police Department said late Wednesday that detectives have found video footage of suspects who attacked "Empire" star Jussie Smollett. Spokesman Anthony Guglielmi said that potential people of interest were seen on the surveillance video and photos of the suspects are expected soon.
---
UPDATE: Here is the image of the persons of interest.
Guglielmi said the pictures, in "really dark" frames do not show the attack or any contact between them and Smollett.
"They are outside on a street walking. They are in the area that we have determined it could have taken place… in the time and the area,'' Guglielimi said. "It certainly leads us to have questions for them.''
Now, detectives will backtrack to find them.
"They still have a lot more cameras to look at,'' Guglielmi said. "But now that we've got potential persons of interest, the focus will be following their paths. Where did they come from and where did they go?"
---
Sources directly connected to Jussie tell TMZ, the actor arrived in Chicago from New York late Monday, and at around 2 AM he was hungry and went to a Subway. We're told when he walked out, someone yelled, "Aren't you that f***ot 'Empire' n*****?"
The 2 men — both white and wearing ski masks — viciously attacked Jussie as he fought back, but they beat him badly and fractured a rib. They put a rope around his neck, poured bleach on him and as they left they allegedly yelled, "This is MAGA country."
Jussie was taken to Northwestern Memorial where he was treated. He was discharged later Tuesday morning.
ThatGrapeJuice.Net first posted this letter which was sent to Fox Studios in Chicago with cut out letters spelling, "You will die black f**." Our sources say the letter was sent 8 days ago.
The envelope the letter arrived in appears to say MAGA in the upper left corner.
Chicago PD tells us they are investigating the attack as a possible hate crime, and they are canvasing the area for any video.
The attack on the black actor, who came out as gay in 2015, is being investigated as a possible hate crime.
There have not been any arrests in connection to the incident, nor have any suspects been identified. Police said Tuesday night that they'd reviewed hundreds of hours of video at that point and were expanding the search area.
The suspects fled the scene after ambushing Smollett, who managed to take himself to Northwestern Hospital following the incident.
Chicago Police Department has released a statement on the possible hate crime.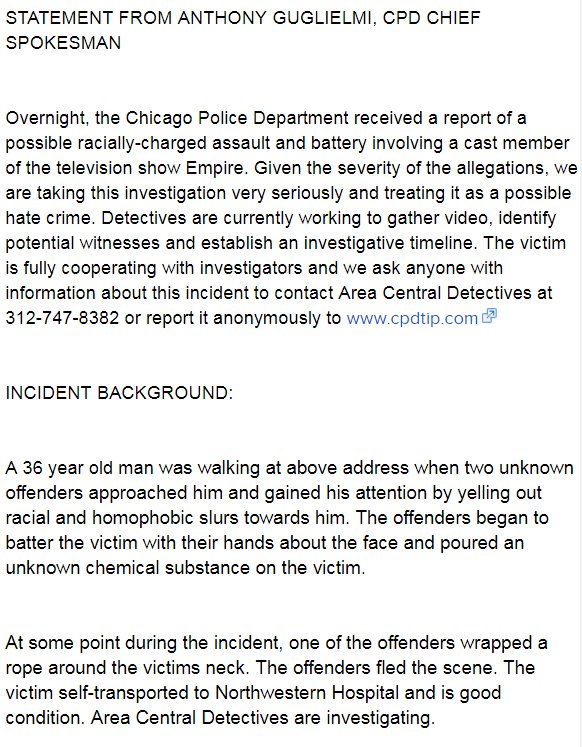 The letter threatening Smollett before the attack was sent to the Fox studio in Chicago on Jan. 22, police said. The letter contained threatening language and was laced with a powdery substance that investigators believe was likely Tylenol.
The FBI is now investigating that prior threat, police said.
"Detectives are currently working to gather video, identify potential witnesses and establish an investigative timeline. The victim is fully cooperating with investigators and we ask anyone with information about this incident to contact Area Central Detectives at 312-747-8382 or report it anonymously to www.cpdtip.com," police said in their earlier statement.
This story is developing. This will be updated.
US Supreme Court Upholds Abortion Clinic Protest Zone Limits In Chicago, Harrisburg, Pennsylvania
WASHINGTON (Reuters) – The U.S. Supreme Court on Thursday left in place policies in Chicago and Pennsylvania's capital Harrisburg that place limits on anti-abortion activists gathered outside abortion clinics.
The justices declined to hear two appeals by anti-abortion groups and individual activists of lower court rulings upholding the cities' ordinances.
The Chicago policy bars activists from coming within eight feet (2.4 meters) of someone within 50 feet (15 meters) of any healthcare facility without their consent if they intend to protest, offer counseling or hand out leaflets. The Harrisburg measure bars people from congregating or demonstrating within 20 feet (6 meters) of a healthcare facility's entrance or exit.
Both cases pitted the free speech rights of anti-abortion protesters against public safety concerns raised by women's healthcare providers regarding demonstrations outside clinics. There is a history of violent acts committed against abortion providers.
At issue before the Supreme Court was whether the ordinances violate free speech rights protected by the U.S. Constitution's First Amendment.
The Chicago-based 7th U.S. Circuit Court of Appeals last year upheld the Chicago ordinance, which was introduced in 2009. The Philadelphia-based 3rd U.S. Circuit Court of Appeals ruled in favor of Harrisburg in 2019. That measure was enacted in response to disruptions by protesters outside two abortion clinics in the city.
The cases did not directly implicate abortion rights. In a major ruling on Monday, the struck down a Louisiana law placing restrictions on doctors that perform abortions.
Also on Thursday, the court directed a lower court to reconsider the legality of two Indiana abortion restrictions – one that would require women to undergo an ultrasound procedure at least 18 hours before terminating a pregnancy and another that would expand parental notification when a minor seeks an abortion. The lower court had struck down both measures.
Abortion remains a divisive issue in the United States. The Supreme Court in its landmark 1973 Roe v. Wade ruling legalized abortion nationwide, finding that women have a constitutional right to the procedure. In recent years, numerous Republican-governed states have sought to impose a series of restrictions on abortion.
Federal Judge Reverses Trump Asylum Policy Due To Government Failing To Abide By Administrative Procedure Act
(Law & Crime) — A federal judge appointed by President Donald Trump on Tuesday evening overturned the Trump Administration's second and most restrictive asylum policy, all because the government failed to abide by the Administrative Procedure Act (APA), the judge reasoned.
In a 52-page opinion, U.S. District Judge Timothy Kelly of Washington, D.C. held that in enacting the rule, which required immigrants to seek asylum in any country they passed through before they could claim asylum in the U.S., the Trump administration "unlawfully dispensed" with mandatory procedural requirements allowing the public to weigh in on proposed rule changes.
Kelly, who was appointed to the court in 2017, rejected the Trump administration's assertion that the asylum rule fell within exceptions to the APA permitting the government to disregard the notice-and-comment requirement if there's "good cause" such commentary is unnecessary or if the rule involves a military or foreign affairs function.
"[The court] also holds that Defendants unlawfully promulgated the rule without complying with the APA's notice-and-comment requirements, because neither the 'good cause' nor the 'foreign affairs function' exceptions are satisfied on the record here," Kelly wrote. "Despite their potentially broad sweep, the D.C. Circuit has instructed that these exceptions must be 'narrowly construed' and 'reluctantly countenanced.' The Circuit has also emphasized that the broader a rule's reach, 'the greater the necessity for public comment.' With these baseline principles in mind, the Court considers whether either the good cause or foreign affairs function exception applies here. Neither does."
According to Kelly, the Immigration and Nationality Act (INA) generally allows any person physically in the U.S. seeking refuge to apply for asylum — with some exceptions for immigrants who have committed certain crimes or who had previously been "firmly resettled" prior to arriving in the U.S.
"The Court reiterates that there are many circumstances in which courts appropriately defer to the national security judgments of the Executive. But determining the scope of an APA exception is not one of them," Kelly wrote. "As noted above, if engaging in notice-and-comment rulemaking before implementing the rule would have harmed ongoing international negotiations, Defendants could have argued that these effects gave them good cause to forgo these procedures. And they could have provided an adequate factual record to support those predictive judgments to which the Court could defer. But they did not do so."
Claudia Cubas, the Litigation Director at CAIR Coalition, one of the plaintiffs in the lawsuit, praised the decision as removing an "unjust barrier to protection" for those in need.
"By striking down this rule, Judge Kelly reaffirmed two fundamental principles. The protection of asylum seekers fleeing for safety is intertwined with our national values and that the United States is a country where the rule of law cannot be tossed aside for political whims," Cubas said.
Read the full opinion below:
Asylum Ban Decision by Law&Crime on Scribd
US Supreme Court Rules Public Funds Allowed For Religious Schools In State Tax Credit Program
Read the US Supreme Court ruling here or below.