'Empire' Actor Jussie Smollett Hospitalized In Alleged Racist/Homophobic Hate Crime
UPDATE: Actor Jussie Smollett has broken his silence on the attack that he endured, exclusively to Essence.
"Let me start by saying that I'm OK," Smollett said in an exclusive statement to Essence on Friday. "My body is strong but my soul is stronger. More importantly I want to say thank you. The outpouring of love and support from my village has meant more than I will ever be able to truly put into words," he added.
There have been false and inaccurate reports, mostly from right wing media, which Smollett challenges in his remarks.
"I am working with authorities and have been 100 percent factual and consistent on every level. Despite my frustrations and deep concern with certain inaccuracies and misrepresentations that have been spread, I still believe that justice will be served," he says.

"As my family stated, these types of cowardly attacks are happening to my sisters, brothers and non-gender conforming siblings daily. I am not and should not be looked upon as an isolated incident. We will talk soon and I will address all details of this horrific incident, but I need a moment to process. Most importantly, during times of trauma, grief and pain, there is still a responsibility to lead with love. It's all I know. And that can't be kicked out of me. With Love, respect & honor … Jussie."
---
UPDATE: The letter sent to the studio where Empire is filmed prior to the attack contained a white powder, CNN reports. Chicago PD spokesman Anthony Guglielmi said that the powder-filled letter, received at Cinespace Studios Jan. 22, prompted a response from a HAZMAT unit, though its contents were later determined to be aspirin.
---
UPDATE: Jussie Smollett's family has responded to the Chicago Police Department in a statement, per Buzzfeed News. Smollett is resting at home in recovery from his injuries.
---
UPDATE: Chicago Police Department said late Wednesday that detectives have found video footage of suspects who attacked "Empire" star Jussie Smollett. Spokesman Anthony Guglielmi said that potential people of interest were seen on the surveillance video and photos of the suspects are expected soon.
---
UPDATE: Here is the image of the persons of interest.
Guglielmi said the pictures, in "really dark" frames do not show the attack or any contact between them and Smollett.
"They are outside on a street walking. They are in the area that we have determined it could have taken place… in the time and the area,'' Guglielimi said. "It certainly leads us to have questions for them.''
Now, detectives will backtrack to find them.
"They still have a lot more cameras to look at,'' Guglielmi said. "But now that we've got potential persons of interest, the focus will be following their paths. Where did they come from and where did they go?"
---
Sources directly connected to Jussie tell TMZ, the actor arrived in Chicago from New York late Monday, and at around 2 AM he was hungry and went to a Subway. We're told when he walked out, someone yelled, "Aren't you that f***ot 'Empire' n*****?"
The 2 men — both white and wearing ski masks — viciously attacked Jussie as he fought back, but they beat him badly and fractured a rib. They put a rope around his neck, poured bleach on him and as they left they allegedly yelled, "This is MAGA country."
Jussie was taken to Northwestern Memorial where he was treated. He was discharged later Tuesday morning.
ThatGrapeJuice.Net first posted this letter which was sent to Fox Studios in Chicago with cut out letters spelling, "You will die black f**." Our sources say the letter was sent 8 days ago.
The envelope the letter arrived in appears to say MAGA in the upper left corner.
Chicago PD tells us they are investigating the attack as a possible hate crime, and they are canvasing the area for any video.
The attack on the black actor, who came out as gay in 2015, is being investigated as a possible hate crime.
There have not been any arrests in connection to the incident, nor have any suspects been identified. Police said Tuesday night that they'd reviewed hundreds of hours of video at that point and were expanding the search area.
The suspects fled the scene after ambushing Smollett, who managed to take himself to Northwestern Hospital following the incident.
Chicago Police Department has released a statement on the possible hate crime.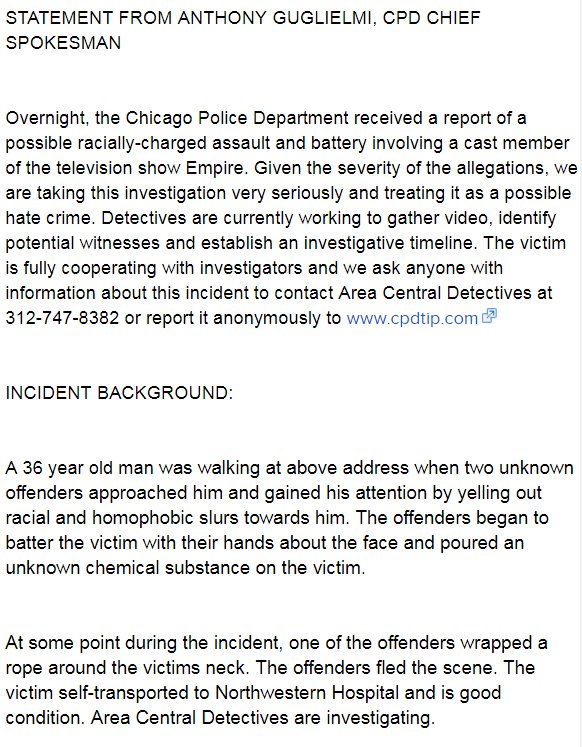 The letter threatening Smollett before the attack was sent to the Fox studio in Chicago on Jan. 22, police said. The letter contained threatening language and was laced with a powdery substance that investigators believe was likely Tylenol.
The FBI is now investigating that prior threat, police said.
"Detectives are currently working to gather video, identify potential witnesses and establish an investigative timeline. The victim is fully cooperating with investigators and we ask anyone with information about this incident to contact Area Central Detectives at 312-747-8382 or report it anonymously to www.cpdtip.com," police said in their earlier statement.
This story is developing. This will be updated.
White Former Police Officer Acquitted In Death of Black Unarmed Teenager
PITTSBURGH (AP) — A jury has acquitted a white former police officer who fatally shot an unarmed black teenager outside Pittsburgh.
---
Former East Pittsburgh Police Officer Michael Rosfeld was charged with homicide for killing 17-year-old Antwon Rose II last June. Rose was riding in an unlicensed taxi that was involved in a drive-by shooting. Rosfeld pulled the car over and shot Rose in the back, arm and side of the face as the teen ran away.
Rosfeld testified that he thought Rose or another passenger in the car had a gun pointed at him.
The jury saw video of the fatal confrontation. The verdict came Friday after fewer than four hours of deliberations.
The shooting triggered protests in the Pittsburgh area last year.
The family of a black teenager who was shot in the back and killed by a white police officer outside Pittsburgh remained stoic after the man was acquitted.
Antwon Rose II's sister had tears streaming down her face after the jury cleared former East Pittsburgh Police Officer Michael Rosfeld of a homicide charge late Friday. Her mother urged her not to cry.
The jury deliberated fewer than four hours before reaching its verdict. There were tears and gasps from black people gathered in an overflow courtroom, and several broke out in song: "Antwon Rose was a freedom fighter, and he taught us how to fight."
Mississippi Governor Signs One of America's Strictest Abortion Laws In The Nation, Welcomes Lawsuits
Mississippi's governor has signed one of the strictest abortion laws in the nation.
Gov. Phil Bryant signed a bill Thursday outlawing most abortions once a fetal heartbeat can be detected, about six weeks into pregnancy.
The Center for Reproductive Rights calls the bill "blatantly unconstitutional" and says it will sue Mississippi to block the bill from taking effect July 1.
Mississippi is one of several states where Republican leaders are considering abortion-restriction bills this year. Abortion opponents are emboldened by new conservatives on the Supreme Court and are seeking cases to challenge the court's 1973 ruling that legalized abortion nationwide.
Bryant tweeted that he will fight for "innocent babies, even under the threat of legal action."
Developing story, more to come…
Oil/Gas Drilling Blocked On Federal Land In Wyoming Over Climate Change
A federal judge has temporarily blocked oil and gas drilling on 300,000 acres of federal land in Wyoming, ruling that the Interior Department "did not sufficiently consider climate change" in its assessments of whether to lease federal land for individual projects, the Washington Post reports.
---
BILLINGS, Mont. (AP) — A judge has blocked oil and gas drilling on almost 500 square miles (1,295 sq. kilometers) in Wyoming and says the government must consider the cumulative climate change impact of leasing public lands across the U.S. for oil and gas exploration.
The order marks the latest in a string of rulings over the past decade faulting the U.S. for its inadequate consideration of greenhouse gas emissions when issuing leases for oil, gas and coal.
But U.S. District Judge Rudolph Contreras appeared to go a step further than previous rulings. Contreras said late Tuesday the U.S. Bureau of Land Management must consider nationwide emissions from past, present and future oil and gas leases.
The ruling was in a lawsuit challenging leases issued in Wyoming, Utah and Colorado in 2015 and 2016.
Developing story, more to come…