'Empire' Actor Jussie Smollett Hospitalized In Alleged Racist/Homophobic Hate Crime
UPDATE: Actor Jussie Smollett has broken his silence on the attack that he endured, exclusively to Essence.
"Let me start by saying that I'm OK," Smollett said in an exclusive statement to Essence on Friday. "My body is strong but my soul is stronger. More importantly I want to say thank you. The outpouring of love and support from my village has meant more than I will ever be able to truly put into words," he added.
There have been false and inaccurate reports, mostly from right wing media, which Smollett challenges in his remarks.
"I am working with authorities and have been 100 percent factual and consistent on every level. Despite my frustrations and deep concern with certain inaccuracies and misrepresentations that have been spread, I still believe that justice will be served," he says.

"As my family stated, these types of cowardly attacks are happening to my sisters, brothers and non-gender conforming siblings daily. I am not and should not be looked upon as an isolated incident. We will talk soon and I will address all details of this horrific incident, but I need a moment to process. Most importantly, during times of trauma, grief and pain, there is still a responsibility to lead with love. It's all I know. And that can't be kicked out of me. With Love, respect & honor … Jussie."
---
UPDATE: The letter sent to the studio where Empire is filmed prior to the attack contained a white powder, CNN reports. Chicago PD spokesman Anthony Guglielmi said that the powder-filled letter, received at Cinespace Studios Jan. 22, prompted a response from a HAZMAT unit, though its contents were later determined to be aspirin.
---
UPDATE: Jussie Smollett's family has responded to the Chicago Police Department in a statement, per Buzzfeed News. Smollett is resting at home in recovery from his injuries.
---
UPDATE: Chicago Police Department said late Wednesday that detectives have found video footage of suspects who attacked "Empire" star Jussie Smollett. Spokesman Anthony Guglielmi said that potential people of interest were seen on the surveillance video and photos of the suspects are expected soon.
---
UPDATE: Here is the image of the persons of interest.
Guglielmi said the pictures, in "really dark" frames do not show the attack or any contact between them and Smollett.
"They are outside on a street walking. They are in the area that we have determined it could have taken place… in the time and the area,'' Guglielimi said. "It certainly leads us to have questions for them.''
Now, detectives will backtrack to find them.
"They still have a lot more cameras to look at,'' Guglielmi said. "But now that we've got potential persons of interest, the focus will be following their paths. Where did they come from and where did they go?"
---
Sources directly connected to Jussie tell TMZ, the actor arrived in Chicago from New York late Monday, and at around 2 AM he was hungry and went to a Subway. We're told when he walked out, someone yelled, "Aren't you that f***ot 'Empire' n*****?"
The 2 men — both white and wearing ski masks — viciously attacked Jussie as he fought back, but they beat him badly and fractured a rib. They put a rope around his neck, poured bleach on him and as they left they allegedly yelled, "This is MAGA country."
Jussie was taken to Northwestern Memorial where he was treated. He was discharged later Tuesday morning.
ThatGrapeJuice.Net first posted this letter which was sent to Fox Studios in Chicago with cut out letters spelling, "You will die black f**." Our sources say the letter was sent 8 days ago.
The envelope the letter arrived in appears to say MAGA in the upper left corner.
Chicago PD tells us they are investigating the attack as a possible hate crime, and they are canvasing the area for any video.
The attack on the black actor, who came out as gay in 2015, is being investigated as a possible hate crime.
There have not been any arrests in connection to the incident, nor have any suspects been identified. Police said Tuesday night that they'd reviewed hundreds of hours of video at that point and were expanding the search area.
The suspects fled the scene after ambushing Smollett, who managed to take himself to Northwestern Hospital following the incident.
Chicago Police Department has released a statement on the possible hate crime.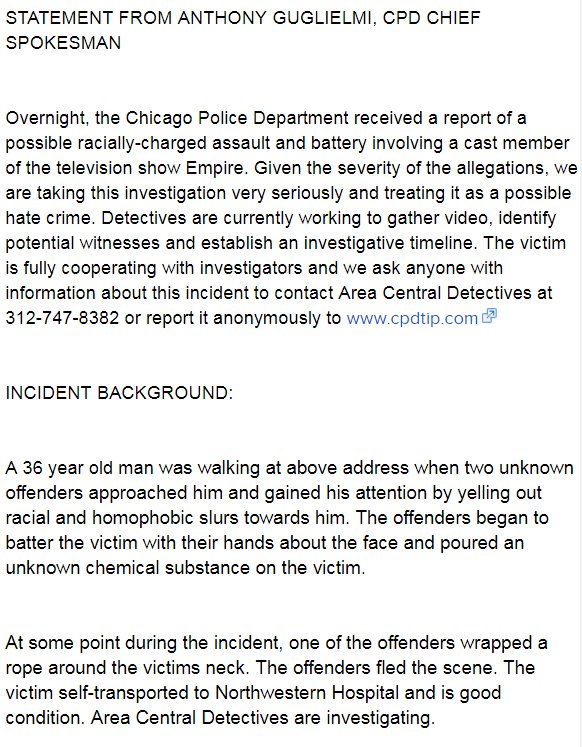 The letter threatening Smollett before the attack was sent to the Fox studio in Chicago on Jan. 22, police said. The letter contained threatening language and was laced with a powdery substance that investigators believe was likely Tylenol.
The FBI is now investigating that prior threat, police said.
"Detectives are currently working to gather video, identify potential witnesses and establish an investigative timeline. The victim is fully cooperating with investigators and we ask anyone with information about this incident to contact Area Central Detectives at 312-747-8382 or report it anonymously to www.cpdtip.com," police said in their earlier statement.
This story is developing. This will be updated.
Trump May Pardon Military Men Accused Or Convicted Of War Crimes
WASHINGTON (Reuters) – U.S. President Donald Trump has asked for files to be prepared on pardoning several U.S. military members accused of or convicted of war crimes, including one slated to stand trial on charges of shooting unarmed civilians while in Iraq, the New York Times reported on Saturday.
---
Trump requested the immediate preparation of paperwork needed, indicating he is considering pardons for the men around Memorial Day on May 27, the report said, citing two unnamed U.S. officials. Assembling pardon files normally takes months, but the Justice Department has pressed for the work to be completed before that holiday weekend, one of the officials said.
One request is for Special Operations Chief Edward Gallagher of the Navy SEALs, scheduled to stand trial in coming weeks on charges of shooting unarmed civilians and killing an enemy captive with a knife while deployed in Iraq.
Also believed to be included is the case of Major Mathew Golsteyn, an Army Green Beret accused of killing an unarmed Afghan in 2010, the Times said.
Reuters could not immediately identify a way to contact Gallagher and Golsteyn.
The newspaper reported that the cases of other men are believed to be included in the paperwork, without naming them.
The Department of Justice declined to comment on the report, while the White House did not immediately respond to a request for comment.
Legal experts cited in the report said that pardoning several accused and convicted war criminals, including some who have not yet gone to trial, has not been done in recent history, and some worried such pardons could erode the legitimacy of military law.
Trump Administration Considers Flying Migrants Across Country to Relieve Border Crowding
The Trump administration may begin flying asylum-seeking families at the southern U.S. border across the country to have their initial claims processed, a Customs and Border Protection official said Friday.
---
For months, immigration authorities have been shuttling newly arrested migrants—mostly families and children from Guatemala, Honduras and El Salvador—between border stations as facilities have become overwhelmed. Migrants have routinely been bussed hundreds of miles from the border in Southern California or El Paso, Texas, to as far away as Tucson, Ariz., before authorities process and then release them to aid groups.
Now, plans are being laid for the air transportation of parents and children out of overcrowded stations to other locations in the U.S., including northern and coastal states with Border Patrol offices that have capacity, if the flow of families doesn't diminish, the CBP official said.
"This is an emergency. The entire system is overwhelmed," the official said. "We are just trying to safely get them out of our facilities as quickly as possible."
Border Patrol officials have flown nearly 1,000 migrants from overcrowded processing centers and stations in the Rio Grande Valley to nearby Del Rio, Texas, and San Diego since last Friday, another U.S. official said Friday.
The private, contracted flights have cost between $21,000 and $65,000 each and can carry a maximum of 135 people, that official said.
Mark Bogen, the mayor of Broward County in South Florida said Friday that he was told by local law-enforcement to expect as many as 135 migrants to be flown to the area and released by the Border Patrol after their asylum claims are processed.
Mr. Bogen said Broward County doesn't have the resources to manage such an influx and that its shelters are already crowded with homeless local residents.
"We don't know if these are seniors or kids," he said of the potential migrant arrivals. "We were provided one thing: the number 135."
The CBP official said no migrants were currently being flown to Florida. "We are in preliminary planning stages," the official said.
The Trump administration contends that the record number of adults with children presenting themselves for asylum has brought the border infrastructure to a breaking point. CBP said on Friday that the agency had averaged 4,500 apprehensions per day over the preceding week. Some 248,000 migrants travelling as families illegally entered the U.S. between October, the start of the federal fiscal year, and April—more than in any prior full year.
Democrats, who control the House of Representatives, have blamed President Trump for exacerbating the flood of families to the southern border by cutting aid to Central America and threatening to close the border altogether.
The White House is seeking $4.5 billion in emergency border funding from Congress along with changes to asylum laws that the Trump administration says would make it easier to detain families longer, process applications more quickly, and deter more people from making the journey to the U.S.
Democratic lawmakers have refused to fund asylum policies they consider inhumane, but indicated late Thursday that they would consider funding some of the administration's requests, making a counteroffer that excludes funding for detention beds, a Congressional aide said.
(Reporting by Wall Street Journal)
Trump Administration Rejects Subpoena For Tax Returns
WASHINGTON (AP) — The Trump administration is missing another deadline to produce President Donald Trump's tax returns. A top House Democrat says he expects to take the administration to court as early as next week over the matter.
---
Treasury Secretary Steven Mnuchin (mih-NOO'-shin) says in a letter Friday that he will not comply with the subpoena from the House Ways and Means Committee for six years of Trump's tax returns because the request "lacks a legitimate legislative purpose."
Mnuchin's rejection of the subpoena had been expected. Earlier Friday, Ways and Means Committee Chairman Richard Neal had said, "We will likely proceed to court as quickly as next week."
Democrats are seeking Trump's tax returns under a 1924 law that directs the IRS to furnish such information to the chairs of Congress' tax-writing committees.