Multiple Police Officers Shot In Houston, Texas While Responding To Incident
UPDATE: Two suspects who police said initiated a gun battle were pronounced dead at the scene, according to Houston Police Chief Art Acevedo.
"I want to say right off the bat that no officer has died," said Acevedo in opening an evening news conference.
WHAT YOU NEED TO KNOW
One officer has been released from the hospital after being shot in the shoulder.
2 officers are in critical condition, and 2 officers are in good condition.
The officers were serving a search warrant on a house where neighbors had complained about possible drug dealing.
Five officers were injured overall, four struck by gunfire.

3 of the police officers are in stable condition, 2 are still in critical condition.
Joe Gamaldi from Houston Police confirmed above that five officers had been hit, but wouldn't confirm their conditions.
Houston Mayor Sylvester Turner tweeted: "I am waiting to get a status report.
"I am asking for your prayers for them."
Houston police say the officers were "struck with gunfire following an encounter with a suspect" Monday afternoon in a neighborhood in southeast Houston.
The incident occurred at about 5 p.m., according to police, in the Pecan Park neighborhood, near Harding St. and Fennell.
HPD officials have not yet released details about the incident, but confirmed five officers had been shot. Their conditions are not known at this time.
According to law enforcement sources, one of the wounded officers was shot in the face. The incident occurred after the officers — from the Narcotics Division — were serving a warrant, sources said.
A law enforcement source told the Houston Chronicle narcotics officers had previously made undercover purchases at that location and were able to get a warrant to enter the house and search it.
The officers were at the door of the location when gunfire erupted from within, the source said.
Texas Governor Greg Abbott released a statement about tonight's shooting.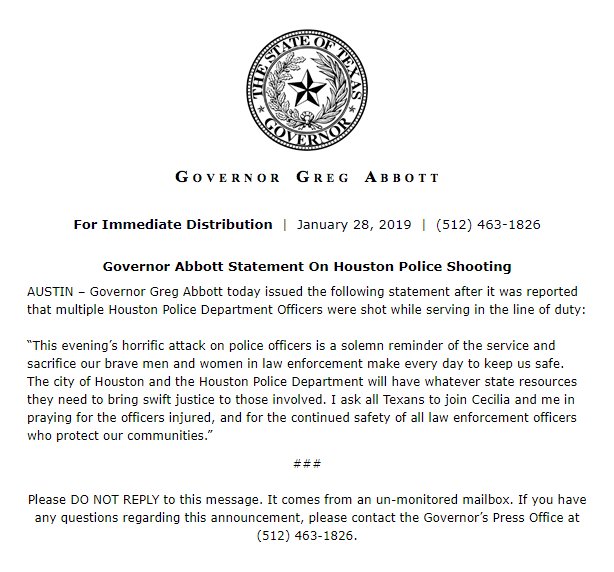 This situation is developing. More updates to come.
Federal Judge Reverses Trump Asylum Policy Due To Government Failing To Abide By Administrative Procedure Act
(Law & Crime) — A federal judge appointed by President Donald Trump on Tuesday evening overturned the Trump Administration's second and most restrictive asylum policy, all because the government failed to abide by the Administrative Procedure Act (APA), the judge reasoned.
In a 52-page opinion, U.S. District Judge Timothy Kelly of Washington, D.C. held that in enacting the rule, which required immigrants to seek asylum in any country they passed through before they could claim asylum in the U.S., the Trump administration "unlawfully dispensed" with mandatory procedural requirements allowing the public to weigh in on proposed rule changes.
Kelly, who was appointed to the court in 2017, rejected the Trump administration's assertion that the asylum rule fell within exceptions to the APA permitting the government to disregard the notice-and-comment requirement if there's "good cause" such commentary is unnecessary or if the rule involves a military or foreign affairs function.
"[The court] also holds that Defendants unlawfully promulgated the rule without complying with the APA's notice-and-comment requirements, because neither the 'good cause' nor the 'foreign affairs function' exceptions are satisfied on the record here," Kelly wrote. "Despite their potentially broad sweep, the D.C. Circuit has instructed that these exceptions must be 'narrowly construed' and 'reluctantly countenanced.' The Circuit has also emphasized that the broader a rule's reach, 'the greater the necessity for public comment.' With these baseline principles in mind, the Court considers whether either the good cause or foreign affairs function exception applies here. Neither does."
According to Kelly, the Immigration and Nationality Act (INA) generally allows any person physically in the U.S. seeking refuge to apply for asylum — with some exceptions for immigrants who have committed certain crimes or who had previously been "firmly resettled" prior to arriving in the U.S.
"The Court reiterates that there are many circumstances in which courts appropriately defer to the national security judgments of the Executive. But determining the scope of an APA exception is not one of them," Kelly wrote. "As noted above, if engaging in notice-and-comment rulemaking before implementing the rule would have harmed ongoing international negotiations, Defendants could have argued that these effects gave them good cause to forgo these procedures. And they could have provided an adequate factual record to support those predictive judgments to which the Court could defer. But they did not do so."
Claudia Cubas, the Litigation Director at CAIR Coalition, one of the plaintiffs in the lawsuit, praised the decision as removing an "unjust barrier to protection" for those in need.
"By striking down this rule, Judge Kelly reaffirmed two fundamental principles. The protection of asylum seekers fleeing for safety is intertwined with our national values and that the United States is a country where the rule of law cannot be tossed aside for political whims," Cubas said.
Read the full opinion below:
Asylum Ban Decision by Law&Crime on Scribd
US Supreme Court Rules Public Funds Allowed For Religious Schools In State Tax Credit Program
Read the US Supreme Court ruling here or below.
U.S. Supreme Court Reverses Restrictive Louisiana Abortion Law
WASHINGTON (Reuters) – The U.S. Supreme Court on Monday defended abortion rights by striking down a Louisiana law placing restrictions on doctors who perform the procedure, dealing a blow to anti-abortion advocates.
The 5-4 ruling, with conservative Chief Justice John Roberts joining the four liberals justices in the majority, represented a major victory for Shreveport-based abortion provider Hope Medical Group for Women in its challenge to the 2014 law. The measure had required doctors who perform abortions to have a sometimes difficult-to-obtain formal affiliation called "admitting privileges" at a hospital within 30 miles (48 km) of the clinic.
Anti-abortion advocates had hoped that the Supreme Court, with its 5-4 conservative majority, would be willing to permit abortion restrictions like those being pursued by Louisiana and other conservative states.
The decision, authored by liberal Justice Stephen Breyer, marked the second time in four years that the court ruled against an "admitting privileges" requirement.
In 2016, the court struck down a Republican-backed Texas law that mandated admitting privileges and required clinics to have costly hospital-grade facilities, finding that the restrictions represented an impermissible "undue burden" on a woman's ability to obtain an abortion.
Several other cases involving legal challenges to abortion restrictions in other states are heading toward the justices that could provide other avenues for its conservative majority to roll back access to the procedure.
Two of Louisiana's three clinics that perform abortions would have been forced to close if the law went into effect, according to lawyers for Hope Medical Group.
Read the U.S. Supreme Court's ruling here or below.