Missing Wisconsin Girl Jayme Closs Found Three Months After Disappearance
Nearly three months after police discovered Jayme Closs' parents murdered in their Wisconsin home — and no sign of Jayme — the teen was found alive Thursday, about 70 miles from where she vanished.
A suspect was arrested shortly after a Douglas County, WI resident found the teen. Not much else is known about the suspect or what Closs has been through since Oct. 15, the day her parents' bodies were found murdered, but police plan to hold a press conference Friday at 10 a.m. CST (11 a.m. ET).
UPDATE: A 4 PM media update has been scheduled with more information to be released.
"For 88 days I have said we would work tirelessly to bring Jayme Closs home. We have done just that,"
Barron County Sheriff Chris Fitzgerald announced.
Rewatch the full press conference from 11:00 AM ET below:
There are a lot of details about Jayme's disappearance and discovery we don't know. Here are some questions that could be answered today at the news conference:
Who is the suspect? Police said a suspect, Jake Thomas Patterson, 21, of Gordon, WI was taken into custody about 10 minutes after authorities found Jayme.
Where has Jayme been for the past 87 days? Jayme was found in Gordon, Wisconsin, a town about 66 miles north of where she was last seen (and 87 days after she vanished). We're not sure how she got there.
Who found Jayme? A woman told the Star Tribune in Minneapolis that Jayme approached her for help while the woman was walking her dog. Authorities didn't immediately release more details.
Was Jayme hurt? Jayme was taken to the hospital after she was found, her aunt Sue Allard said.
Is there more information about the killing of her parents? Jayme's parents, James and Denise Closs, were found shot dead in their home the same night the teen went missing.
Who was behind that 911 call? Investigators say a mysterious 911 call led deputies to discover Jayme's parents' bodies. When the dispatcher called the number back, a voice mail greeting indicated the phone belonged to Denise Closs. The log does not say who made the 911 call — but the dispatcher heard yelling in the background.
What happened to Kyle Jaenke? About two weeks after Jayme went missing, investigators saw a man in a skull cap break into Jayme's home. Kyle Jaenke was charged with breaking into the home and stealing girls' underwear, but he was cleared of involvement in her disappearance.
Here's a timeline of the events that occurred around Jayme Closs' disappearance and the massive search to find her:
October 15: Authorities are called to the Closs home in Barron, Wisconsin, 90 miles east of Minneapolis. There, they find Jayme's parents, James and Denise Closs, shot dead — but the teen is missing.
October 22: A week after Jayme's disappearance, a local sheriff seeks 2,000 volunteers to help search for her, the equivalent of two-thirds of the population of Barron.
October 24: The FBI offers $25,000 for information leading to Jayme's location.
October 27: Jayme's parents are laid to rest in a funeral attended by loved ones and strangers.
October 28: Wisconsin investigators see via motion-activated cameras a man in a skull cap break into Jayme's home through a patio door, according to a criminal complaint. The man is identified as Kyle Jaenke, 32.
October 30: Jaenke is charged with breaking into the home and stealing girls' underwear and other clothing, but he's cleared of involvement in her disappearance.
November 17: Wisconsin authorities urge hunters to be on the lookout for clues on the missing teen. Deputies said they've not given up on finding the teen, and the cases remains a top priority for them.
December 4: The Barron County Clerk of Courts' Office dedicates its Christmas tree to Jayme.
January 10: Jayme is found alive.
This post will be updated with new information shortly.
Incident at Clapham Junction Overground Station
We are monitoring reports of an incident at Clapham Junction Overground station in London.
Several people on social media have reported emergency services are on scene;
Transport for London had earlier tweeted that services were delayed due to a trespassing incident.
NewsThisSecond spoke to one eyewitness who said he saw around a dozen police officers with a sniffer dog.
The Metropoliton Police told NewsThisSecond that it had no record of any of it's officers attending an incident at the station.
We have reached out to British Transport Police for a statement.
This is a breaking news story and will be updated with further information.
‪Earthquake jolts Southern California
A Preliminary magnitude 6.6 earthquake has jolted SoCal.
Several counties and neighboring states reported feeling shaking.
More to come.
Beth Chapman, Wife Of "Dog The Bounty Hunter" Passes Away At 51
Beth Chapman of "Dog the Bounty Hunter" fame has died, days after being placed on a medically-induced coma.
---
Duane "Dog" Chapman verified 51-year-old Beth's passing in a tweet Wednesday, writing: "It's 5:32 in Hawaii, this is the time she would wake up to go hike Koko Head mountain. Only today, she hiked the stairway to heaven. We all love you, Beth. See you on the other side."
Chapman had posted a touching photo of his wife's hand in the hospital Monday, joking about "how she is about HER NAILS!!"V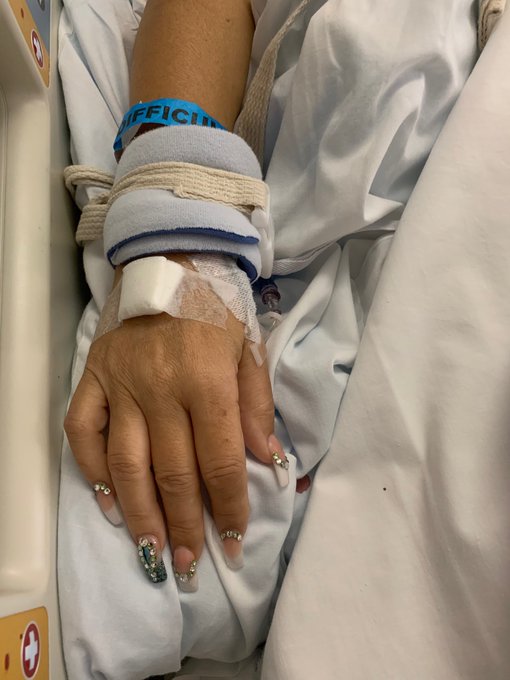 Chapman was diagnosed with throat cancer in 2017, which resurfaced last year. She was placed into a medically-induced coma on Saturday.
Her daughter, Bonnie Chapman, posted a tribute on Instagram writing, "So thankful to call you my mother. Rest in Peace, mom. I love you so much."