Christine Blasey accuses Kavanaugh of assault in letter to senator
Update:Christine Blasey Ford, the woman who wrote the letter accusing Supreme Court nominee Brett Kavanaugh of sexual assault, is going public with her story, saying she thought he might kill her. More to come.
'I thought he might inadvertently kill me,' said Ford, now a 51-year-old research psychologist in northern California, to The Washington Post. 'He was trying to attack me and remove my clothing.'
A woman is accusing Supreme Court nominee Brett Kavanaugh of assaulting her when they were in high school in the early 1980s, according to a source familiar with the allegations, which were relayed in a letter to Sen. Dianne Feinstein earlier this summer.
CNN reports the letter details an incident when the woman, who has not come forward publicly, attended a party with Kavanaugh and others in a suburban Maryland home. Feinstein, the top Democrat on the Senate Judiciary Committee, has referred the letter to the FBI.
Kavanaugh physically pushed her into a bedroom, the accuser said. Along with another male, Kavanaugh locked the door from the inside and played loud music that the accuser said precluded successful attempts to yell for help.
Both men were drunk, she said, and Kavanaugh attempted to remove her clothes.
At one point, Kavanaugh was on top of her laughing as the other male in the room periodically jumped onto Kavanaugh.
Kavanaugh held his hand over her mouth at one point, and she said she felt her life was inadvertently in danger.
She said she was able to leave the room and go into a hallway bathroom. After Kavanaugh and the other male began talking to others in the house, she went home.
There is no indication the woman reported the incident to law enforcement at the time, but she said she has received medical treatment regarding the alleged assault. The woman also declined to come forward publicly after sending the letter to Feinstein. The accuser's name was redacted before Feinstein forwarded it to the FBI.
In a statement Friday, Kavanaugh denied the allegation.
"I categorically and unequivocally deny this allegation. I did not do this back in high school or at any time," he said.
Kavanaugh testified for three days before the Senate Judiciary Committee last week, where the issue was not raised. The Judiciary panel is scheduled to consider Kavanaugh's nomination next Thursday, and the full Senate may vote on confirmation later this month.
The New Yorker first reported the details of the letter to Feinstein. The woman declined a request from the magazine for comment.
Old Article:
Sen. Dianne Feinstein (D-CA) has said that she possesses a sensitive document about Supreme Court nominee Brett Kavanaugh and is referring the matter to the Justice Department.
In a statement she said:
"I have received information from an individual concerning the nomination of Brett Kavanaugh to the Supreme Court," Feinstein said in a statement. "That individual strongly requested confidentiality, declined to come forward or press the matter further, and I have honored that decision. I have, however, referred the matter to federal investigative authorities."
The document in question is believed to be a letter detailing an interaction between an unnamed woman and Kavanaugh dating back to their time together in high school. 
Incident at Clapham Junction Overground Station
We are monitoring reports of an incident at Clapham Junction Overground station in London.
Several people on social media have reported emergency services are on scene;
Transport for London had earlier tweeted that services were delayed due to a trespassing incident.
NewsThisSecond spoke to one eyewitness who said he saw around a dozen police officers with a sniffer dog.
The Metropoliton Police told NewsThisSecond that it had no record of any of it's officers attending an incident at the station.
We have reached out to British Transport Police for a statement.
This is a breaking news story and will be updated with further information.
‪Earthquake jolts Southern California
A Preliminary magnitude 6.6 earthquake has jolted SoCal.
Several counties and neighboring states reported feeling shaking.
More to come.
Beth Chapman, Wife Of "Dog The Bounty Hunter" Passes Away At 51
Beth Chapman of "Dog the Bounty Hunter" fame has died, days after being placed on a medically-induced coma.
---
Duane "Dog" Chapman verified 51-year-old Beth's passing in a tweet Wednesday, writing: "It's 5:32 in Hawaii, this is the time she would wake up to go hike Koko Head mountain. Only today, she hiked the stairway to heaven. We all love you, Beth. See you on the other side."
Chapman had posted a touching photo of his wife's hand in the hospital Monday, joking about "how she is about HER NAILS!!"V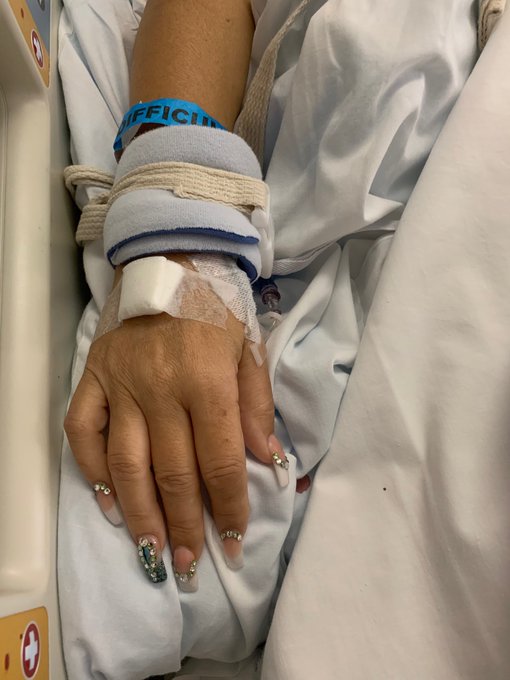 Chapman was diagnosed with throat cancer in 2017, which resurfaced last year. She was placed into a medically-induced coma on Saturday.
Her daughter, Bonnie Chapman, posted a tribute on Instagram writing, "So thankful to call you my mother. Rest in Peace, mom. I love you so much."