Legendary singer Aretha Franklin dies at age 76
Legendary singer Aretha Franklin has died.
The 76-year-old Queen of Soul was said to be "surrounded" by her closest friends and family in recent days, after battling extensive health problems in recent years.
The legendary singer was diagnosed with cancer in 2010, and delivered her most recent performance at the Elton John AIDS Foundation party in New York last November.
This is a Breaking News Story.
Timeline:
1954 – Sings her first solo at the New Bethel Baptist Church in Detroit.
1956 – Along with her two sisters, performs backup on her father's gospel recording for Gotham Records.
1960 – Leaves Detroit for New York, signs with Columbia Records and releases first album, "The Great Aretha Franklin."
1967 – Leaves Columbia Records after an unsuccessful attempt at developing a jazz style; signs with Atlantic Records; wins Grammy Award Best R&B Recording for "Respect."
1967-1974 – Wins a total of ten Grammy Awards.
April 9, 1968 – Sings "Precious Lord, Take My Hand" at the funeral of Dr. Martin Luther King Jr.
January 20, 1977 – Performs "God Bless America" at the inauguration gala of President Jimmy Carter.
1980 – Appears in the movie "The Blues Brothers" and performs the song "Think"; leaves Atlantic Records for Arista Records.
1981 – Wins Grammy Award for Best R&B Vocal Performance, Female for "Hold On I'm Comin'."
1985 – Wins Grammy Award for Best R&B Vocal Performance, Female for "Freeway Of Love."
January 3, 1987 – Is the first woman inducted into the Rock and Roll Hall of Fame.
1987 – Wins two Grammy Awards for Best R&B Vocal Performance, Female for "Aretha" and Best R&B Performance by a Duo, with George Michael, "I Knew You Were Waiting (For Me)."
1988 – Wins Grammy Award for Best Soul Gospel Performance, Female for "One Lord, One Faith, One Baptism."
1991 – Receives the Grammy Legend Award.
January 20, 1993 – Performs "I Dreamed a Dream" at the inauguration ball of President Bill Clinton.
1994 – Receives the Grammy Lifetime Achievement Award. She is the youngest recipient of a Kennedy Center Honor at that time.
1997 – Performs an aria from Puccini's La Boheme at the wedding of Vice-President Al Gore's daughter, Karenna.
February 6, 1998 – Reprises her roll of Mrs. Murphy from "The Blues Brothers" in the sequel "The Blues Brothers 2000."
February 25, 1998 – Substitutes for an ailing Luciano Pavarotti at the Grammy Awards performing "Nessun Dorma" by Puccini, unrehearsed.
September 1, 1999 – Publishes an autobiography "Aretha: From These Roots," where she discusses her private and personal life for the first time.
September 22, 1999 – Is named a winner of the National Medal of Arts by the National Endowment for the Arts.
2003 – Wins Grammy Award for Best Traditional R&B Vocal Performance for "Wonderful."
March 2004 – Is hospitalized and released for allergic reaction to antibiotics.
2004 – Starts her own record label, Aretha's Records.
2005 – Wins Grammy Award for Best Traditional R&B Vocal Performance for "A House Is Not A Home."
November 5, 2005 – Is awarded the Presidential Medal of Freedom by President George W. Bush.
2006 – After Franklin points out that no Motown talent was appearing in the Detroit Super Bowl halftime show, the NFL asks her to sing the national anthem along with Aaron Neville prior to the game.
2007 – Wins Grammy Award for Best Gospel Performance for "Never Gonna Break My Faith," shared with Mary J. Blige.
February 10, 2008 – Is Grammy's 2008 MusiCares Person of the Year.
February 14, 2008 – Receives the NAACP Vanguard Award at the annual Image Awards ceremony.
January 20, 2009 – Performs "My Country 'Tis of Thee" at the inauguration of President Barack Obama.
February 2010 – A Snickers commercial starring Franklin and Liza Minnelli airs for the first time.
July 27, 2010 – Appears on stage with former Secretary of State Condoleezza Rice on piano, in Philadelphia, to raise money for charity. Rice is a classical pianist. They perform individually and together, classical, pop and patriotic selections.
August 1, 2010 – Falls in her home, breaking two ribs. The incident forces her to cancel concert appearances for August.
February 25, 2011 – During an interview with Wendy Williams, Franklin reveals a loss of 85 lbs. The ailment that resulted in surgery in December remains undisclosed and a topic of conversation she dismisses with the comment, "I've left that behind, I'm feeling wonderful."
May 3, 2011 – Releases new album, "Aretha: A Woman Falling Out of Love."
October 8, 2014 – Achieves a milestone in music history by becoming the first female to earn her 100th hit on Billboard's Hot R&B song chart with "Rolling in the Deep (The Aretha Version)."
October 21, 2014 – Releases a new album, "Aretha Franklin Sings the Great Diva Classics."
March 5, 2015 – Performs live on the Motown themed episode of American Idol in Detroit.
September 26, 2015 – Franklin sings "Amazing Grace" at the Festival of Families, one of the events sponsored by the Vatican for Pope Francis' visit to Philadelphia.
February 7, 2017 – Franklin announces she will retire from performing in concert after the release of one more album. "I am retiring this year, she told a local television station in Detroit. "I will be recording, but this will be my last year in concert."
Incident at Clapham Junction Overground Station
We are monitoring reports of an incident at Clapham Junction Overground station in London.
Several people on social media have reported emergency services are on scene;
Transport for London had earlier tweeted that services were delayed due to a trespassing incident.
NewsThisSecond spoke to one eyewitness who said he saw around a dozen police officers with a sniffer dog.
The Metropoliton Police told NewsThisSecond that it had no record of any of it's officers attending an incident at the station.
We have reached out to British Transport Police for a statement.
This is a breaking news story and will be updated with further information.
‪Earthquake jolts Southern California
A Preliminary magnitude 6.6 earthquake has jolted SoCal.
Several counties and neighboring states reported feeling shaking.
More to come.
Beth Chapman, Wife Of "Dog The Bounty Hunter" Passes Away At 51
Beth Chapman of "Dog the Bounty Hunter" fame has died, days after being placed on a medically-induced coma.
---
Duane "Dog" Chapman verified 51-year-old Beth's passing in a tweet Wednesday, writing: "It's 5:32 in Hawaii, this is the time she would wake up to go hike Koko Head mountain. Only today, she hiked the stairway to heaven. We all love you, Beth. See you on the other side."
Chapman had posted a touching photo of his wife's hand in the hospital Monday, joking about "how she is about HER NAILS!!"V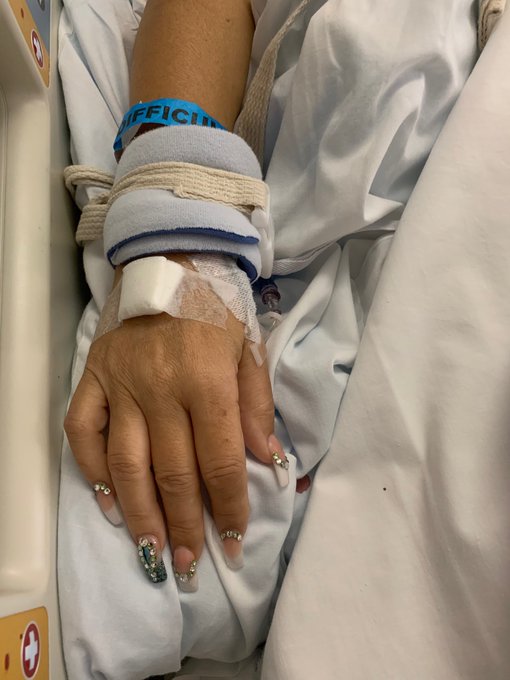 Chapman was diagnosed with throat cancer in 2017, which resurfaced last year. She was placed into a medically-induced coma on Saturday.
Her daughter, Bonnie Chapman, posted a tribute on Instagram writing, "So thankful to call you my mother. Rest in Peace, mom. I love you so much."