Trump UK visit: police to mobilise in numbers not seen since 2011 riots
Police chiefs express concern about plans to deploy officers across UK to contain protests
This article titled "Trump UK visit: police to mobilise in numbers not seen since 2011 riots" was written by Vikram Dodd Police and crime correspondent, for The Guardian on Monday 9th July 2018 05.00 UTC
Police are planning the biggest mobilisation of officers since the 2011 riots as thousands of people in the UK prepare to protest against the arrival this week of Donald Trump.
Thousands of officers will be moving across the country to contain demonstrations against the US president,who arrives on Thursday and will visit London, Windsor and Scotland during the two-day trip.
One chief constable said the resources that had been asked for were on the scale required "if London was burning down". Firearms officers, armed counter-terrorism units, public order officers and dog handlers are being deployed for the visit.
Police chiefs said the initial numbers being asked for by the National Police Coordination Centre (NPoCC) were too high and that they fought to cut them.
Several chiefs told the Guardian they were concerned the demands to send personnel to protect Trump added to the pressure to find enough officers to keep their own areas sufficiently safe.
One said: "The more we send there, the less we have for our areas. With the hot weather, if anything kicks off, we are struggling. They cut the officers in the urban areas [biggest forces] and now they need them."
The original planning was for 6,000 officers, deployed within about 300 police support units, which would comprise one inspector, three sergeants and 18 to 20 constables.
It is understood that about 4,000 officers will be mobilised, to support colleagues in the areas Trump is visiting, and that some forces in other regions have restricted leave so their officers can make up the numbers.
The Police Federation has already acknowledged said that the president's visit will put "unquestionable pressure" on UK police forces.
Officers will be deployed from areas Trump is not visiting, including Greater Manchester and other forces in the north-west, the north-east, West Midlands, east Midlands and the south-west.
The 43 police forces in England and Wales are supposed to support big surges in demand in other forces through "mutual aid" agreements. One chief constable said: "They are the highest ever requests for mutual aid I have ever seen.
"More mutual aid is being asked for than the [London 2012] Olympics, than for the terrorist attacks last year. I've never seen mutual aid requests like this Every force is sending their maximum and above.
"£5m [nationally] is the direct cost. You then have the cost of cancelled rest days. If I cancel a rest day to send an officer, that cost will be covered by the local force."
Part of the challenge for police is that the president's itinerary for the UK visit has not been finalised and the policing plans have to remain "fluid".
Trump will arrive on Air Force1 One at Stansted airport. He will visit London, the prime minister's country residence in Buckinghamshire as well as Windsor Castle. He will also go to Scotland, where police say their bill could run into millions of pounds.
One chief constable said: "There is concern nationally about how we will keep the show on the road." Anotheradded: "These are eye-watering numbers. It's a bit rich for the government to demand this when all they've done is cut our numbers since 2010."
The government reduced police funding by 18% when Theresa May was home secretary in 2010, leading to a reduction of 20,000 officers over the intervening years.
In a statement, the National Police Chiefs' Council, which houses the NPoCC, said: "UK forces are currently planning a major national policing operation to support the forthcoming visit of US President Donald Trump.
"The NPoCC is in discussions with forces about how the resource requirements of this massive operation will be met. Operational plans are still being determined and we are confident that forces will continue to maintain local policing services."
guardian.co.uk © Guardian News & Media Limited 2010
Published via the Guardian News Feed plugin for WordPress.
Incident at Clapham Junction Overground Station
We are monitoring reports of an incident at Clapham Junction Overground station in London.
Several people on social media have reported emergency services are on scene;
Transport for London had earlier tweeted that services were delayed due to a trespassing incident.
NewsThisSecond spoke to one eyewitness who said he saw around a dozen police officers with a sniffer dog.
The Metropoliton Police told NewsThisSecond that it had no record of any of it's officers attending an incident at the station.
We have reached out to British Transport Police for a statement.
This is a breaking news story and will be updated with further information.
‪Earthquake jolts Southern California
A Preliminary magnitude 6.6 earthquake has jolted SoCal.
Several counties and neighboring states reported feeling shaking.
More to come.
Beth Chapman, Wife Of "Dog The Bounty Hunter" Passes Away At 51
Beth Chapman of "Dog the Bounty Hunter" fame has died, days after being placed on a medically-induced coma.
---
Duane "Dog" Chapman verified 51-year-old Beth's passing in a tweet Wednesday, writing: "It's 5:32 in Hawaii, this is the time she would wake up to go hike Koko Head mountain. Only today, she hiked the stairway to heaven. We all love you, Beth. See you on the other side."
Chapman had posted a touching photo of his wife's hand in the hospital Monday, joking about "how she is about HER NAILS!!"V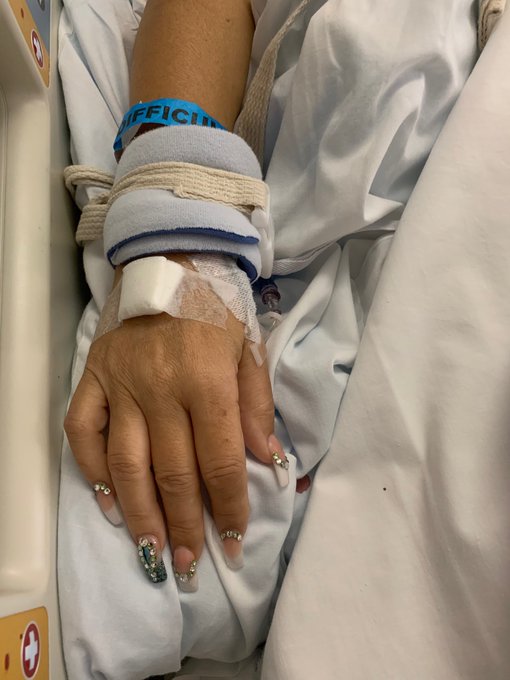 Chapman was diagnosed with throat cancer in 2017, which resurfaced last year. She was placed into a medically-induced coma on Saturday.
Her daughter, Bonnie Chapman, posted a tribute on Instagram writing, "So thankful to call you my mother. Rest in Peace, mom. I love you so much."