Rudy Giuliani says Trump repaid his lawyer for Stormy Daniels hush money
In Fox News interview, Giuliani says lawyer Michael Cohen was personally reimbursed for $130,000 used to silence porn actor
This article titled "Donald Trump repaid his lawyer for Stormy Daniels hush money, says Rudy Giuliani" was written by Ed Pilkington, for theguardian.com on Thursday 3rd May 2018 13.42 UTC
Donald Trump personally repaid his lawyer Michael Cohen the 0,000 hush money given to the adult-film star Stormy Daniels days before the 2016 presidential election to buy her silence over an alleged affair, Rudy Giuliani said on Wednesday night.
In an interview with Sean Hannity of Fox News, the former mayor of New York, who recently joined Trump's legal team dealing with the Russian investigation, let out the bombshell detail that the US president had fully repaid the hush money. The disclosure contradicts Trump's own firm statement, made on Air Force One last month, that he had no knowledge of his private lawyer Michael Cohen having paid Daniels the 0,000 sum.
On the Hannity show, Giuliani insisted that the payment to Daniels, who claims she had sex with Trump in 2006 at a golf tournament in Nevada, was entirely legal and broke no campaign finance laws.
"So they funneled it through the law firm," Hannity asked, referring to Cohen's legal practice.
"Funnelled it through the law firm," Giuliani concurred, "and the president repaid it."
Hannity appeared to be surprised by the revelation. "Oh, I didn't know that he did."
"Yup," said Giuliani.
Michael Avenatti, who represents Daniels, told CNBC: "This is exactly what we predicted would ultimately be shown. Every American, regardless of their politics, should be outraged."
By disclosing Trump's own financial involvement in the hush money, Giuliani and the president might be making the calculation that pain today is merited to minimize even greater grief further down the line. White House aides have been seriously concerned about the fallout of the FBI raid in April on the premises of Cohen's law firm.
But it also puts Trump in a difficult spot in which he has to answer for his apparent contradictions over the handling of Stormy Daniels' allegations in the final run-up to the 2016 election. Asked by reporters on 5 April while on board the official presidential jet whether he knew of the 0,000 payment, he bluntly replied: "No".
Trump only finally admitted that Cohen had represented him in the Daniels negotiations last week. "He represents me, like with this crazy Stormy Daniels deal, he represented me," he said, again on Fox News.
But even then, Trump made no mention of the repayment, now made public by Giuliani.
Under questioning from Hannity, Giuliani went on in the Wednesday night interview to provide further details. He said that the 0,000 was initially paid for by Cohen but then "the president had reimbursed him over a period of several months".
Asked by Hannity whether Trump had known about the payment, Giuliani appeared to dig the hole deeper when he said: "He didn't know about the specifics as far as I know, but he did know about the general arrangement. Michael would take care of things like this."
Giuliani alluded to the deep worry, bordering on panic, that had taken hold of the White House over the Daniels affair. "Everybody was nervous about this from the very beginning," he said. Then he added: "I wasn't."
He went on: "I know how much Donald Trump put into that campaign. I said, '0,000. You are going to do a couple of checks for 0,000."
guardian.co.uk © Guardian News & Media Limited 2010
Published via the Guardian News Feed plugin for WordPress.
Incident at Clapham Junction Overground Station
We are monitoring reports of an incident at Clapham Junction Overground station in London.
Several people on social media have reported emergency services are on scene;
Transport for London had earlier tweeted that services were delayed due to a trespassing incident.
NewsThisSecond spoke to one eyewitness who said he saw around a dozen police officers with a sniffer dog.
The Metropoliton Police told NewsThisSecond that it had no record of any of it's officers attending an incident at the station.
We have reached out to British Transport Police for a statement.
This is a breaking news story and will be updated with further information.
‪Earthquake jolts Southern California
A Preliminary magnitude 6.6 earthquake has jolted SoCal.
Several counties and neighboring states reported feeling shaking.
More to come.
Beth Chapman, Wife Of "Dog The Bounty Hunter" Passes Away At 51
Beth Chapman of "Dog the Bounty Hunter" fame has died, days after being placed on a medically-induced coma.
---
Duane "Dog" Chapman verified 51-year-old Beth's passing in a tweet Wednesday, writing: "It's 5:32 in Hawaii, this is the time she would wake up to go hike Koko Head mountain. Only today, she hiked the stairway to heaven. We all love you, Beth. See you on the other side."
Chapman had posted a touching photo of his wife's hand in the hospital Monday, joking about "how she is about HER NAILS!!"V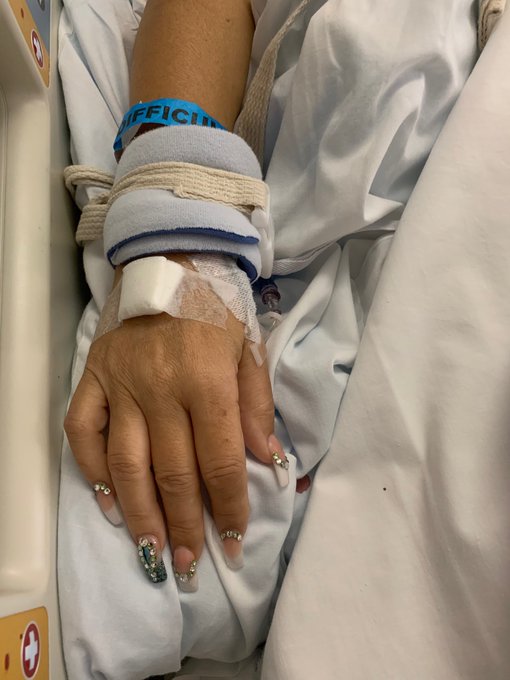 Chapman was diagnosed with throat cancer in 2017, which resurfaced last year. She was placed into a medically-induced coma on Saturday.
Her daughter, Bonnie Chapman, posted a tribute on Instagram writing, "So thankful to call you my mother. Rest in Peace, mom. I love you so much."