17 dead in Florida school shooting, law enforcement sources say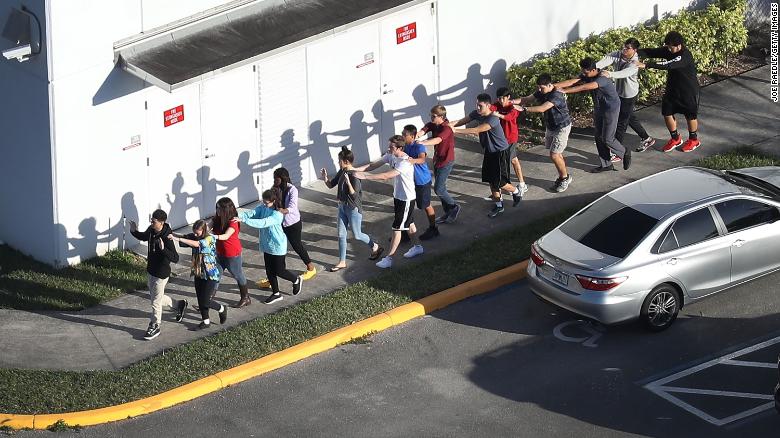 At least 17 people were killed Wednesday in a high school shooting in Parkland, Florida, Broward County Sheriff Scott Israel said.
The suspect, 19-year-old former student Nikolas Cruz, is in custody, the sheriff said. The sheriff said he was expelled for unspecified disciplinary reasons.
At least 14 people have been taken to area hospitals following the shooting, Israel said.
Law enforcement responded to reports of a shooting at the school shortly before 3 p.m. The shooting sent students and staff streaming out of the school in a panic.
Immediately after the shooting, aerial footage from CNN affiliate WSVN showed people lying on the ground outside the school, being treated for injuries and moved to ambulances.
Freshman Kayden Hanafi said he heard two gunshots and saw people running out of another building on campus. As he and his classmates went into lockdown in a classroom, many thought the noise might have been firecrackers.
"It's really a blessing to still be alive," he said.
Nicole Baltzer, 18, said she was in trigonometry class about 10 minutes before the end of the school day when the fire alarm went off. As students evacuated, she heard six gunshots and everyone started running back inside the school
"I heard so many gunshots, at least like six. They were very close," Baltzer said.
A police officer told her to close her eyes as she walked past a classroom with broken glass, telling her "there's nothing good to see in there," she said.
A freshman named Aidan posted a photo on social media from inside his math class while on lockdown. Since then, he has left the building.
"We have been liberated. God bless, America," Aidan tweeted after being evacuated from the building. "Love each other. You may never know when it may be the last day you meet someone."
There had been a fire drill at the school earlier in the day, leading some to believe at first that the afternoon incident was another drill, a student told WSVN. "Everyone just started freaking out."
"But then word started going around that it was shots and not just, like, something else, everyone just started running towards the canal," the student said.
Parkland, with a population of 31,000 people in 2016, was named Florida's safest city last year, according to an analysis by the Washington-based National Council for Home Safety and Security, a home security industry trade association. The south Florida city had seven reported violent crimes and 186 property crimes the previous year, according to the analysis.
Stoneman Douglas High School had an enrollment of about 3,100 students in the 2015-16 year, according to the National Center for Education Statistics.
As news of the shooting spread, desperate parents gathered near the property searching for their children.
Lissette Rozenblat told CNN that her daughter safely evacuated the school and took shelter at a nearby Walmart.
"She was very nervous, she said that she could hear the person who was shot crying out for help, and was just a nervous wreck," Rozenblat said.
Agents from the Miami office of the Bureau of Alcohol, Tobacco, Firearms and Explosives are responding to the scene, a spokesman said.
All Charges Against Jussie Smollett Dropped
CHICAGO (AP) — Attorneys for "Empire" actor Jussie Smollett say charges alleging he lied to police about an attack have been dropped.
---
Smollett's attorneys Tina Glandian and Patricia Brown Holmes said in a Tuesday morning statement that Smollett's record "has been wiped clean." Smollett was indicted on 16 felony counts related to making a false report that he was attacked by two men who shouted racial and homophobic slurs.
A spokeswoman for Cook County prosecutors didn't immediately respond to messages requesting comment.
Police and prosecutors have said the black and gay actor falsely reported to authorities that he was attacked Jan. 29 in downtown Chicago because he was unhappy with his pay on the Fox show and to promote his career.
The prosecutor who made the surprise decision to drop charges against Empire star Jussie Smollett for allegedly making false assault claims said the dropped and expunged charges are not an indication of the actor's innocence.
"We didn't exonerate him," Joe Magats, the top assistant to Cook County State Attorney Kim Foxx, said in a statement tweeted out by New York Times correspondent Julie Bosman.
The prosecutor said he "saw no problems with the police investigation or the evidence against Smollett," Bosman tweeted, adding that the actor's charges were dropped "in return for his agreement to do community service" and for the forfeiture of "his bond to the city of Chicago."
"We work to prioritize violent crime and the drivers of violent crime," Magats said. "Public safety is our number one priority. I don't see Jussie Smollett as a threat to public safety."
"We stand behind the investigation, we stand behind the decision to charge him and we stand behind the charges in the case," the prosecutor said. "The mere fact that it was disposed of in an alternative manner does not mean that there were any problems or infirmities in the case or the evidence."
Magats' statement contrasts claims made by Smollett's lawyers, who said the dropped and expunged charges were not part of a deal and that the actor would not be doing any additional community service.
This is a breaking news story. Please check back for updates.
US Chief Justice John Roberts Rejects Bid To Halt Trump Bump Stock Ban
WASHINGTON (Reuters) – U.S. Chief Justice John Roberts on Tuesday rejected a bid by gun rights activists to put on hold President Donald Trump's administration's ban on "bump stock" gun attachments that enable semi-automatic weapons to be fired rapidly.
---
Justice Sonia Sotomayor has not yet acted on another similar request.
The ban goes into effect on Tuesday but lower courts have yet to rule on an appeals brought by gun rights activists. An appeals court in Washington already has said that the ban will not go into effect in relation to the specific people and groups involved in that case.
Gun Rights Groups Ask Supreme Court To Halt Trump Bump Stock Ban
WASHINGTON (AP) — Gun rights groups are asking the Supreme Court to stop the Trump administration from beginning to enforce its ban on bump stock devices, which allow semi-automatic weapons to fire like machine guns.
---
The groups asked the court Monday to get involved in the issue and keep the government from beginning to enforce the ban for now. The ban set to go into effect Tuesday has put the Trump administration in the unusual position of arguing against gun rights groups. It's unclear how quickly the court will act.
President Donald Trump said last year that the government would move to ban bump stocks. The action followed a 2017 shooting in Las Vegas in which a gunman attached bump stocks to assault-style rifles he used to shoot concertgoers. Fifty-eight people were killed.
Developing…this will be updated.