17 dead in Florida school shooting, law enforcement sources say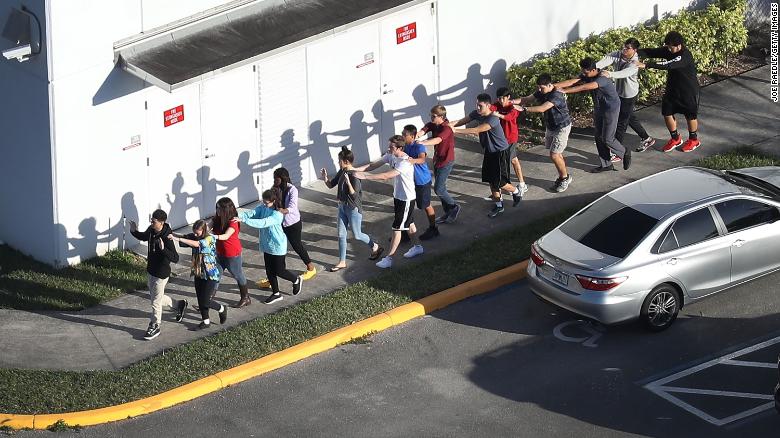 At least 17 people were killed Wednesday in a high school shooting in Parkland, Florida, Broward County Sheriff Scott Israel said.
The suspect, 19-year-old former student Nikolas Cruz, is in custody, the sheriff said. The sheriff said he was expelled for unspecified disciplinary reasons.
At least 14 people have been taken to area hospitals following the shooting, Israel said.
Law enforcement responded to reports of a shooting at the school shortly before 3 p.m. The shooting sent students and staff streaming out of the school in a panic.
Immediately after the shooting, aerial footage from CNN affiliate WSVN showed people lying on the ground outside the school, being treated for injuries and moved to ambulances.
Freshman Kayden Hanafi said he heard two gunshots and saw people running out of another building on campus. As he and his classmates went into lockdown in a classroom, many thought the noise might have been firecrackers.
"It's really a blessing to still be alive," he said.
Nicole Baltzer, 18, said she was in trigonometry class about 10 minutes before the end of the school day when the fire alarm went off. As students evacuated, she heard six gunshots and everyone started running back inside the school
"I heard so many gunshots, at least like six. They were very close," Baltzer said.
A police officer told her to close her eyes as she walked past a classroom with broken glass, telling her "there's nothing good to see in there," she said.
A freshman named Aidan posted a photo on social media from inside his math class while on lockdown. Since then, he has left the building.
"We have been liberated. God bless, America," Aidan tweeted after being evacuated from the building. "Love each other. You may never know when it may be the last day you meet someone."
There had been a fire drill at the school earlier in the day, leading some to believe at first that the afternoon incident was another drill, a student told WSVN. "Everyone just started freaking out."
"But then word started going around that it was shots and not just, like, something else, everyone just started running towards the canal," the student said.
Parkland, with a population of 31,000 people in 2016, was named Florida's safest city last year, according to an analysis by the Washington-based National Council for Home Safety and Security, a home security industry trade association. The south Florida city had seven reported violent crimes and 186 property crimes the previous year, according to the analysis.
Stoneman Douglas High School had an enrollment of about 3,100 students in the 2015-16 year, according to the National Center for Education Statistics.
As news of the shooting spread, desperate parents gathered near the property searching for their children.
Lissette Rozenblat told CNN that her daughter safely evacuated the school and took shelter at a nearby Walmart.
"She was very nervous, she said that she could hear the person who was shot crying out for help, and was just a nervous wreck," Rozenblat said.
Agents from the Miami office of the Bureau of Alcohol, Tobacco, Firearms and Explosives are responding to the scene, a spokesman said.
Israel says it has conducted 'wide-ranging' air strikes against Hamas
Israeli aircraft and tanks hit targets across the Gaza Strip Friday after shots were fired at troops on the border, the army said, with Hamas reporting three members of its military wing killed.
An army statement said shots were fired at troops during renewed protests along the Gaza-Israel frontier and "in response, (Israeli) aircraft and tanks targeted military targets throughout the Gaza Strip."
The IDF says its warplanes have carried out 'wide-ranging' air strikes against Hamas targets in Gaza, in response to the earlier gunfire.
US Secretary of State Pompeo demands "full enforcement of sanctions" on North Korea
U.S. Secretary of State Mike Pompeo told United Nations Security Council envoys on Friday that there needs to be "concrete actions" by North Korea before an easing of sanctions on Pyongyang can be discussed, said Dutch U.N. Ambassador Karel van Oosterom.
"The secretary made very clear we need concrete deeds, concrete actions and only then we can start the discussion," van Oosterom told reporters after Pompeo informally briefed envoys from the 15-member council, Japan and South Korea behind closed doors at the South Korea U.N. mission.
(New York Times)
Michael Cohen Secretly Taped Trump Discussing Payment to Playboy Model
 President Trump's longtime lawyer, Michael D. Cohen, secretly recorded a conversation with Mr. Trump two months before the presidential election in which they discussed payments to a former Playboy model who said she had an affair with Mr. Trump, according to lawyers and others familiar with the recording.
The F.B.I. seized the recording this year during a raid on Mr. Cohen's office. The Justice Department is investigating Mr. Cohen's involvement in paying women to tamp down embarrassing news stories about Mr. Trump ahead of the 2016 election. Prosecutors want to know whether that violated federal campaign finance laws, and any conversation with Mr. Trump about those payments would be of keen interest to them.
The recording's existence further draws Mr. Trump into questions about tactics he and his associates used to keep aspects of his personal and business life a secret. And it highlights the potential legal and political danger that Mr. Cohen represents to Mr. Trump. Once the keeper of many of Mr. Trump's secrets, Mr. Cohen is now seen as increasingly willing to consider cooperating with prosecutors.
Rudolph W. Giuliani, Mr. Trump's personal lawyer, confirmed in a telephone conversation on Friday that Mr. Trump had discussed the payments with Mr. Cohen on the tape but said the payment was ultimately never made. He said the recording was less than two minutes and demonstrated that the president had done nothing wrong.
"Nothing in that conversation suggests that he had any knowledge of it in advance," Mr. Giuliani said, adding that Mr. Trump had directed Mr. Cohen that if he were to make a payment related to the woman, write a check, rather than sending cash, so it could be properly documented.
"In the big scheme of things, it's powerful exculpatory evidence," Mr. Giuliani.
Mr. Cohen's lawyers discovered the recording as part of their review of the seized materials and shared it with Mr. Trump's lawyers, according to three people briefed on the matter.
"We have nothing to say on this matter," Mr. Cohen's lawyer, Lanny J. Davis, said when asked about the tape.
(New York Times)