17 dead in Florida school shooting, law enforcement sources say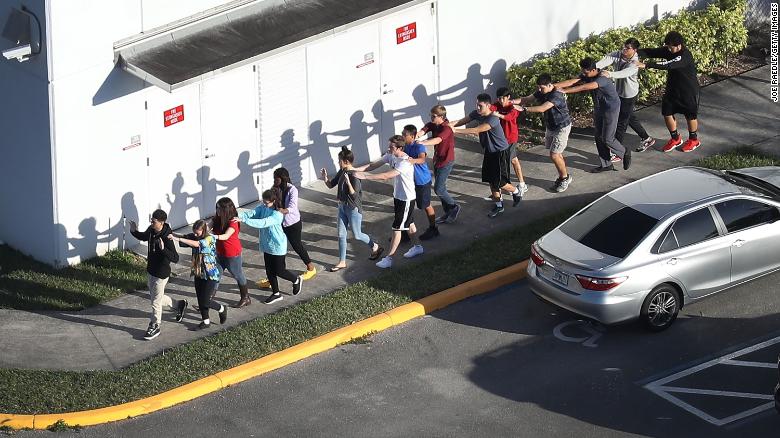 At least 17 people were killed Wednesday in a high school shooting in Parkland, Florida, Broward County Sheriff Scott Israel said.
The suspect, 19-year-old former student Nikolas Cruz, is in custody, the sheriff said. The sheriff said he was expelled for unspecified disciplinary reasons.
At least 14 people have been taken to area hospitals following the shooting, Israel said.
Law enforcement responded to reports of a shooting at the school shortly before 3 p.m. The shooting sent students and staff streaming out of the school in a panic.
Immediately after the shooting, aerial footage from CNN affiliate WSVN showed people lying on the ground outside the school, being treated for injuries and moved to ambulances.
Freshman Kayden Hanafi said he heard two gunshots and saw people running out of another building on campus. As he and his classmates went into lockdown in a classroom, many thought the noise might have been firecrackers.
"It's really a blessing to still be alive," he said.
Nicole Baltzer, 18, said she was in trigonometry class about 10 minutes before the end of the school day when the fire alarm went off. As students evacuated, she heard six gunshots and everyone started running back inside the school
"I heard so many gunshots, at least like six. They were very close," Baltzer said.
A police officer told her to close her eyes as she walked past a classroom with broken glass, telling her "there's nothing good to see in there," she said.
A freshman named Aidan posted a photo on social media from inside his math class while on lockdown. Since then, he has left the building.
"We have been liberated. God bless, America," Aidan tweeted after being evacuated from the building. "Love each other. You may never know when it may be the last day you meet someone."
There had been a fire drill at the school earlier in the day, leading some to believe at first that the afternoon incident was another drill, a student told WSVN. "Everyone just started freaking out."
"But then word started going around that it was shots and not just, like, something else, everyone just started running towards the canal," the student said.
Parkland, with a population of 31,000 people in 2016, was named Florida's safest city last year, according to an analysis by the Washington-based National Council for Home Safety and Security, a home security industry trade association. The south Florida city had seven reported violent crimes and 186 property crimes the previous year, according to the analysis.
Stoneman Douglas High School had an enrollment of about 3,100 students in the 2015-16 year, according to the National Center for Education Statistics.
As news of the shooting spread, desperate parents gathered near the property searching for their children.
Lissette Rozenblat told CNN that her daughter safely evacuated the school and took shelter at a nearby Walmart.
"She was very nervous, she said that she could hear the person who was shot crying out for help, and was just a nervous wreck," Rozenblat said.
Agents from the Miami office of the Bureau of Alcohol, Tobacco, Firearms and Explosives are responding to the scene, a spokesman said.
Billionaire Financier David Koch Dead At Age 79 From Prostate Cancer
(NTS) — Billionaire tycoon and controversial political activist David Koch, one of the wealthiest people in the world and a significant contributor to libertarian and conservative movements, has died after a decades-long struggle with cancer, his brother states. He was 79 years old.
"It is with a heavy heart that I announce the passing of my brother David," Koch Industries CEO Charles Koch said in a statement on Friday morning. "Anyone who worked with David surely experienced his giant personality and passion for life."
David was diagnosed with prostate cancer approximately three decades ago, and he retreated from Koch Industries in June 2018, when his brother said David's well-being had "continued to deteriorate" since being hospitalized in the summer of 2016. David held the title director emeritus.
"Twenty-seven years ago, David was diagnosed with advanced prostate cancer and given a grim prognosis of a few years to live," Charles said. "David liked to say that a combination of brilliant doctors, state-of-the-art medications and his stubbornness kept the cancer at bay. We can all be grateful that it did, because he was able to touch so many more lives as a result."
David Koch and his elder brother, Charles, have been an instrumental force in conservative American campaignings since the early 1980s. Their influence fundamentally originates from a fortune which centered around Koch Industries, which was established by their father Fred Koch in 1940.
Over the years, the Koch brothers have donated large quantities of money in assistance of organizations to assemble voters and to promote conservative and libertarian politicians. In 1980, David was the Libertarian Party's vice-presidential candidate, but Republican candidate Ronald Reagan defeated he and his running mate Ed Clark.
The Koch brothers were disparaging of President Donald Trump and started a multi-million dollar campaign against his tariffs, which led to a tweet from the president last summer. "The globalist Koch Brothers, who have become a total joke in real Republican circles, are against Strong Borders and Powerful Trade. I never sought their support because I don't need their money or bad ideas," Trump tweeted.
Two years earlier, just months before the 2016 presidential election, Trump took another swipe at the Koch brothers. "I turned down a meeting with Charles and David Koch. Much better for them to meet with the puppets of politics, they will do much better!", Trump tweeted.
At the time of David's death, his net worth was assessed to be $42.4 billion, according to Forbes magazine, making him the 11th richest person in the world. In 2015, the magazine ranked him as the 29th most powerful person in the world.
In addition to being a political donor, David was also a long-time philanthropist. He and his foundation bestowed hundreds of millions to cancer research and medical centers, and he served as a board member of the Prostate Cancer Foundation. He also contributed $100 million to the New York State Theater at Lincoln Center, $65 million to renovate the plaza at the Metropolitan Museum of Art, and $1 million to support education programs for visitors to the September 11 Memorial & Museum.
His wife Julia and their three children survive.
Cardinal George Pell's Appeal Denied; Convictions On Sex Abuse Will Stand
MELBOURNE, Australia — An Australian court has confirmed convictions against the most superior Catholic to be found condemned of child sex abuse.
---
The Victoria state Court of Appeal by a 2-1 majority ruling published Wednesday denied Cardinal George Pell's appeal of the unanimous verdicts a jury issued in December finding Pope Francis' former finance minister condemned of molesting two 13-year-old choirboys in Melbourne's St. Patrick's Cathedral in 1996 and 1997.
At the time, Pell had just become archbishop of Australia's second-largest city and had established an international-first reimbursement method for victims of clergical sexual abuse.
His lawyers are predicted to appeal the decision in the High Court, Australia's final arbitrator.
Attorney Cites Trump's Rhetoric In National Anthem Attack On Montana Teenager
MISSOULA, Mont. (AP) — The attorney for a Montana man accused of throwing a 13-year-old boy to the ground at a rodeo because the teenager didn't remove his hat during the national anthem says his client believes he was acting on an order from President Trump.
---
Attorney Lance Jasper told the Missoulian newspaper that the president's "rhetoric" contributed to 39-year-old Curt Brockway's disposition when he grabbed the boy by the throat and slammed him to the ground, fracturing his skull at the Mineral County Fairgrounds on Saturday.
Jasper said Brockway is an Army veteran who believes he was acting on an order by his commander in chief. He adds that Brockway's decision-making has been affected by a brain injury he suffered in a vehicle crash.
Brockway is charged with felony assault on a minor.