17 dead in Florida school shooting, law enforcement sources say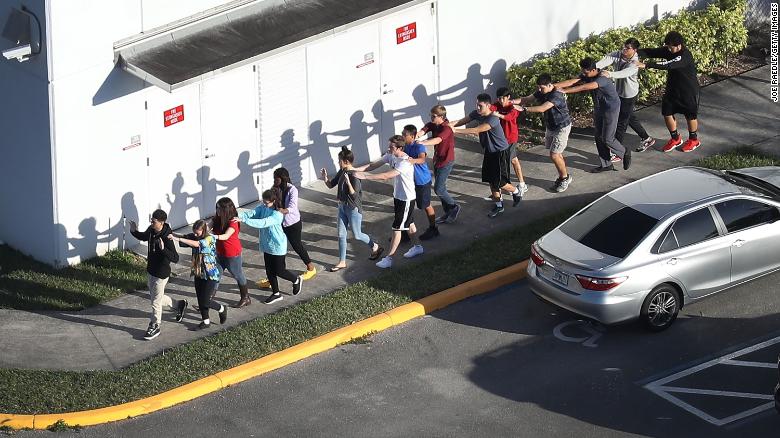 At least 17 people were killed Wednesday in a high school shooting in Parkland, Florida, Broward County Sheriff Scott Israel said.
The suspect, 19-year-old former student Nikolas Cruz, is in custody, the sheriff said. The sheriff said he was expelled for unspecified disciplinary reasons.
At least 14 people have been taken to area hospitals following the shooting, Israel said.
Law enforcement responded to reports of a shooting at the school shortly before 3 p.m. The shooting sent students and staff streaming out of the school in a panic.
Immediately after the shooting, aerial footage from CNN affiliate WSVN showed people lying on the ground outside the school, being treated for injuries and moved to ambulances.
Freshman Kayden Hanafi said he heard two gunshots and saw people running out of another building on campus. As he and his classmates went into lockdown in a classroom, many thought the noise might have been firecrackers.
"It's really a blessing to still be alive," he said.
Nicole Baltzer, 18, said she was in trigonometry class about 10 minutes before the end of the school day when the fire alarm went off. As students evacuated, she heard six gunshots and everyone started running back inside the school
"I heard so many gunshots, at least like six. They were very close," Baltzer said.
A police officer told her to close her eyes as she walked past a classroom with broken glass, telling her "there's nothing good to see in there," she said.
A freshman named Aidan posted a photo on social media from inside his math class while on lockdown. Since then, he has left the building.
"We have been liberated. God bless, America," Aidan tweeted after being evacuated from the building. "Love each other. You may never know when it may be the last day you meet someone."
There had been a fire drill at the school earlier in the day, leading some to believe at first that the afternoon incident was another drill, a student told WSVN. "Everyone just started freaking out."
"But then word started going around that it was shots and not just, like, something else, everyone just started running towards the canal," the student said.
Parkland, with a population of 31,000 people in 2016, was named Florida's safest city last year, according to an analysis by the Washington-based National Council for Home Safety and Security, a home security industry trade association. The south Florida city had seven reported violent crimes and 186 property crimes the previous year, according to the analysis.
Stoneman Douglas High School had an enrollment of about 3,100 students in the 2015-16 year, according to the National Center for Education Statistics.
As news of the shooting spread, desperate parents gathered near the property searching for their children.
Lissette Rozenblat told CNN that her daughter safely evacuated the school and took shelter at a nearby Walmart.
"She was very nervous, she said that she could hear the person who was shot crying out for help, and was just a nervous wreck," Rozenblat said.
Agents from the Miami office of the Bureau of Alcohol, Tobacco, Firearms and Explosives are responding to the scene, a spokesman said.
Trump Says He'll Make a 'Major Announcement' Saturday Afternoon About Shutdown, Border
Washington (AP) — Trump says he will make a 'major announcement' on Saturday afternoon about the government shutdown and border security.
Trump Administration Separated Thousands More Migrants Than Previously Known
The Trump Administration separated thousands more migrant kids from their families at the border than it previously acknowledged, and the separations started months before the policy was announced, according to a federal audit released Thursday morning.
"More children over a longer period of time" were separated at the border than commonly known, an investigator with the Department of Health and Human Services inspector general's office told reporters Thursday morning.
"How many more children were separated is unknown, by us and HHS" because of failures to track families as they were being separated, he said.
HHS officials involved in caring for the separated children and reunifying families estimated "thousands" of additional children are separated at the border, the inspector general said.
The report sheds new light on the Trump administration's efforts to deter border crossings by separating migrant families. House Democrats who've condemned the separations as inhumane have vowed to investigate the administration's handling of the policy and its health effects on separated children, and the inspector general said additional investigations are in the works.
The inspector general report said some family separations continued, even after President Donald Trump in June 2018 ended the policy amid uproar and a federal court ordered his administration to reunify the families. The June 2018 court order called on the administration to reunify about 2,500 separated children in government custody. Most of those families were reunited within 30 days.
However, HHS received at least 118 separated children between July and early November, according to the report. DHS provided "limited" information about the reason for those separations. In slightly more than half of those cases, border officials cited the parent's criminal history as a reason to separate the families, although they did not always provide details. The court order requiring reunifications said family separations should only occur if border officials could specify when parents posed possible dangers to children or were otherwise unfit to care for them, the inspector general noted.
Federal investigators said they had no details about how many of the "thousands of separated children" who entered the care of HHS before the June 2018 court order had been reunited.
"We have no information about the status of the children who were released prior to the court order," Maxwell told reporters. [POLITICO]
Prince Phillip Involved in Car Crash
#BREAKING Duke of Edinburgh involved in car crash near Sandringham Estate but not injured, Buckingham Palace says.