London City airport cancels all flights after 500kg bomb found
Second world war device forces all-day closure of airport as properties are evacuated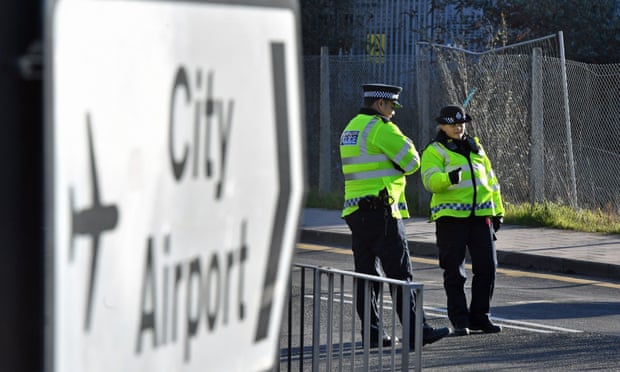 ---
This article titled "London City airport cancels all flights after WWII bomb found" was written by Haroon Siddique, for theguardian.com on Monday 12th February 2018 11.32 UTC
All flights in and out of London City airport have been cancelled after the discovery of an unexploded second world war bomb.
The airport's chief executive, Robert Sinclair, said it would be closed for the whole of Monday, affecting 120 flights out and a similar number of incoming flights.
A 214-metre exclusion zone set up by the Metropolitan police remains in place after the device was found at King George V dock in east London on Sunday. Properties within the exclusion zone are being evacuated and trains on the Docklands light railway between Pontoon Dock and Woolwich Arsenal have been suspended.
Sinclair said: "I urge any passengers due to fly today not to come to the airport and to contact their airline for further information.
"I recognise this is causing inconvenience for our passengers, and in particular some of our local residents. The airport is cooperating fully with the Met police and Royal Navy and working hard to safely remove the device and resolve the situation as quickly as possible."
The unexploded ordnance was discovered during work at the airport just after 5am on Sunday. After specialist officers and the navy confirmed the nature of the device a decision was taken to implement an exclusion zone at about 10am.
The area was heavily bombed during the blitz and Newham council described the bomb as a "German 500kg fused device". The local authority said residents unable to stay with family or friends were being taken to a rest centre with bedding and refreshments but some had chosen to remain in their homes.
A council spokesman said: "Work will not start on lifting and removing the device until the initial 214-metre zone is clear. When work starts to remove it, it is expected the exclusion zone will be extended to 250 metres and more properties will need to be evacuated."
A number of road cordons have been established and motorists have been urged to take alternative routes. The operation is expected to continue until Tuesday morning.
London City airport is the 14th busiest in the UK with 4.5 million passengers last year, according to data from the Civil Aviation Authority.
guardian.co.uk © Guardian News & Media Limited 2010
Published via the Guardian News Feed plugin for WordPress.
Israel says it has conducted 'wide-ranging' air strikes against Hamas
Israeli aircraft and tanks hit targets across the Gaza Strip Friday after shots were fired at troops on the border, the army said, with Hamas reporting three members of its military wing killed.
An army statement said shots were fired at troops during renewed protests along the Gaza-Israel frontier and "in response, (Israeli) aircraft and tanks targeted military targets throughout the Gaza Strip."
The IDF says its warplanes have carried out 'wide-ranging' air strikes against Hamas targets in Gaza, in response to the earlier gunfire.
US Secretary of State Pompeo demands "full enforcement of sanctions" on North Korea
U.S. Secretary of State Mike Pompeo told United Nations Security Council envoys on Friday that there needs to be "concrete actions" by North Korea before an easing of sanctions on Pyongyang can be discussed, said Dutch U.N. Ambassador Karel van Oosterom.
"The secretary made very clear we need concrete deeds, concrete actions and only then we can start the discussion," van Oosterom told reporters after Pompeo informally briefed envoys from the 15-member council, Japan and South Korea behind closed doors at the South Korea U.N. mission.
(New York Times)
Michael Cohen Secretly Taped Trump Discussing Payment to Playboy Model
 President Trump's longtime lawyer, Michael D. Cohen, secretly recorded a conversation with Mr. Trump two months before the presidential election in which they discussed payments to a former Playboy model who said she had an affair with Mr. Trump, according to lawyers and others familiar with the recording.
The F.B.I. seized the recording this year during a raid on Mr. Cohen's office. The Justice Department is investigating Mr. Cohen's involvement in paying women to tamp down embarrassing news stories about Mr. Trump ahead of the 2016 election. Prosecutors want to know whether that violated federal campaign finance laws, and any conversation with Mr. Trump about those payments would be of keen interest to them.
The recording's existence further draws Mr. Trump into questions about tactics he and his associates used to keep aspects of his personal and business life a secret. And it highlights the potential legal and political danger that Mr. Cohen represents to Mr. Trump. Once the keeper of many of Mr. Trump's secrets, Mr. Cohen is now seen as increasingly willing to consider cooperating with prosecutors.
Rudolph W. Giuliani, Mr. Trump's personal lawyer, confirmed in a telephone conversation on Friday that Mr. Trump had discussed the payments with Mr. Cohen on the tape but said the payment was ultimately never made. He said the recording was less than two minutes and demonstrated that the president had done nothing wrong.
"Nothing in that conversation suggests that he had any knowledge of it in advance," Mr. Giuliani said, adding that Mr. Trump had directed Mr. Cohen that if he were to make a payment related to the woman, write a check, rather than sending cash, so it could be properly documented.
"In the big scheme of things, it's powerful exculpatory evidence," Mr. Giuliani.
Mr. Cohen's lawyers discovered the recording as part of their review of the seized materials and shared it with Mr. Trump's lawyers, according to three people briefed on the matter.
"We have nothing to say on this matter," Mr. Cohen's lawyer, Lanny J. Davis, said when asked about the tape.
(New York Times)