FBI investigation finds no evidence of attack in death of border patrol officer
Donald Trump described it as a murder but the FBI investigation of Rogelio Martinez's death suggests that the incident was an accident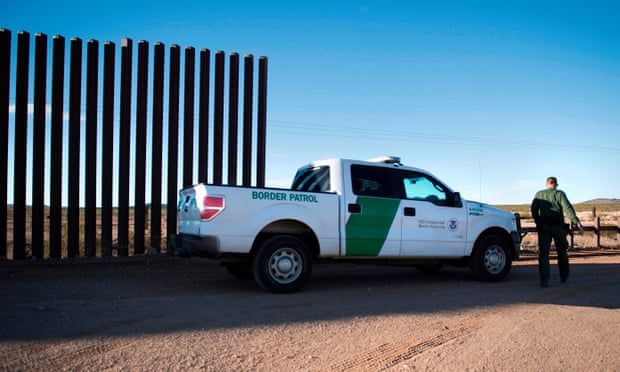 This article titled "FBI investigation finds no evidence of attack in death of border patrol officer" was written by Tom Dart in Houston, for theguardian.com on Thursday 8th February 2018 18.49 UTC
An extensive FBI investigation into the death of a border patrol agent that President Donald Trump described as a murder has found no evidence that the man was attacked.
Rogelio Martinez died from injuries sustained in November last year while responding to reports of a late-night incident near Interstate 10 in remote west Texas, about 30 miles from the border with Mexico.
Trump tweeted the next day that Martinez was "killed", adding "we will seek out and bring to justice those responsible. We will, and must, build the Wall!".
The president later added that Martinez's partner, who was injured and hospitalised but survived, had been "brutally beaten".
Two senior Texas Republicans – Governor Greg Abbott, and Senator Ted Cruz – also weighed in with statements describing the 36-year-old's death as a murder.
But the FBI has found no sign of an attack, adding credibility to suggestions that the incident was an accident.
"To date none of the more than 650 interviews completed, locations searched, or evidence collected and analyzed have produced evidence that would support the existence of a scuffle, altercation, or attack on November 18, 2017," the bureau's El Paso office said in a statement on Wednesday.
The FBI is offering a reward for information and said that 37 of its field offices were involved in the "top priority" investigation, which included 26 searches in Texas and New Mexico and turned up two "persons of interest" who were found not to be involved, while "several individuals" were arrested on suspicion of an unrelated immigration offence.
The release provided a detail that was not previously made public: when talking to a dispatcher by phone, the second agent "made a statement to the effect of, 'We ran into a culvert,' 'I ran into a culvert,' or 'I think I ran into a culvert'."
The agent later told investigators he had no memory of what occurred because he suffered head injuries.
The FBI statement follows an inconclusive autopsy report released by the El Paso county medical examiner's office on Tuesday which said the death was caused by blunt force trauma from an undetermined cause.
Border patrol union representatives have consistently maintained that Martinez was deliberately killed, perhaps after being struck with rocks.
"Just because there's no evidence of a scuffle doesn't mean that it wasn't an assault," Brandon Judd, president of the National Border Patrol Council, told Fox News. "The only thing in my mind that makes sense is that they were attacked from behind."
However, the local sheriff, Oscar Carrillo, told the Dallas Morning News last year that "from the beginning we were radioed to assist in the incident as an injury, not an assault." Carrillo raised the possibility that the agents might have tumbled roughly 9ft into the culvert from the edge of the often windswept freeway, given the darkness and the risk of being sideswiped by a truck.
Trump has repeatedly seized on fatal incidents to advance the narrative that more border security and tougher immigration restrictions and enforcement are required to keep Americans safe.
He tweeted that the death of the NFL player Edwin Jackson last weekend in a suspected drunk-driving accident involving a previously deported undocumented immigrant from Guatemala was "disgraceful" and "just one of many such preventable tragedies".
In response, the local prosecutor, a Democrat, said that attempts to politicise the crash were "ghoulish and inappropriate".
guardian.co.uk © Guardian News & Media Limited 2010
Published via the Guardian News Feed plugin for WordPress.
Israel says it has conducted 'wide-ranging' air strikes against Hamas
Israeli aircraft and tanks hit targets across the Gaza Strip Friday after shots were fired at troops on the border, the army said, with Hamas reporting three members of its military wing killed.
An army statement said shots were fired at troops during renewed protests along the Gaza-Israel frontier and "in response, (Israeli) aircraft and tanks targeted military targets throughout the Gaza Strip."
The IDF says its warplanes have carried out 'wide-ranging' air strikes against Hamas targets in Gaza, in response to the earlier gunfire.
US Secretary of State Pompeo demands "full enforcement of sanctions" on North Korea
U.S. Secretary of State Mike Pompeo told United Nations Security Council envoys on Friday that there needs to be "concrete actions" by North Korea before an easing of sanctions on Pyongyang can be discussed, said Dutch U.N. Ambassador Karel van Oosterom.
"The secretary made very clear we need concrete deeds, concrete actions and only then we can start the discussion," van Oosterom told reporters after Pompeo informally briefed envoys from the 15-member council, Japan and South Korea behind closed doors at the South Korea U.N. mission.
(New York Times)
Michael Cohen Secretly Taped Trump Discussing Payment to Playboy Model
 President Trump's longtime lawyer, Michael D. Cohen, secretly recorded a conversation with Mr. Trump two months before the presidential election in which they discussed payments to a former Playboy model who said she had an affair with Mr. Trump, according to lawyers and others familiar with the recording.
The F.B.I. seized the recording this year during a raid on Mr. Cohen's office. The Justice Department is investigating Mr. Cohen's involvement in paying women to tamp down embarrassing news stories about Mr. Trump ahead of the 2016 election. Prosecutors want to know whether that violated federal campaign finance laws, and any conversation with Mr. Trump about those payments would be of keen interest to them.
The recording's existence further draws Mr. Trump into questions about tactics he and his associates used to keep aspects of his personal and business life a secret. And it highlights the potential legal and political danger that Mr. Cohen represents to Mr. Trump. Once the keeper of many of Mr. Trump's secrets, Mr. Cohen is now seen as increasingly willing to consider cooperating with prosecutors.
Rudolph W. Giuliani, Mr. Trump's personal lawyer, confirmed in a telephone conversation on Friday that Mr. Trump had discussed the payments with Mr. Cohen on the tape but said the payment was ultimately never made. He said the recording was less than two minutes and demonstrated that the president had done nothing wrong.
"Nothing in that conversation suggests that he had any knowledge of it in advance," Mr. Giuliani said, adding that Mr. Trump had directed Mr. Cohen that if he were to make a payment related to the woman, write a check, rather than sending cash, so it could be properly documented.
"In the big scheme of things, it's powerful exculpatory evidence," Mr. Giuliani.
Mr. Cohen's lawyers discovered the recording as part of their review of the seized materials and shared it with Mr. Trump's lawyers, according to three people briefed on the matter.
"We have nothing to say on this matter," Mr. Cohen's lawyer, Lanny J. Davis, said when asked about the tape.
(New York Times)