Boris Johnson attacks Labour in row over cancelled Trump visit
Foreign secretary says Jeremy Corbyn and London mayor putting US-UK relations at risk after president cancels embassy trip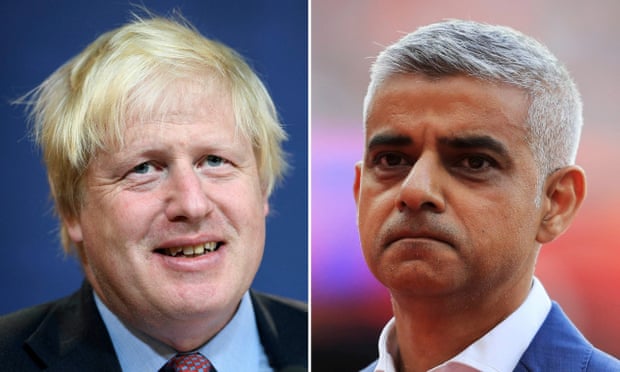 ---
This article titled "Boris Johnson attacks Labour in row over Donald Trump's cancelled visit" was written by Peter Walker and Heather Stewart, for The Guardian on Friday 12th January 2018 18.54 UTC
Downing Street has accused Jeremy Corbyn and Sadiq Khan of jeopardising relations with America for telling Donald Trump he is not welcome in Britain, after the US president called off a planned visit to London in the face of likely mass protests.
In a move that reinforces Theresa May's determination to remain publicly close to Trump, despite accusations of racism and his liaisons with the far right, Downing Street backed an accusation from the foreign secretary, Boris Johnson, that Labour was risking transatlantic ties.
After Trump confirmed in the early hours of Friday that he would not come to officially open the new US embassy, Khan, the London mayor, said the president was not welcome in the city and had "finally got that message".
Corbyn previously called for people to protest when Trump attended the embassy opening to send the president "a clear message" on actions such as his retweets of the far-right Britain First group.
Johnson tweeted : "The US is the biggest single investor in the UK – yet Khan & Corbyn seem determined to put this crucial relationship at risk. We will not allow US-UK relations to be endangered by some puffed up pompous popinjay in City Hall."
The comment initially seemed to take No 10 by surprise and a spokesman initially dismissed the idea that Khan had damaged relations: "No, the US and the UK are natural resilient strong partners and allies and we do more together than any two countries in the world."
But soon afterwards, Johnson's comments were endorsed. A Downing Street source said: "Boris expresses himself in his own inimitable way – but we agree that any risk to the crucial US-UK relationship is not in our country's best interests."
Trump tweeted that he would not visit to open the embassy, saying the decision was because Barack Obama had sold the previous building in Grosvenor Square "for peanuts" and built an expensive replacement in a poor location in south London. In fact, the move was first planned when George W Bush was president.
Trump is still due to make a state visit to the UK, following an invitation made by May when she visited him shortly after his inauguration. This has been placed on hold, again seemingly due to the threat of protests.
Khan said: "It appears that President Trump got the message from the many Londoners who love and admire America and Americans but find his policies and actions the polar opposite of our city's values of inclusion, diversity and tolerance.
"His visit next month would, without doubt, have been met by mass peaceful protests. This just reinforces what a mistake it was for Theresa May to rush and extend an invitation of a state visit in the first place."
The London mayor, who has previously criticised Trump over his comments on terror attacks and immigration policy targeting Muslims, will reiterate his opposition in a speech on Saturday.
Populist movements are "playing on people's worst fears and creating space for extreme views on immigration, diversity and equality", Khan is due to tell the Fabian Society's annual conference. "We've seen the impact of this in the US and we cannot allow this narrative to take hold in Britain."
A Downing Street spokesman said there had never been a confirmation that Trump would open the embassy: "As we've said a number of times, a state visit invitation has been extended and accepted, and we will confirm the details in due course."
He said May and Trump enjoyed a good relationship, adding: "The US is one of our oldest and most valued allies, and our strong and deep partnership will endure."
The president's complaints about the new embassy building were contradicted by the US ambassador to the UK, Woody Johnson, who was appointed by Trump.
Writing in London's Evening Standard newspaper, Johnson said the move from central London to Nine Elms, next to Battersea, was forced by security concerns after 11 September. The new building was the most advanced US embassy in the world and "did not cost the US taxpayer a cent", he said, being financed by the sale of the old site and other London properties.
It had been expected that Trump would use the embassy visit to hold meetings with May. Officials had been examining plans for him to meet the Queen without a full-blown state banquet.
guardian.co.uk © Guardian News & Media Limited 2010
Published via the Guardian News Feed plugin for WordPress.
Court Orders White House to give Jim Acosta his hard pass back
Federal judge Timothy J. Kelly sided with CNN on Friday, ordering the White House to reinstate chief White House correspondent Jim Acosta's press pass.
The ruling was an initial victory for CNN in its lawsuit against President Trump and several top aides.
The lawsuit alleges that CNN and Acosta's First and Fifth Amendment rights are being violated by the suspension of Acosta's press pass.
Kelly did not rule on the underlying case on Friday. But he granted CNN's request for a temporary restraining order.
This result means that Acosta will have his access to the White House restored for at least a short period of time. The judge said while explaining his decision that he believes that CNN and Acosta are likely to prevail in the case overall.
CNN is also asking for "permanent relief," meaning a declaration from the judge that Trump's revocation of Acosta's press pass was unconstitutional. This legal conclusion could protect other reporters from retaliation by the administration.
"The revocation of Acosta's credentials is only the beginning," CNN's lawsuit alleged, pointing out that Trump has threatened to strip others' press passes too.
That is one of the reasons why most of the country's major news organizations have backed CNN's lawsuit, turning this into an important test of press freedom.
But the judge will rule on all of that later. Further hearings are likely to take place in the next few weeks, according to CNN's lawyers.

(CNN)
CNN sues President Trump for banning reporter Jim Acosta
CNN is filing a lawsuit against President Trump and several of his aides, seeking the immediate restoration of chief White House correspondent Jim Acosta's access to the White House.
The lawsuit is a response to the White House's suspension of Acosta's press pass, known as a Secret Service "hard pass," last week. The suit alleges that Acosta and CNN's First and Fifth Amendment rights are being violated by the ban.
The suit is being filed in U.S. District Court in Washington, D.C. on Tuesday morning, a CNN spokeswoman confirmed.
Both CNN and Acosta are plaintiffs in the lawsuit. There are six defendants: Trump, chief of staff John Kelly, press secretary Sarah Sanders, deputy chief of staff for communications Bill Shine, Secret Service director Joseph Clancy, and the Secret Service officer who took Acosta's hard pass away last Wednesday. The officer is identified as John Doe in the suit, pending his identification.
The six defendants are all named because of their roles in enforcing and announcing Acosta's suspension.
Last Wednesday, shortly after Acosta was denied entry to the White House grounds, Sanders defended the unprecedented step by claiming that he had behaved inappropriately at a presidential news conference. CNN and numerous journalism advocacy groups rejected that assertion and said his pass should be reinstated.
On Friday, CNN sent a letter to the White House formally requesting the immediate reinstatement of Acosta's pass and warning of a possible lawsuit, the network confirmed.
In a statement on Tuesday morning, CNN said it is seeking a preliminary injunction as soon as possible so that Acosta can return to the White House right away, and a ruling from the court preventing the White House from revoking Acosta's pass in the future.
"CNN filed a lawsuit against the Trump Administration this morning in DC District Court," the statement read. "It demands the return of the White House credentials of CNN's Chief White House correspondent, Jim Acosta. The wrongful revocation of these credentials violates CNN and Acosta's First Amendment rights of freedom of the press, and their Fifth Amendment rights to due process. We have asked this court for an immediate restraining order requiring the pass be returned to Jim, and will seek permanent relief as part of this process."
CNN also asserted that other news organizations could have been targeted by the Trump administration this way, and could be in the future.
"While the suit is specific to CNN and Acosta, this could have happened to anyone," the network said. "If left unchallenged, the actions of the White House would create a dangerous chilling effect for any journalist who covers our elected officials."
Acosta has continued to do part of his job, contacting sources and filing stories, but he has been unable to attend White House events or ask questions in person — a basic part of any White House correspondent's role.
Acosta is on a previously scheduled vacation this week. He declined to comment on the lawsuit.
On CNN's side, CNN Worldwide chief counsel David Vigilante is joined by two prominent attorneys, Ted Boutrous and Theodore Olson. Both men are partners at Gibson, Dunn & Crutcher.
Last week, before he was retained by CNN, Boutrous tweeted that the action against Acosta "clearly violates the First Amendment." He cited the Sherrill case.
"This sort of angry, irrational, false, arbitrary, capricious content-based discrimination regarding a White House press credential against a journalist quite clearly violates the First Amendment," he wrote.
David McCraw, the top newsroom lawyer at The New York Times, said instances of news organizations suing a president are extremely rare.
Past examples are The New York Times v. U.S., the famous Supreme Court case involving the Pentagon Papers in 1971; and CNN's 1981 case against the White House and the broadcast networks, when CNN sued to be included in the White House press pool.
The backdrop to this new suit, of course, is Trump's antipathy for CNN and other news outlets. He regularly derides reporters from CNN and the network as a whole.
Abrams posited on "Reliable Sources" on Sunday that CNN might be reluctant to sue because the president already likes to portray the network as his enemy. Now there will be a legal case titled CNN Inc. versus President Trump.
But, Abrams said, "this is going to happen again," meaning other reporters may be banned too.
"Whether it's CNN suing or the next company suing, someone's going to have to bring a lawsuit," he said, "and whoever does is going to win unless there's some sort of reason."
(CNN)
US attorney general Jeff Sessions fired by Trump
Attorney General Jeff Sessions has resigned as the country's chief law enforcement officer at President Donald Trump's request.
Sessions announced his plan to resign in a letter to the White House on Wednesday.
Trump announced in a tweet that Sessions' chief of staff Matt Whitaker would become the new acting attorney general.
The attorney general had endured more than a year of stinging and personal criticism from Trump over his recusal from the investigation into potential coordination between Russia and the Trump campaign.
Trump blamed the decision for opening the door to the appointment of special counsel Robert Mueller, who took over the Russia investigation and began examining whether Trump's hectoring of Sessions was part of a broader effort to obstruct justice.
Timeline:
1973-1975 – Practices law in Alabama.
1975-1977 – Assistant US Attorney for the Southern District of Alabama.
1981-1993 – US Attorney for the Southern District of Alabama.
1986 – President Ronald Reagan nominates Sessions to become a federal judge. The Senate Judiciary Committee opposes the nomination following testimony that Sessions made racist remarks and called the NAACP and ACLU "un-American."
1995-1997- Alabama Attorney General. During this time, an Alabama judge accuses Sessions of prosecutorial misconduct related to the handling of evidence in a case but ultimately, Sessions is not disciplined for ethics violations.
1996 – Elected to the US Senate. Re-elected in 2002, 2008 and 2014.
1997–February 2017 – Republican senator representing Alabama.
February 2, 2009 – Votes in favor of the confirmation of Eric Holder as attorney general.
April 23, 2015 – Votes against the confirmation of Loretta Lynch as attorney general.
February 28, 2016 – Becomes the first sitting US senator to endorse Donald Trump's presidential bid.
November 18, 2016 – President-elect Donald Trump announces he intends to nominate Sessions to be the next attorney general.
January 3, 2017 – An NAACP sit-in to protest the nomination of Sessions as US attorney general ends when six people are arrested at Sessions' Mobile, Alabama, office.
February 8, 2017 – After 30 hours of debate, the US Senate confirms Sessions as attorney general by a 52-47 vote.
March 1, 2017 – The Washington Post reports that Sessions failed to disclose pre-election meetings with the top Russian diplomat in Washington. Sessions did not mention either meeting during his confirmation hearings when he said he knew of no contacts between Trump surrogates and Russians.
March 2, 2017 – Sessions recuses himself from any involvement in a Justice Department probe into links between the Trump campaign and Moscow.
March 10, 2017 – The DOJ abruptly announces the firing of 46 US attorneys, including Preet Bharara of New York. Bharara said that during the transition, Trump asked him to stay on during a meeting at Trump Tower.
April 3, 2017 – The Department of Justice releases a memorandum ordering a review of consent decrees and other police reforms overseen by the federal government in response to complaints of civil rights abuses and public safety issues. During his confirmation hearing, Sessions expressed skepticism about the effectiveness of Justice Department interventions in local police matters.
July 21, 2017 – The Washington Post reports that Sessions discussed policy-related matters with Russian ambassador, Sergey Kislyak before the 2016 election, according to intelligence intercepts. Sessions had previously claimed that he did not talk about the campaign or relations with Russia during his meetings with Kislyak.
October 4, 2017 – In a memo to all federal prosecutors, Sessions says that a 1964 federal civil rights law does not protect transgender workers from employment discrimination and the department will take this new position in all "pending and future matters."
November 14, 2017 – During a House judiciary committee hearing, Sessions says he did not lie under oath in earlier hearings regarding communications with Russians during the 2016 presidential campaign, and denies participating in any collusion with Russia. Sessions also says the DOJ will consider investigations into Hillary Clinton and alleged ties between the Clinton Foundation and the sale of Uranium One.
January 4, 2018 – Sessions announces that the DOJ is rescinding an Obama-era policy of non-interference with states that have legalized recreational marijuana. The reversal frees up federal prosecutors to pursue cases in states where recreational marijuana is legal.
March 21, 2018 – Sessions issues a statement encouraging federal prosecutors to seek the death penalty for certain drug-related crimes, as mandated by law. Seeking capital punishment in drug cases is part of the Trump administration's efforts to combat opioid abuse.
May 7, 2018 – Sessions announces a "zero tolerance" policy for illegal border crossings, warning that parents could be separated from children if they try to cross to the US from Mexico. "If you cross the border unlawfully, even a first offense, we're going to prosecute you. If you're smuggling a child, we're going to prosecute you, and that child will be separated from you, probably, as required by law. If you don't want your child to be separated, then don't bring them across the border illegally."
May 30, 2018 – Trump again expresses regret for choosing Sessions to lead the Justice Department. In a tweet, he quotes a remark from Rep. Trey Gowdy (R-SC) who said that the president could have picked someone else as attorney general. "I wish I did!," Trump tweeted. He had first said that he was rethinking his choice of Sessions as attorney general during a July 2017 interview with the New York Times.