Boris Johnson attacks Labour in row over cancelled Trump visit
Foreign secretary says Jeremy Corbyn and London mayor putting US-UK relations at risk after president cancels embassy trip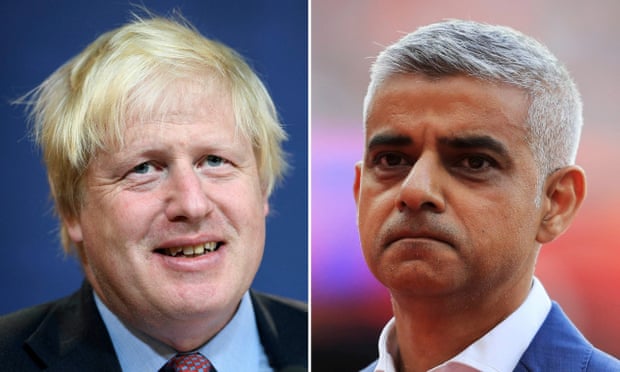 ---
This article titled "Boris Johnson attacks Labour in row over Donald Trump's cancelled visit" was written by Peter Walker and Heather Stewart, for The Guardian on Friday 12th January 2018 18.54 UTC
Downing Street has accused Jeremy Corbyn and Sadiq Khan of jeopardising relations with America for telling Donald Trump he is not welcome in Britain, after the US president called off a planned visit to London in the face of likely mass protests.
In a move that reinforces Theresa May's determination to remain publicly close to Trump, despite accusations of racism and his liaisons with the far right, Downing Street backed an accusation from the foreign secretary, Boris Johnson, that Labour was risking transatlantic ties.
After Trump confirmed in the early hours of Friday that he would not come to officially open the new US embassy, Khan, the London mayor, said the president was not welcome in the city and had "finally got that message".
Corbyn previously called for people to protest when Trump attended the embassy opening to send the president "a clear message" on actions such as his retweets of the far-right Britain First group.
Johnson tweeted : "The US is the biggest single investor in the UK – yet Khan & Corbyn seem determined to put this crucial relationship at risk. We will not allow US-UK relations to be endangered by some puffed up pompous popinjay in City Hall."
The comment initially seemed to take No 10 by surprise and a spokesman initially dismissed the idea that Khan had damaged relations: "No, the US and the UK are natural resilient strong partners and allies and we do more together than any two countries in the world."
But soon afterwards, Johnson's comments were endorsed. A Downing Street source said: "Boris expresses himself in his own inimitable way – but we agree that any risk to the crucial US-UK relationship is not in our country's best interests."
Trump tweeted that he would not visit to open the embassy, saying the decision was because Barack Obama had sold the previous building in Grosvenor Square "for peanuts" and built an expensive replacement in a poor location in south London. In fact, the move was first planned when George W Bush was president.
Trump is still due to make a state visit to the UK, following an invitation made by May when she visited him shortly after his inauguration. This has been placed on hold, again seemingly due to the threat of protests.
Khan said: "It appears that President Trump got the message from the many Londoners who love and admire America and Americans but find his policies and actions the polar opposite of our city's values of inclusion, diversity and tolerance.
"His visit next month would, without doubt, have been met by mass peaceful protests. This just reinforces what a mistake it was for Theresa May to rush and extend an invitation of a state visit in the first place."
The London mayor, who has previously criticised Trump over his comments on terror attacks and immigration policy targeting Muslims, will reiterate his opposition in a speech on Saturday.
Populist movements are "playing on people's worst fears and creating space for extreme views on immigration, diversity and equality", Khan is due to tell the Fabian Society's annual conference. "We've seen the impact of this in the US and we cannot allow this narrative to take hold in Britain."
A Downing Street spokesman said there had never been a confirmation that Trump would open the embassy: "As we've said a number of times, a state visit invitation has been extended and accepted, and we will confirm the details in due course."
He said May and Trump enjoyed a good relationship, adding: "The US is one of our oldest and most valued allies, and our strong and deep partnership will endure."
The president's complaints about the new embassy building were contradicted by the US ambassador to the UK, Woody Johnson, who was appointed by Trump.
Writing in London's Evening Standard newspaper, Johnson said the move from central London to Nine Elms, next to Battersea, was forced by security concerns after 11 September. The new building was the most advanced US embassy in the world and "did not cost the US taxpayer a cent", he said, being financed by the sale of the old site and other London properties.
It had been expected that Trump would use the embassy visit to hold meetings with May. Officials had been examining plans for him to meet the Queen without a full-blown state banquet.
guardian.co.uk © Guardian News & Media Limited 2010
Published via the Guardian News Feed plugin for WordPress.
Trump threatens to withdraw from World Trade Organization
President Donald Trump said he would pull out of the World Trade Organization if it doesn't treat the U.S. better, continuing his criticism of a cornerstone of the international trading system.
"If they don't shape up, I would withdraw from the WTO," Trump said Thursday in an interview with Bloomberg News at the White House.
A U.S. withdrawal from the WTO would severely undermine the post-World War II multilateral trading system that the U.S. helped build.
Trump said last month that the U.S. is at a big disadvantage from being treated "very badly" by the WTO for many years and that the Geneva-based body needs to "change their ways."
(Reuters)
Michael Cohen Secretly Taped Trump Discussing Payment to Playboy Model
 President Trump's longtime lawyer, Michael D. Cohen, secretly recorded a conversation with Mr. Trump two months before the presidential election in which they discussed payments to a former Playboy model who said she had an affair with Mr. Trump, according to lawyers and others familiar with the recording.
The F.B.I. seized the recording this year during a raid on Mr. Cohen's office. The Justice Department is investigating Mr. Cohen's involvement in paying women to tamp down embarrassing news stories about Mr. Trump ahead of the 2016 election. Prosecutors want to know whether that violated federal campaign finance laws, and any conversation with Mr. Trump about those payments would be of keen interest to them.
The recording's existence further draws Mr. Trump into questions about tactics he and his associates used to keep aspects of his personal and business life a secret. And it highlights the potential legal and political danger that Mr. Cohen represents to Mr. Trump. Once the keeper of many of Mr. Trump's secrets, Mr. Cohen is now seen as increasingly willing to consider cooperating with prosecutors.
Rudolph W. Giuliani, Mr. Trump's personal lawyer, confirmed in a telephone conversation on Friday that Mr. Trump had discussed the payments with Mr. Cohen on the tape but said the payment was ultimately never made. He said the recording was less than two minutes and demonstrated that the president had done nothing wrong.
"Nothing in that conversation suggests that he had any knowledge of it in advance," Mr. Giuliani said, adding that Mr. Trump had directed Mr. Cohen that if he were to make a payment related to the woman, write a check, rather than sending cash, so it could be properly documented.
"In the big scheme of things, it's powerful exculpatory evidence," Mr. Giuliani.
Mr. Cohen's lawyers discovered the recording as part of their review of the seized materials and shared it with Mr. Trump's lawyers, according to three people briefed on the matter.
"We have nothing to say on this matter," Mr. Cohen's lawyer, Lanny J. Davis, said when asked about the tape.
(New York Times)
The US is a whole lot richer because of trade with Europe, regardless of whether EU is friend or 'foe'
Greg Wright, University of California, Merced
President Donald Trump recently questioned the value of the long-standing United States-Europe alliance. When asked to identify his "biggest foe globally," he declared: "I think the European Union is a foe, what they do to us in trade."
This view is consistent with his recent turn against trade with Europe but ignores the immense benefits that Americans have reaped due to the strong economic and military alliance between the U.S. and Europe – benefits that include nothing less than unprecedented peace and prosperity.
As such, Trump's trade war with Europe and his hostility toward broader Western alliances such as NATO portend a future of diminished standards of living – as a direct result of less trade – and greater global conflict – indirectly due to reduced economic integration. In the words of columnist Robert Kagan, "things will not be ok."
Some of my research focuses on the impact of increased international trade on U.S. standards of living, which I show are causally linked during the late 20th century. Most of the trade in this period occurred among rich nations and was dominated by the U.S.-Europe relationship.
By calling Europe a "foe," Trump makes clear that he simply doesn't understand why rich countries trade with one another, which, to be fair, is something that also puzzled economists for many years.
Why rich countries trade
Though in some ways it seems obvious why the U.S. and Europe trade with one another – some might enjoy Parmigiana from Italy, while others prefer Wisconsin cheddar – economists initially had trouble explaining exactly why there was so much trade among rich countries. Surely, they thought, the U.S. can produce good quality cheese at a cost that is similar to producers in Italy, and vice versa, so why would we need to go abroad to satisfy our palettes?
In 1979, economist Paul Krugman provided a clear answer that would eventually win him the Nobel Prize in economics. The first part of his answer was simple but important and boils down to the fact that consumers benefit from having a wide range of product varieties available to them, even if they are only small variations on the same item.
For instance, in 2016 the top U.S. exports to the EU were aircraft (US$38.5 billion), machinery ($29.4 billion) and pharmaceutical products ($26.4 billion). The top imports from the EU seem almost identical: machinery ($64.9 billion), pharmaceutical products ($55.2 billion) and vehicles ($54.6 billion). Although the product categories clearly overlap, there are important differences in the types of pharmaceuticals and machinery that are sold in each market. Consumers benefit from having all these options available to them.
The second part of Krugman's answer was that, by producing for both markets, companies in Europe and the U.S. could reap greater economies of scale in production and lower their prices as a result. This has been found to indeed be what happens when countries trade. And more recent research has shown that increased foreign competition can also lower domestic prices.
These benefits have been quantified. For instance, the gains to the U.S. from new foreign product varieties and lower prices over the period 1992 to 2005 were equal to about one percent of U.S. GDP – or about $100 billion.
In short, Krugman's answer emphasized the extent to which international trade between equals increases the overall size of the economic pie. And no pie has ever grown larger than the combined economies of the U.S. and Europe, which now constitute half of global GDP.
Largest trading partner
The European Union is the largest U.S. trading partner in terms of its total bilateral trade and has been for the past several decades.
Overall, the U.S. imported $592 billion in goods and services from the EU in 2016 and exported $501 billion, which represents about 19 percent of total U.S. trade and also represents about 19 percent of American GDP.
A key feature of this trade is that almost a third of it happens within individual companies. In other words, it reflects multinational companies shipping products to themselves in order to serve their local market, or as inputs into local production. This type of trade is critical as it serves as the backbone of a vast network of business investments on both sides of the Atlantic, supporting hundreds of thousands of jobs.
It is also a network that propels the global economy: the EU or U.S. serves as the primary trading partner for nearly every country on Earth.
Shipping and new institutions
The U.S.-Europe trade relationship also laid the groundwork for the modern system of international trade via two distinct innovations: new shipping technologies and new global institutions.
On the technological front, the introduction of the standard shipping container in the 1960s set off the so-called second wave of globalization. This under-appreciated technology was conceived by the U.S Army during the 1950s and was perfected over Atlantic shipping routes. In short, by simply standardizing the size and shape of shipping containers, and building port infrastructure and ships to move them, massive economies of scale in shipping were realized. As a result, today container ships the size of small cities are routed via sophisticated logistics to huge deepwater ports around the world.
These routes eventually made it profitable for other countries to invest in the large-scale port infrastructure that could handle modern container ships. This laid the groundwork for the eventual growth of massive container terminals throughout Asia, which now serve as the hubs of the modern global supply chain.
At the same time that these new technologies were reducing the physical costs of doing business around the world, the U.S. and Europe were also creating institutions to define new international rules for trade and finance. Perhaps the most important one was the post-war General Agreement on Trade and Tariffs, which eventually became the World Trade Organization, creating the first rules-based multilateral trade regime. A large body of research shows that these agreements have increased trade and, more importantly, raised incomes around the world.
Overall, these advancements contributed to the subsequent enrichment of hundreds of millions of workers in Asia, Latin America and Africa by helping to integrate them into the global economy.
And when the world gets richer, the U.S. also benefits for many of the same reasons noted above: demand for U.S. products increases as incomes rise around the world, as does the variety of products the U.S. can import, and the prices of these goods typically fall.
Taking the long view
But it appears that President Trump sees the U.S. on the losing end of a failed relationship.
It is unsurprising that tensions with Europe have come to the forefront over perceived imbalances in trade, particularly for a president who is not afraid to take long-time allies to task.
This is because U.S. trade policy has arguably been overly optimistic in recent years, particularly with respect to China, whose accession to the WTO proved to be much more disruptive to labor markets around the world than was predicted. Previous U.S. administrations preferred patience over confrontation, leading to a perhaps inevitable backlash that has spilled into other relationships, such as the one with Europe.
However, the U.S. relationship with Europe is clearly different, primarily because it is longstanding and has been largely one of equals. But also because their shared values mean that there are many non-economic issues — such as the spread of liberal democracy and the promotion of human rights — that get advanced by the close economic ties.
It's important to not underestimate what is at stake if the U.S.-Europe alliance is allowed to falter. Americans are likely in the midst of the most peaceful era in world history, and global economic integration, led from the beginning by the U.S. and Europe, has been a key contributing factor. Global extreme poverty is also at its lowest point ever, again in large part due to globalization.
These are the byproducts and legacies of seven decades of expanding international trade and should not be taken for granted.
Greg Wright, Assistant Professor of Economics, University of California, Merced
This article was originally published on The Conversation. Read the original article.