Boris Johnson attacks Labour in row over cancelled Trump visit
Foreign secretary says Jeremy Corbyn and London mayor putting US-UK relations at risk after president cancels embassy trip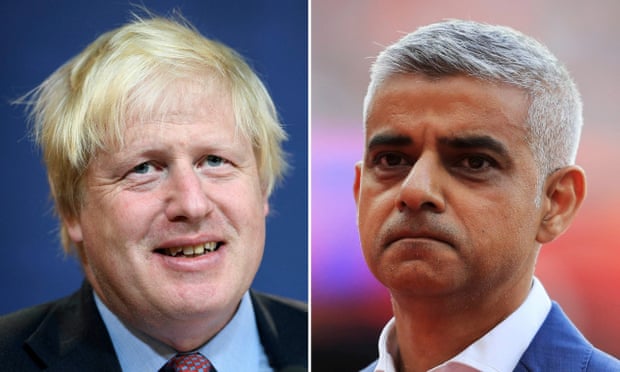 ---
This article titled "Boris Johnson attacks Labour in row over Donald Trump's cancelled visit" was written by Peter Walker and Heather Stewart, for The Guardian on Friday 12th January 2018 18.54 UTC
Downing Street has accused Jeremy Corbyn and Sadiq Khan of jeopardising relations with America for telling Donald Trump he is not welcome in Britain, after the US president called off a planned visit to London in the face of likely mass protests.
In a move that reinforces Theresa May's determination to remain publicly close to Trump, despite accusations of racism and his liaisons with the far right, Downing Street backed an accusation from the foreign secretary, Boris Johnson, that Labour was risking transatlantic ties.
After Trump confirmed in the early hours of Friday that he would not come to officially open the new US embassy, Khan, the London mayor, said the president was not welcome in the city and had "finally got that message".
Corbyn previously called for people to protest when Trump attended the embassy opening to send the president "a clear message" on actions such as his retweets of the far-right Britain First group.
Johnson tweeted : "The US is the biggest single investor in the UK – yet Khan & Corbyn seem determined to put this crucial relationship at risk. We will not allow US-UK relations to be endangered by some puffed up pompous popinjay in City Hall."
The comment initially seemed to take No 10 by surprise and a spokesman initially dismissed the idea that Khan had damaged relations: "No, the US and the UK are natural resilient strong partners and allies and we do more together than any two countries in the world."
But soon afterwards, Johnson's comments were endorsed. A Downing Street source said: "Boris expresses himself in his own inimitable way – but we agree that any risk to the crucial US-UK relationship is not in our country's best interests."
Trump tweeted that he would not visit to open the embassy, saying the decision was because Barack Obama had sold the previous building in Grosvenor Square "for peanuts" and built an expensive replacement in a poor location in south London. In fact, the move was first planned when George W Bush was president.
Trump is still due to make a state visit to the UK, following an invitation made by May when she visited him shortly after his inauguration. This has been placed on hold, again seemingly due to the threat of protests.
Khan said: "It appears that President Trump got the message from the many Londoners who love and admire America and Americans but find his policies and actions the polar opposite of our city's values of inclusion, diversity and tolerance.
"His visit next month would, without doubt, have been met by mass peaceful protests. This just reinforces what a mistake it was for Theresa May to rush and extend an invitation of a state visit in the first place."
The London mayor, who has previously criticised Trump over his comments on terror attacks and immigration policy targeting Muslims, will reiterate his opposition in a speech on Saturday.
Populist movements are "playing on people's worst fears and creating space for extreme views on immigration, diversity and equality", Khan is due to tell the Fabian Society's annual conference. "We've seen the impact of this in the US and we cannot allow this narrative to take hold in Britain."
A Downing Street spokesman said there had never been a confirmation that Trump would open the embassy: "As we've said a number of times, a state visit invitation has been extended and accepted, and we will confirm the details in due course."
He said May and Trump enjoyed a good relationship, adding: "The US is one of our oldest and most valued allies, and our strong and deep partnership will endure."
The president's complaints about the new embassy building were contradicted by the US ambassador to the UK, Woody Johnson, who was appointed by Trump.
Writing in London's Evening Standard newspaper, Johnson said the move from central London to Nine Elms, next to Battersea, was forced by security concerns after 11 September. The new building was the most advanced US embassy in the world and "did not cost the US taxpayer a cent", he said, being financed by the sale of the old site and other London properties.
It had been expected that Trump would use the embassy visit to hold meetings with May. Officials had been examining plans for him to meet the Queen without a full-blown state banquet.
guardian.co.uk © Guardian News & Media Limited 2010
Published via the Guardian News Feed plugin for WordPress.
Keir Starmer elected as UK opposition Labour leader
The UK's main opposition Labour Party has elected Keir Starmer as its new leader, the party announced Saturday.
Starmer, 57 will replace Jeremy Corbyn, who announced he would step down after a bitter defeat at the last election that saw sweeping gains for the ruling Conservatives.
The change in leadership comes as the country battles its own coronavirus crisis and amid calls to improve public services, such as the National Health Service currently under strain.
Starmer is a former crown prosecutor who has promised to pursue policies aimed at improving social equality, including an increase to the top tax rate and a boost to social services, as well as take stronger action on climate change.
In a video posted to his Twitter account, Starmer said he would work with the Conservative government led by Prime Minister Boris Johnson to tackle the coronavirus crisis, while also pointing out "mistakes or faltering government."
"In times like this, we need good government. A government that saves lives and protects our country," he said.
"It's a huge responsibility. And whether we voted for this government or not, we all rely on it to get this right," he said.
Starmer rose to prominence as a young activist lawyer before his career in politics. He more recently raised his public profile as Labour's shadow Brexit spokesperson. In the UK, the main opposition party has "shadow" ministers who hold political portfolios.
Starmer won more than 56% of the party vote, beating fellow MPs Lisa Nandy and Rebecca Long-Bailey in one round.
The new leader has pitched himself as a unity candidate amid continued divisions in the Labour Party.
The Labour Party has been mired in criticism over anti-Semtic remarks by several MPs in the past. Corbyn was widely criticized for his lax response to the problem within the party.
Starmer said in his video that the party needs to face up to the issue with honesty and apologized to Jewish communities.
"On behalf of the Labour Party, I am sorry.
"And I will tear out this poison by its roots and judge success by the return of Jewish members and those who felt that they could no longer support us."
GOP Candidate in Disputed U.S. House Race Not Running Again
Raleigh, N.C. (AP) — The Republican candidate whose narrow lead in a North Carolina congressional race was thrown out because of suspicions of ballot fraud announced Tuesday he will not run in the newly ordered do-over election, saying he needs surgery late next month.
The withdrawal of Mark Harris, a candidate hobbled by links to alleged ballot fraud, could help Republicans in their effort to keep the competitive seat in North Carolina's 9th Congressional District.
Harris announced his decision in a statement that focused on his health problems. He did not mention the alleged ballot fraud scandal.
Harris had led Democrat Dan McCready by just 905 votes after November's election, but the outcome was never certified. State election officials grew concerned about reports that an operative working for Harris was illegally tampering with absentee ballots.
Harris last week stopped a special state elections board hearing by declaring he couldn't continue to testify. He cited health problems caused by a blood infection that required hospitalization and led to two strokes. He also said he agreed that a new election should be called, despite his previous calls to be declared the winner.
Shortly after Harris spoke last week, the elections board ordered a new contest . A date for the new election has not been announced.
On Tuesday, Harris encouraged his supporters to rally around Stony Rushing, a commissioner in Union County. The local official from the Charlotte suburbs would "stand firm on so many of the issues that concern us, including the issue of life, our national security, and religious freedom," Harris said.
Rushing, a firing range owner and licensed gun seller, has been a county commissioner off and on for more than eight years, first taking office in 2002. He didn't return a phone call to his shooting range seeking comment on Tuesday.
Only one other GOP candidate — former state Sen. Tommy Tucker of Union County — has publicly expressed interest in running for the seat. In a phone interview, Tucker said he's "95 percent sure" that he plans to run for the seat. He said he had no idea how Harris' near-endorsement of Rushing would affect the campaign.
Former U.S. Rep. Robert Pittenger, whom Harris defeated in last May's primary, told The Associated Press in an interview that it was "good for the country and the party" that Harris wasn't running. When asked why, he said simply: "I think it's just obvious."
Pittenger again closed the door on seeking his old job, saying he's involved in a series of conferences on counter-terrorism and security issues.
Former Gov. Pat McCrory said Monday he wouldn't seek the seat. He was previously mayor of Charlotte, a part of which is in the congressional district.
McCready has been assembling a new campaign staff and raising money to run again in the district that stretches from Charlotte through several counties to the east along the South Carolina border. His campaign finance report showed McCready raised $487,000 during the final five weeks of 2018. His campaign sent out a campaign fundraising plea late Thursday, citing the state elections board's decision.
McCready formally announced his intention to run Friday before several dozen supporters at a brewery in Waxhaw, near Charlotte.
"Folks, there's a lot of people that have had their confidence shaken in recent weeks because of the fraud conducted by Mark Harris's campaign," McCready said. "There's a lot of people right now in North Carolina that are disillusioned in our electoral process."
He told the crowd that he and his team were going to "knock on every door" in the district to earn votes and to reassure constituents that he's the type of politician who will do the right thing.
"We're going to talk to people about doing what's right instead of what's wrong," he said.
Harris struggled during testimony last week over why he prepared for his primary election last year by seeking out and signing up Bladen County political operative Leslie McCrae Dowless, a convicted felon who had been accused of ballot fraud in the 2016 elections. The state elections board turned over evidence of his actions in 2017 to federal prosecutors, who took no action.
According to testimony and other findings detailed at the hearing, Dowless conducted an illegal "ballot harvesting" operation: He and his assistants gathered up absentee ballots from voters by offering to put them in the mail.
Dowless' workers in rural Bladen County testified that they were directed to collect blank or incomplete ballots, forge signatures on them and even fill in votes for local candidates.
It is generally against the law in North Carolina for anyone other than the voter or a family member to handle someone's completed ballot.
No criminal charges have been filed in the case . Dowless declined to testify last week after the elections board refused to grant him immunity from prosecution based on what he might say.
North Carolina Election Board Unanimously Agrees To New House Election
Feb 21 (Reuters) – North Carolina's elections board on Thursday unanimously ordered a new election for a U.S. House seat after officials said corruption surrounding absentee ballots tainted the results of last November's vote.
The bipartisan board's 5-0 decision came after Republican candidate Mark Harris requested a new vote, telling the panel that evidence of possible ballot fraud had undermined confidence in the election.
In the televised hearing, board members said "corruption" and the "absolute mess with the absentee ballots" had cast doubt on the fairness of the contest and voters deserved a fresh election.
Harris' request for a new vote came as a surprise. For months, he had said he should be declared the victor in the 9th Congressional District after he led Democrat Dan McCready by 905 votes out of 282,717 ballots cast on Nov. 6. Elections officials, however, had refused to certify him as the winner due to allegations of irregularities in the vote.
"Through the testimony I've listened to over the past three days, I believe a new election should be called," Harris said at a hearing in Raleigh. "It's become clear to me that the public's confidence in the 9th district seat general election has been undermined to an extent that a new election is warranted."
Harris' statement came on the fourth day of a hearing on whether his campaign benefited from what state investigators called illegal election manipulation by political consultant Leslie McCrae Dowless.
Earlier on Thursday, Harris said he had known Dowless was going door to door on the candidate's behalf to help voters obtain absentee ballots, a process that is legal. Harris said Dowless assured him he would not collect the ballots from the voters, which would violate state law.
But residents of at least two counties in the district said Dowless and his paid workers collected incomplete absentee ballots and, in some instances, falsely signed as witnesses and filled in votes for contests left blank, according to testimony at the hearing.
Kim Strach, executive director of the state's election board, earlier this week called the operation a "coordinated, unlawful and substantially resourced absentee ballot scheme."
According to text messages Harris' attorneys turned over to the board on Thursday, Harris sought a meeting with Dowless when he learned that Dowless had led a successful absentee ballot program for Republican candidate Todd Johnson during a 2016 congressional primary election.
In those messages to a Bladen County judge, Harris asked about "the guy whose absentee ballot project for Johnson could have put me in the US House this term, had I known, and he had been helping us."
Harris campaign officials have said they did not pay Dowless to do anything illegal, and Dowless has maintained his innocence. (Editing by Colleen Jenkins, Dan Grebler and James Dalgleish)