Source inside Trump campaign reported concerns to FBI, new transcript reveals
Senator Feinstein releases testimony from Fusion GPS boss Glenn Simpson
Fusion GPS compiled explosive dossier on Trump campaign and Russians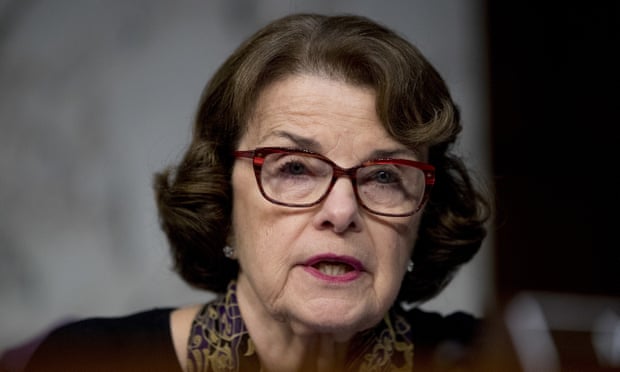 ---
This article titled "Source inside Trump campaign reported concerns to FBI, new transcript suggests" was written by Alan Yuhas in New York, Julian Borger in Washington and Stephanie Kirchgaessner in Rome, for theguardian.com on Tuesday 9th January 2018 22.30 UTC
A source within the Trump campaign reported concerns to the FBI, according to the man behind a controversial dossier on Donald Trump, a new transcript suggests.
Senator Dianne Feinstein on Tuesday unilaterally released the transcript of a congressional interview with Glenn Simpson, whose research firm, Fusion GPS, was behind the dossier on alleged contacts between Donald Trump's campaign and the Russian government.
The dossier – compiled by former British spy Christopher Steele – makes an allegation that there was a "conspiracy of cooperation" between Russian agents and the Trump campaign, and the president has frequently scorned it since its publication last January.
According to the transcript, Simpson told Congress that Steele, the former British spy, stopped sharing information with the FBI just one week before the US election because of concerns that the law enforcement agency was being "manipulated" by Trump insiders.
According to Simpson, Steele "severed his relationship with the FBI" after the New York Times published a story in late October 2016 that said agents had not found "any conclusive or direct link between Mr Trump and the Russian government".
Steele was concerned "that the FBI was being manipulated for political ends by the Trump people and that we didn't really understand what was going on".
Feinstein's decision to make the transcript public renews a fierce debate about transparency surrounding the whole Russia-collusion investigation.
Elsewhere in his 312-page testimony, Simpson told the senators that "an internal Trump campaign source" or "a human source from inside the Trump organization" had reported his or her concerns to the FBI.
Simpson said that this information was drawn from Steele after the FBI "had debriefed him" that fall.
However, a person close to the matter suggested Simpson had got some details wrong about the human source during his evidence session in August and was actually alluding to the role of George Papadopoulos, the Trump campaign foreign policy adviser, who shared knowledge of the Russian hacking of Democratic party emails with an Australian diplomat.
Papadopoulos is cooperating with the ongoing federal investigation into the Trump campaign as a part of a plea deal that he reached with prosecutors after admitting he lied in his first interview with the FBI.
Steele had been compiling the dossier during the 2016 presidential campaign and approached the FBI, according to Simpson, because "he thought from his perspective there was an issue – a security issue about whether a presidential candidate was being blackmailed".
"He honed [sic] in on this issue of blackmail as being a significant national security issue," Simpson said.
Simpson cautioned that he was paraphrasing Steele's account, and added: "we did not have the detailed conversations where he would debrief me on his discussions with the FBI."
He added: "I think it was a voluntary source, someone who was concerned about the same concerns we had. It was someone who decided to pick up the phone and report something."
He said that Steele did not rely on this source for his work with the firm.
Feinstein, the ranking Democrat on the Senate judiciary committee, said she released the transcript because "the American people deserve the opportunity to see what he said and judge for themselves".
"The innuendo and misinformation circulating about the transcript are part of a deeply troubling effort to undermine the investigation into potential collusion and obstruction of justice," Feinstein said in a statement. "The only way to set the record straight is to make the transcript public."
The Senate and House intelligence committees have also interviewed Simpson, but have not released any transcripts. Last week Simpson, a former journalist, requested in an op-ed in the New York Times that the committee release the transcript. The Republican head of the Senate judiciary committee, Chuck Grassley, declined to release the document and instead asked Simpson to testify in public.
In his 10-hour 22 August interview with the Senate committee, Simpson said that the firm's research into Trump's past began as "a kind of holistic examination" of his business record. "It evolved somewhat quickly into issues of his relationships to organized crime figures, but you know, really the gamut of Donald Trump," Simpson said.
Simpson also defended Steele, saying that the well-respected former intelligence officer "has a sterling reputation as a person who doesn't exaggerate, doesn't make things up, doesn't sell baloney".
By late September 2016, Simpson said, he had asked Steele about contacts with the FBI, with whom the British researcher had spoken. "By then it was obvious there was a crime in progress," Simpson said. "So I was curious whether he'd heard back."
Pressed about this claim, Simpson said: "Espionage. They were hacking into the computers of Democrats and thinktanks. That's a computer crime."
Steele has said he reported his concerns to the FBI in the summer of 2016.
Simpson said that it was Steele's decision to take what he had discovered to the FBI in early July, explaining that the former MI6 officer felt a sense of responsibility.
"Chris said he was very concerned about whether this represented a national security threat and … he said he thought we were obligated to tell someone in government, in our government about this information," Simpson said. "He thought from his perspective there was an issue – a security issue about whether a presidential candidate was being blackmailed."
In his testimony, Simpson repeatedly praised Steele, his skills and his reliability, pointing out that the former British intelligence officer was the "lead Russianist at MI6" who was "extremely well regarded".
He described Steele, who he said he hired in May or June of 2016, as "basically a boy scout".
"He worked for the government for a very long time. He lives a very modest, quiet life, and this is his specialty," Simpson said.
"We got along very well because my speciality is public information. So he was comfortable working with me and I was comfortable working with him and, you know, we've both been around a lot of criminal investigations and national security stuff."
Simpson said that while he and his colleagues at Fusion focused on the analysis of documents, Steele's strength was his personal contacts to sources in Moscow and the Trump camp, drawing on his intelligence background. He said that at the time Steele was hired, the alleged Trump links to the Kremlin were an open secret in Moscow.
"The thing that people forget about what was going on in June of 2016 was that no one was really focused on sort of this question of whether Donald Trump had a relationship with the Kremlin. So, you know, when Chris started asking around in Moscow about this the information was sitting there. It wasn't a giant secret," Simpson said.
"People were talking about it freely. It was only later that it became a subject of great controversy and people clammed up, and at that time the whole issue of the hacking was also, you know, not really focused on Russia. So these things eventually converged into, you know, a major issue, but at the time it wasn't one."
In a statement, Grassley's office excoriated Feinstein for the release, saying she had not consulted with him. Her decision "undermines the integrity" of the investigation, he said, and "jeopardizes its ability to secure candid voluntary testimony", including from the president's son-in-law, Jared Kushner.
guardian.co.uk © Guardian News & Media Limited 2010
Published via the Guardian News Feed plugin for WordPress.
Rudy Giuliani admits 'Spygate' is Trump PR tactic against Robert Mueller
President's lawyer gives meandering CNN interview
'It's for public opinion', he says of claims of campaign informant
This article titled "Rudy Giuliani admits 'Spygate' is Trump PR tactic against Robert Mueller" was written by Tom McCarthy, for The Guardian on Sunday 27th May 2018 18.03 UTC
Former New York City mayor Rudy Giuliani said on Sunday that his repeated imputations of a supposed scandal at the heart of the Robert Mueller investigation – which Donald Trump calls "Spygate" – amounted to a tactic to sway public opinion and limit the risk of the president being impeached.
"Of course we have to do it to defend the president," Trump's lawyer told CNN State of the Union host Dana Bash, who accused him of being part of a campaign to undermine the Mueller investigation. Trump has repeatedly called the special counsel's work a "witch hunt", despite its producing five guilty pleas, including by three former Trump aides, and evidence of Russian tampering in US elections.
"It is for public opinion," Giuliani said of his public campaign of dissimulation. "Because eventually the decision here is going to be impeach or not impeach. Members of Congress, Democrats and Republicans, are going to be informed a lot by their constituents. And so our jury – and it should be – is the American people.
"So Republicans largely, many independents, even some Democrats now question the legitimacy of [the Mueller investigation]," Giuliani said. "Democrats I would suggest for their own self-interest, this is not a good issue to go into the midterms."
As Giuliani acknowledged the political nature of his public campaign against Mueller, Trump advanced that campaign on Twitter, lamenting what he said were "young and beautiful lives … devastated and destroyed" by the investigation of alleged collusion between the Trump campaign and Russia.
"They went back home in tatters!" Trump wrote. It was unclear who he was talking about.
Trump, Giuliani and other allies claim reports that an FBI informant monitored links between Trump aides and Russia show there was a "spy" on the Trump campaign. Senior figures in the intelligence community have rubbished such claims.
On ABC's This Week on Sunday, the Democrat Adam Schiff, ranking member of the House intelligence committee, said: "This is part of the propaganda machine. Let's spread a completely fallacious story and then say it needs to be investigated, and give it a life of its own."
The Arizona senator Jeff Flake, a rare Republican critic of Trump, told NBC's Meet the Press the "Spygate" claims were a "diversion tactic, obviously".
He added: "There is concern that the president is laying the groundwork to [fire] Bob Mueller or [deputy attorney general Rod] Rosenstein. If that were to happen, obviously, that would cause a constitutional crisis."
According to a CNN poll from 10 May, views of the Mueller investigation have shifted significantly among Republicans since March. The poll found that Republican approval of Mueller had declined to 17%, from 29%. Approval among Democrats had fallen slightly, from 69% to 64%. A majority of respondents from both parties disapproved of Trump's handling of the Mueller investigation.
Giuliani is a former US attorney for the southern district of New York. In his CNN appearance, he called former CIA director John Brennan and former director of national intelligence James Clapper, both fierce critics of Trump, "two clowns".
"I have no regard at all for Brennan or Clapper. I think they're two clowns…" Giuliani said. "They're not civil servants as far as I know."
Clapper told the same show: "In the space of a week I've progressed from being the dumbest intelligence officer on the planet, from President Trump, to a clown. So it's progress, I guess."
Michael Hayden, another former director of the CIA, told ABC that Trump was "simply trying to delegitimize Mueller … and he's willing to throw anything against the wall.
"From the outside looking in, from everything I know, everyone has handled this just about the way it should have been handled."
Giuliani's month-old job as a spokesman for the president has been marked by confusion, contradiction and scandal. He began by saying money used to seal a 2016 hush agreement with the porn actor Stormy Daniels had come from Trump, who had earlier flatly denied, on camera, any knowledge of the 0,000.
"We're not changing any stories," Trump told reporters. Trump has denied having an affair with Daniels.
Giuliani also said earlier this month Trump would have had his personal lawyer, Michael Cohen, pay off women in addition to Daniels "if necessary". Giuliani told ABC he had "no knowledge" of any other payments to women.
Trump has repeatedly excused and praised Giuliani. "He started yesterday," Trump said on 4 May. "He'll get his facts straight. It's actually very simple, there has been a lot of misinformation really."
guardian.co.uk © Guardian News & Media Limited 2010
Published via the Guardian News Feed plugin for WordPress.
Former Trump Lawyer: Mueller Raised Possibility of Trump Subpoena
Special Counsel Robert Mueller, in a meeting with President Donald Trump's lawyers in March, raised the possibility of issuing a subpoena for Trump if he declines to talk to investigators in the Russia probe, a former lawyer for the president said on Tuesday.
John Dowd told Reuters that Mueller mentioned the possibility of a subpoena in the early March meeting. Mueller's subpoena warning was first reported by the Washington Post, which cited four people familiar with the encounter.
"This isn't some game. You are screwing with the work of the president of the United States," Dowd said he told the investigators, who are probing possible collusion between the Trump campaign and Russia. Dowd left the president's legal team about two weeks after the meeting.
The Post said Mueller had raised the possibility of a subpoena after Trump's lawyers said the president had no obligation to talk with federal investigators involved in the probe.
After the March meeting, Mueller's team agreed to provide the president's lawyers with more specific information about the subjects they wished to ask Trump, the Post reported.
With that information, Trump's lawyer Jay Sekulow compiled a list of 49 questions the president's legal team believed he would be asked, according to the Post.
That list, first reported by the New York Times on Monday, includes questions on Trump's ties to Russia and others to determine whether the president may have unlawfully tried to obstruct the investigation.
Trump on Tuesday criticized the leak of the questions.
"So disgraceful that the questions concerning the Russian Witch Hunt were 'leaked' to the media. No questions on Collusion," Trump wrote on Twitter. "It would seem very hard to obstruct justice for a crime that never happened!"
Russia has denied interfering in the 2016 U.S. presidential election, as U.S. intelligence agencies allege, and Trump has denied there was any collusion between his campaign and Moscow.
Sekulow did not immediately respond to a request for comment. A spokesman for Mueller declined to comment.
Republished With Permission from VOA – Voice Of America
Paul Manafort asks judge to investigate leaks after Mueller questions revealed
Trump's ex-campaign chairman blames 'government officials'
Leak suggests special counsel asked about Manafort-Russia links
This article titled "Paul Manafort asks judge to investigate leaks after Mueller questions revealed" was written by Jon Swaine, for theguardian.com on Tuesday 1st May 2018 16.00 UTC
Donald Trump's former campaign chairman Paul Manafort has asked a judge to investigate leaks about his case, after a list of questions that Trump could face from prosecutors, published by the New York Times, indicated that authorities may have new information linking Manafort to Russia.
Attorneys for Manafort complained in a court filing on Monday evening that "numerous unidentified government officials" had prejudiced his case by leaking information about the inquiry by special counsel Robert Mueller, who has charged Manafort with several crimes.
"Such leaks impugn the character of the individual under investigation and substantially undermine a fundamental principle of our judicial system; ie, the right of the defendant to have the case determined by an impartial jury on the facts," said the filing to a federal court in Virginia, where Manafort is charged with bank fraud and filing false tax returns.
Manafort has denied any wrongdoing.
As Manafort's lawyers filed their request, the New York Times published the leaked questions. One question relating to Manafort stood out as a potential indicator of information not yet publicly known.
It asked: "What knowledge did you have of any outreach by your campaign, including by Paul Manafort, to Russia about potential assistance to the campaign?"
Most of the questions appeared to focus on whether Trump obstructed justice by interfering with the Russia investigation.
No direct contact between Manafort and Russian government officials has been alleged in court documents filed so far by Mueller's team. They have accused Manafort of failing to register as an agent for the then pro-Russian government of Ukraine. Manafort's former business partner, Richard Gates, is cooperating with investigators.
The Times reported that the questions had been read by Mueller's investigators to the president's lawyers, who compiled them into a list.
"That document was provided to the Times by a person outside Mr Trump's legal team," it said.
John Dean, a White House counsel to Richard Nixon who was jailed for his part in the Watergate scandal, said the leak could itself amount to an "act of obstruction", by alerting others to what Mueller was investigating.
Dean told CNN late on Monday a Trump ally may have leaked the questions "to try to somehow disrupt the flow of information, the tipping off of witnesses in advance to what the question was going to be".
Ryan Goodman, a law professor at New York University and former special counsel at the defense department, described the Manafort question as the "most interesting" on the leaked list and pointed to a CNN report from August 2017 for possible context.
That report said US intelligence agencies had intercepted communications in which suspected Russian spies discussed their efforts to work with Manafort in an attempt to damage Hillary Clinton's election campaign.
"The suspected operatives relayed what they claimed were conversations with Manafort, encouraging help from the Russians," CNN reported, citing unidentified US officials.
Matthew Miller, a former top justice department spokesman, told the Guardian the Manafort question contained the "only new piece of possible evidence" but cautioned that even this might be attributable to an error such as faulty transcription by someone on Trump's team.
Miller said Trump should not take comfort from the lack of previously undisclosed information in the remaining questions on Mueller's list.
"The president would be making a huge mistake if he thought these were the only questions he would be asked," said Miller. "He should be ready to talk about anything. It's not an ambush to ask you to tell the truth.
"These are broad subject areas that would be followed up with very specific questions based on the evidence Mueller has gathered."
At Tuesday's White House briefing, press secretary Sarah Sanders repeatedly declined to comment on the leaked questions. "As with all questions of this nature, I would refer you to the president's outside personal attorneys, Jay Sekulow and Rudy Giuliani," she said.
Asked if the White House was concerned that Democratic congressman Adam Schiff said most of the questions point to obstruction of justice, Sanders shot back: "We here at the White House try never to be concerned with anything dealing Adam Schiff."
Additional reporting by David Smith in Washington
guardian.co.uk © Guardian News & Media Limited 2010
Published via the Guardian News Feed plugin for WordPress.