Steve Bannon: Donald Trump Jr was not 'treasonous' – I meant Paul Manafort
Former White House strategist issues statement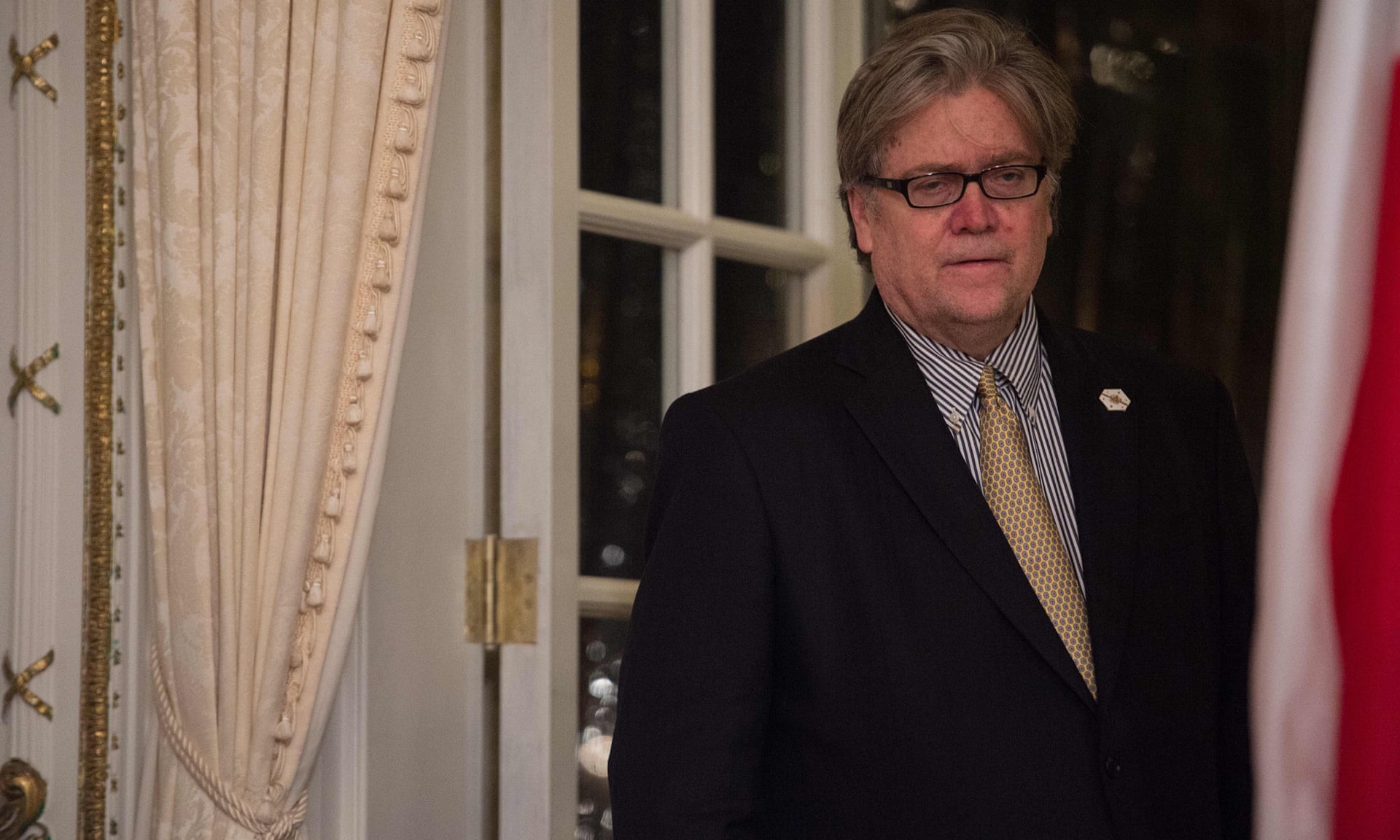 ---
This article titled "Steve Bannon: Donald Trump Jr was not 'treasonous' – I meant Paul Manafort" was written by Jon Swaine, for theguardian.com on Sunday 7th January 2018 19.25 UTC
Steve Bannon on Sunday withdrew his allegation that Donald Trump Jr committed treason, as he expressed regret over his role in the controversy around an explosive book about the White House.
The Guardian revealed last week that Bannon, formerly Trump's chief strategist, said a Trump Tower meeting between Trump Jr and Russians during the 2016 presidential election campaign was "treasonous" and "unpatriotic".
In his statement given to the Guardian and other outlets on Sunday, Bannon did not apologise for any of his remarks to the author Michael Wolff, which included strident criticisms of the president's daughter, Ivanka Trump – whom he called "dumb as a brick" – and her husband, Jared Kushner.
But he said he should have been quicker to clarify that his remarks about the June 2016 meeting in Trump Tower referred to Trump's then campaign chairman, who was also present.
"My comments were aimed at Paul Manafort, a seasoned campaign professional with experience and knowledge of how the Russians operate," Bannon said. "He should have known they are duplicitous, cunning and not our friends. To reiterate, those comments were not aimed at Don Jr."
Declaring Trump Jr to be "both a patriot and a good man", Bannon added: "I regret that my delay in responding to the inaccurate reporting regarding Don Jr has diverted attention from the president's historical accomplishments in the first year of his presidency."
In the Wolff book, Bannon is also quoted as saying the inquiry into Russian election interference led by special counsel Robert Mueller would "crack Don Jr like an egg on national TV".
Bannon issued his statement after coming under sharp criticism from Trump and his allies and losing the support of major Republican donors.
Following the publication of the remarks in Wolff's book Fire and Fury: Inside the Trump White House, the president claimed Bannon had "lost his mind" when he was fired from the White House last summer. Trump also lambasted Bannon on Twitter as "Sloppy Steve" who "cried when he got fired and begged for his job" and "has been dumped like a dog by almost everyone".
In an interview with CNN's State of the Union on Sunday, Stephen Miller, a senior White House official, described Bannon's statements as "grotesque" and "out of touch with reality".
Trump Jr agreed to the meeting with Russians including Natalia Veselnitskaya, a well-connected lawyer, after being promised documents that would "incriminate" Hillary Clinton, his father's Democratic opponent.
The meeting, which was also attended by Kushner, is being investigated by Mueller, who is looking into possible collusion between Trump's campaign and Moscow during the election campaign.
US intelligence agencies have concluded that Russia's president, Vladimir Putin, ordered a covert operation to help Trump win.
"There was no collusion and the investigation is a witch hunt," Bannon said. "I regret that my delay in responding to the inaccurate reporting regarding Don Jr has diverted attention from the president's historical accomplishments in the first year of his presidency."
The statement issued also contained an extraordinary explanation for Bannon's remark that the Trump Tower meeting had been "treasonous, or unpatriotic, or bad shit".
He said: "My comments about the meeting with Russian nationals came from my life experiences as a naval officer stationed aboard a destroyer whose main mission was to hunt Soviet submarines to my time at the Pentagon during the Reagan years, when our focus was the defeat of 'the evil empire', and to making films about Reagan's war against the Soviets and Hillary Clinton's involvement in selling uranium to them."
guardian.co.uk © Guardian News & Media Limited 2010
Published via the Guardian News Feed plugin for WordPress.
EXCLUSIVE: Full Audio Of White House official President Trump says 'doesn't exist'

On Thursday afternoon the White House held a "background briefing" where a "senior White House official" provided information on North Korea to reporters.
On Saturday, President Trump claimed the aide "doesn't exist."
The Failing @nytimes quotes "a senior White House official," who doesn't exist, as saying "even if the meeting were reinstated, holding it on June 12 would be impossible, given the lack of time and the amount of planning needed." WRONG AGAIN! Use real people, not phony sources.

— Donald J. Trump (@realDonaldTrump) May 26, 2018
A few hours later, a journalist posted partial audio of the call
4. I've obtained audio of the WH press briefing. You can hear Raj Shah, Deputy Press Secretary, introduce Pottinger (along with the terms – which are standard) and then Pottinger makes the statement that POTUS says was never made. Lots of reporters in briefing room and on phone. pic.twitter.com/2gEYkRSyTv

— Yashar Ali 🐘 (@yashar) May 26, 2018
NewsThisSecond has obtained a recording of the background briefing in its entirety and is making it public.
Read President Trump's Letter to Chairman Kim Jong Un canceling the summit between the two leaders
Text Version –
His Excellency
Kim Jong Un
Chairman of the State Affairs Commission
of the Democratic People's Republic of Korea
Pyongyang
Dear Mr. Chairman:
We greatly appreciation your time, patience, and effort with respect to our recent negotiations and discussions relative to a summit long sought by both parties, which was scheduled to take place on June 12 in Singapore. We were informed that the meeting was requested by North Korea, but that to us is totally irrelevant. I was very much looking forward to being there with you. Sadly, based on the tremendous anger and open hostility displayed in your most recent statement, I feel it is inappropriate, at this time, to have this long-planned meeting. Therefore, please let this letter serve to represent that the Singapore summit, for the good of both parties, but to the detriment of the world, will not take place. You talk about nuclear capabilities, but ours are so massive and powerful that I pray to God they will never have to be used.
I felt a wonderful dialogue was building up between you and me, and ultimately, it is only that dialogue that matters. Some day, I look very much forward to meeting you. In the meantime, I want to thank you for the release of the hostages who are now home with their families. That was a beautiful gesture and was very much appreciated.
If you change your mind having to do with this most important summit, please do not hesitate to call me or write. The world, and North Korea in particular, has lost a great opportunity for lasting peace and great prosperity and wealth. This missed opportunity is a truly sad moment in history.
Sincerely yours,
Donald J. Trump
President of the United States of America
MELANIA TRUMP UNDERGOES KIDNEY SURGERY AT WALTER REED MEDICAL CENTER
First lady Melania Trump underwent  kidney surgery Monday at Walter Reed National Military Medical Center near Washington, DC, according to a statement from her office.
Trump had been experiencing an issue with her kidney that her office described as benign but requiring medical attention.
Trump, who turned 48 last month, entered Walter Reed in nearby Bethesda, Maryland, on Monday morning and is expected to remain hospitalized for several days following the operation, according to the statement from her communications director, Stephanie Grisham.