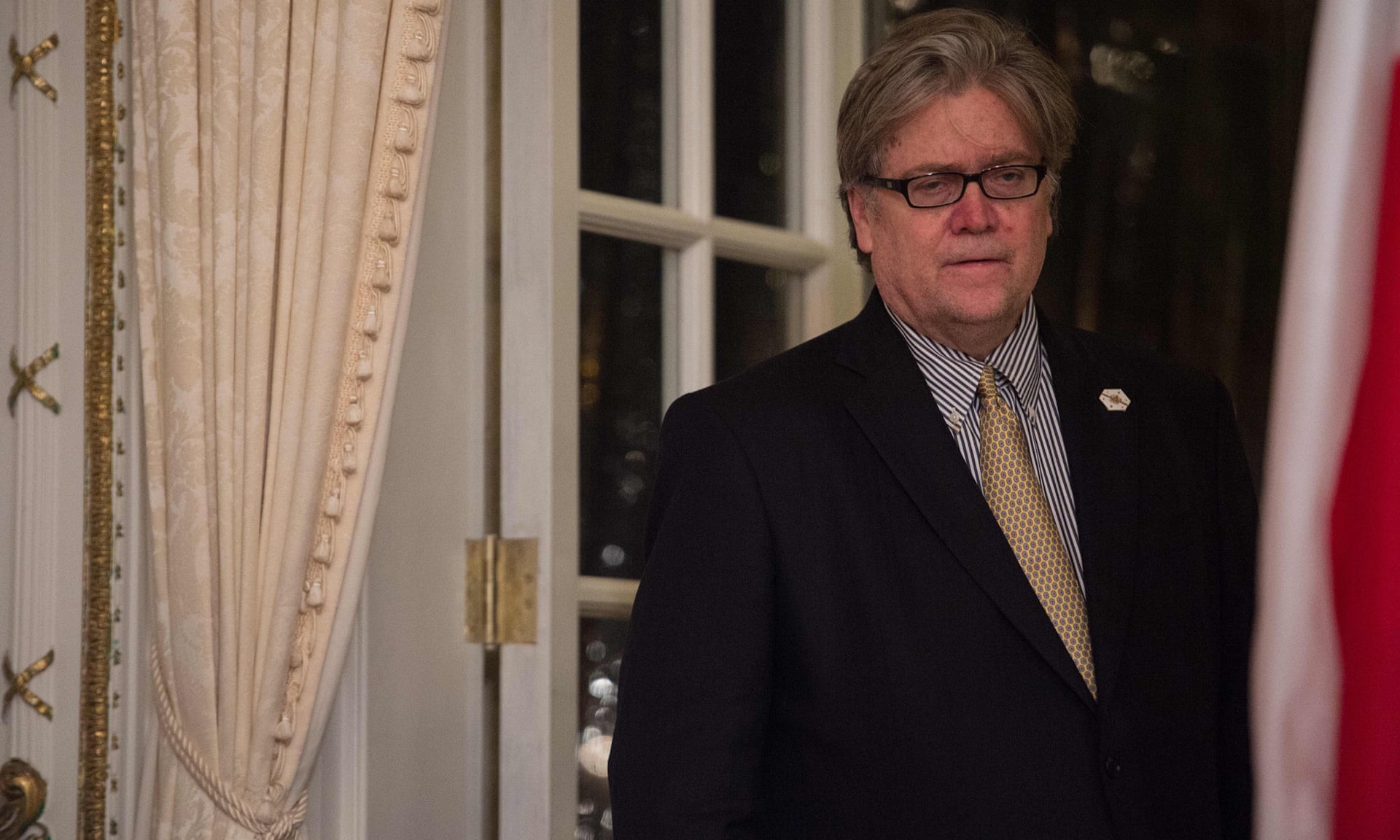 ---
This article titled "Steve Bannon: Donald Trump Jr was not 'treasonous' – I meant Paul Manafort" was written by Jon Swaine, for theguardian.com on Sunday 7th January 2018 19.25 UTC
Steve Bannon on Sunday withdrew his allegation that Donald Trump Jr committed treason, as he expressed regret over his role in the controversy around an explosive book about the White House.
The Guardian revealed last week that Bannon, formerly Trump's chief strategist, said a Trump Tower meeting between Trump Jr and Russians during the 2016 presidential election campaign was "treasonous" and "unpatriotic".
In his statement given to the Guardian and other outlets on Sunday, Bannon did not apologise for any of his remarks to the author Michael Wolff, which included strident criticisms of the president's daughter, Ivanka Trump – whom he called "dumb as a brick" – and her husband, Jared Kushner.
But he said he should have been quicker to clarify that his remarks about the June 2016 meeting in Trump Tower referred to Trump's then campaign chairman, who was also present.
"My comments were aimed at Paul Manafort, a seasoned campaign professional with experience and knowledge of how the Russians operate," Bannon said. "He should have known they are duplicitous, cunning and not our friends. To reiterate, those comments were not aimed at Don Jr."
Declaring Trump Jr to be "both a patriot and a good man", Bannon added: "I regret that my delay in responding to the inaccurate reporting regarding Don Jr has diverted attention from the president's historical accomplishments in the first year of his presidency."
In the Wolff book, Bannon is also quoted as saying the inquiry into Russian election interference led by special counsel Robert Mueller would "crack Don Jr like an egg on national TV".
Bannon issued his statement after coming under sharp criticism from Trump and his allies and losing the support of major Republican donors.
Following the publication of the remarks in Wolff's book Fire and Fury: Inside the Trump White House, the president claimed Bannon had "lost his mind" when he was fired from the White House last summer. Trump also lambasted Bannon on Twitter as "Sloppy Steve" who "cried when he got fired and begged for his job" and "has been dumped like a dog by almost everyone".
In an interview with CNN's State of the Union on Sunday, Stephen Miller, a senior White House official, described Bannon's statements as "grotesque" and "out of touch with reality".
Trump Jr agreed to the meeting with Russians including Natalia Veselnitskaya, a well-connected lawyer, after being promised documents that would "incriminate" Hillary Clinton, his father's Democratic opponent.
The meeting, which was also attended by Kushner, is being investigated by Mueller, who is looking into possible collusion between Trump's campaign and Moscow during the election campaign.
US intelligence agencies have concluded that Russia's president, Vladimir Putin, ordered a covert operation to help Trump win.
"There was no collusion and the investigation is a witch hunt," Bannon said. "I regret that my delay in responding to the inaccurate reporting regarding Don Jr has diverted attention from the president's historical accomplishments in the first year of his presidency."
The statement issued also contained an extraordinary explanation for Bannon's remark that the Trump Tower meeting had been "treasonous, or unpatriotic, or bad shit".
He said: "My comments about the meeting with Russian nationals came from my life experiences as a naval officer stationed aboard a destroyer whose main mission was to hunt Soviet submarines to my time at the Pentagon during the Reagan years, when our focus was the defeat of 'the evil empire', and to making films about Reagan's war against the Soviets and Hillary Clinton's involvement in selling uranium to them."
guardian.co.uk © Guardian News & Media Limited 2010
Published via the Guardian News Feed plugin for WordPress.
Click here for reuse options!


Copyright 2018 News This Second Online
Dem lawmaker tears into Trump: 'America will regret the day you were ever born'
Democrat Rep, Ruben Gallego (AR-07) tore into Trump last night on twitter for exploiting the Parkland massacre. Gallego, a former Marine who served in Iraq, was unusually blunt. Last year he called then president-elect Trump "mentally unstable". Source: The Hill Rep. Ruben Gallego (D-Ariz.) tore into President Trump after the president suggested the FBI could have… (more…)
President Donald Trump has authorized the release of a controversial Republican memo, and has sent word to the House Intelligence Committee the document may be made public, a White House official said.
There were no White House-initiated redactions to the memo, a House aide said.
The extraordinary decision to release the classified four-page memo with a never-before-used House Intelligence Committee rule would escalate the partisan fight over the investigations into Russian election meddling and possible collusion. This will likely have major repercussions for the relationship between the Justice Department and Capitol Hill.
The memo's release would also threaten to further fracture the frayed relationship between the President and his Justice Department and intelligence community, both of which opposed the release of the document, which is based on classified intelligence. The FBI issued a rare public warning on Wednesday that the memo omits key information that could impact its veracity.
The memo, spearheaded by House Intelligence Chairman Devin Nunes, alleges that the FBI used the opposition research dossier on Trump and Russia written by ex-British intelligence agent Christopher Steele to secure a FISA surveillance warrant on former Trump foreign policy adviser Carter Page without disclosing that the dossier was funded in part by Democratic sources.
In a statement earlier this week, Nunes said, "It's clear that top officials used unverified information in a court document to fuel a counter-intelligence investigation during an American political campaign."
(CNN)
Click here for reuse options!


Copyright 2018 News This Second Online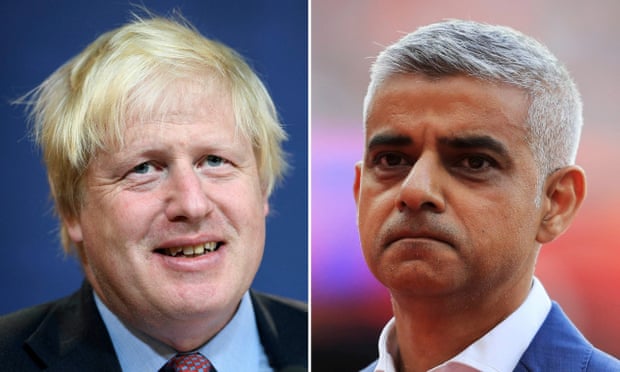 ---
This article titled "Boris Johnson attacks Labour in row over Donald Trump's cancelled visit" was written by Peter Walker and Heather Stewart, for The Guardian on Friday 12th January 2018 18.54 UTC
Downing Street has accused Jeremy Corbyn and Sadiq Khan of jeopardising relations with America for telling Donald Trump he is not welcome in Britain, after the US president called off a planned visit to London in the face of likely mass protests.
In a move that reinforces Theresa May's determination to remain publicly close to Trump, despite accusations of racism and his liaisons with the far right, Downing Street backed an accusation from the foreign secretary, Boris Johnson, that Labour was risking transatlantic ties.
After Trump confirmed in the early hours of Friday that he would not come to officially open the new US embassy, Khan, the London mayor, said the president was not welcome in the city and had "finally got that message".
Corbyn previously called for people to protest when Trump attended the embassy opening to send the president "a clear message" on actions such as his retweets of the far-right Britain First group.
Johnson tweeted : "The US is the biggest single investor in the UK – yet Khan & Corbyn seem determined to put this crucial relationship at risk. We will not allow US-UK relations to be endangered by some puffed up pompous popinjay in City Hall."
The comment initially seemed to take No 10 by surprise and a spokesman initially dismissed the idea that Khan had damaged relations: "No, the US and the UK are natural resilient strong partners and allies and we do more together than any two countries in the world."
But soon afterwards, Johnson's comments were endorsed. A Downing Street source said: "Boris expresses himself in his own inimitable way – but we agree that any risk to the crucial US-UK relationship is not in our country's best interests."
Trump tweeted that he would not visit to open the embassy, saying the decision was because Barack Obama had sold the previous building in Grosvenor Square "for peanuts" and built an expensive replacement in a poor location in south London. In fact, the move was first planned when George W Bush was president.
Trump is still due to make a state visit to the UK, following an invitation made by May when she visited him shortly after his inauguration. This has been placed on hold, again seemingly due to the threat of protests.
Khan said: "It appears that President Trump got the message from the many Londoners who love and admire America and Americans but find his policies and actions the polar opposite of our city's values of inclusion, diversity and tolerance.
"His visit next month would, without doubt, have been met by mass peaceful protests. This just reinforces what a mistake it was for Theresa May to rush and extend an invitation of a state visit in the first place."
The London mayor, who has previously criticised Trump over his comments on terror attacks and immigration policy targeting Muslims, will reiterate his opposition in a speech on Saturday.
Populist movements are "playing on people's worst fears and creating space for extreme views on immigration, diversity and equality", Khan is due to tell the Fabian Society's annual conference. "We've seen the impact of this in the US and we cannot allow this narrative to take hold in Britain."
A Downing Street spokesman said there had never been a confirmation that Trump would open the embassy: "As we've said a number of times, a state visit invitation has been extended and accepted, and we will confirm the details in due course."
He said May and Trump enjoyed a good relationship, adding: "The US is one of our oldest and most valued allies, and our strong and deep partnership will endure."
The president's complaints about the new embassy building were contradicted by the US ambassador to the UK, Woody Johnson, who was appointed by Trump.
Writing in London's Evening Standard newspaper, Johnson said the move from central London to Nine Elms, next to Battersea, was forced by security concerns after 11 September. The new building was the most advanced US embassy in the world and "did not cost the US taxpayer a cent", he said, being financed by the sale of the old site and other London properties.
It had been expected that Trump would use the embassy visit to hold meetings with May. Officials had been examining plans for him to meet the Queen without a full-blown state banquet.
guardian.co.uk © Guardian News & Media Limited 2010
Published via the Guardian News Feed plugin for WordPress.
Click here for reuse options!


Copyright 2018 News This Second Online