Nikki Haley: Trump aimed to 'keep Kim on his toes' with 'nuclear button' tweet
US ambassador to UN defends president's rhetoric on North Korea
Haley: 'It's not us that's going to be destroyed, it's you'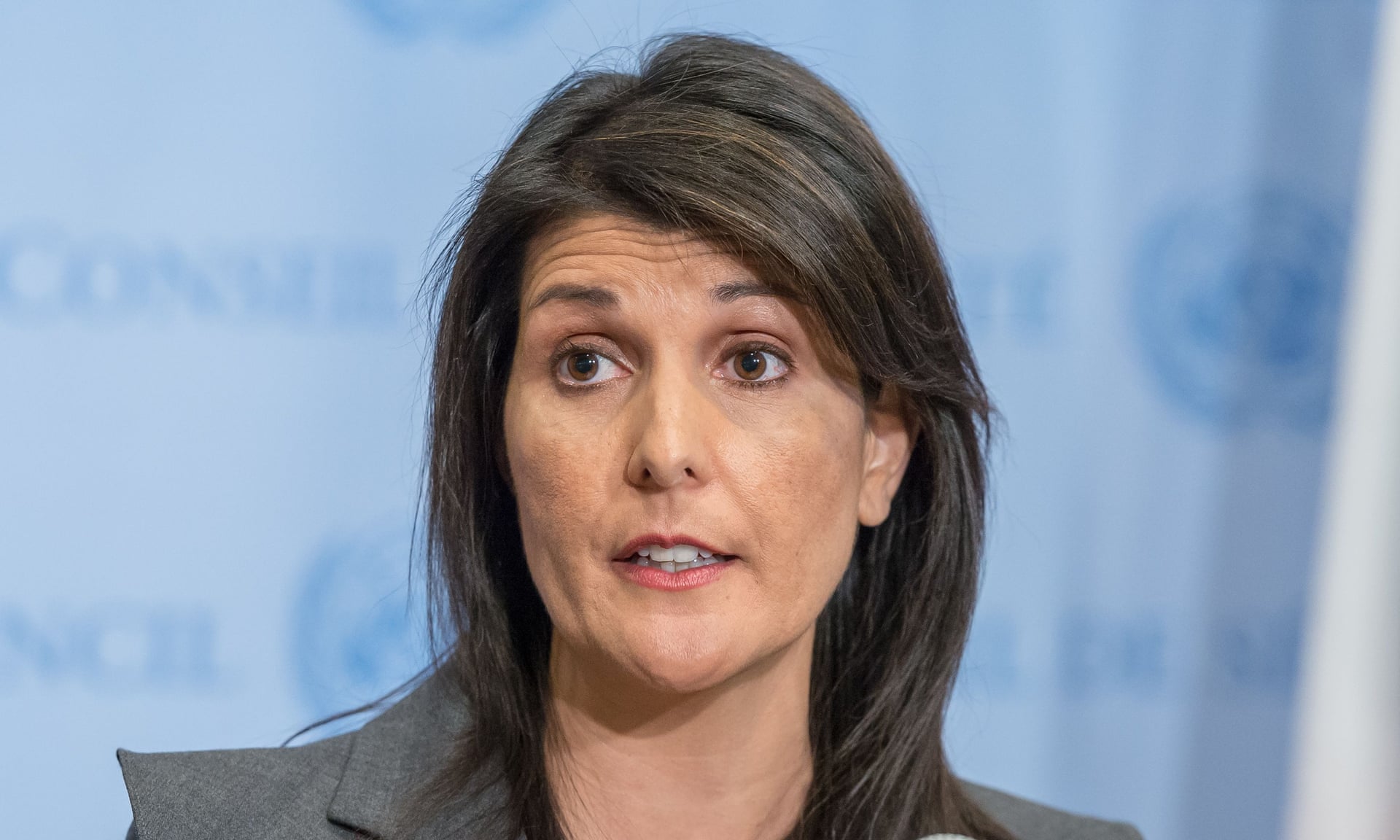 ---
This article titled "Nikki Haley: Trump aimed to 'keep Kim on his toes' with 'nuclear button' tweet" was written by Martin Pengelly, for theguardian.com on Sunday 7th January 2018 20.14 UTC
Donald Trump's tweet taunting North Korean leader Kim Jong-un over the size of his "nuclear button" was meant to "keep Kim on his toes", the US ambassador to the United Nations said on Sunday.
Rare progress has recently been made over the Korean standoff, with North and South agreeing to begin their first talks for two years on Tuesday in the South Korean side of the village of Panmunjom in the demilitarised zone.
The forthcoming Winter Olympics in Pyeongchang will dominate the agenda but officials have indicated other issues may also be discussed.
Trump, however, showed a characteristic disregard for diplomatic niceties when he wrote on Tuesday: "North Korean Leader Kim Jong Un just stated that the 'Nuclear Button is on his desk at all times'.
"Will someone from his depleted and food starved regime please inform him that I too have a Nuclear Button, but it is a much bigger & more powerful one than his, and my Button works!"
The tweet was written the day before the Guardian published extracts of a book in which White House staffers question the president's mental capacity for his job, setting off a political firestorm.
In an opinion piece for the Guardian on Sunday, Bandy Lee, an assistant clinical professor at the Yale School of Medicine who has briefed members of Congress on the risks associated with the president's behaviour, wrote: "Trump views violence as a solution when he is stressed and desires to re-establish his power.
"Paranoia and overwhelming feelings of weakness and inadequacy make violence very attractive, and powerful weapons very tempting to use – all the more so for their power.
"His contest with the North Korean leader about the size of their nuclear buttons is an example of that and points to the possibility of great danger by virtue of the power of his position."
Asked on ABC's This Week if Trump's tweet was a good idea at a time of high tension between the US and Pyongyang, Haley said: "I think [Trump] always has to keep Kim on his toes. It's very important that we don't ever let [Kim] get so arrogant that he doesn't realise the reality of what would happen if he started a nuclear war."
Host George Stephanopoulos countered that even senior Senate Republicans Corey Gardner and John Cornyn said Trump's tweet was reckless.
"You know, everyone's going to have their opinion," Haley said. "What I can tell you is I'm dealing with the diplomats on the ground, I'm dealing with all the actors in this situation.
"It is a serious situation and [Kim] can't sit there and imply that he's going to destroy the United States without us reminding him of the facts and the reality that if you go there, it's not us that's going to be destroyed, it's you."
The CIA director, Mike Pompeo, also defended Trump, telling CBS's Face the Nation the tweet was "consistent with US policy", which seeks the denuclearisation of the Korean peninsula.
Pompeo also said he believed North Korea was months away from being able to put a US city at risk of nuclear attack. He declined to be more precise.
Trump has regularly taunted Kim on social media and in speeches with the name "Rocket Man" or "Little Rocket Man". He has also consistently implied that only military action will work.
In August, he said threats from Pyongyang would "be met with fire and the fury like the world has never seen", a statement that gave Michael Wolff's book its title.
In October, the president said talking to the North Koreans would be a "waste of time" for his secretary of state, Rex Tillerson.
On Saturday, though, Trump told a press conference at Camp David he would be open to phone talks with Kim.
"There is no turnaround," Haley told ABC. 'What [Trump] has basically said is 'Yes, there could be a time when we talk to North Korea but a lot of things have to happen before that actually takes place. They have to be willing to talk about banning their nuclear weapons.'"
That would mean Pyongyang suspending its tests of ballistic missiles and nuclear weapons, an unlikely step.
At Camp David, Trump also appeared to take credit for the scheduled talks between North and South.
The president said: "A lot of people have said and a lot of people have written that without my rhetoric and without my tough stance – and it's not just a stance, I mean this is what has to be done – that they wouldn't be talking about Olympics, they wouldn't be talking right now."
Haley said it was not her "understanding" North and South Korea would "talk about anything further" than the Olympics.
guardian.co.uk © Guardian News & Media Limited 2010
Published via the Guardian News Feed plugin for WordPress.
Tulsi Gabbard Announces She Is Running For President In 2020
Rep. Tulsi Gabbard has decided to run for president, she told CNN's Van Jones Friday.
"There are a lot of challenges that are facing the American people that I'm concerned about and that I want to help solve," she said in an interview due to be broadcast in full Saturday. She added that "the issue of war and peace" will be central for her. Gabbard said she would make a formal announcement within the next week.
Gabbard, a Democrat from Hawaii, is the first Hindu and first American Samoan to be elected to Congress. She gained national attention in 2016 when she resigned her position as vice chair of the Democratic National Committee in protest of its handling of that year's Democratic presidential primary, and endorsed Bernie Sanders.
Court Orders White House to give Jim Acosta his hard pass back
Federal judge Timothy J. Kelly sided with CNN on Friday, ordering the White House to reinstate chief White House correspondent Jim Acosta's press pass.
The ruling was an initial victory for CNN in its lawsuit against President Trump and several top aides.
The lawsuit alleges that CNN and Acosta's First and Fifth Amendment rights are being violated by the suspension of Acosta's press pass.
Kelly did not rule on the underlying case on Friday. But he granted CNN's request for a temporary restraining order.
This result means that Acosta will have his access to the White House restored for at least a short period of time. The judge said while explaining his decision that he believes that CNN and Acosta are likely to prevail in the case overall.
CNN is also asking for "permanent relief," meaning a declaration from the judge that Trump's revocation of Acosta's press pass was unconstitutional. This legal conclusion could protect other reporters from retaliation by the administration.
"The revocation of Acosta's credentials is only the beginning," CNN's lawsuit alleged, pointing out that Trump has threatened to strip others' press passes too.
That is one of the reasons why most of the country's major news organizations have backed CNN's lawsuit, turning this into an important test of press freedom.
But the judge will rule on all of that later. Further hearings are likely to take place in the next few weeks, according to CNN's lawyers.

(CNN)
CNN sues President Trump for banning reporter Jim Acosta
CNN is filing a lawsuit against President Trump and several of his aides, seeking the immediate restoration of chief White House correspondent Jim Acosta's access to the White House.
The lawsuit is a response to the White House's suspension of Acosta's press pass, known as a Secret Service "hard pass," last week. The suit alleges that Acosta and CNN's First and Fifth Amendment rights are being violated by the ban.
The suit is being filed in U.S. District Court in Washington, D.C. on Tuesday morning, a CNN spokeswoman confirmed.
Both CNN and Acosta are plaintiffs in the lawsuit. There are six defendants: Trump, chief of staff John Kelly, press secretary Sarah Sanders, deputy chief of staff for communications Bill Shine, Secret Service director Joseph Clancy, and the Secret Service officer who took Acosta's hard pass away last Wednesday. The officer is identified as John Doe in the suit, pending his identification.
The six defendants are all named because of their roles in enforcing and announcing Acosta's suspension.
Last Wednesday, shortly after Acosta was denied entry to the White House grounds, Sanders defended the unprecedented step by claiming that he had behaved inappropriately at a presidential news conference. CNN and numerous journalism advocacy groups rejected that assertion and said his pass should be reinstated.
On Friday, CNN sent a letter to the White House formally requesting the immediate reinstatement of Acosta's pass and warning of a possible lawsuit, the network confirmed.
In a statement on Tuesday morning, CNN said it is seeking a preliminary injunction as soon as possible so that Acosta can return to the White House right away, and a ruling from the court preventing the White House from revoking Acosta's pass in the future.
"CNN filed a lawsuit against the Trump Administration this morning in DC District Court," the statement read. "It demands the return of the White House credentials of CNN's Chief White House correspondent, Jim Acosta. The wrongful revocation of these credentials violates CNN and Acosta's First Amendment rights of freedom of the press, and their Fifth Amendment rights to due process. We have asked this court for an immediate restraining order requiring the pass be returned to Jim, and will seek permanent relief as part of this process."
CNN also asserted that other news organizations could have been targeted by the Trump administration this way, and could be in the future.
"While the suit is specific to CNN and Acosta, this could have happened to anyone," the network said. "If left unchallenged, the actions of the White House would create a dangerous chilling effect for any journalist who covers our elected officials."
Acosta has continued to do part of his job, contacting sources and filing stories, but he has been unable to attend White House events or ask questions in person — a basic part of any White House correspondent's role.
Acosta is on a previously scheduled vacation this week. He declined to comment on the lawsuit.
On CNN's side, CNN Worldwide chief counsel David Vigilante is joined by two prominent attorneys, Ted Boutrous and Theodore Olson. Both men are partners at Gibson, Dunn & Crutcher.
Last week, before he was retained by CNN, Boutrous tweeted that the action against Acosta "clearly violates the First Amendment." He cited the Sherrill case.
"This sort of angry, irrational, false, arbitrary, capricious content-based discrimination regarding a White House press credential against a journalist quite clearly violates the First Amendment," he wrote.
David McCraw, the top newsroom lawyer at The New York Times, said instances of news organizations suing a president are extremely rare.
Past examples are The New York Times v. U.S., the famous Supreme Court case involving the Pentagon Papers in 1971; and CNN's 1981 case against the White House and the broadcast networks, when CNN sued to be included in the White House press pool.
The backdrop to this new suit, of course, is Trump's antipathy for CNN and other news outlets. He regularly derides reporters from CNN and the network as a whole.
Abrams posited on "Reliable Sources" on Sunday that CNN might be reluctant to sue because the president already likes to portray the network as his enemy. Now there will be a legal case titled CNN Inc. versus President Trump.
But, Abrams said, "this is going to happen again," meaning other reporters may be banned too.
"Whether it's CNN suing or the next company suing, someone's going to have to bring a lawsuit," he said, "and whoever does is going to win unless there's some sort of reason."
(CNN)