Russia accuses US of misusing UN to meddle in Iranian affairs
Washington demands emergency meeting to call for tough line against Tehran – which Moscow says is an American attempt to undermine Iran's sovereignty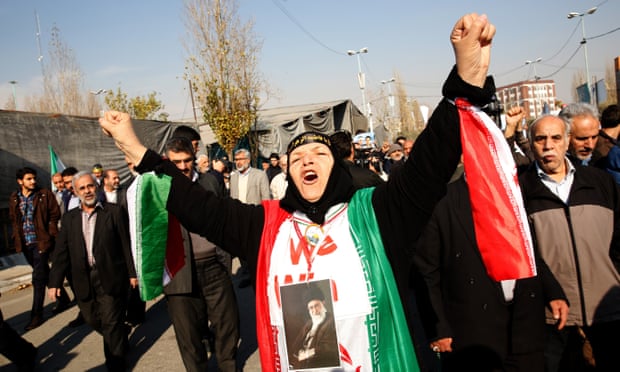 This article titled "Hard-won UN debate sees US at odds with partners over Iran" was written by Patrick Wintour Diplomatic editor, for theguardian.com on Saturday 6th January 2018 00.31 UTC
The US successfully fought off a Russian-led attempt on Friday to block a UN security council discussion over the past week's Iranian protests. But it immediately found itself at odds with its European partners, who used the subsequent debate to reject American efforts to make the protests an excuse for ditching the 2015 nuclear deal with Iran.
Russia had tried to stop the UN discussion on the grounds that it would represent an inappropriate interference in Iran's internal affairs. But the US countered by finding the required votes on the 15-strong security council to press for a debate.
Russia claimed the US intended to use what it regarded as largely economic protests directed against austerity inside Iran as a means both to challenge the Iranian government's authority and to undermine the Iranian nuclear deal signed in 2015.
In an often bitter discussion laying bare the deep ideological rifts over the future of the Middle East, Iran's UN ambassador Gholamali Khoshroo added he had "hard evidence" that recent protests in Iran were "very clearly directed from abroad".
Khoshroo joined Russia in saying the US had abused its power as a permanent member of the security council by calling for a meeting to discuss the protests.
"It is unfortunate that despite the resistance on the part of some of its members, this council has allowed itself to be abused by the current US administration in holding a meeting on an issue that falls outside the scope of its mandate," Khoshroo said. He accused the US of "preposterous bullying" and searching for every possible straw to keep itself afloat.
Iran's foreign minister Javad Zarif later tweeted that the episode was another US foreign policy blunder, saying the majority of the security council had "emphasised the need to fully implement the Iran nuclear deal signed in 2015 and to refrain from interfering in internal affairs of others".
During the debate the US ambassador to the United Nations, Nikki Haley, warned the Iranian authorities that the world was watching as Tehran responded to anti-government protests. "The Iranian regime is now on notice: the world will be watching what you do," she said.
"The Iranian people are rising up in over 79 locations throughout the country. It is a powerful exhibition of brave people who have become so fed up with their oppressive government that they are willing to risk their lives in protest."
She said Iranians were telling their government to "stop the support for terrorism, stop giving billions of our money to killers and dictators, stop taking our wealth and spending it on foreign fighters and proxy wars".
But the UN's French representative distanced his country from the tone of the US strategy towards the protests. In an implicit rebuke to the US for calling the debate, François Delattre said: "However worrying the events of the last few days in Iran may be, they do not constitute per se a threat to international peace and security. We must be wary of any attempts to exploit this crisis for personal ends, which would have the diametrically opposed outcome to that which is wished." The nuclear deal was a cornerstone for stability in the Middle East, he added.
The UK's representative Matthew Rycoft said Britain remained fully committed to the JCPOA [the nuclear deal], describing it as one of the great diplomatic successes of recent memory. He added: "We encourage all member states to uphold all their commitments. A prosperous, stable Iran is beneficial to all."
He urged Iran to allow peaceful protests and said too often the country's legitimate security interests were pursued in ways that endangered others and undermined the Iranian economy.
guardian.co.uk © Guardian News & Media Limited 2010
Published via the Guardian News Feed plugin for WordPress.
George Herbert Walker Bush, the linchpin of an American political dynasty whose presidency saw the end of the Cold War and the close of an era of American bipartisanship that conflict fostered, has died. He was 94.
During his single term in the White House, the Berlin Wall fell, newly democratic states sprang up across Central and Eastern Europe, and the Soviet Union came to an end. And in the Middle East, the U.S. military launched its most successful offensive since World War II. For a time, Bush rode foreign policy triumphs to high popularity. But he saw his standing plunge during a 1990s recession and lost to Bill Clinton after one term.
On April 22nd President Bush was admitted to the Houston Methodist Hospital  after contracting an infection that spread to his blood. He was said to have been responding to treatments and appeared to be recovering.
Court Orders White House to give Jim Acosta his hard pass back
Federal judge Timothy J. Kelly sided with CNN on Friday, ordering the White House to reinstate chief White House correspondent Jim Acosta's press pass.
The ruling was an initial victory for CNN in its lawsuit against President Trump and several top aides.
The lawsuit alleges that CNN and Acosta's First and Fifth Amendment rights are being violated by the suspension of Acosta's press pass.
Kelly did not rule on the underlying case on Friday. But he granted CNN's request for a temporary restraining order.
This result means that Acosta will have his access to the White House restored for at least a short period of time. The judge said while explaining his decision that he believes that CNN and Acosta are likely to prevail in the case overall.
CNN is also asking for "permanent relief," meaning a declaration from the judge that Trump's revocation of Acosta's press pass was unconstitutional. This legal conclusion could protect other reporters from retaliation by the administration.
"The revocation of Acosta's credentials is only the beginning," CNN's lawsuit alleged, pointing out that Trump has threatened to strip others' press passes too.
That is one of the reasons why most of the country's major news organizations have backed CNN's lawsuit, turning this into an important test of press freedom.
But the judge will rule on all of that later. Further hearings are likely to take place in the next few weeks, according to CNN's lawyers.

(CNN)
CNN sues President Trump for banning reporter Jim Acosta
CNN is filing a lawsuit against President Trump and several of his aides, seeking the immediate restoration of chief White House correspondent Jim Acosta's access to the White House.
The lawsuit is a response to the White House's suspension of Acosta's press pass, known as a Secret Service "hard pass," last week. The suit alleges that Acosta and CNN's First and Fifth Amendment rights are being violated by the ban.
The suit is being filed in U.S. District Court in Washington, D.C. on Tuesday morning, a CNN spokeswoman confirmed.
Both CNN and Acosta are plaintiffs in the lawsuit. There are six defendants: Trump, chief of staff John Kelly, press secretary Sarah Sanders, deputy chief of staff for communications Bill Shine, Secret Service director Joseph Clancy, and the Secret Service officer who took Acosta's hard pass away last Wednesday. The officer is identified as John Doe in the suit, pending his identification.
The six defendants are all named because of their roles in enforcing and announcing Acosta's suspension.
Last Wednesday, shortly after Acosta was denied entry to the White House grounds, Sanders defended the unprecedented step by claiming that he had behaved inappropriately at a presidential news conference. CNN and numerous journalism advocacy groups rejected that assertion and said his pass should be reinstated.
On Friday, CNN sent a letter to the White House formally requesting the immediate reinstatement of Acosta's pass and warning of a possible lawsuit, the network confirmed.
In a statement on Tuesday morning, CNN said it is seeking a preliminary injunction as soon as possible so that Acosta can return to the White House right away, and a ruling from the court preventing the White House from revoking Acosta's pass in the future.
"CNN filed a lawsuit against the Trump Administration this morning in DC District Court," the statement read. "It demands the return of the White House credentials of CNN's Chief White House correspondent, Jim Acosta. The wrongful revocation of these credentials violates CNN and Acosta's First Amendment rights of freedom of the press, and their Fifth Amendment rights to due process. We have asked this court for an immediate restraining order requiring the pass be returned to Jim, and will seek permanent relief as part of this process."
CNN also asserted that other news organizations could have been targeted by the Trump administration this way, and could be in the future.
"While the suit is specific to CNN and Acosta, this could have happened to anyone," the network said. "If left unchallenged, the actions of the White House would create a dangerous chilling effect for any journalist who covers our elected officials."
Acosta has continued to do part of his job, contacting sources and filing stories, but he has been unable to attend White House events or ask questions in person — a basic part of any White House correspondent's role.
Acosta is on a previously scheduled vacation this week. He declined to comment on the lawsuit.
On CNN's side, CNN Worldwide chief counsel David Vigilante is joined by two prominent attorneys, Ted Boutrous and Theodore Olson. Both men are partners at Gibson, Dunn & Crutcher.
Last week, before he was retained by CNN, Boutrous tweeted that the action against Acosta "clearly violates the First Amendment." He cited the Sherrill case.
"This sort of angry, irrational, false, arbitrary, capricious content-based discrimination regarding a White House press credential against a journalist quite clearly violates the First Amendment," he wrote.
David McCraw, the top newsroom lawyer at The New York Times, said instances of news organizations suing a president are extremely rare.
Past examples are The New York Times v. U.S., the famous Supreme Court case involving the Pentagon Papers in 1971; and CNN's 1981 case against the White House and the broadcast networks, when CNN sued to be included in the White House press pool.
The backdrop to this new suit, of course, is Trump's antipathy for CNN and other news outlets. He regularly derides reporters from CNN and the network as a whole.
Abrams posited on "Reliable Sources" on Sunday that CNN might be reluctant to sue because the president already likes to portray the network as his enemy. Now there will be a legal case titled CNN Inc. versus President Trump.
But, Abrams said, "this is going to happen again," meaning other reporters may be banned too.
"Whether it's CNN suing or the next company suing, someone's going to have to bring a lawsuit," he said, "and whoever does is going to win unless there's some sort of reason."
(CNN)