Trump Tower meeting with Russians 'treasonous': Bannon
Former White House chief strategist Steve Bannon has described a meeting between President Donald Trump's son Don Jr and a Russian lawyer during the 2016 presidential election campaign as "treasonous" and "unpatriotic," The Guardian reported Wednesday. Bannon made the scathing comments in Michael Wolff's book "Fire and Fury: Inside the Trump White House," which is to…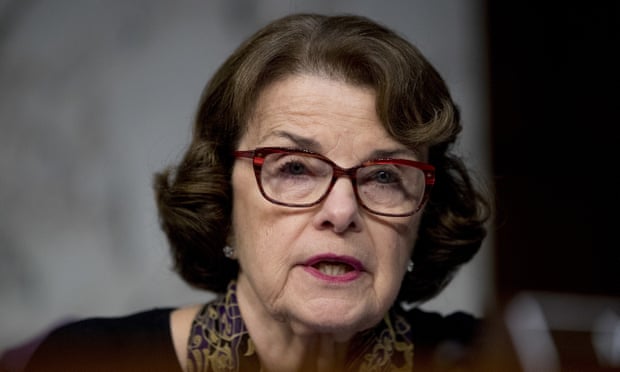 ---
This article titled "Source inside Trump campaign reported concerns to FBI, new transcript suggests" was written by Alan Yuhas in New York, Julian Borger in Washington and Stephanie Kirchgaessner in Rome, for theguardian.com on Tuesday 9th January 2018 22.30 UTC
A source within the Trump campaign reported concerns to the FBI, according to the man behind a controversial dossier on Donald Trump, a new transcript suggests.
Senator Dianne Feinstein on Tuesday unilaterally released the transcript of a congressional interview with Glenn Simpson, whose research firm, Fusion GPS, was behind the dossier on alleged contacts between Donald Trump's campaign and the Russian government.
The dossier – compiled by former British spy Christopher Steele – makes an allegation that there was a "conspiracy of cooperation" between Russian agents and the Trump campaign, and the president has frequently scorned it since its publication last January.
According to the transcript, Simpson told Congress that Steele, the former British spy, stopped sharing information with the FBI just one week before the US election because of concerns that the law enforcement agency was being "manipulated" by Trump insiders.
According to Simpson, Steele "severed his relationship with the FBI" after the New York Times published a story in late October 2016 that said agents had not found "any conclusive or direct link between Mr Trump and the Russian government".
Steele was concerned "that the FBI was being manipulated for political ends by the Trump people and that we didn't really understand what was going on".
Feinstein's decision to make the transcript public renews a fierce debate about transparency surrounding the whole Russia-collusion investigation.
Elsewhere in his 312-page testimony, Simpson told the senators that "an internal Trump campaign source" or "a human source from inside the Trump organization" had reported his or her concerns to the FBI.
Simpson said that this information was drawn from Steele after the FBI "had debriefed him" that fall.
However, a person close to the matter suggested Simpson had got some details wrong about the human source during his evidence session in August and was actually alluding to the role of George Papadopoulos, the Trump campaign foreign policy adviser, who shared knowledge of the Russian hacking of Democratic party emails with an Australian diplomat.
Papadopoulos is cooperating with the ongoing federal investigation into the Trump campaign as a part of a plea deal that he reached with prosecutors after admitting he lied in his first interview with the FBI.
Steele had been compiling the dossier during the 2016 presidential campaign and approached the FBI, according to Simpson, because "he thought from his perspective there was an issue – a security issue about whether a presidential candidate was being blackmailed".
"He honed [sic] in on this issue of blackmail as being a significant national security issue," Simpson said.
Simpson cautioned that he was paraphrasing Steele's account, and added: "we did not have the detailed conversations where he would debrief me on his discussions with the FBI."
He added: "I think it was a voluntary source, someone who was concerned about the same concerns we had. It was someone who decided to pick up the phone and report something."
He said that Steele did not rely on this source for his work with the firm.
Feinstein, the ranking Democrat on the Senate judiciary committee, said she released the transcript because "the American people deserve the opportunity to see what he said and judge for themselves".
"The innuendo and misinformation circulating about the transcript are part of a deeply troubling effort to undermine the investigation into potential collusion and obstruction of justice," Feinstein said in a statement. "The only way to set the record straight is to make the transcript public."
The Senate and House intelligence committees have also interviewed Simpson, but have not released any transcripts. Last week Simpson, a former journalist, requested in an op-ed in the New York Times that the committee release the transcript. The Republican head of the Senate judiciary committee, Chuck Grassley, declined to release the document and instead asked Simpson to testify in public.
In his 10-hour 22 August interview with the Senate committee, Simpson said that the firm's research into Trump's past began as "a kind of holistic examination" of his business record. "It evolved somewhat quickly into issues of his relationships to organized crime figures, but you know, really the gamut of Donald Trump," Simpson said.
Simpson also defended Steele, saying that the well-respected former intelligence officer "has a sterling reputation as a person who doesn't exaggerate, doesn't make things up, doesn't sell baloney".
By late September 2016, Simpson said, he had asked Steele about contacts with the FBI, with whom the British researcher had spoken. "By then it was obvious there was a crime in progress," Simpson said. "So I was curious whether he'd heard back."
Pressed about this claim, Simpson said: "Espionage. They were hacking into the computers of Democrats and thinktanks. That's a computer crime."
Steele has said he reported his concerns to the FBI in the summer of 2016.
Simpson said that it was Steele's decision to take what he had discovered to the FBI in early July, explaining that the former MI6 officer felt a sense of responsibility.
"Chris said he was very concerned about whether this represented a national security threat and … he said he thought we were obligated to tell someone in government, in our government about this information," Simpson said. "He thought from his perspective there was an issue – a security issue about whether a presidential candidate was being blackmailed."
In his testimony, Simpson repeatedly praised Steele, his skills and his reliability, pointing out that the former British intelligence officer was the "lead Russianist at MI6" who was "extremely well regarded".
He described Steele, who he said he hired in May or June of 2016, as "basically a boy scout".
"He worked for the government for a very long time. He lives a very modest, quiet life, and this is his specialty," Simpson said.
"We got along very well because my speciality is public information. So he was comfortable working with me and I was comfortable working with him and, you know, we've both been around a lot of criminal investigations and national security stuff."
Simpson said that while he and his colleagues at Fusion focused on the analysis of documents, Steele's strength was his personal contacts to sources in Moscow and the Trump camp, drawing on his intelligence background. He said that at the time Steele was hired, the alleged Trump links to the Kremlin were an open secret in Moscow.
"The thing that people forget about what was going on in June of 2016 was that no one was really focused on sort of this question of whether Donald Trump had a relationship with the Kremlin. So, you know, when Chris started asking around in Moscow about this the information was sitting there. It wasn't a giant secret," Simpson said.
"People were talking about it freely. It was only later that it became a subject of great controversy and people clammed up, and at that time the whole issue of the hacking was also, you know, not really focused on Russia. So these things eventually converged into, you know, a major issue, but at the time it wasn't one."
In a statement, Grassley's office excoriated Feinstein for the release, saying she had not consulted with him. Her decision "undermines the integrity" of the investigation, he said, and "jeopardizes its ability to secure candid voluntary testimony", including from the president's son-in-law, Jared Kushner.
guardian.co.uk © Guardian News & Media Limited 2010
Published via the Guardian News Feed plugin for WordPress.
Click here for reuse options!


Copyright 2018 News This Second Online
Manafort sues DOJ, Mueller over Russia probe authority
(CNN) — Paul Manafort, the former Trump campaign chairman indicted on money laundering and other charges, filed a lawsuit challenging the broad authority of special counsel Robert Mueller and alleging the Justice Department violated the law in appointing Mueller.
The suit brought Wednesday in US District Court in Washington where Manafort and another former Trump campaign aide are charged, challenges Mueller's decision to charge Manafort with alleged crimes that they say have nothing to do with the 2016 campaign, but rather relate to lucrative lobbying work Manafort and his deputy did for a former Russia-friendly government in Ukraine. That work ended in 2014, the suit says. Manafort and his deputy Rick Gates deny the allegations in the charges.
The legal action represents a new tack in a broader effort by supporters of the President to push back on the special counsel. Some Republicans have begun publicly calling for Mueller's probe to be shut down. Manafort's attorneys have echoed the President's criticism that Mueller's investigation into Russian meddling in the 2016 election is pursuing crimes that never happened.
The Manafort lawsuit alleges Deputy Attorney General Rod Rosenstein and Mueller have unlawfully exceeded the authorities allowed under the law governing special counsel appointments. The lawsuit contends that the order Rosenstein signed to appoint Mueller "exceeds the scope of Mr. Rosenstein's authority to appoint special counsel as well as specific restrictions on the scope of such appointments."
A DOJ spokesperson responded with a statement, saying: "The lawsuit is frivolous but the defendant is entitled to file whatever he wants."
The lawsuit's focus is on a part of the Rosenstein order that says that Mueller may investigate "any matters that arose or may arise directly from the investigation." The Manafort lawyers say that goes beyond what the law allows Rosenstein to empower Mueller to do.
The Rosenstein order gives Mueller "carte blanche to investigate and pursue criminal charges in connection with anything he stumbles across while investigating, no matter how remote from the specific matter identified as the subject of the appointment order," the lawsuit says.
Manafort and Gates face a total of 12 criminal charges related to money laundering and failure to file federal disclosures. Both Manafort and Gates have pleaded not guilty and are scheduled to appear again before the judge in the criminal case on January 16.
The-CNN-Wire™ & © 2018 Cable News Network, Inc., a Time Warner Company. All rights reserved.
Click here for reuse options!


Copyright 2018 News This Second Online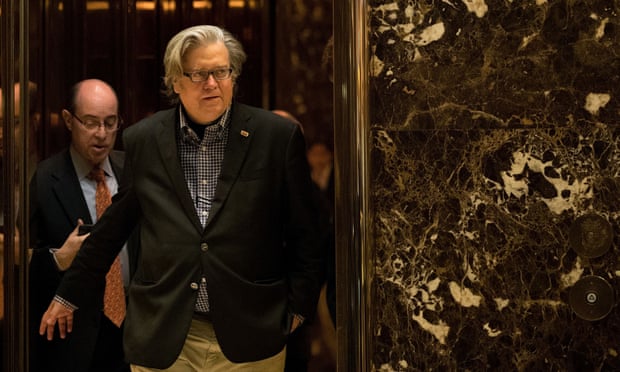 This article titled "Trump Tower meeting with Russians 'treasonous', Bannon says in explosive book" was written by David Smith in Washington, for The Guardian on Wednesday 3rd January 2018 16.32 UTC
Donald Trump's former chief strategist Steve Bannon has described the Trump Tower meeting between the president's son and a group of Russians during the 2016 election campaign as "treasonous" and "unpatriotic", according to an explosive new book seen by the Guardian.
Bannon, speaking to author Michael Wolff, warned that the investigation into alleged collusion with the Kremlin will focus on money laundering and predicted: "They're going to crack Don Junior like an egg on national TV."
Fire and Fury: Inside the Trump White House, reportedly based on more than 200 interviews with the president, his inner circle and players in and around the administration, is one of the most eagerly awaited political books of the year. In it, Wolff lifts the lid on a White House lurching from crisis to crisis amid internecine warfare, with even some of Trump's closest allies expressing contempt for him.
Bannon, who was chief executive of the Trump campaign in its final three months, then White House chief strategist for seven months before returning to the rightwing Breitbart News, is a central figure in the nasty, cutthroat drama, quoted extensively, often in salty language.
He is particularly scathing about a June 2016 meeting involving Trump's son Donald Jr, son-in-law Jared Kushner, then campaign chairman Paul Manafort and Russian lawyer Natalia Veselnitskaya at Trump Tower in New York. A trusted intermediary had promised documents that would "incriminate" rival Hillary Clinton but instead of alerting the FBI to a potential assault on American democracy by a foreign power, Trump Jr replied in an email: "I love it."
The meeting was revealed by the New York Times in July last year, prompting Trump Jr to say no consequential material was produced. Soon after, Wolff writes, Bannon remarked mockingly: "The three senior guys in the campaign thought it was a good idea to meet with a foreign government inside Trump Tower in the conference room on the 25th floor – with no lawyers. They didn't have any lawyers.
"Even if you thought that this was not treasonous, or unpatriotic, or bad shit, and I happen to think it's all of that, you should have called the FBI immediately."
Bannon went on, Wolff writes, to say that if any such meeting had to take place, it should have been set up "in a Holiday Inn in Manchester, New Hampshire, with your lawyers who meet with these people". Any information, he said, could then be "dump[ed] … down to Breitbart or something like that, or maybe some other more legitimate publication".
Bannon added: "You never see it, you never know it, because you don't need to … But that's the brain trust that they had."
Bannon also speculated that Trump Jr had involved his father in the meeting. "The chance that Don Jr did not walk these jumos up to his father's office on the twenty-sixth floor is zero."
Special counsel Robert Mueller was appointed last May, following Trump's dismissal of FBI director James Comey, to investigate Russian meddling in the 2016 election. This has led to the indictments of four members of Trump's inner circle, including Manafort and former national security adviser Michael Flynn. Manafort has pleaded not guilty to money laundering charges; Flynn has pleaded guilty to lying to the FBI. In recent weeks Bannon's Breitbart News and other conservative outlets have accused Mueller's team of bias against the president.
Trump predicted in an interview with the New York Times last week that the special counsel was "going to be fair", though he also said the investigation "makes the country look very bad". The president and his allies deny any collusion with Russia and the Kremlin has denied interfering.
Bannon has criticised Trump's decision to fire Comey. In Wolff's book, obtained by the Guardian ahead of publication from a bookseller in New England, he suggests White House hopes for a quick end to the Mueller investigation are gravely misplaced.
"You realise where this is going," he is quoted as saying. "This is all about money laundering. Mueller chose [senior prosecutor Andrew] Weissmann first and he is a money-laundering guy. Their path to fucking Trump goes right through Paul Manafort, Don Jr and Jared Kushner … It's as plain as a hair on your face."
Last month it was reported that federal prosecutors had subpoenaed records from Deutsche Bank, the German financial institution that has lent hundreds of millions of dollars to the Kushner property empire. Bannon continues: "It goes through Deutsche Bank and all the Kushner shit. The Kushner shit is greasy. They're going to go right through that. They're going to roll those two guys up and say play me or trade me."
Scorning apparent White House insouciance, Bannon reaches for a hurricane metaphor: "They're sitting on a beach trying to stop a Category Five."
He insists that he knows no Russians, will not be a witness, will not hire a lawyer and will not appear on national television answering questions.
Fire and Fury will be published next week. Wolff is a prominent media critic and columnist who has written for the Guardian and is a biographer of Rupert Murdoch. He previously conducted interviews for the Hollywood Reporter with Trump in June 2016 and Bannon a few months later.
He told the Guardian in November that to research the book, he showed up at the White House with no agenda but wanting to "find out what the insiders were really thinking and feeling". He enjoyed extraordinary access to Trump and senior officials and advisers, he said, sometimes at critical moments of the fledgling presidency.
The rancour between Bannon and "Javanka" – Kushner and his wife Ivanka Trump – is a recurring theme of the book. Kushner and Ivanka are Jewish. Henry Kissinger, the former secretary of state, is quoted as saying: "It is a war between the Jews and the non-Jews."
Trump is not spared. Wolff writes that Thomas Barrack Jr, a billionaire who is one of the president's oldest associates, allegedly told a friend: "He's not only crazy, he's stupid." Barrack denied that to the New York Times.
guardian.co.uk © Guardian News & Media Limited 2010
Published via the Guardian News Feed plugin for WordPress.
Click here for reuse options!


Copyright 2018 News This Second Online