Trump Tower meeting with Russians 'treasonous', Bannon says in explosive book
Former White House strategist quoted in Fire and Fury, by Michael Wolff
Bannon: 'They're going to crack Don Junior like an egg on national TV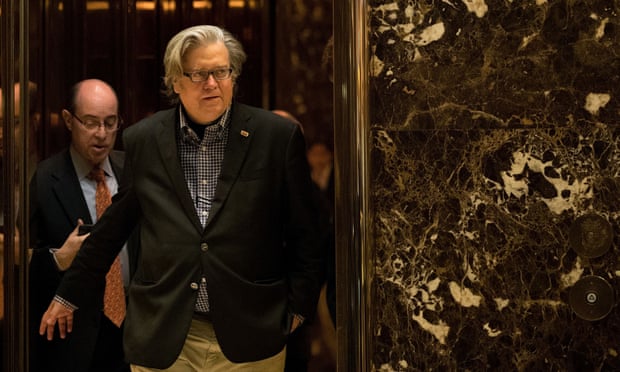 This article titled "Trump Tower meeting with Russians 'treasonous', Bannon says in explosive book" was written by David Smith in Washington, for The Guardian on Wednesday 3rd January 2018 16.32 UTC
Donald Trump's former chief strategist Steve Bannon has described the Trump Tower meeting between the president's son and a group of Russians during the 2016 election campaign as "treasonous" and "unpatriotic", according to an explosive new book seen by the Guardian.
Bannon, speaking to author Michael Wolff, warned that the investigation into alleged collusion with the Kremlin will focus on money laundering and predicted: "They're going to crack Don Junior like an egg on national TV."
Fire and Fury: Inside the Trump White House, reportedly based on more than 200 interviews with the president, his inner circle and players in and around the administration, is one of the most eagerly awaited political books of the year. In it, Wolff lifts the lid on a White House lurching from crisis to crisis amid internecine warfare, with even some of Trump's closest allies expressing contempt for him.
Bannon, who was chief executive of the Trump campaign in its final three months, then White House chief strategist for seven months before returning to the rightwing Breitbart News, is a central figure in the nasty, cutthroat drama, quoted extensively, often in salty language.
He is particularly scathing about a June 2016 meeting involving Trump's son Donald Jr, son-in-law Jared Kushner, then campaign chairman Paul Manafort and Russian lawyer Natalia Veselnitskaya at Trump Tower in New York. A trusted intermediary had promised documents that would "incriminate" rival Hillary Clinton but instead of alerting the FBI to a potential assault on American democracy by a foreign power, Trump Jr replied in an email: "I love it."
The meeting was revealed by the New York Times in July last year, prompting Trump Jr to say no consequential material was produced. Soon after, Wolff writes, Bannon remarked mockingly: "The three senior guys in the campaign thought it was a good idea to meet with a foreign government inside Trump Tower in the conference room on the 25th floor – with no lawyers. They didn't have any lawyers.
"Even if you thought that this was not treasonous, or unpatriotic, or bad shit, and I happen to think it's all of that, you should have called the FBI immediately."
Bannon went on, Wolff writes, to say that if any such meeting had to take place, it should have been set up "in a Holiday Inn in Manchester, New Hampshire, with your lawyers who meet with these people". Any information, he said, could then be "dump[ed] … down to Breitbart or something like that, or maybe some other more legitimate publication".
Bannon added: "You never see it, you never know it, because you don't need to … But that's the brain trust that they had."
Bannon also speculated that Trump Jr had involved his father in the meeting. "The chance that Don Jr did not walk these jumos up to his father's office on the twenty-sixth floor is zero."
Special counsel Robert Mueller was appointed last May, following Trump's dismissal of FBI director James Comey, to investigate Russian meddling in the 2016 election. This has led to the indictments of four members of Trump's inner circle, including Manafort and former national security adviser Michael Flynn. Manafort has pleaded not guilty to money laundering charges; Flynn has pleaded guilty to lying to the FBI. In recent weeks Bannon's Breitbart News and other conservative outlets have accused Mueller's team of bias against the president.
Trump predicted in an interview with the New York Times last week that the special counsel was "going to be fair", though he also said the investigation "makes the country look very bad". The president and his allies deny any collusion with Russia and the Kremlin has denied interfering.
Bannon has criticised Trump's decision to fire Comey. In Wolff's book, obtained by the Guardian ahead of publication from a bookseller in New England, he suggests White House hopes for a quick end to the Mueller investigation are gravely misplaced.
"You realise where this is going," he is quoted as saying. "This is all about money laundering. Mueller chose [senior prosecutor Andrew] Weissmann first and he is a money-laundering guy. Their path to fucking Trump goes right through Paul Manafort, Don Jr and Jared Kushner … It's as plain as a hair on your face."
Last month it was reported that federal prosecutors had subpoenaed records from Deutsche Bank, the German financial institution that has lent hundreds of millions of dollars to the Kushner property empire. Bannon continues: "It goes through Deutsche Bank and all the Kushner shit. The Kushner shit is greasy. They're going to go right through that. They're going to roll those two guys up and say play me or trade me."
Scorning apparent White House insouciance, Bannon reaches for a hurricane metaphor: "They're sitting on a beach trying to stop a Category Five."
He insists that he knows no Russians, will not be a witness, will not hire a lawyer and will not appear on national television answering questions.
Fire and Fury will be published next week. Wolff is a prominent media critic and columnist who has written for the Guardian and is a biographer of Rupert Murdoch. He previously conducted interviews for the Hollywood Reporter with Trump in June 2016 and Bannon a few months later.
He told the Guardian in November that to research the book, he showed up at the White House with no agenda but wanting to "find out what the insiders were really thinking and feeling". He enjoyed extraordinary access to Trump and senior officials and advisers, he said, sometimes at critical moments of the fledgling presidency.
The rancour between Bannon and "Javanka" – Kushner and his wife Ivanka Trump – is a recurring theme of the book. Kushner and Ivanka are Jewish. Henry Kissinger, the former secretary of state, is quoted as saying: "It is a war between the Jews and the non-Jews."
Trump is not spared. Wolff writes that Thomas Barrack Jr, a billionaire who is one of the president's oldest associates, allegedly told a friend: "He's not only crazy, he's stupid." Barrack denied that to the New York Times.
guardian.co.uk © Guardian News & Media Limited 2010
Published via the Guardian News Feed plugin for WordPress.
US attorney general Jeff Sessions fired by Trump
Attorney General Jeff Sessions has resigned as the country's chief law enforcement officer at President Donald Trump's request.
Sessions announced his plan to resign in a letter to the White House on Wednesday.
Trump announced in a tweet that Sessions' chief of staff Matt Whitaker would become the new acting attorney general.
The attorney general had endured more than a year of stinging and personal criticism from Trump over his recusal from the investigation into potential coordination between Russia and the Trump campaign.
Trump blamed the decision for opening the door to the appointment of special counsel Robert Mueller, who took over the Russia investigation and began examining whether Trump's hectoring of Sessions was part of a broader effort to obstruct justice.
Timeline:
1973-1975 – Practices law in Alabama.
1975-1977 – Assistant US Attorney for the Southern District of Alabama.
1981-1993 – US Attorney for the Southern District of Alabama.
1986 – President Ronald Reagan nominates Sessions to become a federal judge. The Senate Judiciary Committee opposes the nomination following testimony that Sessions made racist remarks and called the NAACP and ACLU "un-American."
1995-1997- Alabama Attorney General. During this time, an Alabama judge accuses Sessions of prosecutorial misconduct related to the handling of evidence in a case but ultimately, Sessions is not disciplined for ethics violations.
1996 – Elected to the US Senate. Re-elected in 2002, 2008 and 2014.
1997–February 2017 – Republican senator representing Alabama.
February 2, 2009 – Votes in favor of the confirmation of Eric Holder as attorney general.
April 23, 2015 – Votes against the confirmation of Loretta Lynch as attorney general.
February 28, 2016 – Becomes the first sitting US senator to endorse Donald Trump's presidential bid.
November 18, 2016 – President-elect Donald Trump announces he intends to nominate Sessions to be the next attorney general.
January 3, 2017 – An NAACP sit-in to protest the nomination of Sessions as US attorney general ends when six people are arrested at Sessions' Mobile, Alabama, office.
February 8, 2017 – After 30 hours of debate, the US Senate confirms Sessions as attorney general by a 52-47 vote.
March 1, 2017 – The Washington Post reports that Sessions failed to disclose pre-election meetings with the top Russian diplomat in Washington. Sessions did not mention either meeting during his confirmation hearings when he said he knew of no contacts between Trump surrogates and Russians.
March 2, 2017 – Sessions recuses himself from any involvement in a Justice Department probe into links between the Trump campaign and Moscow.
March 10, 2017 – The DOJ abruptly announces the firing of 46 US attorneys, including Preet Bharara of New York. Bharara said that during the transition, Trump asked him to stay on during a meeting at Trump Tower.
April 3, 2017 – The Department of Justice releases a memorandum ordering a review of consent decrees and other police reforms overseen by the federal government in response to complaints of civil rights abuses and public safety issues. During his confirmation hearing, Sessions expressed skepticism about the effectiveness of Justice Department interventions in local police matters.
July 21, 2017 – The Washington Post reports that Sessions discussed policy-related matters with Russian ambassador, Sergey Kislyak before the 2016 election, according to intelligence intercepts. Sessions had previously claimed that he did not talk about the campaign or relations with Russia during his meetings with Kislyak.
October 4, 2017 – In a memo to all federal prosecutors, Sessions says that a 1964 federal civil rights law does not protect transgender workers from employment discrimination and the department will take this new position in all "pending and future matters."
November 14, 2017 – During a House judiciary committee hearing, Sessions says he did not lie under oath in earlier hearings regarding communications with Russians during the 2016 presidential campaign, and denies participating in any collusion with Russia. Sessions also says the DOJ will consider investigations into Hillary Clinton and alleged ties between the Clinton Foundation and the sale of Uranium One.
January 4, 2018 – Sessions announces that the DOJ is rescinding an Obama-era policy of non-interference with states that have legalized recreational marijuana. The reversal frees up federal prosecutors to pursue cases in states where recreational marijuana is legal.
March 21, 2018 – Sessions issues a statement encouraging federal prosecutors to seek the death penalty for certain drug-related crimes, as mandated by law. Seeking capital punishment in drug cases is part of the Trump administration's efforts to combat opioid abuse.
May 7, 2018 – Sessions announces a "zero tolerance" policy for illegal border crossings, warning that parents could be separated from children if they try to cross to the US from Mexico. "If you cross the border unlawfully, even a first offense, we're going to prosecute you. If you're smuggling a child, we're going to prosecute you, and that child will be separated from you, probably, as required by law. If you don't want your child to be separated, then don't bring them across the border illegally."
May 30, 2018 – Trump again expresses regret for choosing Sessions to lead the Justice Department. In a tweet, he quotes a remark from Rep. Trey Gowdy (R-SC) who said that the president could have picked someone else as attorney general. "I wish I did!," Trump tweeted. He had first said that he was rethinking his choice of Sessions as attorney general during a July 2017 interview with the New York Times.
Ex-Trump Campaign Advisor George Papadopoulos Gets 14-Day Jail Term
George Papadopoulos, a one-time foreign policy adviser for Donald Trump's presidential campaign, was sentenced Friday to 14 days in jail for lying to federal agents investigating Russian interference in the 2016 election.
U.S. District Judge Randolph Moss in Washington rejected a push from Papadopoulos for a non-jail sentence. Moss also imposed 12 months of supervised release and 200 hours of community service. Prosecutors had urged Moss to sentence Papadopoulos to up to six months in jail for lying to federal investigators. (Law.com)
Justice Department plans to alert public to foreign operations targeting U.S. democracy
The Justice Department plans to alert the public to foreign operations targeting U.S. democracy under a new policy designed to counter hacking and disinformation campaigns such as the one Russia undertook in 2016 to disrupt the presidential election.
The government will inform American companies, private organizations and individuals that they are being covertly attacked by foreign actors attempting to affect elections or the political process.
"Exposing schemes to the public is an important way to neutralize them," said Deputy Attorney General Rod J. Rosenstein, who announced the policy at the Aspen Security Forum in Colorado, according to prepared remarks. "The American people have a right to know if foreign governments are targeting them with propaganda."
The Obama administration struggled in 2016 to decide whether and when to disclose the existence of the Russian intervention, fearing that it would be portrayed as a partisan move. Concerns about appearing to favor the Democratic nominee, Hillary Clinton, weighed on President Obama, who was reluctant to give then GOP-nominee Donald Trump ammunition for his accusation that the election was rigged.
"The Russian effort to influence the 2016 presidential election is just one tree in a growing forest," Rosenstein said. "Focusing merely on a single election misses the point."
He cited Director of National Intelligence Daniel Coats, who last Friday said Russia's actions continued. "As Director Coats made clear, "these actions are persistent, they are pervasive, and they are meant to undermine America's democracy on a daily basis, regardless of whether it is election time or not,' " Rosenstein said.
At the Aspen Forum on Thursday, a Microsoft executive said that Russian military intelligence, known as the GRU, has targeted at least three candidates running for election this year. Tom Burt, the company's Vice President for Customer Security and Trust, said that his team had discovered a spear-phishing campaign targeting the candidates. Spear-phishing is a technique hackers use to trick victims into clicking on malware-laced links in emails that enable access to the victims' computers.
Twelve GRU officers were charged last week by special counsel Robert S. Mueller III with conspiracy for their role in the hacking of the Democratic National Committee and the transfer of thousands of emails to the anti-secrecy group WikiLeaks, which published them at key moments in the campaign.
Pressure has been building on the Trump administration to commit to informing the public with lawmakers debating passage of a similar requirement, which would give it the force of law.
"It's absolutely crucial that the intelligence community lean forward, push the envelope on sharing as much of that information as possible because one of the biggest challenges we have is on education of the public, of the electorate, on foreign, read Russian-influence operations," said James R. Clapper Jr., former DNI, who last year at Aspen called for such transparency.
He called the move "quite significant" and said "making that a standard policy across the government is a good one." Other agencies, he said, "will take a cue" from the Justice Department, which is part of the intelligence community and receives information from spy agencies.
The policy, which is part of a report issued on a new Cyber Digital Task Force set up by Attorney General Jeff Sessions in February, also specifies that in considering whether to disclose, the department must protect intelligence sources and methods, investigations and other government operations.
"Partisan political considerations must play no role in efforts to alert victims, other affected individuals or the American public to foreign influence operations against the United States," the policy states. A foreign influence operation will be publicly disclosed "only when the government can attribute those activities to a foreign government with high confidence," it said.
Rosenstein noted that influence operations are not new. The Soviet Union used them against the United States throughout the 20th century, including in 1963 paying an American to distribute a book claiming that the FBI and the CIA assassinated President Kennedy.
The new task force for the first time spelled out five different types of threats covered under foreign influence operations.
Hackers can target election systems, trying to get into voter registration databases and voting machines. Foreign operatives can pursue political organizations, campaigns and public officials. They can offer to assist political organizations or campaigns, while concealing their links to foreign governments. They can seek to covertly influence public opinion and sow division through the use of social media and other outlets. And they can try to employ lobbyists, foreign media outlets and other foreign organizations to influence policy-makers and the public.
"Public attribution of foreign influence operations can help to counter and mitigate the harm caused by foreign government-sponsored disinformation," Rosenstein said. "When people are aware of the true sponsor, they can make better-informed decisions."
The task force works closely with the FBI, whose director, Christopher Wray, last year established a Foreign Influence Task Force to focus on the same issue. The Justice Department task force is broader, but includes as a key component foreign influence activities.
To counter foreign influence, the department will aggressively investigate and prosecute such activities, and will work with other departments, such as the Department of Homeland Security, to share information about threats and vulnerabilities with state and local election officials, political organizations and other potential victims so they can take measures to detect or prevent harm, the report said.
It also noted that DOJ supports other agencies' actions, such as financial or diplomatic sanctions and intelligence efforts. The department also is forming strategic relationships with social media providers to help them identify malign foreign influence activity.
This article was written by Ellen Nakashima from The Washington Post