Trump hits back at Steve Bannon: 'When he was fired, he lost his mind'
President says former strategist 'is learning that winning isn't as easy as I make it look' as Bannon is quoted condemning Trump Tower meeting with Russians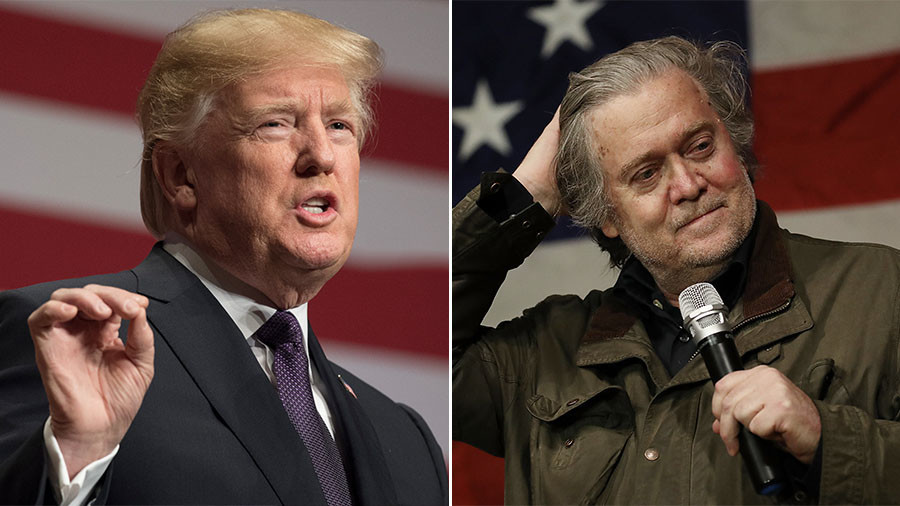 ---
This article titled "Trump hits back at Steve Bannon: 'When he was fired, he lost his mind'" was written by Lauren Gambino, David Smith and Ben Jacobs in Washington, for theguardian.com on Wednesday 3rd January 2018 21.24 UTC
Donald Trump lashed out at his former chief strategist Steve Bannon on Wednesday, accusing him of having "lost his mind" after the one-time aide made explosive accusations against the president and his family in a new book.
"Steve Bannon has nothing to do with me or my presidency," Trump said in a statement released by the White House.
"When he was fired, he not only lost his job, he lost his mind. Steve was a staffer who worked for me after I had already won the nomination by defeating 17 candidates, often described as the most talented field ever assembled in the Republican party."
Critics pointed, however, to a tweet issued on 17 August 2017, in which Trump wrote: "I want to thank Steve Bannon for his service. He came to the campaign during my run against Crooked Hillary Clinton – it was great! Thanks S."
Bannon was chief executive officer of the Trump campaign in its final three months and then White House chief strategist for seven months before returning to the rightwing Breitbart News.
According to Fire and Fury: Inside the Trump White House, Bannon told author Michael Wolff the Trump Tower meeting between the president's son and a group of Russians during the 2016 election campaign was "treasonous" and "unpatriotic". He also reportedly made a range of claims about the likely targets and results of the investigation into Russian election meddling by the special counsel Robert Mueller.
In the book, which was obtained by the Guardian ahead of publication from a bookseller in New England, Wolff paints a picture of a White House in chaos, locked in internecine warfare with even some of Trump's closest allies expressing contempt for him.
In his statement, which was issued after New York magazine published its own extensive excerpt of the Wolff book, Trump said: "Steve pretends to be at war with the media, which he calls the opposition party, yet he spent his time at the White House leaking false information to the media to make himself seem far more important than he was. It is the only thing he does well.
"Steve was rarely in a one-on-one meeting with me and only pretends to have had influence to fool a few people with no access and no clue, whom he helped write phony books."
Wolff, a former Guardian columnist, told the Guardian in November that he had no agenda in writing the book but wanted to "find out what the insiders were really thinking and feeling". He enjoyed extraordinary access to Trump and senior officials and advisers, he said, sometimes at critical moments.
On Wednesday, one subject of conversations reported in Wolff's book, billionaire Trump ally Tom Barrack, told the New York Times he had not made a reported abusive remark about the president.
The White House press secretary, Sarah Sanders, said in a written statement that the book was "filled with false and misleading accounts" and was "trashy tabloid fiction".
At her regular briefing later, she said Trump was "furious" at and "disgusted" by Bannon's remarks. "Going after the president's son in an absolutely outrageous way is probably not the best way to curry favour with anybody."
She described the claim of treason against Trump Jr as "a ridiculous accusation" and pointed to an interview on CBS 60 Minutes in which Bannon had referred to allegations of collusion with Russia as a "farce". She told reporters: "If anyone's been inconsistent, it's been him. It certainly hasn't been the president or this administration."
She claimed that Trump and Bannon last spoke in early December. Asked if the former chief strategist was off the list for social invitations to the White House, she replied dryly: "Probably so."
Sanders claimed that Wolff had "never actually sat down with the president" while researching the book but just had "one brief conversation" of about five to seven minutes. She was also aware of just over a dozen interactions between Wolff and White House officials, "95%" of which were at Bannon's request. "I know the book has a lot of things that are completely untrue," she claimed.
Stephanie Grisham, communications director for the first lady, rejected claims in the book that Melania Trump cried when her husband won the presidency.
Donald Trump Jr also jumped into the fray, blasting Bannon in a series of tweets that blamed him for the election of the first Alabama Democrat elected to the Senate in more than a generation.
"Thanks Steve. Keep up the great work," Trump Jr said, replying to a reporter's tweet about the swearing-in ceremony of Doug Jones.
Bannon declared a "season of war" on the Republican establishment and has threatened to run disruptive primary challengers against incumbent senators. The Senate majority leader, Mitch McConnell, said the Alabama special election, in which the controversial Republican Roy Moore, who was accused of sexual misconduct with teenage girls, lost to Jones, demonstrates that Bannon's anti-establishment candidates are unelectable.
After Trump released his statement on Bannon, McConnell's re-election campaign account tweeted a gif of McConnell grinning.
Trump Jr added later: "Steve had the honor of working in the White House & serving the country. Unfortunately, he squandered that privilege & turned that opportunity into a nightmare of backstabbing, harassing, leaking, lying & undermining the President. Steve is not a strategist, he is an opportunist."
guardian.co.uk © Guardian News & Media Limited 2010
Published via the Guardian News Feed plugin for WordPress.
Trump threatens to withdraw from World Trade Organization
President Donald Trump said he would pull out of the World Trade Organization if it doesn't treat the U.S. better, continuing his criticism of a cornerstone of the international trading system.
"If they don't shape up, I would withdraw from the WTO," Trump said Thursday in an interview with Bloomberg News at the White House.
A U.S. withdrawal from the WTO would severely undermine the post-World War II multilateral trading system that the U.S. helped build.
Trump said last month that the U.S. is at a big disadvantage from being treated "very badly" by the WTO for many years and that the Geneva-based body needs to "change their ways."
(Reuters)
Michael Cohen Secretly Taped Trump Discussing Payment to Playboy Model
 President Trump's longtime lawyer, Michael D. Cohen, secretly recorded a conversation with Mr. Trump two months before the presidential election in which they discussed payments to a former Playboy model who said she had an affair with Mr. Trump, according to lawyers and others familiar with the recording.
The F.B.I. seized the recording this year during a raid on Mr. Cohen's office. The Justice Department is investigating Mr. Cohen's involvement in paying women to tamp down embarrassing news stories about Mr. Trump ahead of the 2016 election. Prosecutors want to know whether that violated federal campaign finance laws, and any conversation with Mr. Trump about those payments would be of keen interest to them.
The recording's existence further draws Mr. Trump into questions about tactics he and his associates used to keep aspects of his personal and business life a secret. And it highlights the potential legal and political danger that Mr. Cohen represents to Mr. Trump. Once the keeper of many of Mr. Trump's secrets, Mr. Cohen is now seen as increasingly willing to consider cooperating with prosecutors.
Rudolph W. Giuliani, Mr. Trump's personal lawyer, confirmed in a telephone conversation on Friday that Mr. Trump had discussed the payments with Mr. Cohen on the tape but said the payment was ultimately never made. He said the recording was less than two minutes and demonstrated that the president had done nothing wrong.
"Nothing in that conversation suggests that he had any knowledge of it in advance," Mr. Giuliani said, adding that Mr. Trump had directed Mr. Cohen that if he were to make a payment related to the woman, write a check, rather than sending cash, so it could be properly documented.
"In the big scheme of things, it's powerful exculpatory evidence," Mr. Giuliani.
Mr. Cohen's lawyers discovered the recording as part of their review of the seized materials and shared it with Mr. Trump's lawyers, according to three people briefed on the matter.
"We have nothing to say on this matter," Mr. Cohen's lawyer, Lanny J. Davis, said when asked about the tape.
(New York Times)
The US is a whole lot richer because of trade with Europe, regardless of whether EU is friend or 'foe'
Greg Wright, University of California, Merced
President Donald Trump recently questioned the value of the long-standing United States-Europe alliance. When asked to identify his "biggest foe globally," he declared: "I think the European Union is a foe, what they do to us in trade."
This view is consistent with his recent turn against trade with Europe but ignores the immense benefits that Americans have reaped due to the strong economic and military alliance between the U.S. and Europe – benefits that include nothing less than unprecedented peace and prosperity.
As such, Trump's trade war with Europe and his hostility toward broader Western alliances such as NATO portend a future of diminished standards of living – as a direct result of less trade – and greater global conflict – indirectly due to reduced economic integration. In the words of columnist Robert Kagan, "things will not be ok."
Some of my research focuses on the impact of increased international trade on U.S. standards of living, which I show are causally linked during the late 20th century. Most of the trade in this period occurred among rich nations and was dominated by the U.S.-Europe relationship.
By calling Europe a "foe," Trump makes clear that he simply doesn't understand why rich countries trade with one another, which, to be fair, is something that also puzzled economists for many years.
Why rich countries trade
Though in some ways it seems obvious why the U.S. and Europe trade with one another – some might enjoy Parmigiana from Italy, while others prefer Wisconsin cheddar – economists initially had trouble explaining exactly why there was so much trade among rich countries. Surely, they thought, the U.S. can produce good quality cheese at a cost that is similar to producers in Italy, and vice versa, so why would we need to go abroad to satisfy our palettes?
In 1979, economist Paul Krugman provided a clear answer that would eventually win him the Nobel Prize in economics. The first part of his answer was simple but important and boils down to the fact that consumers benefit from having a wide range of product varieties available to them, even if they are only small variations on the same item.
For instance, in 2016 the top U.S. exports to the EU were aircraft (US$38.5 billion), machinery ($29.4 billion) and pharmaceutical products ($26.4 billion). The top imports from the EU seem almost identical: machinery ($64.9 billion), pharmaceutical products ($55.2 billion) and vehicles ($54.6 billion). Although the product categories clearly overlap, there are important differences in the types of pharmaceuticals and machinery that are sold in each market. Consumers benefit from having all these options available to them.
The second part of Krugman's answer was that, by producing for both markets, companies in Europe and the U.S. could reap greater economies of scale in production and lower their prices as a result. This has been found to indeed be what happens when countries trade. And more recent research has shown that increased foreign competition can also lower domestic prices.
These benefits have been quantified. For instance, the gains to the U.S. from new foreign product varieties and lower prices over the period 1992 to 2005 were equal to about one percent of U.S. GDP – or about $100 billion.
In short, Krugman's answer emphasized the extent to which international trade between equals increases the overall size of the economic pie. And no pie has ever grown larger than the combined economies of the U.S. and Europe, which now constitute half of global GDP.
Largest trading partner
The European Union is the largest U.S. trading partner in terms of its total bilateral trade and has been for the past several decades.
Overall, the U.S. imported $592 billion in goods and services from the EU in 2016 and exported $501 billion, which represents about 19 percent of total U.S. trade and also represents about 19 percent of American GDP.
A key feature of this trade is that almost a third of it happens within individual companies. In other words, it reflects multinational companies shipping products to themselves in order to serve their local market, or as inputs into local production. This type of trade is critical as it serves as the backbone of a vast network of business investments on both sides of the Atlantic, supporting hundreds of thousands of jobs.
It is also a network that propels the global economy: the EU or U.S. serves as the primary trading partner for nearly every country on Earth.
Shipping and new institutions
The U.S.-Europe trade relationship also laid the groundwork for the modern system of international trade via two distinct innovations: new shipping technologies and new global institutions.
On the technological front, the introduction of the standard shipping container in the 1960s set off the so-called second wave of globalization. This under-appreciated technology was conceived by the U.S Army during the 1950s and was perfected over Atlantic shipping routes. In short, by simply standardizing the size and shape of shipping containers, and building port infrastructure and ships to move them, massive economies of scale in shipping were realized. As a result, today container ships the size of small cities are routed via sophisticated logistics to huge deepwater ports around the world.
These routes eventually made it profitable for other countries to invest in the large-scale port infrastructure that could handle modern container ships. This laid the groundwork for the eventual growth of massive container terminals throughout Asia, which now serve as the hubs of the modern global supply chain.
At the same time that these new technologies were reducing the physical costs of doing business around the world, the U.S. and Europe were also creating institutions to define new international rules for trade and finance. Perhaps the most important one was the post-war General Agreement on Trade and Tariffs, which eventually became the World Trade Organization, creating the first rules-based multilateral trade regime. A large body of research shows that these agreements have increased trade and, more importantly, raised incomes around the world.
Overall, these advancements contributed to the subsequent enrichment of hundreds of millions of workers in Asia, Latin America and Africa by helping to integrate them into the global economy.
And when the world gets richer, the U.S. also benefits for many of the same reasons noted above: demand for U.S. products increases as incomes rise around the world, as does the variety of products the U.S. can import, and the prices of these goods typically fall.
Taking the long view
But it appears that President Trump sees the U.S. on the losing end of a failed relationship.
It is unsurprising that tensions with Europe have come to the forefront over perceived imbalances in trade, particularly for a president who is not afraid to take long-time allies to task.
This is because U.S. trade policy has arguably been overly optimistic in recent years, particularly with respect to China, whose accession to the WTO proved to be much more disruptive to labor markets around the world than was predicted. Previous U.S. administrations preferred patience over confrontation, leading to a perhaps inevitable backlash that has spilled into other relationships, such as the one with Europe.
However, the U.S. relationship with Europe is clearly different, primarily because it is longstanding and has been largely one of equals. But also because their shared values mean that there are many non-economic issues — such as the spread of liberal democracy and the promotion of human rights — that get advanced by the close economic ties.
It's important to not underestimate what is at stake if the U.S.-Europe alliance is allowed to falter. Americans are likely in the midst of the most peaceful era in world history, and global economic integration, led from the beginning by the U.S. and Europe, has been a key contributing factor. Global extreme poverty is also at its lowest point ever, again in large part due to globalization.
These are the byproducts and legacies of seven decades of expanding international trade and should not be taken for granted.
Greg Wright, Assistant Professor of Economics, University of California, Merced
This article was originally published on The Conversation. Read the original article.