Trump hits back at Steve Bannon: 'When he was fired, he lost his mind'
President says former strategist 'is learning that winning isn't as easy as I make it look' as Bannon is quoted condemning Trump Tower meeting with Russians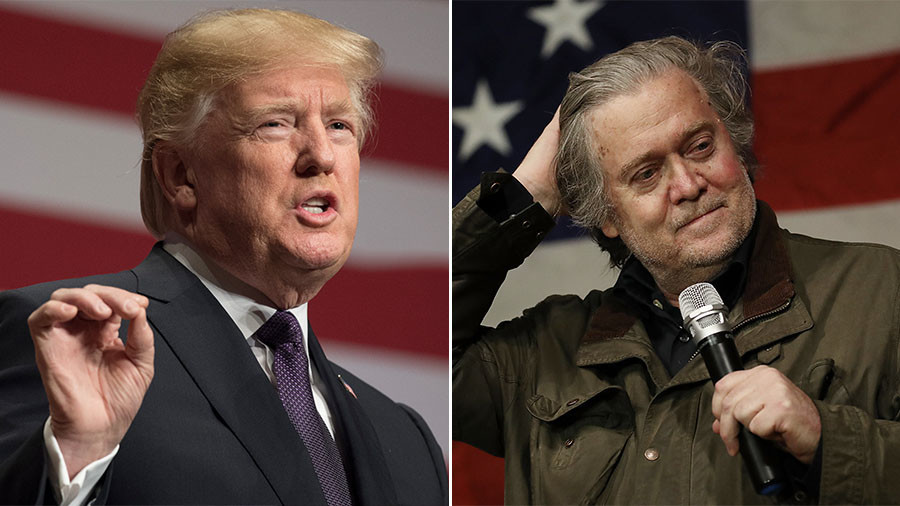 ---
This article titled "Trump hits back at Steve Bannon: 'When he was fired, he lost his mind'" was written by Lauren Gambino, David Smith and Ben Jacobs in Washington, for theguardian.com on Wednesday 3rd January 2018 21.24 UTC
Donald Trump lashed out at his former chief strategist Steve Bannon on Wednesday, accusing him of having "lost his mind" after the one-time aide made explosive accusations against the president and his family in a new book.
"Steve Bannon has nothing to do with me or my presidency," Trump said in a statement released by the White House.
"When he was fired, he not only lost his job, he lost his mind. Steve was a staffer who worked for me after I had already won the nomination by defeating 17 candidates, often described as the most talented field ever assembled in the Republican party."
Critics pointed, however, to a tweet issued on 17 August 2017, in which Trump wrote: "I want to thank Steve Bannon for his service. He came to the campaign during my run against Crooked Hillary Clinton – it was great! Thanks S."
Bannon was chief executive officer of the Trump campaign in its final three months and then White House chief strategist for seven months before returning to the rightwing Breitbart News.
According to Fire and Fury: Inside the Trump White House, Bannon told author Michael Wolff the Trump Tower meeting between the president's son and a group of Russians during the 2016 election campaign was "treasonous" and "unpatriotic". He also reportedly made a range of claims about the likely targets and results of the investigation into Russian election meddling by the special counsel Robert Mueller.
In the book, which was obtained by the Guardian ahead of publication from a bookseller in New England, Wolff paints a picture of a White House in chaos, locked in internecine warfare with even some of Trump's closest allies expressing contempt for him.
In his statement, which was issued after New York magazine published its own extensive excerpt of the Wolff book, Trump said: "Steve pretends to be at war with the media, which he calls the opposition party, yet he spent his time at the White House leaking false information to the media to make himself seem far more important than he was. It is the only thing he does well.
"Steve was rarely in a one-on-one meeting with me and only pretends to have had influence to fool a few people with no access and no clue, whom he helped write phony books."
Wolff, a former Guardian columnist, told the Guardian in November that he had no agenda in writing the book but wanted to "find out what the insiders were really thinking and feeling". He enjoyed extraordinary access to Trump and senior officials and advisers, he said, sometimes at critical moments.
On Wednesday, one subject of conversations reported in Wolff's book, billionaire Trump ally Tom Barrack, told the New York Times he had not made a reported abusive remark about the president.
The White House press secretary, Sarah Sanders, said in a written statement that the book was "filled with false and misleading accounts" and was "trashy tabloid fiction".
At her regular briefing later, she said Trump was "furious" at and "disgusted" by Bannon's remarks. "Going after the president's son in an absolutely outrageous way is probably not the best way to curry favour with anybody."
She described the claim of treason against Trump Jr as "a ridiculous accusation" and pointed to an interview on CBS 60 Minutes in which Bannon had referred to allegations of collusion with Russia as a "farce". She told reporters: "If anyone's been inconsistent, it's been him. It certainly hasn't been the president or this administration."
She claimed that Trump and Bannon last spoke in early December. Asked if the former chief strategist was off the list for social invitations to the White House, she replied dryly: "Probably so."
Sanders claimed that Wolff had "never actually sat down with the president" while researching the book but just had "one brief conversation" of about five to seven minutes. She was also aware of just over a dozen interactions between Wolff and White House officials, "95%" of which were at Bannon's request. "I know the book has a lot of things that are completely untrue," she claimed.
Stephanie Grisham, communications director for the first lady, rejected claims in the book that Melania Trump cried when her husband won the presidency.
Donald Trump Jr also jumped into the fray, blasting Bannon in a series of tweets that blamed him for the election of the first Alabama Democrat elected to the Senate in more than a generation.
"Thanks Steve. Keep up the great work," Trump Jr said, replying to a reporter's tweet about the swearing-in ceremony of Doug Jones.
Bannon declared a "season of war" on the Republican establishment and has threatened to run disruptive primary challengers against incumbent senators. The Senate majority leader, Mitch McConnell, said the Alabama special election, in which the controversial Republican Roy Moore, who was accused of sexual misconduct with teenage girls, lost to Jones, demonstrates that Bannon's anti-establishment candidates are unelectable.
After Trump released his statement on Bannon, McConnell's re-election campaign account tweeted a gif of McConnell grinning.
Trump Jr added later: "Steve had the honor of working in the White House & serving the country. Unfortunately, he squandered that privilege & turned that opportunity into a nightmare of backstabbing, harassing, leaking, lying & undermining the President. Steve is not a strategist, he is an opportunist."
guardian.co.uk © Guardian News & Media Limited 2010
Published via the Guardian News Feed plugin for WordPress.
EXCLUSIVE: Full Audio Of White House official President Trump says 'doesn't exist'

On Thursday afternoon the White House held a "background briefing" where a "senior White House official" provided information on North Korea to reporters.
On Saturday, President Trump claimed the aide "doesn't exist."
The Failing @nytimes quotes "a senior White House official," who doesn't exist, as saying "even if the meeting were reinstated, holding it on June 12 would be impossible, given the lack of time and the amount of planning needed." WRONG AGAIN! Use real people, not phony sources.

— Donald J. Trump (@realDonaldTrump) May 26, 2018
A few hours later, a journalist posted partial audio of the call
4. I've obtained audio of the WH press briefing. You can hear Raj Shah, Deputy Press Secretary, introduce Pottinger (along with the terms – which are standard) and then Pottinger makes the statement that POTUS says was never made. Lots of reporters in briefing room and on phone. pic.twitter.com/2gEYkRSyTv

— Yashar Ali 🐘 (@yashar) May 26, 2018
NewsThisSecond has obtained a recording of the background briefing in its entirety and is making it public.
Read President Trump's Letter to Chairman Kim Jong Un canceling the summit between the two leaders
Text Version –
His Excellency
Kim Jong Un
Chairman of the State Affairs Commission
of the Democratic People's Republic of Korea
Pyongyang
Dear Mr. Chairman:
We greatly appreciation your time, patience, and effort with respect to our recent negotiations and discussions relative to a summit long sought by both parties, which was scheduled to take place on June 12 in Singapore. We were informed that the meeting was requested by North Korea, but that to us is totally irrelevant. I was very much looking forward to being there with you. Sadly, based on the tremendous anger and open hostility displayed in your most recent statement, I feel it is inappropriate, at this time, to have this long-planned meeting. Therefore, please let this letter serve to represent that the Singapore summit, for the good of both parties, but to the detriment of the world, will not take place. You talk about nuclear capabilities, but ours are so massive and powerful that I pray to God they will never have to be used.
I felt a wonderful dialogue was building up between you and me, and ultimately, it is only that dialogue that matters. Some day, I look very much forward to meeting you. In the meantime, I want to thank you for the release of the hostages who are now home with their families. That was a beautiful gesture and was very much appreciated.
If you change your mind having to do with this most important summit, please do not hesitate to call me or write. The world, and North Korea in particular, has lost a great opportunity for lasting peace and great prosperity and wealth. This missed opportunity is a truly sad moment in history.
Sincerely yours,
Donald J. Trump
President of the United States of America
MELANIA TRUMP UNDERGOES KIDNEY SURGERY AT WALTER REED MEDICAL CENTER
First lady Melania Trump underwent  kidney surgery Monday at Walter Reed National Military Medical Center near Washington, DC, according to a statement from her office.
Trump had been experiencing an issue with her kidney that her office described as benign but requiring medical attention.
Trump, who turned 48 last month, entered Walter Reed in nearby Bethesda, Maryland, on Monday morning and is expected to remain hospitalized for several days following the operation, according to the statement from her communications director, Stephanie Grisham.