Trump hits back at Steve Bannon: 'When he was fired, he lost his mind'
President says former strategist 'is learning that winning isn't as easy as I make it look' as Bannon is quoted condemning Trump Tower meeting with Russians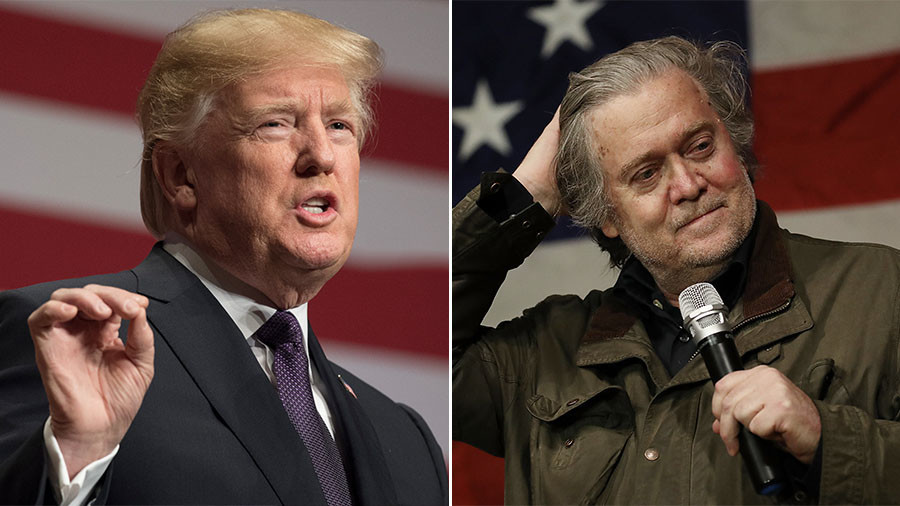 ---
This article titled "Trump hits back at Steve Bannon: 'When he was fired, he lost his mind'" was written by Lauren Gambino, David Smith and Ben Jacobs in Washington, for theguardian.com on Wednesday 3rd January 2018 21.24 UTC
Donald Trump lashed out at his former chief strategist Steve Bannon on Wednesday, accusing him of having "lost his mind" after the one-time aide made explosive accusations against the president and his family in a new book.
"Steve Bannon has nothing to do with me or my presidency," Trump said in a statement released by the White House.
"When he was fired, he not only lost his job, he lost his mind. Steve was a staffer who worked for me after I had already won the nomination by defeating 17 candidates, often described as the most talented field ever assembled in the Republican party."
Critics pointed, however, to a tweet issued on 17 August 2017, in which Trump wrote: "I want to thank Steve Bannon for his service. He came to the campaign during my run against Crooked Hillary Clinton – it was great! Thanks S."
Bannon was chief executive officer of the Trump campaign in its final three months and then White House chief strategist for seven months before returning to the rightwing Breitbart News.
According to Fire and Fury: Inside the Trump White House, Bannon told author Michael Wolff the Trump Tower meeting between the president's son and a group of Russians during the 2016 election campaign was "treasonous" and "unpatriotic". He also reportedly made a range of claims about the likely targets and results of the investigation into Russian election meddling by the special counsel Robert Mueller.
In the book, which was obtained by the Guardian ahead of publication from a bookseller in New England, Wolff paints a picture of a White House in chaos, locked in internecine warfare with even some of Trump's closest allies expressing contempt for him.
In his statement, which was issued after New York magazine published its own extensive excerpt of the Wolff book, Trump said: "Steve pretends to be at war with the media, which he calls the opposition party, yet he spent his time at the White House leaking false information to the media to make himself seem far more important than he was. It is the only thing he does well.
"Steve was rarely in a one-on-one meeting with me and only pretends to have had influence to fool a few people with no access and no clue, whom he helped write phony books."
Wolff, a former Guardian columnist, told the Guardian in November that he had no agenda in writing the book but wanted to "find out what the insiders were really thinking and feeling". He enjoyed extraordinary access to Trump and senior officials and advisers, he said, sometimes at critical moments.
On Wednesday, one subject of conversations reported in Wolff's book, billionaire Trump ally Tom Barrack, told the New York Times he had not made a reported abusive remark about the president.
The White House press secretary, Sarah Sanders, said in a written statement that the book was "filled with false and misleading accounts" and was "trashy tabloid fiction".
At her regular briefing later, she said Trump was "furious" at and "disgusted" by Bannon's remarks. "Going after the president's son in an absolutely outrageous way is probably not the best way to curry favour with anybody."
She described the claim of treason against Trump Jr as "a ridiculous accusation" and pointed to an interview on CBS 60 Minutes in which Bannon had referred to allegations of collusion with Russia as a "farce". She told reporters: "If anyone's been inconsistent, it's been him. It certainly hasn't been the president or this administration."
She claimed that Trump and Bannon last spoke in early December. Asked if the former chief strategist was off the list for social invitations to the White House, she replied dryly: "Probably so."
Sanders claimed that Wolff had "never actually sat down with the president" while researching the book but just had "one brief conversation" of about five to seven minutes. She was also aware of just over a dozen interactions between Wolff and White House officials, "95%" of which were at Bannon's request. "I know the book has a lot of things that are completely untrue," she claimed.
Stephanie Grisham, communications director for the first lady, rejected claims in the book that Melania Trump cried when her husband won the presidency.
Donald Trump Jr also jumped into the fray, blasting Bannon in a series of tweets that blamed him for the election of the first Alabama Democrat elected to the Senate in more than a generation.
"Thanks Steve. Keep up the great work," Trump Jr said, replying to a reporter's tweet about the swearing-in ceremony of Doug Jones.
Bannon declared a "season of war" on the Republican establishment and has threatened to run disruptive primary challengers against incumbent senators. The Senate majority leader, Mitch McConnell, said the Alabama special election, in which the controversial Republican Roy Moore, who was accused of sexual misconduct with teenage girls, lost to Jones, demonstrates that Bannon's anti-establishment candidates are unelectable.
After Trump released his statement on Bannon, McConnell's re-election campaign account tweeted a gif of McConnell grinning.
Trump Jr added later: "Steve had the honor of working in the White House & serving the country. Unfortunately, he squandered that privilege & turned that opportunity into a nightmare of backstabbing, harassing, leaking, lying & undermining the President. Steve is not a strategist, he is an opportunist."
guardian.co.uk © Guardian News & Media Limited 2010
Published via the Guardian News Feed plugin for WordPress.
Tulsi Gabbard Announces She Is Running For President In 2020
Rep. Tulsi Gabbard has decided to run for president, she told CNN's Van Jones Friday.
"There are a lot of challenges that are facing the American people that I'm concerned about and that I want to help solve," she said in an interview due to be broadcast in full Saturday. She added that "the issue of war and peace" will be central for her. Gabbard said she would make a formal announcement within the next week.
Gabbard, a Democrat from Hawaii, is the first Hindu and first American Samoan to be elected to Congress. She gained national attention in 2016 when she resigned her position as vice chair of the Democratic National Committee in protest of its handling of that year's Democratic presidential primary, and endorsed Bernie Sanders.
Court Orders White House to give Jim Acosta his hard pass back
Federal judge Timothy J. Kelly sided with CNN on Friday, ordering the White House to reinstate chief White House correspondent Jim Acosta's press pass.
The ruling was an initial victory for CNN in its lawsuit against President Trump and several top aides.
The lawsuit alleges that CNN and Acosta's First and Fifth Amendment rights are being violated by the suspension of Acosta's press pass.
Kelly did not rule on the underlying case on Friday. But he granted CNN's request for a temporary restraining order.
This result means that Acosta will have his access to the White House restored for at least a short period of time. The judge said while explaining his decision that he believes that CNN and Acosta are likely to prevail in the case overall.
CNN is also asking for "permanent relief," meaning a declaration from the judge that Trump's revocation of Acosta's press pass was unconstitutional. This legal conclusion could protect other reporters from retaliation by the administration.
"The revocation of Acosta's credentials is only the beginning," CNN's lawsuit alleged, pointing out that Trump has threatened to strip others' press passes too.
That is one of the reasons why most of the country's major news organizations have backed CNN's lawsuit, turning this into an important test of press freedom.
But the judge will rule on all of that later. Further hearings are likely to take place in the next few weeks, according to CNN's lawyers.

(CNN)
CNN sues President Trump for banning reporter Jim Acosta
CNN is filing a lawsuit against President Trump and several of his aides, seeking the immediate restoration of chief White House correspondent Jim Acosta's access to the White House.
The lawsuit is a response to the White House's suspension of Acosta's press pass, known as a Secret Service "hard pass," last week. The suit alleges that Acosta and CNN's First and Fifth Amendment rights are being violated by the ban.
The suit is being filed in U.S. District Court in Washington, D.C. on Tuesday morning, a CNN spokeswoman confirmed.
Both CNN and Acosta are plaintiffs in the lawsuit. There are six defendants: Trump, chief of staff John Kelly, press secretary Sarah Sanders, deputy chief of staff for communications Bill Shine, Secret Service director Joseph Clancy, and the Secret Service officer who took Acosta's hard pass away last Wednesday. The officer is identified as John Doe in the suit, pending his identification.
The six defendants are all named because of their roles in enforcing and announcing Acosta's suspension.
Last Wednesday, shortly after Acosta was denied entry to the White House grounds, Sanders defended the unprecedented step by claiming that he had behaved inappropriately at a presidential news conference. CNN and numerous journalism advocacy groups rejected that assertion and said his pass should be reinstated.
On Friday, CNN sent a letter to the White House formally requesting the immediate reinstatement of Acosta's pass and warning of a possible lawsuit, the network confirmed.
In a statement on Tuesday morning, CNN said it is seeking a preliminary injunction as soon as possible so that Acosta can return to the White House right away, and a ruling from the court preventing the White House from revoking Acosta's pass in the future.
"CNN filed a lawsuit against the Trump Administration this morning in DC District Court," the statement read. "It demands the return of the White House credentials of CNN's Chief White House correspondent, Jim Acosta. The wrongful revocation of these credentials violates CNN and Acosta's First Amendment rights of freedom of the press, and their Fifth Amendment rights to due process. We have asked this court for an immediate restraining order requiring the pass be returned to Jim, and will seek permanent relief as part of this process."
CNN also asserted that other news organizations could have been targeted by the Trump administration this way, and could be in the future.
"While the suit is specific to CNN and Acosta, this could have happened to anyone," the network said. "If left unchallenged, the actions of the White House would create a dangerous chilling effect for any journalist who covers our elected officials."
Acosta has continued to do part of his job, contacting sources and filing stories, but he has been unable to attend White House events or ask questions in person — a basic part of any White House correspondent's role.
Acosta is on a previously scheduled vacation this week. He declined to comment on the lawsuit.
On CNN's side, CNN Worldwide chief counsel David Vigilante is joined by two prominent attorneys, Ted Boutrous and Theodore Olson. Both men are partners at Gibson, Dunn & Crutcher.
Last week, before he was retained by CNN, Boutrous tweeted that the action against Acosta "clearly violates the First Amendment." He cited the Sherrill case.
"This sort of angry, irrational, false, arbitrary, capricious content-based discrimination regarding a White House press credential against a journalist quite clearly violates the First Amendment," he wrote.
David McCraw, the top newsroom lawyer at The New York Times, said instances of news organizations suing a president are extremely rare.
Past examples are The New York Times v. U.S., the famous Supreme Court case involving the Pentagon Papers in 1971; and CNN's 1981 case against the White House and the broadcast networks, when CNN sued to be included in the White House press pool.
The backdrop to this new suit, of course, is Trump's antipathy for CNN and other news outlets. He regularly derides reporters from CNN and the network as a whole.
Abrams posited on "Reliable Sources" on Sunday that CNN might be reluctant to sue because the president already likes to portray the network as his enemy. Now there will be a legal case titled CNN Inc. versus President Trump.
But, Abrams said, "this is going to happen again," meaning other reporters may be banned too.
"Whether it's CNN suing or the next company suing, someone's going to have to bring a lawsuit," he said, "and whoever does is going to win unless there's some sort of reason."
(CNN)