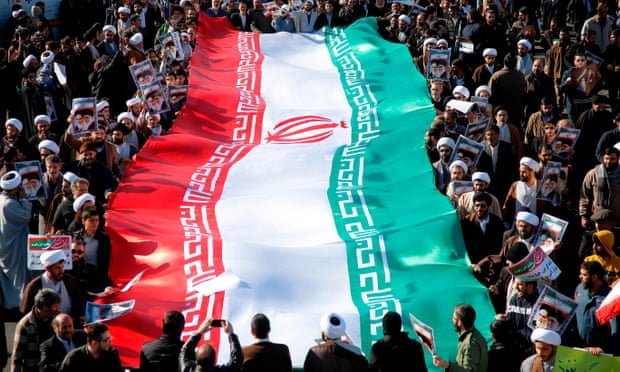 This article titled "Thousands of Iranians join counter-protests after week of unrest" was written by Saeed Kamali Dehghan and Patrick Wintour, for The Guardian on Wednesday 3rd January 2018 12.47 UTC
Thousands of pro-government counter-protesters have taken to the streets of Iranian cities after nearly a week of unrest.
Footage broadcast on national television and images published by state news agencies showed a high turnout in pro-establishment rallies, in cities that have seen turbulent scenes since Iran's biggest demonstrations in nearly a decade began on 28 December.
State television aired a rally from Ahwaz, the capital of Khouzesan province, which showed thousands of people marching on a long bridge connecting two parts of the city, while holding up pro-regime placards and chanting in support of the establishment.
It broadcast similar footage from Ilam, also in the west of the country, as well as from Arak, in the centre of Iran.
The semi-official Fars news agency, affiliated to the elite Revolutionary Guards, forces involved in the crackdown on protesters, described the rallies as "the revolutionary outburst of Iranian people against lawbreakers".
The commander of the Revolutionary Guards said on Wednesday it had deployed forces to three provinces – Isfahan, Lorestan and Hamadan, where most of the casualties have occurred – but claimed the anti-government protests were over.
"Today we can announce the end of the sedition," said Mohammad Ali Jafari. "A large number of the trouble-makers … have been arrested and there will be firm action against them."
During violent clashes between protesters and the security guards, in a week of demonstrations that has seen both sides becoming increasingly confrontational, at least 21 people have lost their lives – mostly protesters but also some security guards, according to officials.
Iranian authorities have claimed that the protests, which began over economic grievances before taking a political turn, have been hijacked by the country's foreign enemies. The theory has also been repeated by some figures within the reformist camp, who are critical of Iran's rulers but wary of regime change.
Anti-government protests continued for a sixth consecutive day in provincial cities on Tuesday evening, whilst Tehran was relatively calmer, with a heavy presence of riot police.
Mohammad, a protester from Karaj, a city just west of the capital Tehran, told the Guardian that the protesters had clashed with the security guards in its Gohardasht neighbourhood on Tuesday evening.
"A lot of basij militia used electric shockers to confront protesters, and arrest them – I saw them filling at least six buses full of those detained," he said. The protester claimed the security guards also damaged public properties to find a pretext to step up their crackdown. This could not be independently verified – the authorities have made similar accusations against protesters.
"People are fed up with unemployment and being poor. There is no job security," he added. "The protesters don't have a leader, it's a leaderless movement, and I call it the movement of the hungry, the starved people."
Milad, from Shahinshahr, a city in the province of Isfahan, which has seen violent clashes in recent days, said people were unhappy with the way the city was run. "There's a deficit in the city's budget because of mismanagement and the authorities have instead cut down public salaries," he said.
It is not possible to compare the size of the crowds at the anti-government protests with the counter-demonstrations approved by Tehran. No independent journalists are permitted to film the anti-government protests, while Iranian authorities have on similar occasions bussed in supporters.
Major European countries have resisted pressure from the US president, Donald Trump, to sign a joint statement condemning the Islamic Republic, but have instead issued separate statements warning the Iranian government to allow peaceful protests and not resort to mass arrests.
Iran's mission to the UN has accused the US ambassador, Nikki Haley, of shedding "crocodile tears" for the Iranian people.
EU states are concerned that Trump is trying to use the demonstrations as a vehicle to place further pressure on the EU to abandon its support for the Iran nuclear deal signed by Trump's predecessor Barack Obama in 2015.
The EU remains convinced Iran is complying with the terms of the nuclear deal, but continued US-imposed sanctions, mainly on banks, are making it hard for Iran to gain the expected economic benefits from the deal. Trump is eager to see the deal abandoned, and sees the protests as a means of resisting what Washington sees as Iranian expansionism in the Middle East.
Trump on Wednesday pledged support for Iranians trying to "take back" their government. "You will see great support from the United States at the appropriate time!" he said, without offering any specifics on what or when that might be.
Nevertheless, faced by reports that more than 400 protesters have been arrested, European leaders have become more vocal in their criticisms. The French president, Emmanuel Macron, spoke to his Iranian counterpart, Hassan Rouhani, on Tuesday and called for restraint, his office said.
Macron also decided to postpone this week's planned visit to Tehran by the French foreign minister, Jean-Yves Le Drian, which was intended as a precursor to a visit by Macron himself.
Macron's office said the French leader underscored that "fundamental rights including freedom of expression and freedom to demonstrate must be respected".
Rouhani in turn asked Macron to take action against a Paris-based Iranian opposition group called the Mujahedeen-e-Khalq (the People's Mujahideen Organisation of Iran, PMOI), which he accused of fomenting the recent protests.
guardian.co.uk © Guardian News & Media Limited 2010
Published via the Guardian News Feed plugin for WordPress.
Click here for reuse options!


Copyright 2018 News This Second Online
Powerful earthquake shakes Mexico City
A 7.5 magnitude earthquake struck near Pinotepa de Don Luis, Mexico, south of Mexico City, this evening, according to the U.S. Geological Survey.
LIVE:
Videos on social media showed buildings shaking in Mexico City.
Mexico is susceptible to major earthquakes because it sits near the boundaries of three fault lines. A magnitude 7.1 earthquake in central Mexico on Sept. 19 left 228 people dead in the capital and 369 across the region.
Over the past few weeks, quakes have hit near Japan, Guam and Taiwan around the planet's so-called 'Ring of Fire' – a geological disaster zone.
Research in California says aftershocks can occur on the margins of the area in which the quake took place following a cluster of tremors.
There may also be the possibility of a 'big one' in the immediate area, according to the researchers.
Over 300 people, including schoolchildren, died from a powerful earthquake in central Mexico last September.
Click here for reuse options!


Copyright 2018 News This Second Online
Ex-FBI agent breaks down over school shooting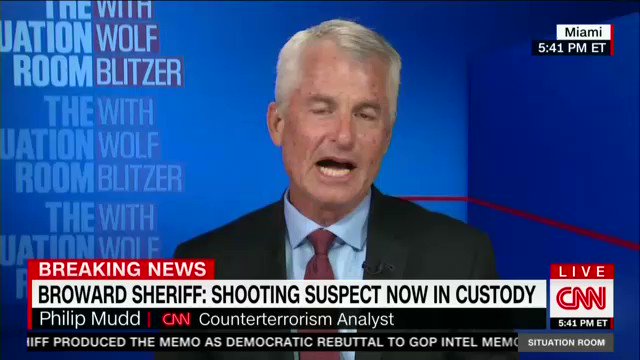 At least 17 people were killed Wednesday in a high school shooting in Parkland, Florida, Broward County Sheriff Scott Israel said.
The suspect, 19-year-old former student Nikolaus Cruz, is in custody, the sheriff said. The sheriff said he was expelled for unspecified disciplinary reasons. Police are investigating his digital profile, he said. So far, what they've found is "very, very disturbing," Israel said.
At least 17 people have been taken to area hospitals, said Dr. Evan Boyar of Broward Health.
Law enforcement responded to reports of a shooting at Marjory Stoneman Douglas High School shortly before 3 p.m. The shooting sent students and staff streaming out of the school in a panic.
The victims included students and adults, Israel said. Twelve were killed inside the building and two died outside, he said. One died in the street and two died at the hospital, the sheriff said.
Click here for reuse options!


Copyright 2018 News This Second Online
17 dead in Florida school shooting, law enforcement sources say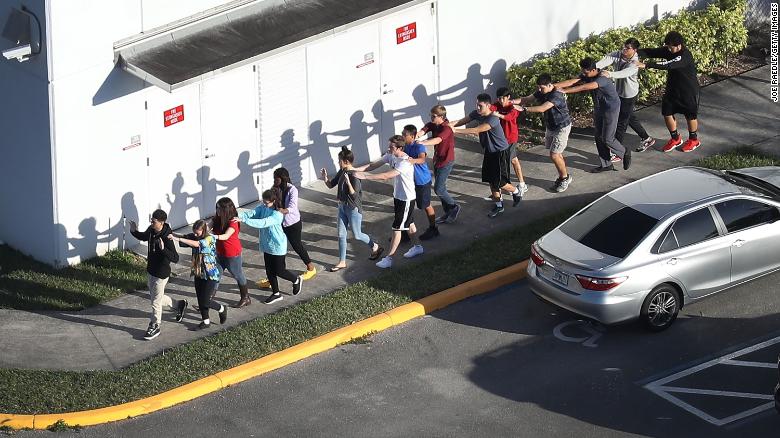 At least 17 people were killed Wednesday in a high school shooting in Parkland, Florida, Broward County Sheriff Scott Israel said.
The suspect, 19-year-old former student Nikolas Cruz, is in custody, the sheriff said. The sheriff said he was expelled for unspecified disciplinary reasons.
At least 14 people have been taken to area hospitals following the shooting, Israel said.
Law enforcement responded to reports of a shooting at the school shortly before 3 p.m. The shooting sent students and staff streaming out of the school in a panic.
Immediately after the shooting, aerial footage from CNN affiliate WSVN showed people lying on the ground outside the school, being treated for injuries and moved to ambulances.
Freshman Kayden Hanafi said he heard two gunshots and saw people running out of another building on campus. As he and his classmates went into lockdown in a classroom, many thought the noise might have been firecrackers.
"It's really a blessing to still be alive," he said.
Nicole Baltzer, 18, said she was in trigonometry class about 10 minutes before the end of the school day when the fire alarm went off. As students evacuated, she heard six gunshots and everyone started running back inside the school
"I heard so many gunshots, at least like six. They were very close," Baltzer said.
A police officer told her to close her eyes as she walked past a classroom with broken glass, telling her "there's nothing good to see in there," she said.
A freshman named Aidan posted a photo on social media from inside his math class while on lockdown. Since then, he has left the building.
"We have been liberated. God bless, America," Aidan tweeted after being evacuated from the building. "Love each other. You may never know when it may be the last day you meet someone."
There had been a fire drill at the school earlier in the day, leading some to believe at first that the afternoon incident was another drill, a student told WSVN. "Everyone just started freaking out."
"But then word started going around that it was shots and not just, like, something else, everyone just started running towards the canal," the student said.
Parkland, with a population of 31,000 people in 2016, was named Florida's safest city last year, according to an analysis by the Washington-based National Council for Home Safety and Security, a home security industry trade association. The south Florida city had seven reported violent crimes and 186 property crimes the previous year, according to the analysis.
Stoneman Douglas High School had an enrollment of about 3,100 students in the 2015-16 year, according to the National Center for Education Statistics.
As news of the shooting spread, desperate parents gathered near the property searching for their children.
Lissette Rozenblat told CNN that her daughter safely evacuated the school and took shelter at a nearby Walmart.
"She was very nervous, she said that she could hear the person who was shot crying out for help, and was just a nervous wreck," Rozenblat said.
Agents from the Miami office of the Bureau of Alcohol, Tobacco, Firearms and Explosives are responding to the scene, a spokesman said.
Click here for reuse options!


Copyright 2018 News This Second Online