Thousands of Iranians join counter-protests after week of unrest
Footage shows demonstrators chanting in support of regime at cities across country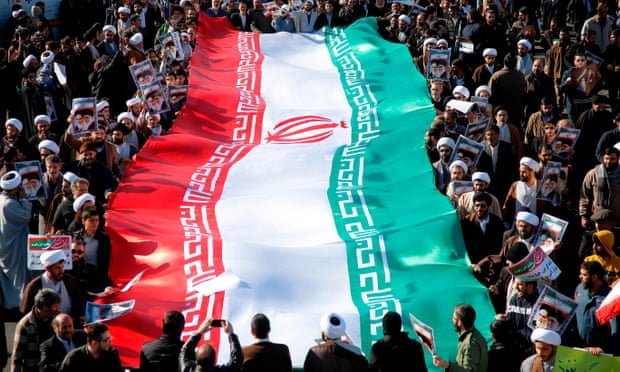 This article titled "Thousands of Iranians join counter-protests after week of unrest" was written by Saeed Kamali Dehghan and Patrick Wintour, for The Guardian on Wednesday 3rd January 2018 12.47 UTC
Thousands of pro-government counter-protesters have taken to the streets of Iranian cities after nearly a week of unrest.
Footage broadcast on national television and images published by state news agencies showed a high turnout in pro-establishment rallies, in cities that have seen turbulent scenes since Iran's biggest demonstrations in nearly a decade began on 28 December.
State television aired a rally from Ahwaz, the capital of Khouzesan province, which showed thousands of people marching on a long bridge connecting two parts of the city, while holding up pro-regime placards and chanting in support of the establishment.
It broadcast similar footage from Ilam, also in the west of the country, as well as from Arak, in the centre of Iran.
The semi-official Fars news agency, affiliated to the elite Revolutionary Guards, forces involved in the crackdown on protesters, described the rallies as "the revolutionary outburst of Iranian people against lawbreakers".
The commander of the Revolutionary Guards said on Wednesday it had deployed forces to three provinces – Isfahan, Lorestan and Hamadan, where most of the casualties have occurred – but claimed the anti-government protests were over.
"Today we can announce the end of the sedition," said Mohammad Ali Jafari. "A large number of the trouble-makers … have been arrested and there will be firm action against them."
During violent clashes between protesters and the security guards, in a week of demonstrations that has seen both sides becoming increasingly confrontational, at least 21 people have lost their lives – mostly protesters but also some security guards, according to officials.
Iranian authorities have claimed that the protests, which began over economic grievances before taking a political turn, have been hijacked by the country's foreign enemies. The theory has also been repeated by some figures within the reformist camp, who are critical of Iran's rulers but wary of regime change.
Anti-government protests continued for a sixth consecutive day in provincial cities on Tuesday evening, whilst Tehran was relatively calmer, with a heavy presence of riot police.
Mohammad, a protester from Karaj, a city just west of the capital Tehran, told the Guardian that the protesters had clashed with the security guards in its Gohardasht neighbourhood on Tuesday evening.
"A lot of basij militia used electric shockers to confront protesters, and arrest them – I saw them filling at least six buses full of those detained," he said. The protester claimed the security guards also damaged public properties to find a pretext to step up their crackdown. This could not be independently verified – the authorities have made similar accusations against protesters.
"People are fed up with unemployment and being poor. There is no job security," he added. "The protesters don't have a leader, it's a leaderless movement, and I call it the movement of the hungry, the starved people."
Milad, from Shahinshahr, a city in the province of Isfahan, which has seen violent clashes in recent days, said people were unhappy with the way the city was run. "There's a deficit in the city's budget because of mismanagement and the authorities have instead cut down public salaries," he said.
It is not possible to compare the size of the crowds at the anti-government protests with the counter-demonstrations approved by Tehran. No independent journalists are permitted to film the anti-government protests, while Iranian authorities have on similar occasions bussed in supporters.
Major European countries have resisted pressure from the US president, Donald Trump, to sign a joint statement condemning the Islamic Republic, but have instead issued separate statements warning the Iranian government to allow peaceful protests and not resort to mass arrests.
Iran's mission to the UN has accused the US ambassador, Nikki Haley, of shedding "crocodile tears" for the Iranian people.
EU states are concerned that Trump is trying to use the demonstrations as a vehicle to place further pressure on the EU to abandon its support for the Iran nuclear deal signed by Trump's predecessor Barack Obama in 2015.
The EU remains convinced Iran is complying with the terms of the nuclear deal, but continued US-imposed sanctions, mainly on banks, are making it hard for Iran to gain the expected economic benefits from the deal. Trump is eager to see the deal abandoned, and sees the protests as a means of resisting what Washington sees as Iranian expansionism in the Middle East.
Trump on Wednesday pledged support for Iranians trying to "take back" their government. "You will see great support from the United States at the appropriate time!" he said, without offering any specifics on what or when that might be.
Nevertheless, faced by reports that more than 400 protesters have been arrested, European leaders have become more vocal in their criticisms. The French president, Emmanuel Macron, spoke to his Iranian counterpart, Hassan Rouhani, on Tuesday and called for restraint, his office said.
Macron also decided to postpone this week's planned visit to Tehran by the French foreign minister, Jean-Yves Le Drian, which was intended as a precursor to a visit by Macron himself.
Macron's office said the French leader underscored that "fundamental rights including freedom of expression and freedom to demonstrate must be respected".
Rouhani in turn asked Macron to take action against a Paris-based Iranian opposition group called the Mujahedeen-e-Khalq (the People's Mujahideen Organisation of Iran, PMOI), which he accused of fomenting the recent protests.
guardian.co.uk © Guardian News & Media Limited 2010
Published via the Guardian News Feed plugin for WordPress.
7.3 Earthquake hits New Britain island in Papua New Guinea
7.3 Earthquake hits New Britain island in Papua New Guinea.
Preliminary reports warn tsunami waves could hit areas within 300km of the earthquake's epicentre.
The quake hit off the coast New Britain region of Papua New Guinea earlier today. (Daily Star)
This is a breaking story and will be updated shortly
NY Man Planned to Blow Himself Up at Washington Mall
Police and FBI agents searched a Hudson Valley home Wednesday after learning about a man who was allegedly building a bomb in order to blow himself up in Washington D.C., two law enforcement officials told News 4 New York.
Investigators said they were concerned the man, identified as Paul Rosenfeld, at the home on Slocum Avenue in Orangetown was in the process of acquiring bomb parts.
Officials tell News 4 Rosenfeld had no criminal history but had told a reporter in Pennsylvania he planned to blow himself up on the Washington Mall around Election Day because he was angry about the country's direction. 
He had no plans to hurt anyone else, officials said. He is believed to be a lone actor not affiliated with any international terror group or ideology. 
Full Article at https://nts24.co.uk/2A2oWjM 
Trump 'demanding' answers from Saudis about missing writer
WASHINGTON (AP) — President Donald Trump said Wednesday the U.S. is "demanding" answers from Saudi Arabia about the disappearance of a well-known Saudi writer and government critic Turkish authorities say was slain inside his country's diplomatic mission in Istanbul.
Trump said he plans to invite to the White House the fiancée of Jamal Khashoggi, a writer for The Washington Post who has not been seen since he entered the Saudi consulate on Oct. 2 to get paperwork for his marriage.
Members of Congress have grown increasingly insistent that the administration find out what happened to Khashoggi. The Saudi government has become a closer ally under Trump and some lawmakers warn that relations could be jeopardized if it turns out the kingdom was involved in his disappearance.
Trump told reporters in the Oval Office that he has a call in to the fiancée, Hatice Cengiz, who had been waiting outside the consulate when Khashoggi went inside and has appealed to the president and first lady Melania Trump for help.
Trump said nobody knows exactly what happened and expressed hope that Khashoggi is not dead. He also said he had spoken with the Saudis about what he called a "bad situation," but he did not disclose details of his conversations.
Saudi Arabia denies involvement in the disappearance of Khashoggi, a former insider in Saudi government circles who has been living in self-imposed exile in the U.S. for the past year after fleeing a crackdown on intellectuals and activists in the country.
White House press secretary Sarah Huckabee Sanders said White House national security adviser John Bolton and White House senior adviser Jared Kushner spoke on Tuesday to Saudi Arabian Crown Prince Mohammed bin Salman about Khashoggi. Secretary of State Mike Pompeo then had a follow-up call with the crown prince to reiterate the U.S. request for information.
While angry members of Congress likely won't cause the administration to turn away from Prince Mohammed and end decades of close security ties with Saudi Arabia, they could throw a wrench into arms sales that require their approval and demand the U.S. scale back support for the Saudi military campaign against Iran-backed rebels in Yemen.
Republican Sen. Bob Corker, chairman of the Senate Foreign Relations Committee, said "there will definitely be consequences" if it turns out the Saudis were involved in Khashoggi disappearance. Republican Sen. Lindsey Graham of South Carolina said it would be "devastating" to the U.S.-Saudi relationship.
Sen. Chris Murphy, D-Conn, said if Saudi Arabia had lured a U.S. resident into a consulate and killed him, "it's time for the United States to rethink our military, political and economic relationship with Saudi Arabia." But he said it was unclear whether the Trump administration was willing to "go beyond words."
Sen. Rand Paul, R-Ky., a longtime critic of the Saudi government, said he'll try to force a vote in the Senate this week blocking U.S. arms sales to Saudi Arabia. He told local radio in his home state Tuesday that he wants to end the arms shipments if there's "any indication" the Saudis are "implicated in killing this journalist that was critical of them."
Trump's comments Wednesday were the toughest yet from his administration on the Khashoggi case. Officials have expressed concern but refused even to entertain questions about what the consequences would be if Turkish allegations turn out to be true. Pompeo has called on the Saudi government to conduct a thorough investigation and to be transparent about its results.
The reaction from European governments has also been cautious. British Foreign Secretary Jeremy Hunt told his Saudi counterpart that if media reports about Khashoggi were correct, it "would be extremely concerning and the U.K. will treat the incident very seriously," according to the Foreign Office.
The Saudi ambassador to Washington, Prince Khalid bin Salman bin Abdulaziz, has described the allegations as "malicious leaks and grim rumors" and said the kingdom is "gravely concerned" about Khashoggi. Saudi officials maintain he left the consulate shortly after entering, although it has failed to provide evidence.
Washington Post CEO and publisher Fred Ryan said reports suggested the journalist was victim of "state-sponsored, cold-blooded murder." He demanded answers in a statement Tuesday, saying "Silence, denials and delays are not acceptable."
Analysts said there were reasons for skepticism about the Turkish account. Ties between Ankara and Riyadh are at a low point over Turkey's support for Qatar in that country's yearlong dispute with Saudi Arabia and other Gulf nations. Saudi Arabia, a Sunni Muslim power, is also annoyed by Ankara's rapprochement with the kingdom's Shiite archrival, Iran.
Saudi authorities' failure to provide video footage of Khashoggi's movements at the consulate to rebut the Turkish allegations have only deepened suspicions.
The Trump administration, from the president on down, is heavily invested in the Saudi relationship. That's unlikely to change, said Robin Wright, a scholar at the Wilson Center think tank and close friend of the missing writer. The administration's Middle East agenda heavily depends on the Saudis, including efforts to counter Iranian influence in the region, fight extremism and build support for an expected plan for peace between Israel and the Palestinians.
Indication of those stakes came within four months of Trump taking office, when Saudi Arabia became his first destination on a presidential trip and he announced $110 billion in proposed arms sales.
Prince Mohammed has introduced some economic and social reforms, allowing women to drive and opening movie theaters in the deeply conservative Muslim nation. The flip side, however, is that he's also squelched dissent and imprisoned activists. He has championed the three-year military campaign against Iranian-backed Houthi rebels in Yemen that has pushed that nation toward famine and caused many civilian deaths.
Still, the Trump administration last month stood behind its support for that campaign with weapons, logistics and intelligence, certifying that the Saudis were taken adequate steps to prevent civilian despite mounting evidence to the contrary.
Karen Elliott House, a veteran writer on Saudi affairs and chair of the board of trustees at RAND Corp., said U.S. support for the Yemen war is likely to be the focus of congressional criticism but won't endanger a relationship that has endured for decades, underpinned by shared strategic interests. Even under the Obama administration, which had difficult relations with Riyadh compared with Trump, there were some $65 billion in completed arms sales.
"The U.S.-Saudi relationship is certainly not about shared moral values," House said. "It's about shared security interests."
___
Associated Press writers Susannah George, Matthew Lee and Deb Riechmann and video journalist Padmananda Rama contributed to this report.