Ivanka seeks the presidency – and other big claims from explosive new book
In his book Fire and Fury: Inside the Trump White House, Michael Wolff reports on clashes between Trump and his inner circle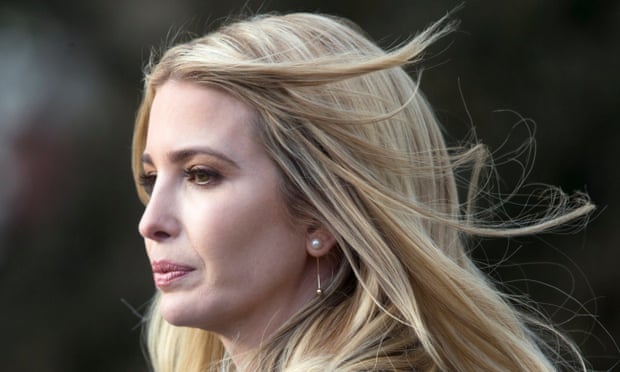 ---
This article titled "Ivanka seeks the presidency – and other big claims from explosive new book" was written by Martin Pengelly, for The Guardian on Wednesday 3rd January 2018 20.37 UTC
The publication on Wednesday of excerpts from a new book on the Trump administration, first by the Guardian and then by New York magazine, brought to light a host of explosive reports of internecine fighting and organisational chaos at the heart of the US presidency.
Fire and Fury: Inside the Trump White House, by the former Guardian columnist and Rupert Murdoch biographer Michael Wolff, will be published in full next Tuesday. In December, he told the Guardian that in his approach to researching the book he had been "not particularly hostile".
"That allowed me to get them to be relatively open," he said.
Among other things, the book reveals that former Trump campaign chair and White House strategist Steve Bannon believes an infamous June 2016 meeting between Donald Trump Jr, Jared Kushner, Paul Manafort and Russians offering incriminating information about Hillary Clinton at Trump Tower was "treasonous", "unpatriotic" and "bad shit".
Bannon also reportedly believes that Donald Trump knew of the meeting and met the Russians involved – the president has denied this – saying: "The chance that Don Jr did not walk these jumos up to his father's office on the 26th floor is zero."
Wolff also reports a conversation between the president-elect and Rupert Murdoch about immigration policy that allegedly led the media mogul to label Trump "a fucking idiot".
The revelations drew a remarkably forceful White House statement, in which Trump said: "When he was fired he not only lost his job, he lost his mind."
By any standard, Wolff's book has had an extraordinary impact for an as yet unpublished work.
Here are some other highlights:
The president's daughter and son-in-law, Ivanka Trump and Jared Kushner, reportedly made a deal about which of them would one day run for president. Wolff writes: "The first woman president, Ivanka entertained, would not be Hillary Clinton; it would be Ivanka Trump."
Of Bannon's activities after leaving the White House, Wolff writes: "Bannon was telling people something else: he, Steve Bannon, was going to run for president. The locution, 'If I were president …' was turning into, 'When I am president …'" Wolff also writes that Bannon has courted top Republican donors, "doing his best, as he put it, to 'kiss the ass and pay homage to all the gray-beards'".
Infighting among staff reportedly often featured a group including Kushner, Ivanka and the economics adviser Gary Cohn against a faction led by Bannon. Wolff quotes Richard Nixon's national security adviser, Henry Kissinger, as saying: "It is a war between the Jews and the non-Jews."
Wolff writes that Thomas Barrack Jr, a billionaire who is one of the president's oldest associates and was reportedly wanted by Trump to be his chief of staff, allegedly told a friend: "He's not only crazy, he's stupid." On Wednesday, Barrack denied saying that.
Asked by Fox News chief executive Roger Ailes what Trump had "gotten himself into with the Russians", Wolff writes, Bannon answered: "Mostly, he went to Russia and he thought he was going to meet Putin. But Putin couldn't give a shit about him. So he's kept trying."
In discussing whom to appoint as Trump's national security adviser, Wolff writes, Ailes promoted the former United Nations ambassador John Bolton, whom he reportedly called "a bomb thrower" and "a strange little fucker". Bannon, however, reportedly counselled that Bolton's moustache would be "a problem".
No one in the Trump campaign expected to win the presidency, Wolff writes, and most including Trump saw his run as leverage for careers in television or politics. Melania Trump, Wolff claims, was horrified by the prospect of victory. When on election night it became clear Trump could indeed beat Clinton and take the White House, according to the book "Melania was in tears – and not of joy". The first lady's communications director rejected that account and said: "The book is clearly going to be sold in the bargain fiction section."
Trump's first Muslim travel ban, issued to chaos and protest at airports across the US, caused consternation among White House staff. Bannon reportedly said the ban was published late on a Friday precisely to anger and provoke liberals, "so the snowflakes would show up at the airports and riot".
Trump reportedly argued with the Secret Service over whether he could have a lock on his bedroom – "the first time since the Kennedy White House that a presidential couple had maintained separate rooms", Wolff writes – and told housekeeping he would strip his own bed and leave his shirts on the floor. Wolff also says the president, who is known to fear being poisoned, told no one to touch his toothbrush.
Kushner reportedly offered to marry the TV hosts Mika Brzezinski and Joe Scarborough – then lunch dates for Trump, now regular critics – because he said he was "an internet Unitarian minister".
Disloyalty among the president's staff was reportedly mirrored by the president himself. Wolff says Trump called Bannon disloyal and scruffy, Priebus weak and short, Kushner a suck-up, press secretary Sean Spicer stupid and adviser Kellyanne Conway a crybaby. Jared and Ivanka, the president reportedly said, should never have come to Washington.
The Guardian obtained a copy of Fire and Fury from a bookseller in New England.
guardian.co.uk © Guardian News & Media Limited 2010
Published via the Guardian News Feed plugin for WordPress.
EXCLUSIVE: Full Audio Of White House official President Trump says 'doesn't exist'

On Thursday afternoon the White House held a "background briefing" where a "senior White House official" provided information on North Korea to reporters.
On Saturday, President Trump claimed the aide "doesn't exist."
The Failing @nytimes quotes "a senior White House official," who doesn't exist, as saying "even if the meeting were reinstated, holding it on June 12 would be impossible, given the lack of time and the amount of planning needed." WRONG AGAIN! Use real people, not phony sources.

— Donald J. Trump (@realDonaldTrump) May 26, 2018
A few hours later, a journalist posted partial audio of the call
4. I've obtained audio of the WH press briefing. You can hear Raj Shah, Deputy Press Secretary, introduce Pottinger (along with the terms – which are standard) and then Pottinger makes the statement that POTUS says was never made. Lots of reporters in briefing room and on phone. pic.twitter.com/2gEYkRSyTv

— Yashar Ali 🐘 (@yashar) May 26, 2018
NewsThisSecond has obtained a recording of the background briefing in its entirety and is making it public.
Read President Trump's Letter to Chairman Kim Jong Un canceling the summit between the two leaders
Text Version –
His Excellency
Kim Jong Un
Chairman of the State Affairs Commission
of the Democratic People's Republic of Korea
Pyongyang
Dear Mr. Chairman:
We greatly appreciation your time, patience, and effort with respect to our recent negotiations and discussions relative to a summit long sought by both parties, which was scheduled to take place on June 12 in Singapore. We were informed that the meeting was requested by North Korea, but that to us is totally irrelevant. I was very much looking forward to being there with you. Sadly, based on the tremendous anger and open hostility displayed in your most recent statement, I feel it is inappropriate, at this time, to have this long-planned meeting. Therefore, please let this letter serve to represent that the Singapore summit, for the good of both parties, but to the detriment of the world, will not take place. You talk about nuclear capabilities, but ours are so massive and powerful that I pray to God they will never have to be used.
I felt a wonderful dialogue was building up between you and me, and ultimately, it is only that dialogue that matters. Some day, I look very much forward to meeting you. In the meantime, I want to thank you for the release of the hostages who are now home with their families. That was a beautiful gesture and was very much appreciated.
If you change your mind having to do with this most important summit, please do not hesitate to call me or write. The world, and North Korea in particular, has lost a great opportunity for lasting peace and great prosperity and wealth. This missed opportunity is a truly sad moment in history.
Sincerely yours,
Donald J. Trump
President of the United States of America
MELANIA TRUMP UNDERGOES KIDNEY SURGERY AT WALTER REED MEDICAL CENTER
First lady Melania Trump underwent kidney surgery Monday at Walter Reed National Military Medical Center near Washington, DC, according to a statement from her office.
Trump had been experiencing an issue with her kidney that her office described as benign but requiring medical attention.
Trump, who turned 48 last month, entered Walter Reed in nearby Bethesda, Maryland, on Monday morning and is expected to remain hospitalized for several days following the operation, according to the statement from her communications director, Stephanie Grisham.