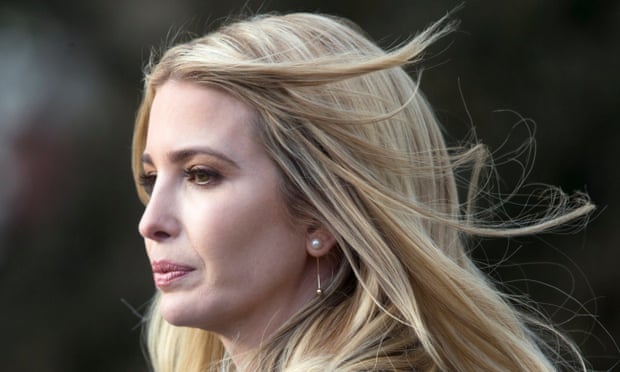 ---
This article titled "Ivanka seeks the presidency – and other big claims from explosive new book" was written by Martin Pengelly, for The Guardian on Wednesday 3rd January 2018 20.37 UTC
The publication on Wednesday of excerpts from a new book on the Trump administration, first by the Guardian and then by New York magazine, brought to light a host of explosive reports of internecine fighting and organisational chaos at the heart of the US presidency.
Fire and Fury: Inside the Trump White House, by the former Guardian columnist and Rupert Murdoch biographer Michael Wolff, will be published in full next Tuesday. In December, he told the Guardian that in his approach to researching the book he had been "not particularly hostile".
"That allowed me to get them to be relatively open," he said.
Among other things, the book reveals that former Trump campaign chair and White House strategist Steve Bannon believes an infamous June 2016 meeting between Donald Trump Jr, Jared Kushner, Paul Manafort and Russians offering incriminating information about Hillary Clinton at Trump Tower was "treasonous", "unpatriotic" and "bad shit".
Bannon also reportedly believes that Donald Trump knew of the meeting and met the Russians involved – the president has denied this – saying: "The chance that Don Jr did not walk these jumos up to his father's office on the 26th floor is zero."
Wolff also reports a conversation between the president-elect and Rupert Murdoch about immigration policy that allegedly led the media mogul to label Trump "a fucking idiot".
The revelations drew a remarkably forceful White House statement, in which Trump said: "When he was fired he not only lost his job, he lost his mind."
By any standard, Wolff's book has had an extraordinary impact for an as yet unpublished work.
Here are some other highlights:
The president's daughter and son-in-law, Ivanka Trump and Jared Kushner, reportedly made a deal about which of them would one day run for president. Wolff writes: "The first woman president, Ivanka entertained, would not be Hillary Clinton; it would be Ivanka Trump."
Of Bannon's activities after leaving the White House, Wolff writes: "Bannon was telling people something else: he, Steve Bannon, was going to run for president. The locution, 'If I were president …' was turning into, 'When I am president …'" Wolff also writes that Bannon has courted top Republican donors, "doing his best, as he put it, to 'kiss the ass and pay homage to all the gray-beards'".
Infighting among staff reportedly often featured a group including Kushner, Ivanka and the economics adviser Gary Cohn against a faction led by Bannon. Wolff quotes Richard Nixon's national security adviser, Henry Kissinger, as saying: "It is a war between the Jews and the non-Jews."
Wolff writes that Thomas Barrack Jr, a billionaire who is one of the president's oldest associates and was reportedly wanted by Trump to be his chief of staff, allegedly told a friend: "He's not only crazy, he's stupid." On Wednesday, Barrack denied saying that.
Asked by Fox News chief executive Roger Ailes what Trump had "gotten himself into with the Russians", Wolff writes, Bannon answered: "Mostly, he went to Russia and he thought he was going to meet Putin. But Putin couldn't give a shit about him. So he's kept trying."
In discussing whom to appoint as Trump's national security adviser, Wolff writes, Ailes promoted the former United Nations ambassador John Bolton, whom he reportedly called "a bomb thrower" and "a strange little fucker". Bannon, however, reportedly counselled that Bolton's moustache would be "a problem".
No one in the Trump campaign expected to win the presidency, Wolff writes, and most including Trump saw his run as leverage for careers in television or politics. Melania Trump, Wolff claims, was horrified by the prospect of victory. When on election night it became clear Trump could indeed beat Clinton and take the White House, according to the book "Melania was in tears – and not of joy". The first lady's communications director rejected that account and said: "The book is clearly going to be sold in the bargain fiction section."
Trump's first Muslim travel ban, issued to chaos and protest at airports across the US, caused consternation among White House staff. Bannon reportedly said the ban was published late on a Friday precisely to anger and provoke liberals, "so the snowflakes would show up at the airports and riot".
Trump reportedly argued with the Secret Service over whether he could have a lock on his bedroom – "the first time since the Kennedy White House that a presidential couple had maintained separate rooms", Wolff writes – and told housekeeping he would strip his own bed and leave his shirts on the floor. Wolff also says the president, who is known to fear being poisoned, told no one to touch his toothbrush.
Kushner reportedly offered to marry the TV hosts Mika Brzezinski and Joe Scarborough – then lunch dates for Trump, now regular critics – because he said he was "an internet Unitarian minister".
Disloyalty among the president's staff was reportedly mirrored by the president himself. Wolff says Trump called Bannon disloyal and scruffy, Priebus weak and short, Kushner a suck-up, press secretary Sean Spicer stupid and adviser Kellyanne Conway a crybaby. Jared and Ivanka, the president reportedly said, should never have come to Washington.
The Guardian obtained a copy of Fire and Fury from a bookseller in New England.
guardian.co.uk © Guardian News & Media Limited 2010
Published via the Guardian News Feed plugin for WordPress.
Click here for reuse options!


Copyright 2018 News This Second Online
Stormy Daniels Is Suing Trump, Claims NDA Invalid Because He Didn't Sign
Stephanie Clifford, the former porn star and stripper known professionally as Stormy Daniels, is suing President Donald Trump, NBC News reported Tuesday.
Per NBC News, she is claiming that the nondisclosure agreement he didn't sign it:
The suit alleges that her agreement not to disclose her "intimate" relationship with Trump is not valid because while both Daniels and Trump's attorney Michael Cohen signed it, Trump never did…

The "hush agreement," as it's called in the suit, refers to Trump throughout as David Dennison, and Clifford as Peggy Peterson. The side letter agreement reveals the true identities of the parties as Clifford and Trump.

Each document includes a blank where "DD" is supposed to sign, but neither blank is signed.
Click here for reuse options!


Copyright 2018 News This Second Online
---
This article titled "Ben Carson accused of 'witch-hunt' by senior member of his department" was written by Jamiles Lartey and Jon Swaine, for theguardian.com on Tuesday 6th March 2018 21.14 UTC
A second senior official in the Department of Housing and Urban Development has publicly criticised the secretary, Ben Carson, accusing him of leading a "witch-hunt" against some career bureaucrats in the department.
Marcus Smallwood told Carson in an email on Tuesday that Hud's civil servants were working in fear after the demotion of his colleague Helen Foster and Carson's rejection of her claims.
The Guardian revealed last week that Foster had alleged to a federal watchdog that she was reassigned to a lesser role in part because she refused to break a legal spending limit on the redecoration of Carson's office in Washington. Her demotion is now being examined by the Republican-controlled House oversight committee.
"Helen Foster is not the only person at Hud that has been persecuted in this witch-hunt under your watch," Smallwood, Hud's director of records management, wrote in the email, which he shared with the Guardian.
"She is the only person who has been brave enough to stand on principle and put her career, reputation, and livelihood on the line. The rest of us have operated in fear."
Raffi Williams, a spokesman for Hud, said: "Mr Smallwood's email is under review."
Smallwood accused Carson of smearing Foster as a liar by suggesting in a tweet that her allegation was unsubstantiated. In a Facebook post on Monday, Carson further complained without evidence that he had been the victim of "character attacks".
"A week has gone by and it is now very clear that Helen Foster was not lying about the furniture purchases," said Smallwood.
After Foster's complaint was made public, it emerged that Hud had ordered a ,000 dining set for Carson's office. Hud claimed the set was not subject to the ,000 limit Foster said she sought to uphold, because it was for the benefit of all staff. Carson later asked for the furniture order to be scrapped.
Smallwood asked Carson to make a public apology to Foster and to note "that all employees at Hud should feel free to follow the law, ask when they are unsure, and not fear retribution".
The email on Tuesday, which was copied to several of Carson's top deputies, alleged that Hud would probably be unable to comply with the House oversight committee's request for all emails relating to Foster's demotion "because there has been a concerted effort to stop email traffic regarding these matters".
Williams, the Hud spokesman, denied there had been any halt to emails on the topic and said: "The House oversight committee will receive a complete response to their query."
Smallwood also lent support to a separate allegation by Foster that politically sensitive requests made to the department under the Freedom of Information Act (Foia) were handled unusually.
Foster said that despite overseeing Foia requests for the department, she was sidelined when a pair of requests were made for emails including discussions of Donald Trump. She said she was told by a department lawyer that this was because she was perceived to be a Democrat.
Smallwood told Carson that "undue influence was placed on Helen, and myself to process FOIA request of a political nature in a fashion different from the normal process".
Smallwood accused Carson and senior Hud managers of reprisals against not only Foster for blowing the whistle on the furniture spending, but also of letting important business go uncompleted due to the interdepartmental feud.
guardian.co.uk © Guardian News & Media Limited 2010
Published via the Guardian News Feed plugin for WordPress.
Click here for reuse options!


Copyright 2018 News This Second Online
Dem lawmaker tears into Trump: 'America will regret the day you were ever born'
Democrat Rep, Ruben Gallego (AR-07) tore into Trump last night on twitter for exploiting the Parkland massacre. Gallego, a former Marine who served in Iraq, was unusually blunt. Last year he called then president-elect Trump "mentally unstable". Source: The Hill Rep. Ruben Gallego (D-Ariz.) tore into President Trump after the president suggested the FBI could have… (more…)