Ivanka seeks the presidency – and other big claims from explosive new book
In his book Fire and Fury: Inside the Trump White House, Michael Wolff reports on clashes between Trump and his inner circle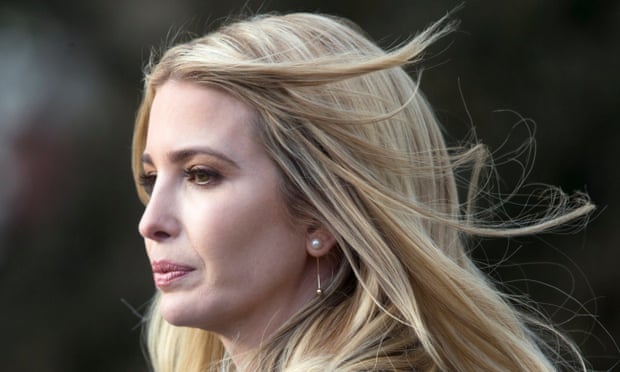 ---
This article titled "Ivanka seeks the presidency – and other big claims from explosive new book" was written by Martin Pengelly, for The Guardian on Wednesday 3rd January 2018 20.37 UTC
The publication on Wednesday of excerpts from a new book on the Trump administration, first by the Guardian and then by New York magazine, brought to light a host of explosive reports of internecine fighting and organisational chaos at the heart of the US presidency.
Fire and Fury: Inside the Trump White House, by the former Guardian columnist and Rupert Murdoch biographer Michael Wolff, will be published in full next Tuesday. In December, he told the Guardian that in his approach to researching the book he had been "not particularly hostile".
"That allowed me to get them to be relatively open," he said.
Among other things, the book reveals that former Trump campaign chair and White House strategist Steve Bannon believes an infamous June 2016 meeting between Donald Trump Jr, Jared Kushner, Paul Manafort and Russians offering incriminating information about Hillary Clinton at Trump Tower was "treasonous", "unpatriotic" and "bad shit".
Bannon also reportedly believes that Donald Trump knew of the meeting and met the Russians involved – the president has denied this – saying: "The chance that Don Jr did not walk these jumos up to his father's office on the 26th floor is zero."
Wolff also reports a conversation between the president-elect and Rupert Murdoch about immigration policy that allegedly led the media mogul to label Trump "a fucking idiot".
The revelations drew a remarkably forceful White House statement, in which Trump said: "When he was fired he not only lost his job, he lost his mind."
By any standard, Wolff's book has had an extraordinary impact for an as yet unpublished work.
Here are some other highlights:
The president's daughter and son-in-law, Ivanka Trump and Jared Kushner, reportedly made a deal about which of them would one day run for president. Wolff writes: "The first woman president, Ivanka entertained, would not be Hillary Clinton; it would be Ivanka Trump."
Of Bannon's activities after leaving the White House, Wolff writes: "Bannon was telling people something else: he, Steve Bannon, was going to run for president. The locution, 'If I were president …' was turning into, 'When I am president …'" Wolff also writes that Bannon has courted top Republican donors, "doing his best, as he put it, to 'kiss the ass and pay homage to all the gray-beards'".
Infighting among staff reportedly often featured a group including Kushner, Ivanka and the economics adviser Gary Cohn against a faction led by Bannon. Wolff quotes Richard Nixon's national security adviser, Henry Kissinger, as saying: "It is a war between the Jews and the non-Jews."
Wolff writes that Thomas Barrack Jr, a billionaire who is one of the president's oldest associates and was reportedly wanted by Trump to be his chief of staff, allegedly told a friend: "He's not only crazy, he's stupid." On Wednesday, Barrack denied saying that.
Asked by Fox News chief executive Roger Ailes what Trump had "gotten himself into with the Russians", Wolff writes, Bannon answered: "Mostly, he went to Russia and he thought he was going to meet Putin. But Putin couldn't give a shit about him. So he's kept trying."
In discussing whom to appoint as Trump's national security adviser, Wolff writes, Ailes promoted the former United Nations ambassador John Bolton, whom he reportedly called "a bomb thrower" and "a strange little fucker". Bannon, however, reportedly counselled that Bolton's moustache would be "a problem".
No one in the Trump campaign expected to win the presidency, Wolff writes, and most including Trump saw his run as leverage for careers in television or politics. Melania Trump, Wolff claims, was horrified by the prospect of victory. When on election night it became clear Trump could indeed beat Clinton and take the White House, according to the book "Melania was in tears – and not of joy". The first lady's communications director rejected that account and said: "The book is clearly going to be sold in the bargain fiction section."
Trump's first Muslim travel ban, issued to chaos and protest at airports across the US, caused consternation among White House staff. Bannon reportedly said the ban was published late on a Friday precisely to anger and provoke liberals, "so the snowflakes would show up at the airports and riot".
Trump reportedly argued with the Secret Service over whether he could have a lock on his bedroom – "the first time since the Kennedy White House that a presidential couple had maintained separate rooms", Wolff writes – and told housekeeping he would strip his own bed and leave his shirts on the floor. Wolff also says the president, who is known to fear being poisoned, told no one to touch his toothbrush.
Kushner reportedly offered to marry the TV hosts Mika Brzezinski and Joe Scarborough – then lunch dates for Trump, now regular critics – because he said he was "an internet Unitarian minister".
Disloyalty among the president's staff was reportedly mirrored by the president himself. Wolff says Trump called Bannon disloyal and scruffy, Priebus weak and short, Kushner a suck-up, press secretary Sean Spicer stupid and adviser Kellyanne Conway a crybaby. Jared and Ivanka, the president reportedly said, should never have come to Washington.
The Guardian obtained a copy of Fire and Fury from a bookseller in New England.
guardian.co.uk © Guardian News & Media Limited 2010
Published via the Guardian News Feed plugin for WordPress.
Keir Starmer elected as UK opposition Labour leader
The UK's main opposition Labour Party has elected Keir Starmer as its new leader, the party announced Saturday.
Starmer, 57 will replace Jeremy Corbyn, who announced he would step down after a bitter defeat at the last election that saw sweeping gains for the ruling Conservatives.
The change in leadership comes as the country battles its own coronavirus crisis and amid calls to improve public services, such as the National Health Service currently under strain.
Starmer is a former crown prosecutor who has promised to pursue policies aimed at improving social equality, including an increase to the top tax rate and a boost to social services, as well as take stronger action on climate change.
In a video posted to his Twitter account, Starmer said he would work with the Conservative government led by Prime Minister Boris Johnson to tackle the coronavirus crisis, while also pointing out "mistakes or faltering government."
"In times like this, we need good government. A government that saves lives and protects our country," he said.
"It's a huge responsibility. And whether we voted for this government or not, we all rely on it to get this right," he said.
Starmer rose to prominence as a young activist lawyer before his career in politics. He more recently raised his public profile as Labour's shadow Brexit spokesperson. In the UK, the main opposition party has "shadow" ministers who hold political portfolios.
Starmer won more than 56% of the party vote, beating fellow MPs Lisa Nandy and Rebecca Long-Bailey in one round.
The new leader has pitched himself as a unity candidate amid continued divisions in the Labour Party.
The Labour Party has been mired in criticism over anti-Semtic remarks by several MPs in the past. Corbyn was widely criticized for his lax response to the problem within the party.
Starmer said in his video that the party needs to face up to the issue with honesty and apologized to Jewish communities.
"On behalf of the Labour Party, I am sorry.
"And I will tear out this poison by its roots and judge success by the return of Jewish members and those who felt that they could no longer support us."
GOP Candidate in Disputed U.S. House Race Not Running Again
Raleigh, N.C. (AP) — The Republican candidate whose narrow lead in a North Carolina congressional race was thrown out because of suspicions of ballot fraud announced Tuesday he will not run in the newly ordered do-over election, saying he needs surgery late next month.
The withdrawal of Mark Harris, a candidate hobbled by links to alleged ballot fraud, could help Republicans in their effort to keep the competitive seat in North Carolina's 9th Congressional District.
Harris announced his decision in a statement that focused on his health problems. He did not mention the alleged ballot fraud scandal.
Harris had led Democrat Dan McCready by just 905 votes after November's election, but the outcome was never certified. State election officials grew concerned about reports that an operative working for Harris was illegally tampering with absentee ballots.
Harris last week stopped a special state elections board hearing by declaring he couldn't continue to testify. He cited health problems caused by a blood infection that required hospitalization and led to two strokes. He also said he agreed that a new election should be called, despite his previous calls to be declared the winner.
Shortly after Harris spoke last week, the elections board ordered a new contest . A date for the new election has not been announced.
On Tuesday, Harris encouraged his supporters to rally around Stony Rushing, a commissioner in Union County. The local official from the Charlotte suburbs would "stand firm on so many of the issues that concern us, including the issue of life, our national security, and religious freedom," Harris said.
Rushing, a firing range owner and licensed gun seller, has been a county commissioner off and on for more than eight years, first taking office in 2002. He didn't return a phone call to his shooting range seeking comment on Tuesday.
Only one other GOP candidate — former state Sen. Tommy Tucker of Union County — has publicly expressed interest in running for the seat. In a phone interview, Tucker said he's "95 percent sure" that he plans to run for the seat. He said he had no idea how Harris' near-endorsement of Rushing would affect the campaign.
Former U.S. Rep. Robert Pittenger, whom Harris defeated in last May's primary, told The Associated Press in an interview that it was "good for the country and the party" that Harris wasn't running. When asked why, he said simply: "I think it's just obvious."
Pittenger again closed the door on seeking his old job, saying he's involved in a series of conferences on counter-terrorism and security issues.
Former Gov. Pat McCrory said Monday he wouldn't seek the seat. He was previously mayor of Charlotte, a part of which is in the congressional district.
McCready has been assembling a new campaign staff and raising money to run again in the district that stretches from Charlotte through several counties to the east along the South Carolina border. His campaign finance report showed McCready raised $487,000 during the final five weeks of 2018. His campaign sent out a campaign fundraising plea late Thursday, citing the state elections board's decision.
McCready formally announced his intention to run Friday before several dozen supporters at a brewery in Waxhaw, near Charlotte.
"Folks, there's a lot of people that have had their confidence shaken in recent weeks because of the fraud conducted by Mark Harris's campaign," McCready said. "There's a lot of people right now in North Carolina that are disillusioned in our electoral process."
He told the crowd that he and his team were going to "knock on every door" in the district to earn votes and to reassure constituents that he's the type of politician who will do the right thing.
"We're going to talk to people about doing what's right instead of what's wrong," he said.
Harris struggled during testimony last week over why he prepared for his primary election last year by seeking out and signing up Bladen County political operative Leslie McCrae Dowless, a convicted felon who had been accused of ballot fraud in the 2016 elections. The state elections board turned over evidence of his actions in 2017 to federal prosecutors, who took no action.
According to testimony and other findings detailed at the hearing, Dowless conducted an illegal "ballot harvesting" operation: He and his assistants gathered up absentee ballots from voters by offering to put them in the mail.
Dowless' workers in rural Bladen County testified that they were directed to collect blank or incomplete ballots, forge signatures on them and even fill in votes for local candidates.
It is generally against the law in North Carolina for anyone other than the voter or a family member to handle someone's completed ballot.
No criminal charges have been filed in the case . Dowless declined to testify last week after the elections board refused to grant him immunity from prosecution based on what he might say.
North Carolina Election Board Unanimously Agrees To New House Election
Feb 21 (Reuters) – North Carolina's elections board on Thursday unanimously ordered a new election for a U.S. House seat after officials said corruption surrounding absentee ballots tainted the results of last November's vote.
The bipartisan board's 5-0 decision came after Republican candidate Mark Harris requested a new vote, telling the panel that evidence of possible ballot fraud had undermined confidence in the election.
In the televised hearing, board members said "corruption" and the "absolute mess with the absentee ballots" had cast doubt on the fairness of the contest and voters deserved a fresh election.
Harris' request for a new vote came as a surprise. For months, he had said he should be declared the victor in the 9th Congressional District after he led Democrat Dan McCready by 905 votes out of 282,717 ballots cast on Nov. 6. Elections officials, however, had refused to certify him as the winner due to allegations of irregularities in the vote.
"Through the testimony I've listened to over the past three days, I believe a new election should be called," Harris said at a hearing in Raleigh. "It's become clear to me that the public's confidence in the 9th district seat general election has been undermined to an extent that a new election is warranted."
Harris' statement came on the fourth day of a hearing on whether his campaign benefited from what state investigators called illegal election manipulation by political consultant Leslie McCrae Dowless.
Earlier on Thursday, Harris said he had known Dowless was going door to door on the candidate's behalf to help voters obtain absentee ballots, a process that is legal. Harris said Dowless assured him he would not collect the ballots from the voters, which would violate state law.
But residents of at least two counties in the district said Dowless and his paid workers collected incomplete absentee ballots and, in some instances, falsely signed as witnesses and filled in votes for contests left blank, according to testimony at the hearing.
Kim Strach, executive director of the state's election board, earlier this week called the operation a "coordinated, unlawful and substantially resourced absentee ballot scheme."
According to text messages Harris' attorneys turned over to the board on Thursday, Harris sought a meeting with Dowless when he learned that Dowless had led a successful absentee ballot program for Republican candidate Todd Johnson during a 2016 congressional primary election.
In those messages to a Bladen County judge, Harris asked about "the guy whose absentee ballot project for Johnson could have put me in the US House this term, had I known, and he had been helping us."
Harris campaign officials have said they did not pay Dowless to do anything illegal, and Dowless has maintained his innocence. (Editing by Colleen Jenkins, Dan Grebler and James Dalgleish)