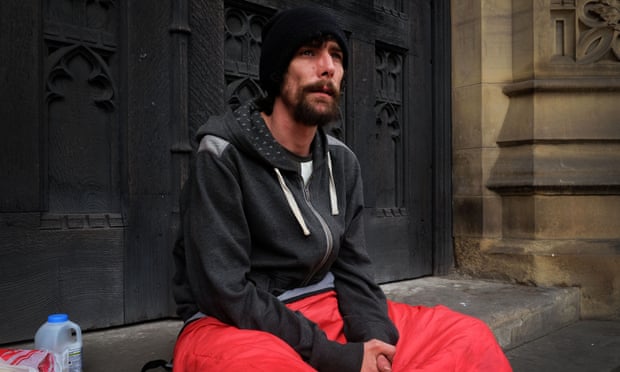 ---
This article titled "Homeless man who was hailed as hero admits Manchester bombing thefts" was written by Helen Pidd North of England editor, for The Guardian on Wednesday 3rd January 2018 12.34 UTC
A homeless man hailed as a hero after the Manchester Arena bombing has admitted stealing from victims of the attack.
Chris Parker, 33, pleaded guilty at Manchester crown court on Wednesday and was told by the judge to expect a prison sentence.
Parker admitted two counts of theft and one count of fraud. He stole a purse belonging to Pauline Healey, who was seriously injured in the blast, and then used her bank card at a McDonald's in Manchester in the following days.
Healey's 14-year-old granddaughter Sorrell Leczkowski died in the attack on 22 May.
Parker also admitted stealing a mobile phone belonging to a teenage girl caught up in the attack, who cannot be named.
More than £50,000 was raised for him as part of a crowdfunding effort following the attack after he told journalists he had rushed to help the victims.
But CCTV showed him rifling through Healey's bag as her granddaughter lay dying. He never received the money raised for him.
Parker had been due to stand trial on Tuesday but failed to show up. The court heard he had not been seen since shortly after Christmas when he was discharged from Calderdale hospital in West Yorkshire. His electronic tag was found in an empty soup tin outside his bail hostel in Halifax and a warrant was issued for his arrest.
Early on Wednesday morning he was found by police hiding in a loft in Halifax and was brought to court, where he changed his plea to guilty.
The court heard that Parker had failed to answer bail on a number of occasions over the past month and had sent text messages to his mother and ex-partner saying he intended to avoid going to court.
In one message he suggested he was going to commit a robbery "and go on the run". In another he suggested he was going to hurt himself.
At earlier court hearings, Parker loudly protested his innocence and insisted he had done nothing wrong. But he had a change of heart on Wednesday.
Had his case gone to trial the jury would have seen CCTV footage of Parker at the Arena shortly after the bomb went off. Wearing a woolly hat and carrying a rucksack, he could be seen circling the victims, who were scattered across the foyer and lying in pools of blood.
At one point he appeared to kick a handbag across the floor and then go and look into it. He could also be seen looking through a coat left on a staircase.
The jury would also have seen photographs Parker took on his own mobile phone and subsequently tried to sell to the media. They included a shot of Healey next to Sorrell and Sorrell's mother, Samantha, who was also injured. Another photograph showed what appeared to be a nail, which may have been used as shrapnel in the bomb which killed 22 people.
The family, from Leeds, had not attended the concert but had come to pick up others who had.
Parker faced eight counts in total but denied five offences, including attempting to steal a coat and a bag and using Healey's Yorkshire Bank card at Tesco on Deansgate in Manchester and to buy a public transport ticket.
The prosecution decided to accept Parker's three guilty pleas and not to proceed to trial on the other five counts.
Parker was widely hailed in the media as a hero in the aftermath of the bombing after he described cradling a dying woman.
The day after the bombing, Parker gave an interview to the Press Association saying he had been begging in the foyer area of the arena at the time of the blast. He said: "It knocked me to the floor and then I got up and instead of running away, my gut instinct was to run back and try and help."
A total of 3,799 people pledged £52,589 for Parker in the days after the attack via a crowdfunding campaign. Michael Johns, who started the GoFundMe campaign, invited members of the public to donate money in "an effort to help one of our most vulnerable in society who showed great selflessness and courage".
After Parker was charged, Johns told the Guardian he had yet to receive the money, and that the fund would "likely to be rolled up within a matter of hours in the event of a guilty verdict/plea".
Parker will be sentenced on 30 January. The judge, David Hernandez, said: "A custodial sentence is most likely in this case."
The court heard Parker has an extensive criminal record dating back to 2000 and has been convicted of offences including shoplifting, theft and criminal damage. In January 2016 he was found guilty of battery and theft from a dwelling and made the subject of a restraining order.
In July another man, Michael Popik, 24, was jailed after being caught using bank cards stolen from Healey. He did not steal the cards but was captured on CCTV using them at several outlets in the weeks following the attack.
guardian.co.uk © Guardian News & Media Limited 2010
Published via the Guardian News Feed plugin for WordPress.
Click here for reuse options!


Copyright 2018 News This Second Online
"I was discharged from Salisbury District Hospital on the 9th April 2018. I was treated there with obvious clinical expertise and with such kindness, that I have found I missed the staff immediately.

"I have left my father in their care, and he is still seriously ill. I too am still suffering with the effects of the nerve agent used against us.

"I find myself in a totally different life than the ordinary one I left just over a month ago, and I am seeking to come to terms with my prospects, whilst also recovering from this attack on me.

"I have specially trained officers available to me, who are helping to take care of me and to explain the investigative processes that are being undertaken. I have access to friends and family, and I have been made aware of my specific contacts at the Russian Embassy who have kindly offered me their assistance in any way they can. At the moment I do not wish to avail myself of their services, but, if I change my mind I know how to contact them.

"Most importantly, I am safe and feeling better as time goes by, but I am not yet strong enough to give a full interview to the media, as I one day hope to do. Until that time, I want to stress that no one speaks for me, or for my father, but ourselves. I thank my cousin Viktoria for her concern for us, but ask that she does not visit me or try to contact me for the time being. Her opinions and assertions are not mine and they are not my father's.

"For the moment I do not wish to speak to the press or the media, and ask for their understanding and patience whilst I try to come to terms with my current situation."
Click here for reuse options!


Copyright 2018 News This Second Online
Shots reported near YouTube headquarters in California
This article titled "YouTube shooting: one dead after incident at California headquarters" was written by Olivia Solon in San Francisco, for theguardian.com on Tuesday 3rd April 2018 21.47 UTC
One person is dead and four wounded after a shooting at YouTube's headquarters in San Bruno, California, police say.
The San Bruno police chief said that the fatality, a woman, could be the shooter and appeared to die as the result of a self-inflicted gunshot.
Employees posted about barricading themselves inside rooms as police and ambulances arrived at the scene.
"Heard shots and saw people running while at my desk. Now barricaded inside a room with coworkers," Vadim Lavrusik, a YouTube employee, posted to Twitter.
A spokesman for San Francisco General Hospital said that the hospital had received three patients, one in critical condition. The patients are a 32-year-old woman in serious condition, a 27-year-old woman in fair condition, and a 36-year-old man in critical condition. The nearby Stanford hospital is expecting four to five patients of unknown condition, a hospital spokeswoman Lisa Kim said.
Zach Vorhies, a senior software engineer at YouTube, told the Guardian that he was at his desk when the fire alarm went off. As he passed through an interior courtyard between the main building and the parking garage he saw a man on the ground with what appears to be a bullet wound to the stomach. He heard what he assumed to be the shooter shout "come and get me!" and saw police with assault weapons responding.
Project manager Todd Sherman said he was sitting in a meeting when he heard people running to leave the building. Upon exiting the room he saw "blood drips on the floor and stairs" and heard people say there was a potential shooter before he managed to escape the building.
"Police cruisers pull up, hopped out with rifles ready and I told them where the situation was as I headed down the street to meet up with a couple team members," he said.
Aerial footage shot by CBS News shows staff leaving the building with their hands in the air. Offices of other companies nearby were also on lockdown.
"My stomach sinks with yet another active shooter alert," said California senator Dianne Feinstein. "I'm praying for the safety of everyone at YouTube headquarters."
The incident comes during a renewed debate over American gun control laws, following a 14 February mass shooting at a high school in Parkland, Florida, that left 17 students and teachers dead. Hundreds of thousands of Americans demonstrated for stricter gun laws on 24 March in Washington and across the country.
With Republicans in Congress blocking any new gun control legislation, much of the activism after the Parkland shooting has shifted to the private sector, with advocates pressuring corporations to drop discounts for National Rifle Association members, change their policies for selling certain weapons and accessories, or divest from companies that manufacture firearms. When a Fox News host tweeted disparagingly about a Parkland activist not getting into his top colleges, the 17-year-old successfully called for advertisers to boycott her show.
YouTube is one of the companies that introduced new policies after the Parkland shooting. In late March, it quietly debuted restrictions on some gun-related video content, Bloomberg News reported, including prohibiting videos promoting the sale of bump stocks or instructing users how to manufacture firearms or high-capacity magazines
The National Shooting Sports Foundation, which represents gun manufacturers, called YouTube's new policy "worrisome" in a statement to Bloomberg News in late March.
YouTube has also come under scrutiny for the way its platforms have been used after mass shootings to spread conspiracy theories that mass shootings are hoaxes perpetrated to advance gun control, and that grieving survivors and family members of shooting victims who appear in the media are "crisis actors".
Lois Beckett contributed reporting
guardian.co.uk © Guardian News & Media Limited 2010
Published via the Guardian News Feed plugin for WordPress.
Click here for reuse options!


Copyright 2018 News This Second Online
MULTIPLE SUSPICIOUS PACKAGES SENT TO DC AREA MILITARY INSTALLATIONS
The FBI has taken custody of multiple suspicious packages sent to military locations in the Washington, DC area, a law enforcement official said Monday. The official said two of the packages were sent to Fort Belvoir and Fort McNair.
At least one package, sent to the National Defense University at Fort McNair in Washington, DC, contained explosive material and was ultimately rendered safe. That package arrived at 8:30 a.m. ET and the building was evacuated immediately, according to Army spokesman Michael L. Howard.
"At 12:10 p.m., 52nd Army Explosive Ordnance Disposal from Fort Belvoir, VA, confirmed the package tested positive for black powder and residue," Howard said in a statement. "The X-ray conducted indicates suspected GPS and an expedient fuse were attached. The package was rendered safe. No injuries are reported."
Scanning machines at the facilities detected the suspicious materials upon receipt and the packages are being examined at the FBI lab in Quantico, Virginia, the law enforcement official said.
The National Defense University at Fort McNair was cleared for re-entry after K-9 sweep and personnel returned to the building by 1:15 pm ET.
Another Army spokesman confirmed a suspicious package incident at Fort Belvoir and said that package has been rendered safe.
(CNN)
Click here for reuse options!


Copyright 2018 News This Second Online