Homeless Man admits stealing from a gran as her grandaughter lay dying yards away after Manchester terror attck
Chris Parker, 33, admits stealing purse belonging to seriously injured woman whose granddaughter died in attack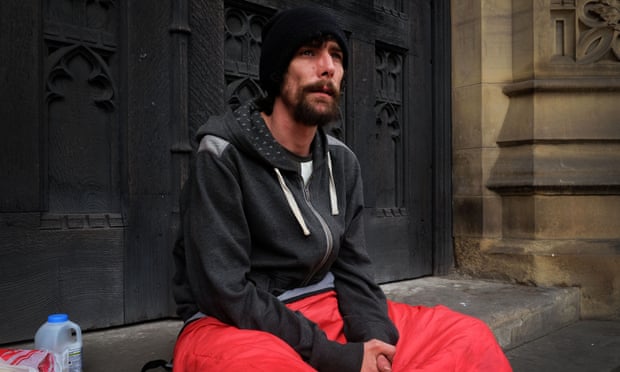 ---
This article titled "Homeless man who was hailed as hero admits Manchester bombing thefts" was written by Helen Pidd North of England editor, for The Guardian on Wednesday 3rd January 2018 12.34 UTC
A homeless man hailed as a hero after the Manchester Arena bombing has admitted stealing from victims of the attack.
Chris Parker, 33, pleaded guilty at Manchester crown court on Wednesday and was told by the judge to expect a prison sentence.
Parker admitted two counts of theft and one count of fraud. He stole a purse belonging to Pauline Healey, who was seriously injured in the blast, and then used her bank card at a McDonald's in Manchester in the following days.
Healey's 14-year-old granddaughter Sorrell Leczkowski died in the attack on 22 May.
Parker also admitted stealing a mobile phone belonging to a teenage girl caught up in the attack, who cannot be named.
More than £50,000 was raised for him as part of a crowdfunding effort following the attack after he told journalists he had rushed to help the victims.
But CCTV showed him rifling through Healey's bag as her granddaughter lay dying. He never received the money raised for him.
Parker had been due to stand trial on Tuesday but failed to show up. The court heard he had not been seen since shortly after Christmas when he was discharged from Calderdale hospital in West Yorkshire. His electronic tag was found in an empty soup tin outside his bail hostel in Halifax and a warrant was issued for his arrest.
Early on Wednesday morning he was found by police hiding in a loft in Halifax and was brought to court, where he changed his plea to guilty.
The court heard that Parker had failed to answer bail on a number of occasions over the past month and had sent text messages to his mother and ex-partner saying he intended to avoid going to court.
In one message he suggested he was going to commit a robbery "and go on the run". In another he suggested he was going to hurt himself.
At earlier court hearings, Parker loudly protested his innocence and insisted he had done nothing wrong. But he had a change of heart on Wednesday.
Had his case gone to trial the jury would have seen CCTV footage of Parker at the Arena shortly after the bomb went off. Wearing a woolly hat and carrying a rucksack, he could be seen circling the victims, who were scattered across the foyer and lying in pools of blood.
At one point he appeared to kick a handbag across the floor and then go and look into it. He could also be seen looking through a coat left on a staircase.
The jury would also have seen photographs Parker took on his own mobile phone and subsequently tried to sell to the media. They included a shot of Healey next to Sorrell and Sorrell's mother, Samantha, who was also injured. Another photograph showed what appeared to be a nail, which may have been used as shrapnel in the bomb which killed 22 people.
The family, from Leeds, had not attended the concert but had come to pick up others who had.
Parker faced eight counts in total but denied five offences, including attempting to steal a coat and a bag and using Healey's Yorkshire Bank card at Tesco on Deansgate in Manchester and to buy a public transport ticket.
The prosecution decided to accept Parker's three guilty pleas and not to proceed to trial on the other five counts.
Parker was widely hailed in the media as a hero in the aftermath of the bombing after he described cradling a dying woman.
The day after the bombing, Parker gave an interview to the Press Association saying he had been begging in the foyer area of the arena at the time of the blast. He said: "It knocked me to the floor and then I got up and instead of running away, my gut instinct was to run back and try and help."
A total of 3,799 people pledged £52,589 for Parker in the days after the attack via a crowdfunding campaign. Michael Johns, who started the GoFundMe campaign, invited members of the public to donate money in "an effort to help one of our most vulnerable in society who showed great selflessness and courage".
After Parker was charged, Johns told the Guardian he had yet to receive the money, and that the fund would "likely to be rolled up within a matter of hours in the event of a guilty verdict/plea".
Parker will be sentenced on 30 January. The judge, David Hernandez, said: "A custodial sentence is most likely in this case."
The court heard Parker has an extensive criminal record dating back to 2000 and has been convicted of offences including shoplifting, theft and criminal damage. In January 2016 he was found guilty of battery and theft from a dwelling and made the subject of a restraining order.
In July another man, Michael Popik, 24, was jailed after being caught using bank cards stolen from Healey. He did not steal the cards but was captured on CCTV using them at several outlets in the weeks following the attack.
guardian.co.uk © Guardian News & Media Limited 2010
Published via the Guardian News Feed plugin for WordPress.
Teen Found Guilty Of Killing Shopkeeper Over Cigarette Papers
A teenager found guilty of the killing of a family man outside his Mill Hill shop after he refused to sell cigarette papers to him and his friends has been sentenced to four years' imprisonment.
The 16-year-old from Brent was sentenced at the Old Bailey today [Friday 7 September] after being convicted of the manslaughter of Vijaykumar Patel on Monday, 9 July.
An investigation was launched after officers were initially called at about 23:45hrs on Saturday, 6 January by the London Ambulance Service to reports of a man who had been assaulted and injured on The Broadway, NW7.
Vijaykumar, 49, from the Colindale area was taken to a central London hospital for treatment but died during the evening of Monday, 8 January.
Detectives found that the victim had been at work in the shop on the evening of Saturday, 6 January. Three teenage boys came into the shop and tried to buy some items including cigarette papers. Due to concerns about their age and a potential breach of licensing laws they were refused service after they were unable to provide suitable identification.
The three were unhappy about the decision and became aggressive, threatening to vandalise the shop.
Vijaykumar and a colleague went outside after them to ensure no damage was done to the shop. The youth continued to be aggressive challenging the pair to a fight and being abusive.
Vijaykumar did not move towards or gesture at any of the group; he only went outside to ensure his shop would not be damaged. While he was waiting for them to move on he was struck by the 16-year-old boy with force across his neck causing him to fall to the floor and suffer catastrophic head injuries.
The colleague was also punched by the teenagers. He suffered minor injuries, but did not require hospital treatment.
A post-mortem examination held at Northwick Park Hospital Mortuary on Thursday, 11 January gave the provisional cause of Mr Patel's death as head injuries.
An investigation was immediately launched by officers from the Homicide and Major Crime Command. Forensic analysis was completed at the extensive crime scene and local CCTV footage from inside and outside the shop captured those involved.
They were circulated to local CID officers and detectives, and arrested two days later on Monday, 8 January. The youth refused to cooperate with police and answered "no comment" to even the most basic questions put to him.
Two boys – [B] aged 16 and [C] aged 15 – were arrested after they attended a central London police station on the evening of Wednesday, 10 January. They were subsequently bailed.
The 16-year-old [B] was given a youth caution on Thursday, 22 March for a Section 4 Public Order Act offence in relation to his actions towards the shop owner and witness. The 15-year-old [C] was released with no further action on all matters on Friday, 19 January.
Detective Chief Inspector Luke Marks, from the Homicide and Major Crime Command, said: "It beggars belief that a family man with two kids has lost his life over an argument about cigarette papers that got out of hand. This was an unprovoked spontaneous incident sparked entirely by the refusal to let the suspects buy what they wanted.
"A man has lost his life for no reason other than trying to uphold the law, which is there to protect everyone – including young people.
"I would like to praise the work of the team who built a strong case, and the victim's family and friends who have conducted themselves with the utmost dignity.
"Vijaykumar was a loving son, brother, father and husband, and his family are left mourning his death, wondering how someone could use such abhorrent and casual violence. I hope this conviction will bring some sense of justice to the family who have been devastated by Vijaykumar's murder. He truly was a decent, hard-working family man who in no way contributed to his own demise.
"I would like to add that the local policing team in the Mill Hill area are in regular contact with business owners and other members of the community. Since this attack, officers have been meeting local retailers to provide reassurance and crime prevention advice. Officers will continue to engage with the business community to gauge any concerns they have."
Man jailed for Grenfell fire fraud and drugs offences
A man who fraudulently obtained over £80,000 of funding that had been made available to those affected by the Grenfell Tower fire has been jailed at Isleworth Crown Court.
Yonatan Eyob, 26 (05.07.92) of no fixed address was sentenced today, (Friday, 7 September), to three years and four months' imprisonment after pleading guilty on 30 July to one count of fraud by false representation in relation to the Grenfell Tower fire.
Eyob was also jailed for a further three years and four months – making a total of six years and eight months' imprisonment – after pleading guilty on 6 July to the further offences of: 
– possession with intent to supply class A drugs (MDMA);
– possession with intent to supply class A drugs (cocaine);
– possession with intent to supply class B drugs (ketamine);
– possession with intent to supply class B drugs (cannabis);
– possession of criminal property.
The court heard how at the time of the fire, Eyob lived next to Grenfell Tower at an address in Hurstway Walk. However, he claimed he lived within Grenfell Tower in order to claim hotel accommodation and money – in total he fraudulently claimed £86,831.55.
Officers investigating matters of fraud linked to Grenfell Tower identified Eyob as a suspect and officers attended the hotel where he was being accommodated to arrest him. On entering the room, they found a large quantity of class A and class B drugs; over 120 wraps of MDMA, 89 wraps of cocaine, 30 wraps of Ketamine and 17 wraps of cannabis.
Eyob was further arrested for drug offences.
The drugs carried a street value of over £6,500. £3,000 cash was also seized as criminal property when officers discovered the drugs.
Detective Superintendent, Matt Bonner, the senior investigating officer for Operation Northleigh, said: "It is ironic that Eyob would have legitimately qualified to financial support if he had just told the truth as at the time of the fire he was living in a residence that fell within the Grenfell Tower footprint.
"However, he chose to concoct a story which he knew was false in a bid to obtain money and accommodation.
"His fraudulent acts were further compounded when officers found quantities of drugs within the hotel room he had been given to stay in.
"Eyob now must face the consequences of his actions with considerable time in jail."
2 dead, 4 critically injured after active shooter incident in downtown Cincinnati
Police in the US city of Cincinnati say they've responded to an active shooter situation at a building downtown.
The Cincinatti Police Department said in a tweet on Thursday they were investigating an "active shooter/officer involved shooting" at the Fifth Third Bank, which is located in the city's Fountain Square, a busy meeting place.
(Al Jazeera)