Homeless Man admits stealing from a gran as her grandaughter lay dying yards away after Manchester terror attck
Chris Parker, 33, admits stealing purse belonging to seriously injured woman whose granddaughter died in attack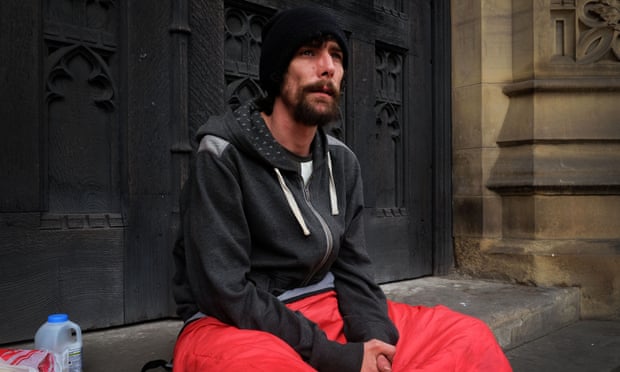 ---
This article titled "Homeless man who was hailed as hero admits Manchester bombing thefts" was written by Helen Pidd North of England editor, for The Guardian on Wednesday 3rd January 2018 12.34 UTC
A homeless man hailed as a hero after the Manchester Arena bombing has admitted stealing from victims of the attack.
Chris Parker, 33, pleaded guilty at Manchester crown court on Wednesday and was told by the judge to expect a prison sentence.
Parker admitted two counts of theft and one count of fraud. He stole a purse belonging to Pauline Healey, who was seriously injured in the blast, and then used her bank card at a McDonald's in Manchester in the following days.
Healey's 14-year-old granddaughter Sorrell Leczkowski died in the attack on 22 May.
Parker also admitted stealing a mobile phone belonging to a teenage girl caught up in the attack, who cannot be named.
More than £50,000 was raised for him as part of a crowdfunding effort following the attack after he told journalists he had rushed to help the victims.
But CCTV showed him rifling through Healey's bag as her granddaughter lay dying. He never received the money raised for him.
Parker had been due to stand trial on Tuesday but failed to show up. The court heard he had not been seen since shortly after Christmas when he was discharged from Calderdale hospital in West Yorkshire. His electronic tag was found in an empty soup tin outside his bail hostel in Halifax and a warrant was issued for his arrest.
Early on Wednesday morning he was found by police hiding in a loft in Halifax and was brought to court, where he changed his plea to guilty.
The court heard that Parker had failed to answer bail on a number of occasions over the past month and had sent text messages to his mother and ex-partner saying he intended to avoid going to court.
In one message he suggested he was going to commit a robbery "and go on the run". In another he suggested he was going to hurt himself.
At earlier court hearings, Parker loudly protested his innocence and insisted he had done nothing wrong. But he had a change of heart on Wednesday.
Had his case gone to trial the jury would have seen CCTV footage of Parker at the Arena shortly after the bomb went off. Wearing a woolly hat and carrying a rucksack, he could be seen circling the victims, who were scattered across the foyer and lying in pools of blood.
At one point he appeared to kick a handbag across the floor and then go and look into it. He could also be seen looking through a coat left on a staircase.
The jury would also have seen photographs Parker took on his own mobile phone and subsequently tried to sell to the media. They included a shot of Healey next to Sorrell and Sorrell's mother, Samantha, who was also injured. Another photograph showed what appeared to be a nail, which may have been used as shrapnel in the bomb which killed 22 people.
The family, from Leeds, had not attended the concert but had come to pick up others who had.
Parker faced eight counts in total but denied five offences, including attempting to steal a coat and a bag and using Healey's Yorkshire Bank card at Tesco on Deansgate in Manchester and to buy a public transport ticket.
The prosecution decided to accept Parker's three guilty pleas and not to proceed to trial on the other five counts.
Parker was widely hailed in the media as a hero in the aftermath of the bombing after he described cradling a dying woman.
The day after the bombing, Parker gave an interview to the Press Association saying he had been begging in the foyer area of the arena at the time of the blast. He said: "It knocked me to the floor and then I got up and instead of running away, my gut instinct was to run back and try and help."
A total of 3,799 people pledged £52,589 for Parker in the days after the attack via a crowdfunding campaign. Michael Johns, who started the GoFundMe campaign, invited members of the public to donate money in "an effort to help one of our most vulnerable in society who showed great selflessness and courage".
After Parker was charged, Johns told the Guardian he had yet to receive the money, and that the fund would "likely to be rolled up within a matter of hours in the event of a guilty verdict/plea".
Parker will be sentenced on 30 January. The judge, David Hernandez, said: "A custodial sentence is most likely in this case."
The court heard Parker has an extensive criminal record dating back to 2000 and has been convicted of offences including shoplifting, theft and criminal damage. In January 2016 he was found guilty of battery and theft from a dwelling and made the subject of a restraining order.
In July another man, Michael Popik, 24, was jailed after being caught using bank cards stolen from Healey. He did not steal the cards but was captured on CCTV using them at several outlets in the weeks following the attack.
guardian.co.uk © Guardian News & Media Limited 2010
Published via the Guardian News Feed plugin for WordPress.
ATLANTA POLICE OFFICER SHOOTS A MAN DEAD AT A FAST-FOOD DRIVE-THRU
An Atlanta police officer shot and killed a man at a Wendy's drive-thru Friday night.
(CNN) — An Atlanta police officer shot and killed a man at a Wendy's drive-thru Friday night after he resisted arrest and struggled for an officer's Taser, the Georgia Bureau of Investigation said in a statement.
The GBI identified the slain man as Rayshard Brooks, 27, of Atlanta.
The killing comes amid global protests and discussion of police use of force following the death of George Floyd last month in custody in Minneapolis. Atlanta has seen frequent protests, including some that turned violent.
Six Atlanta Police Department officers were facing charges of using excessive force during one, Fulton County District Attorney Paul Howard announced June 2. Two of the officers were fired by Mayor Keisha Lance Bottoms.
Friday, officers responded to a call at 10:33 p.m. about a man sleeping in a parked vehicle in the drive-thru, causing other customers to drive around it, the GBI said in a statement.
Police gave Brooks a field sobriety test, which he failed, the GBI said. He resisted arrest and struggled with officers, the GBI said.
An officer drew his Taser and, witnesses said, the man grabbed it, the statement said. An officer then shot him.
Brooks was taken to a hospital, where he died, the statement said.
One officer was treated for an injury and released, the GBI said.
The GBI is investigating at the request of the APD, the statement said. Once completed, the case will be turned over to prosecutors for review.
CNN has reached out to the APD, GBI and the mayor's office but they have not responded.
CNN affiliate WSB reports this is the 48th police shooting the GBI has investigated in 2020
Bo Dukes Sentenced To 25 Years In Prison For Covering Up Death of Tara Grinstead
ABBEVILLE, Ga. (AP) — A man convicted of helping hide the death of a missing Georgia teacher has been sentenced to 25 years in prison.
News outlets reported that 34-year-old Bo Dukes was sentenced Friday morning in court in Abbeville.
Dukes was convicted Thursday night of lying to investigators about the 2005 death of Tara Grinstead. The high school history teacher's body was burned to ash and bone fragments in a pecan orchard.
What happened to the woman wasn't revealed until Dukes and another man were arrested in 2017.
Dukes was convicted of two counts of making a false statement, hindering the arrest of a criminal and concealing a death.
His co-defendant, Ryan Alexander Duke, is charged with murder in Grinstead's death and is scheduled for trial April 1 in Irwin County.
US Supreme Court Agrees To Decide Whether Lee Boyd Malvo Gets A New Sentence
March 18 (UPI) — The U.S. Supreme Court agreed Monday to decide whether a gunman in the 2002 Beltway Sniper case should receive a new sentence because he was a teenager at the time.
The random shootings terrorized the Washington, D.C., area in September and October 2002 and killed 10 people. Lee Boyd Malvo and John Allen Muhammad were ultimately captured and convicted of the sniper killings. Muhammad was executed in 2009 and Malvo is serving six consecutive life sentences. At the time of the shootings, Malvo was 17.
The Supreme Court issued a writ of certiorari Monday to hear the appeal next term.
At issue is a 2012 Supreme Court ruling that said juveniles cannot be given mandatory life-without-parole sentences unless they committed murder or were determined permanently incorrigible.
A Virginia court last year vacated Malvo's sentences and asked a trial court to rule on whether his crimes reflect permanent incorrigibility or "the transient nature of youth."
Malvo is now 34 years old.
A U.S. Court of Appeals panel called the Beltway shootings "the most heinous, random acts of premeditated violence conceivable, destroying lives and families and terrorizing the entire Washington D.C., metropolitan area for over six weeks, instilling mortal fear daily in the citizens of that community."
The judges said, "Malvo was 17 years old when he committed the murders, and he now has the retroactive benefit of new constitutional rules that treat juveniles differently for sentencing."
Malvo faces life without parole in Maryland, where he killed six people. That sentence was upheld in 2017 and is pending at the state Supreme Court. Muhammad, who was 25 years older than Malvo, smuggled him into the country illegally from Antigua.