Homeless Man admits stealing from a gran as her grandaughter lay dying yards away after Manchester terror attck
Chris Parker, 33, admits stealing purse belonging to seriously injured woman whose granddaughter died in attack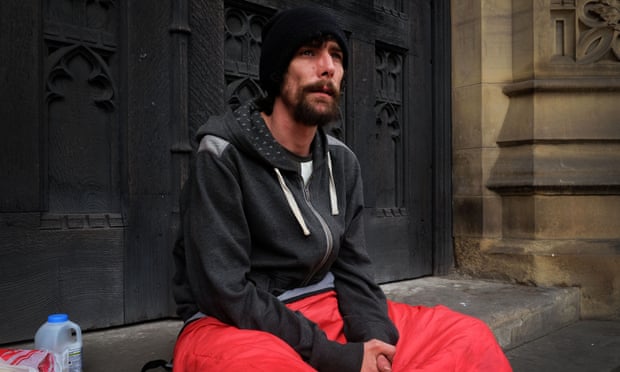 ---
This article titled "Homeless man who was hailed as hero admits Manchester bombing thefts" was written by Helen Pidd North of England editor, for The Guardian on Wednesday 3rd January 2018 12.34 UTC
A homeless man hailed as a hero after the Manchester Arena bombing has admitted stealing from victims of the attack.
Chris Parker, 33, pleaded guilty at Manchester crown court on Wednesday and was told by the judge to expect a prison sentence.
Parker admitted two counts of theft and one count of fraud. He stole a purse belonging to Pauline Healey, who was seriously injured in the blast, and then used her bank card at a McDonald's in Manchester in the following days.
Healey's 14-year-old granddaughter Sorrell Leczkowski died in the attack on 22 May.
Parker also admitted stealing a mobile phone belonging to a teenage girl caught up in the attack, who cannot be named.
More than £50,000 was raised for him as part of a crowdfunding effort following the attack after he told journalists he had rushed to help the victims.
But CCTV showed him rifling through Healey's bag as her granddaughter lay dying. He never received the money raised for him.
Parker had been due to stand trial on Tuesday but failed to show up. The court heard he had not been seen since shortly after Christmas when he was discharged from Calderdale hospital in West Yorkshire. His electronic tag was found in an empty soup tin outside his bail hostel in Halifax and a warrant was issued for his arrest.
Early on Wednesday morning he was found by police hiding in a loft in Halifax and was brought to court, where he changed his plea to guilty.
The court heard that Parker had failed to answer bail on a number of occasions over the past month and had sent text messages to his mother and ex-partner saying he intended to avoid going to court.
In one message he suggested he was going to commit a robbery "and go on the run". In another he suggested he was going to hurt himself.
At earlier court hearings, Parker loudly protested his innocence and insisted he had done nothing wrong. But he had a change of heart on Wednesday.
Had his case gone to trial the jury would have seen CCTV footage of Parker at the Arena shortly after the bomb went off. Wearing a woolly hat and carrying a rucksack, he could be seen circling the victims, who were scattered across the foyer and lying in pools of blood.
At one point he appeared to kick a handbag across the floor and then go and look into it. He could also be seen looking through a coat left on a staircase.
The jury would also have seen photographs Parker took on his own mobile phone and subsequently tried to sell to the media. They included a shot of Healey next to Sorrell and Sorrell's mother, Samantha, who was also injured. Another photograph showed what appeared to be a nail, which may have been used as shrapnel in the bomb which killed 22 people.
The family, from Leeds, had not attended the concert but had come to pick up others who had.
Parker faced eight counts in total but denied five offences, including attempting to steal a coat and a bag and using Healey's Yorkshire Bank card at Tesco on Deansgate in Manchester and to buy a public transport ticket.
The prosecution decided to accept Parker's three guilty pleas and not to proceed to trial on the other five counts.
Parker was widely hailed in the media as a hero in the aftermath of the bombing after he described cradling a dying woman.
The day after the bombing, Parker gave an interview to the Press Association saying he had been begging in the foyer area of the arena at the time of the blast. He said: "It knocked me to the floor and then I got up and instead of running away, my gut instinct was to run back and try and help."
A total of 3,799 people pledged £52,589 for Parker in the days after the attack via a crowdfunding campaign. Michael Johns, who started the GoFundMe campaign, invited members of the public to donate money in "an effort to help one of our most vulnerable in society who showed great selflessness and courage".
After Parker was charged, Johns told the Guardian he had yet to receive the money, and that the fund would "likely to be rolled up within a matter of hours in the event of a guilty verdict/plea".
Parker will be sentenced on 30 January. The judge, David Hernandez, said: "A custodial sentence is most likely in this case."
The court heard Parker has an extensive criminal record dating back to 2000 and has been convicted of offences including shoplifting, theft and criminal damage. In January 2016 he was found guilty of battery and theft from a dwelling and made the subject of a restraining order.
In July another man, Michael Popik, 24, was jailed after being caught using bank cards stolen from Healey. He did not steal the cards but was captured on CCTV using them at several outlets in the weeks following the attack.
guardian.co.uk © Guardian News & Media Limited 2010
Published via the Guardian News Feed plugin for WordPress.
Canadian police say at least 4 dead in shooting
FREDERICTON, New Brunswick (AP) — Police in the eastern Canadian city of Fredericton, New Brunswick say at least four people have been killed after a shooting.
Fredericton police are asking residents to avoid the area and stay in their homes. The circumstances of the shooting are unclear at this point.
Please continue to avoid the area of Brookside Drive between Main and Ring Road. An incident has resulted in at least four people killed. More information will be available when we can confirm.

— Fredericton Police (@CityFredPolice) August 10, 2018
Watch Macron's security aide attack a protester. The French government has now come under fire.
PARIS — The footage is striking.
In the same scenic Paris square that the writer Ernest Hemingway once called home, a protest erupted during France's annual May Day holiday. This part, at least, is no surprise: May 1 is International Workers' Day, typically marked by massive labor demonstrations that can bring the city to a standstill. That was especially the case this year, in the midst of President Emmanuel Macron's sweeping market reforms.
But what was a surprise is the degree of violence exhibited by one man, in particular — and who, exactly, this man turned out to be.
Video footage first published by France's Le Monde newspaper depicts none other than one of Macron's security aides, Alexandre Benalla, dragging a woman by the neck away from a protest scene, where national police officers were already teargassing a small group. After a beat, Benalla appears back on camera, this time to attack a young man the police had already dragged a fair amount.
The root of the scandal is this: Benalla is not a police officer; he was only dressed like one, wearing the type of visor they wear. According to Le Monde, he had taken a day off and had requested to "observe" police operations during the May Day protests. As the video shows, police did not intervene to stop Benalla.
Interviewed Thursday on French television, police officials could not explain why. "An observer doesn't act like that," said Philippe Capon, a spokesman for a large police union, speaking on BFM-TV.
But the context, Capon said, could have presented Benalla with an opportunity to abuse his position. "He was an observer from the Elysee," Capon said. "When police officials hear the word 'Elysee,' there is a particular apprehension."
The fact that Benalla was given a two-week suspension as a punishment immediately drew the ire of political opposition leaders, as well as allegations of a coverup. On Thursday, Macron stayed unusually silent on what French media have already christened "the Benalla Affair" when reporters questioned him during a visit to the Dordogne in central France.
Bruno Roger-Petit, a spokesman for the Elysee Palace, told French media Thursday that Benalla's punishment was the "most serious" ever given to a presidential aide.
But public outcry multiplied once France's BFM TV network reported Thursday that Benalla had participated in security services at the Pantheon burial of Holocaust survivor and noted feminist Simone Veil, as well as in the security operation surrounding the French national football team's victory parade — earlier this week.
Prominent members of Macron's government struggled to explain the situation, especially when pressed on the question of a potential legal double standard that had applied to an administration official.
Amid the outcry Thursday, the French public prosecutor opened an inquiry into the Benalla case, an investigation that could ultimately lead to charges against him, as well as further embarrassment to the Elysee Palace.
Macron's critics seized the opportunity to do precisely that, mostly to decry the persona of a president often called "Jupiterian," out of touch or "the president of the rich." Earlier in the summer, Macron came under fire for publicly scolding a sardonic high school student who addressed him by a nickname.
"When you are at the Elysee, you have to set an example," said Laurent Wauquiez, the hard-line leader of Les Républicains, France's mainstream conservative party, speaking Thursday on France's Europe 1 radio. Wauquiez, whose stances often mimic those of the far-right National Front, has sought to challenge centrist but pro-business Macron from the right.
"Today, one has the feeling that at the Elysee, they think they are above the law," Wauquiez said.
This article was written by James McAuley from The Washington Post
How MI5 and the FBI foiled plot to assassinate Prime Minister Theresa May
He knew what supplies he needed, including a black-and-gray Carbrini sports backpack and a hooded down jacket. Standard tourist provisions in Britain.
He had the timing all worked out. If he could just get past the gate, a 10-second sprint would find him at the most famous door in the world — the polished black entrance to 10 Downing Street, the emblem of the British state.
Once inside, Naa'imur Zakariyah Rahman hoped to behead the building's resident, Prime Minister Theresa May.
But Rahman was not the only one in on the plan. He shared his ambitions with a man, "Shaq," who presented himself as a weapons fixer for Islamic State militants. The supposed extremist helper was in fact an undercover police officer working alongside MI5, Britain's domestic security service, and the FBI, according to the BBC.
The undercover operation succeeded in nabbing Rahman, 20, who was convicted Wednesday at the Old Bailey courthouse in London of preparing acts of terrorism. He had been arrested in November 2017 and will be sentenced at a later date.
The resident of north London, who has given his nationality as Bangladeshi-British, was first flagged by authorities three years ago over concerns that the teenager, raised in an industrial town near Birmingham, was vulnerable to brainwashing by his uncle, British media reported. His uncle, who left Britain for Syria in 2014, aimed to persuade his nephew to stage an attack and had sent him bombmaking materials, according to authorities.
A coalition drone strike near Raqqa killed the uncle, Musadikur Rohaman, in June 2017. It was when Rahman learned of his family member's death, prosecutors alleged, that he set out to take revenge. His target became the prime minister of the country where he was sleeping in the back of a car, after quarrels with his mother and other relatives had left him homeless.
The same year, a probe into allegations that Rahman had sent lewd images to an underage girl turned up evidence that he had stayed in contact with his uncle. He was never charged in the initial investigation, but a search of his phone set off concern that he had developed extremist views, the Guardian reported.
The undercover operation began when Rahman made contact with an FBI agent impersonating an Islamic State official on social media. The American intelligence officer introduced him to MI5 agents posing as fellow extremists.
"Can you put me in a sleeper cell ASAP?" Rahman asked members of the security services appearing as Islamist militants over the Telegram messaging app. "I want to do a suicide bomb on parliament. I want to attempt to kill Theresa May."
He reaffirmed his resolve the next day, writing, "My objective is to take out my target. Nothing less than the death of the leaders of parliament."
His planning included surveying the grounds of the British civil service and government and giving a backpack and jacket to the undercover police officer, who promised to line the items with explosives. In conversations with the officer, he also praised the Manchester bomber who had left 23 dead, including himself, at an Ariana Grande concert months earlier. The mass-casualty event was among a string of terrorist attacks that buffeted Britain in 2017, putting security services on high alert. One strike unfolded outside the Palace of Westminster, the seat of the British Parliament.
Rahman seemed to draw inspiration from these attacks.
"I wanna drop a bag at the gate, so the gate blows up a bit and I can go through and then like, make a run, like I was thinking taking a human hostage until I get to the actual door," Rahman told "Shaq," the undercover police officer, in a recording played in court.
His intention, he said, was to "make a dash for Theresa May. She sleeps there every night." He told the undercover agent that his intention was to "take her head off."
Rahman's initial aim had been to obtain a truck bomb and firearms, but he revised his planning because he knew neither how to drive nor how to fire a gun. He settled for more crude weaponry and offered up a backpack and jacket to be outfitted for an attack. At the end of November, the agent returned Rahman's backpack and jacket with fake explosives. "Do you know? Now I've seen everything it feels good," Rahman told the officer as he took back the belongings, according to the recording played in court.
Rahman was detained as he walked away from the scene, later saying, "I'm glad it's over."
During the trial, which began in June, prosecutors said they believed Rahman had been days away from attempting to carry out his plot on May's life. The accused told jurors that his planning had been nothing more than fantasy, and that he had merely been trying to impress men he believed to be associates of his uncle.
Security precautions are designed to keep plans to infiltrate 10 Downing Street in the realm of fantasy. The street on which the residence sits has been closed to the public since 1989 and is heavily guarded. Defenses grew more severe after the Irish Republican Army launched mortar shells in an attempt to kill John Major, the prime minister at the time, along with cabinet members then presiding over British participation in the Gulf War.
This article was written by Isaac Stanley-Becker from The Washington Post