Homeless Man admits stealing from a gran as her grandaughter lay dying yards away after Manchester terror attck
Chris Parker, 33, admits stealing purse belonging to seriously injured woman whose granddaughter died in attack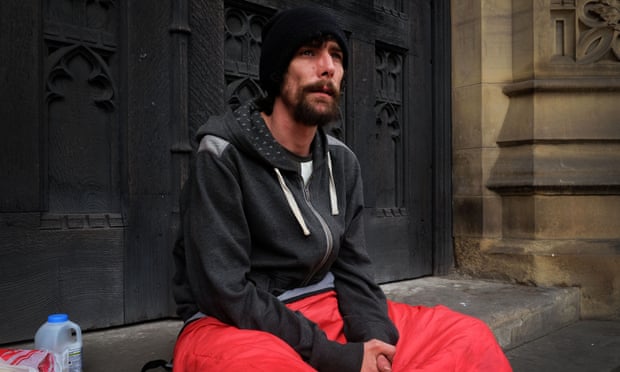 ---
This article titled "Homeless man who was hailed as hero admits Manchester bombing thefts" was written by Helen Pidd North of England editor, for The Guardian on Wednesday 3rd January 2018 12.34 UTC
A homeless man hailed as a hero after the Manchester Arena bombing has admitted stealing from victims of the attack.
Chris Parker, 33, pleaded guilty at Manchester crown court on Wednesday and was told by the judge to expect a prison sentence.
Parker admitted two counts of theft and one count of fraud. He stole a purse belonging to Pauline Healey, who was seriously injured in the blast, and then used her bank card at a McDonald's in Manchester in the following days.
Healey's 14-year-old granddaughter Sorrell Leczkowski died in the attack on 22 May.
Parker also admitted stealing a mobile phone belonging to a teenage girl caught up in the attack, who cannot be named.
More than £50,000 was raised for him as part of a crowdfunding effort following the attack after he told journalists he had rushed to help the victims.
But CCTV showed him rifling through Healey's bag as her granddaughter lay dying. He never received the money raised for him.
Parker had been due to stand trial on Tuesday but failed to show up. The court heard he had not been seen since shortly after Christmas when he was discharged from Calderdale hospital in West Yorkshire. His electronic tag was found in an empty soup tin outside his bail hostel in Halifax and a warrant was issued for his arrest.
Early on Wednesday morning he was found by police hiding in a loft in Halifax and was brought to court, where he changed his plea to guilty.
The court heard that Parker had failed to answer bail on a number of occasions over the past month and had sent text messages to his mother and ex-partner saying he intended to avoid going to court.
In one message he suggested he was going to commit a robbery "and go on the run". In another he suggested he was going to hurt himself.
At earlier court hearings, Parker loudly protested his innocence and insisted he had done nothing wrong. But he had a change of heart on Wednesday.
Had his case gone to trial the jury would have seen CCTV footage of Parker at the Arena shortly after the bomb went off. Wearing a woolly hat and carrying a rucksack, he could be seen circling the victims, who were scattered across the foyer and lying in pools of blood.
At one point he appeared to kick a handbag across the floor and then go and look into it. He could also be seen looking through a coat left on a staircase.
The jury would also have seen photographs Parker took on his own mobile phone and subsequently tried to sell to the media. They included a shot of Healey next to Sorrell and Sorrell's mother, Samantha, who was also injured. Another photograph showed what appeared to be a nail, which may have been used as shrapnel in the bomb which killed 22 people.
The family, from Leeds, had not attended the concert but had come to pick up others who had.
Parker faced eight counts in total but denied five offences, including attempting to steal a coat and a bag and using Healey's Yorkshire Bank card at Tesco on Deansgate in Manchester and to buy a public transport ticket.
The prosecution decided to accept Parker's three guilty pleas and not to proceed to trial on the other five counts.
Parker was widely hailed in the media as a hero in the aftermath of the bombing after he described cradling a dying woman.
The day after the bombing, Parker gave an interview to the Press Association saying he had been begging in the foyer area of the arena at the time of the blast. He said: "It knocked me to the floor and then I got up and instead of running away, my gut instinct was to run back and try and help."
A total of 3,799 people pledged £52,589 for Parker in the days after the attack via a crowdfunding campaign. Michael Johns, who started the GoFundMe campaign, invited members of the public to donate money in "an effort to help one of our most vulnerable in society who showed great selflessness and courage".
After Parker was charged, Johns told the Guardian he had yet to receive the money, and that the fund would "likely to be rolled up within a matter of hours in the event of a guilty verdict/plea".
Parker will be sentenced on 30 January. The judge, David Hernandez, said: "A custodial sentence is most likely in this case."
The court heard Parker has an extensive criminal record dating back to 2000 and has been convicted of offences including shoplifting, theft and criminal damage. In January 2016 he was found guilty of battery and theft from a dwelling and made the subject of a restraining order.
In July another man, Michael Popik, 24, was jailed after being caught using bank cards stolen from Healey. He did not steal the cards but was captured on CCTV using them at several outlets in the weeks following the attack.
guardian.co.uk © Guardian News & Media Limited 2010
Published via the Guardian News Feed plugin for WordPress.
Parents of Caliyah McNabb Found Guilty, Sentenced In 14-Day-Old Daughter's Murder
The parents of a 14-day-old Georgia baby were found guilty on Tuesday in connection with the little girl's death. Caliyah McNabb suffered horrific injuries after her father beat her in the head and hid her tiny body in the woods, around 900 feet from her home.
"She was a little angel," District Attorney Layla Zon said during her closing arguments inside a Newton County courtroom Tuesday afternoon. "She was a gift to Cortney Bell and Christopher McNabb."
Christopher McNabb, the baby's father, was sentenced to life in prison without the possibility of parole on charges of malice murder, aggravated assault, and other related charges. Cortney Bell, the baby's mother, was sentenced to 30 years in prison, with the possibility of parole in 15 years, on charges of second-degree murder, child deprivation, and child cruelty.
McNabb grew angry after the guilty verdict, which only took the jury around an hour to decide. Judge John Ott ordered him out of the courtroom. When he returned for sentencing, McNabb claimed he was innocent and planned to appeal.
"The whole thing was a set-up," McNabb hissed, clearly upset with the verdict. "I was beat as a child and I don't agree with this at all. I don't agree with this at all. I would never do this."
Ott asked McNabb what type of sentence he would give the person responsible for Caliyah's death. McNabb replied that the guilty party should be thrown "under the jail." With that, Ott sentenced McNabb to life without parole.
Bell shed tears during sentencing as she also claimed innocence. Ott told Bell that she allowed a "rattlesnake into her home" by putting McNabb before her children and allowing violence and drugs into her children's lives.
"You chose meth and McNabb over a baby," Ott said. "Like most criminals, you have a version of what a good mama is that is so far from the norm."
Baby Caliyah's Short Life
As CrimeOnline previously reported, in October 2017, the Newton County Medical Examiner's Office reported that Caliyah died from blunt force trauma to the head. The injuries were gruesome. The infant was beaten in so badly that her baby teeth, which had not yet developed, stuck out through her gums.
The baby also suffered a blow so severe to her head that her skull was "seriously disfigured and damaged beyond repair." McNabb caused the injuries, then in a panic, wrapped the baby in a blanket and one of his t-shirts, and put her into a Nike drawstring bag. He then took Caliyah into the woods behind his trailer home in Covington and buried her in a depressed area under a log.
It's unclear exactly what caused the horrific beating, but according to testimony by Bell's cousin, Gerald Weatherford, both Bell and McNabb smoked meth with him on October 7, 2017, the night before Caliyah disappeared.
"Cortney Bell was too busy smoking methamphetamine to protect her child," Assistant District Attorney Alex Stone said.
During testimony last week, Bell's cousin, Megan Sorrells, said Bell was being abused at home during the time Caliyah vanished. She also testified that McNabb and Bell were constantly fighting. Sorrells said Bell never told her about the abuse, but as a domestic abuse victim herself, she could already tell.
"She always had bruises on her," Sorrells said of Bell. "I didn't really have to ask many questions. I could tell."
Court testimony also indicated that little Caliyah wasn't around her parents much in the mere 14 days she was alive. After spending four days in the hospital after birth, McNabb and Bell passed the baby off to family members multiple times. Caliyah stayed several days with her grandfather, Tim Bell.
Tim testified that he returned the child home with milk and clean diapers in early October, and told his daughter, Bell, to clean up her filthy trailer home. The following day, Caliyah was dead.
Although Bell wasn't accused of physically harming the baby, by allowing Caliyah to live in a dangerous environment while doing nothing to protect her, makes her culpable of murder. Ott explained to Bell that her second-degree murder charge meant that irrespective of malice, while she was in the commission of neglecting her baby, she helped caused her death.
Zon added that Caliyah's best days were the days she stayed in the hospital after birth, and that the baby was "doomed" as soon as she was taken home.
"That child was doomed the moment they left that hospital. They took pure innocence and brought that child into a life of hell."
(Reporting by CrimeOnline)
Actress Felicity Huffman Pleads Guilty In College Admissions Scheme
BOSTON (AP) — "Desperate Housewives" star Felicity Huffman has pleaded guilty to participating in the college admissions cheating scheme.
---
The 56-year-old actress entered the plea Monday to a charge of conspiracy to commit mail fraud and honest services mail fraud.
Huffman stood with her hands clasped in front of her and responded, "Yes, your honor," when asked whether she understood the charges. Her brother watched from the front row. Her husband, actor William H. Macy, didn't attend.
Sentencing is set for Sept. 13. Prosecutors said they would recommend four months in prison.
She was arrested in March along with dozens of other prominent parents, athletic coaches and others implicated in the scandal. She was charged with paying $15,000 to have a proctor boost her older daughter's SAT score.
She has apologized and says she will accept the consequences.
'Anna Delvey,' Fake Heiress Who Swindled N.Y.'s Elite, Is Sentenced to 4 to 12 Years in Prison
Anna Sorokin, who pretended to be a German heiress, bilked Manhattan hotels, banks and a private jet operator.
Anna Sorokin, the fake German heiress who swindled her way into Manhattan's elite party circles, was sentenced on Thursday to four to 12 years in prison for bilking hotels, banks and a private jet operator out of hundreds of thousands of dollars.
The sentencing capped a case of a young grifter who spun her tale with brazen flair. Ms. Sorokin wore designer clothes, lived in boutique hotels, dined in expensive restaurants and lured investors for a $40 million private club — all without a penny to her name.
She has been held on Rikers Island since October 2017. Ms. Sorokin, 28, was convicted last month of most of the charges against her.
Her lawyer, Todd Spodek, said during that trial that Ms. Sorokin was simply an enterprising business-minded woman eager to make it in the big city.
But jurors agreed with prosecutors that her gilt-edged life was an elaborate ruse financed by lies.
In addition to the prison sentence, Ms. Sorokin was fined $24,000 and ordered to pay restitution of about $199,000.
"I apologize for the mistakes I made," she said at the sentencing.
Ms. Sorokin stiffed hotels, persuaded a bank employee to give her a $100,000 line of credit, swayed a private jet company to let her fly on credit, and tried to secure a $25 million loan from a hedge fund. In all, she stole about $213,000 worth of money and services.
Still, the jury found her not guilty of the most serious offense — faking records in an attempt to obtain a $22 million loan. She was also acquitted of stealing from a friend who said Ms. Sorokin duped her into covering the cost of a $60,000 vacation to Morocco.
To many friends, there was every reason to believe that Ms. Sorokin was a wealthy German heiress named Anna Delvey with so much money that she frequently doled out $100 tips and flew on a private jet to Berkshire Hathaway's annual investment conference.
But Kaegan Mays-Williams, a prosecutor, said during the trial that Ms. Sorokin's only goal was to "put herself in the best position to take money" from the wealthy so that she could "live the fantasy of an extravagant lifestyle."
Mr. Spodek said people believed what they wanted about Ms. Sorokin. She was enabled, he said, by a system "seduced by glamour and glitz." She intended to pay back her creditors, he said.
"Through her sheer ingenuity, she created the life that she wanted for herself," he said. "Anna was not content with being a spectator, but wanted to be a participant."
(Reporting by New York Times)