Homeless Man admits stealing from a gran as her grandaughter lay dying yards away after Manchester terror attck
Chris Parker, 33, admits stealing purse belonging to seriously injured woman whose granddaughter died in attack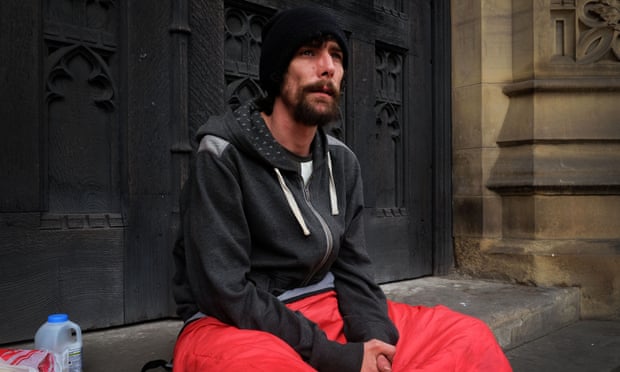 ---
This article titled "Homeless man who was hailed as hero admits Manchester bombing thefts" was written by Helen Pidd North of England editor, for The Guardian on Wednesday 3rd January 2018 12.34 UTC
A homeless man hailed as a hero after the Manchester Arena bombing has admitted stealing from victims of the attack.
Chris Parker, 33, pleaded guilty at Manchester crown court on Wednesday and was told by the judge to expect a prison sentence.
Parker admitted two counts of theft and one count of fraud. He stole a purse belonging to Pauline Healey, who was seriously injured in the blast, and then used her bank card at a McDonald's in Manchester in the following days.
Healey's 14-year-old granddaughter Sorrell Leczkowski died in the attack on 22 May.
Parker also admitted stealing a mobile phone belonging to a teenage girl caught up in the attack, who cannot be named.
More than £50,000 was raised for him as part of a crowdfunding effort following the attack after he told journalists he had rushed to help the victims.
But CCTV showed him rifling through Healey's bag as her granddaughter lay dying. He never received the money raised for him.
Parker had been due to stand trial on Tuesday but failed to show up. The court heard he had not been seen since shortly after Christmas when he was discharged from Calderdale hospital in West Yorkshire. His electronic tag was found in an empty soup tin outside his bail hostel in Halifax and a warrant was issued for his arrest.
Early on Wednesday morning he was found by police hiding in a loft in Halifax and was brought to court, where he changed his plea to guilty.
The court heard that Parker had failed to answer bail on a number of occasions over the past month and had sent text messages to his mother and ex-partner saying he intended to avoid going to court.
In one message he suggested he was going to commit a robbery "and go on the run". In another he suggested he was going to hurt himself.
At earlier court hearings, Parker loudly protested his innocence and insisted he had done nothing wrong. But he had a change of heart on Wednesday.
Had his case gone to trial the jury would have seen CCTV footage of Parker at the Arena shortly after the bomb went off. Wearing a woolly hat and carrying a rucksack, he could be seen circling the victims, who were scattered across the foyer and lying in pools of blood.
At one point he appeared to kick a handbag across the floor and then go and look into it. He could also be seen looking through a coat left on a staircase.
The jury would also have seen photographs Parker took on his own mobile phone and subsequently tried to sell to the media. They included a shot of Healey next to Sorrell and Sorrell's mother, Samantha, who was also injured. Another photograph showed what appeared to be a nail, which may have been used as shrapnel in the bomb which killed 22 people.
The family, from Leeds, had not attended the concert but had come to pick up others who had.
Parker faced eight counts in total but denied five offences, including attempting to steal a coat and a bag and using Healey's Yorkshire Bank card at Tesco on Deansgate in Manchester and to buy a public transport ticket.
The prosecution decided to accept Parker's three guilty pleas and not to proceed to trial on the other five counts.
Parker was widely hailed in the media as a hero in the aftermath of the bombing after he described cradling a dying woman.
The day after the bombing, Parker gave an interview to the Press Association saying he had been begging in the foyer area of the arena at the time of the blast. He said: "It knocked me to the floor and then I got up and instead of running away, my gut instinct was to run back and try and help."
A total of 3,799 people pledged £52,589 for Parker in the days after the attack via a crowdfunding campaign. Michael Johns, who started the GoFundMe campaign, invited members of the public to donate money in "an effort to help one of our most vulnerable in society who showed great selflessness and courage".
After Parker was charged, Johns told the Guardian he had yet to receive the money, and that the fund would "likely to be rolled up within a matter of hours in the event of a guilty verdict/plea".
Parker will be sentenced on 30 January. The judge, David Hernandez, said: "A custodial sentence is most likely in this case."
The court heard Parker has an extensive criminal record dating back to 2000 and has been convicted of offences including shoplifting, theft and criminal damage. In January 2016 he was found guilty of battery and theft from a dwelling and made the subject of a restraining order.
In July another man, Michael Popik, 24, was jailed after being caught using bank cards stolen from Healey. He did not steal the cards but was captured on CCTV using them at several outlets in the weeks following the attack.
guardian.co.uk © Guardian News & Media Limited 2010
Published via the Guardian News Feed plugin for WordPress.
Police step up patrols in London as spate of violent crime continues
Extra patrols working on bank holiday as mother of latest victim calls for end to violence
This article titled "Met steps up patrols amid series of violent incidents across UK" was written by Jamie Grierson, for The Guardian on Monday 7th May 2018 15.19 UTC
The Metropolitan police increased the number of police officers on the streets over the bank holiday weekend as London's violent crimewave showed no signs of abating, with one teenager shot dead and another caught in crossfire in a separate incident. There were also a number of violent incidents in other parts of the country.
As temperatures hit record levels for the early May bank holiday, the Met grappled with shootings, stabbings and acid attacks across the city.
The recently appointed home secretary, Sajid Javid, vowed to work with anyone determined to tackle serious violence, while the London mayor, Sadiq Khan, hit out at the failure of government ministers to tackle the problem.
Javid, whose predecessor, Amber Rudd, unveiled a serious violence strategy as one of her final acts as home secretary, tweeted: "Appalling to hear about children being killed and injured on our streets this bank holiday. Serious violence is robbing too many young people of their futures. I will work with anyone determined to tackle it."
The Met said extra patrols would be working on Monday to keep the capital's streets safe after a series of incidents on Saturday and Sunday.
Rhyhiem Ainsworth Barton, 17, was killed on Saturday. Paramedics and police were called to reports of gunshots on Cook's Road in Kennington, south London, just after 6pm. Rhyhiem was found on nearby Warham Street with a gunshot injury.
His mother, Pretana Morgan, called for the violence to end. "Let my son be the last and be an example to everyone," she said. "Just let it stop. What must be, must be.
"It's not about race, it's not about nation, it's not about culture. Nothing. It's just a human race. Just one human race. So children, please let my son be the last."
She said Rhyhiem was not in a gang and he had been trying to make a difference by learning to work with children. He was also an aspiring architect. No arrests have been made in connection with his death.
On Sunday a 13-year-old boy was struck in the head by shotgun pellets as he walked along a street with his parents in Wealdstone, north-west London. Police said they believed the teenager was an innocent bystander after a 15-year-old boy was attacked nearby.
Both teenagers suffered non-life-threatening injuries, and the younger one has been released from hospital. Officers have been made aware of a possible third victim who may have been at the scene with the 15-year-old.
DCS Simon Rose, the Harrow borough commander, said: "This was a callous, reckless and brazen act, without any thought by those responsible for the fact that there were families with children and people in the high street enjoying their weekend. This was quite simply appalling."
In east London, a man believed to be 17 years old was taken to an east London hospital after being stabbed on Leytonstone Road. His condition was initially deemed critical, police said, but is now thought to be not life-threatening. His family has been informed and detectives from Newham CID are investigating.
A 43-year-old man was also stabbed in Perivale, in north west London, after a dispute about driving.
Police said the man was attacked on Buckingham Avenue at around 9pm on Sunday after a number of residents questioned a man in a blue car about the nature of his driving in the small residential street.
Three people were injured in a "noxious substance" incident after an altercation between two groups in east London at around 5.20am on Sunday.
Police are investigating whether the men, aged 22 and 27, and a 17-year-old boy suffered life-changing injuries in the incident in Shacklewell Lane, Hackney.
In another incident in south-east London on Sunday, police were flagged down by a member of the public in New Cross Road just before 6.30pm, where they found a 22-year-old man with gunshot wounds. He was taken by ambulance to a central London hospital where his condition was not life-threatening, according to Scotland Yard.
Police said: "At this early stage, it is believed that two male suspects riding one moped shot the victim … Officers retain an open mind as to any motive."
Outside the capital, two men died in stabbings in Liverpool and Luton during the bank holiday weekend. Fatah Warsame, 20, from Cardiff, died after being stabbed in Liverpool city centre early on Sunday morning. On Sunday evening a 20-year-old man was killed in Bishopscote Road, Luton.
In Macclesfield, a 37-year-old man died after suffering knife injuries on Sunday evening. Cheshire police said a 15-year-old boy and 29-year-old man were arrested as part of their investigation into the incident.
Rudd launched the serious violence strategy last month amid controversy over the potential link between dwindling police numbers and the rise in crime. The strategy is to be backed by £40m of Home Office funding and a new offensive weapons bill to ban the sale of corrosive liquids to under-18s and introduce tougher restrictions on buying knives online. It will focus heavily on the links between illegal drug markets, particularly for crack cocaine, and violent crime.
Khan, who has faced criticism from some for the increase in violence since he became London mayor, said he was "doing all I can to compensate for the failure of government ministers" on the issue.
guardian.co.uk © Guardian News & Media Limited 2010
Published via the Guardian News Feed plugin for WordPress.
Explosion in Westchester Heights, New York
An explosion in Westchester Heights, New York has injured at least one person.
Suspicious package found near scene, bomb squad are en route to scene.
Shots fired at shopping mall in Nashville
Metro Nashville Police Department officials have responded to a shooting call at Opry Mills Mall.