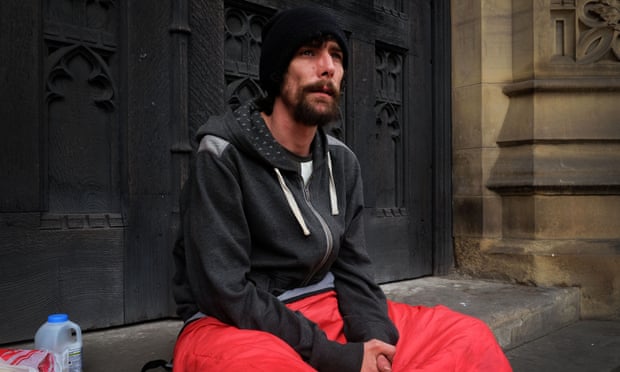 ---
This article titled "Homeless man who was hailed as hero admits Manchester bombing thefts" was written by Helen Pidd North of England editor, for The Guardian on Wednesday 3rd January 2018 12.34 UTC
A homeless man hailed as a hero after the Manchester Arena bombing has admitted stealing from victims of the attack.
Chris Parker, 33, pleaded guilty at Manchester crown court on Wednesday and was told by the judge to expect a prison sentence.
Parker admitted two counts of theft and one count of fraud. He stole a purse belonging to Pauline Healey, who was seriously injured in the blast, and then used her bank card at a McDonald's in Manchester in the following days.
Healey's 14-year-old granddaughter Sorrell Leczkowski died in the attack on 22 May.
Parker also admitted stealing a mobile phone belonging to a teenage girl caught up in the attack, who cannot be named.
More than £50,000 was raised for him as part of a crowdfunding effort following the attack after he told journalists he had rushed to help the victims.
But CCTV showed him rifling through Healey's bag as her granddaughter lay dying. He never received the money raised for him.
Parker had been due to stand trial on Tuesday but failed to show up. The court heard he had not been seen since shortly after Christmas when he was discharged from Calderdale hospital in West Yorkshire. His electronic tag was found in an empty soup tin outside his bail hostel in Halifax and a warrant was issued for his arrest.
Early on Wednesday morning he was found by police hiding in a loft in Halifax and was brought to court, where he changed his plea to guilty.
The court heard that Parker had failed to answer bail on a number of occasions over the past month and had sent text messages to his mother and ex-partner saying he intended to avoid going to court.
In one message he suggested he was going to commit a robbery "and go on the run". In another he suggested he was going to hurt himself.
At earlier court hearings, Parker loudly protested his innocence and insisted he had done nothing wrong. But he had a change of heart on Wednesday.
Had his case gone to trial the jury would have seen CCTV footage of Parker at the Arena shortly after the bomb went off. Wearing a woolly hat and carrying a rucksack, he could be seen circling the victims, who were scattered across the foyer and lying in pools of blood.
At one point he appeared to kick a handbag across the floor and then go and look into it. He could also be seen looking through a coat left on a staircase.
The jury would also have seen photographs Parker took on his own mobile phone and subsequently tried to sell to the media. They included a shot of Healey next to Sorrell and Sorrell's mother, Samantha, who was also injured. Another photograph showed what appeared to be a nail, which may have been used as shrapnel in the bomb which killed 22 people.
The family, from Leeds, had not attended the concert but had come to pick up others who had.
Parker faced eight counts in total but denied five offences, including attempting to steal a coat and a bag and using Healey's Yorkshire Bank card at Tesco on Deansgate in Manchester and to buy a public transport ticket.
The prosecution decided to accept Parker's three guilty pleas and not to proceed to trial on the other five counts.
Parker was widely hailed in the media as a hero in the aftermath of the bombing after he described cradling a dying woman.
The day after the bombing, Parker gave an interview to the Press Association saying he had been begging in the foyer area of the arena at the time of the blast. He said: "It knocked me to the floor and then I got up and instead of running away, my gut instinct was to run back and try and help."
A total of 3,799 people pledged £52,589 for Parker in the days after the attack via a crowdfunding campaign. Michael Johns, who started the GoFundMe campaign, invited members of the public to donate money in "an effort to help one of our most vulnerable in society who showed great selflessness and courage".
After Parker was charged, Johns told the Guardian he had yet to receive the money, and that the fund would "likely to be rolled up within a matter of hours in the event of a guilty verdict/plea".
Parker will be sentenced on 30 January. The judge, David Hernandez, said: "A custodial sentence is most likely in this case."
The court heard Parker has an extensive criminal record dating back to 2000 and has been convicted of offences including shoplifting, theft and criminal damage. In January 2016 he was found guilty of battery and theft from a dwelling and made the subject of a restraining order.
In July another man, Michael Popik, 24, was jailed after being caught using bank cards stolen from Healey. He did not steal the cards but was captured on CCTV using them at several outlets in the weeks following the attack.
guardian.co.uk © Guardian News & Media Limited 2010
Published via the Guardian News Feed plugin for WordPress.
Click here for reuse options!


Copyright 2018 News This Second Online
Trump directs Justice Department to ban gun modifications like bump stocks used in Las Vegas massacre
President Trump directs Justice Department to ban gun modifications like bump stocks used in Las Vegas massacre.
"Just a few moments ago, I signed a memorandum directing the Attorney General to propose regulations to ban all devices that turn legal weapons into machine guns," Trump said. "I expect that these critical regulations will be finalized, Jeff, very soon."
Trump spoke immediately after White House press secretary Sarah Sanders indicated that a decision would be released this week to implement that order.
Twelve of the rifles the gunman in the Las Vegas mass shooting had in his 32nd-floor hotel room were each modified with a "bump stock," an attachment that enables a semiautomatic rifle to fire faster. The same weapon was also used by Sandy Hook shooter Adam Lanza to kill 20 children at the elementary school in 2012
A "bump stock" replaces a rifle's standard stock, which is the part held against the shoulder. It frees the weapon to slide back and forth rapidly, harnessing the energy from the kickback shooters feel when the weapon fires.
The firing range at the National Rifle Association headquarters, like many ranges across the nation, bans the use of bump fire systems
Click here for reuse options!


Copyright 2018 News This Second Online
Florida gunman trained with white supremacist militia group before school shooting
A spokesperson for the white supremacist group Republic of Florida (ROF) told the Anti-Defamation League on Thursday, February 15, that Nikolas Cruz, the man charged with the previous day's deadly shooting spree at a Parkland, Florida, high school, was associated with his group.
On Wednesday, February 14, Cruz, 19, a former student at Marjory Stoneman Douglas High School, allegedly entered the school with an AR-15 and opened fire, killing at least 17 people and injuring 14 more. Cruz left the scene but was later captured by police and has been charged with premeditated murder.
After  self-described ROF members claimed on the discussion forum 4chan that Cruz had also been a member, the Anti-Defamation League called the ROF hotline and spoke with an ROF member who identified himself as Jordan Jereb.
Jereb, based in Tallahassee, is believed to be the leader of ROF.  In 2016, he was arrested on charges of threatening a staffer in the office of Florida Governor Rick Scott because he was allegedly angry at the staffer's son.
Jereb said that Cruz was associated with ROF, having been "brought up" by another member.  Jereb added that Cruz had participated in one or more ROF training exercises in the Tallahassee area, carpooling with other ROF members from south Florida.
ROF has members in north and south Florida. The alt right white supremacist group borrows paramilitary concepts from the anti-government extremist militia movement (not itself a white supremacist movement).  ROF describes itself as a "white civil rights organization fighting for white identitarian politics" and seeks to create a "white ethnostate" in Florida.  Most ROF members are young and the group itself is only a few years old.
Jereb added that ROF had not ordered or wanted Cruz to do anything like the school shooting.
(Anti-Defamation League)
Click here for reuse options!


Copyright 2018 News This Second Online
Six firefighters accused of gang raping a teenage girl are facing only misdemeanor charges.
Six volunteer firefighters in Virginia, including two department leaders, accused of allegedly gang-raping a 17-year-old girl — and then posting video of it on social media – have been charged in connection with the case, Virginia State Police confirmed on Tuesday.
Police have charged 26-year-old Nathan Hirschberg, 24-year-old Andrew Key, 36-year-old Dale King, 21-year-old Bradly Marlin, 32-year-old Christopher Pangle and 25-year-old Fabian Sosa with contributing to the delinquency of a minor. The misdemeanour could bring up to 12 months in jail and/or $2,500 in fines.
King is the Strasburg Fire Department's Fire Chief. Pangle is the department's operations captain.
Click here for reuse options!


Copyright 2018 News This Second Online