Man found dead after fall at Canary Wharf construction site
Police launch investigation after unidentified man reportedly falls into trench in London's banking district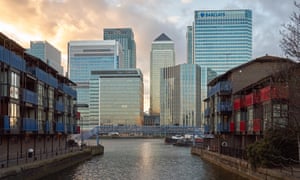 ---
This article titled "Man found dead after fall at Canary Wharf construction site" was written by Haroon Siddique, for theguardian.com on Tuesday 2nd January 2018 12.14 UTC
Police are investigating after a man fell to his death on a construction site in London's banking district.
A body was found by construction workers on Tuesday morning in a trench on the Canary Wharf site. His death is not being treated as suspicious.
A Metropolitan police spokesman said: "Police in Tower Hamlets are dealing with an unexplained death. Officers were called on Tuesday 2 January at 8.46am to a construction site in Bank Street, Westferry Road.
"The body of a man had been found after apparently falling into a deep trench at the location. The London ambulance service and London fire brigade attended the scene.
"The man was pronounced dead at the scene, his body has not yet been recovered. He is not thought to have been a member of construction staff."
The man's body was discovered on the first day back at work after the Christmas and new year break for many people. It is unclear whether he fell on Tuesday morning or if his body had been lying there for some time. He has not yet been identified.
An London ambulance service spokeswoman said: "We were called at 8.52am to Bank Street, Tower Hamlets, to reports of a person fallen from height. We sent our hazardous area response team, an incident response officer and an ambulance crew to the scene. Sadly, the patient was dead at the scene."
guardian.co.uk © Guardian News & Media Limited 2010
Published via the Guardian News Feed plugin for WordPress.
Trump Says He'll Make a 'Major Announcement' Saturday Afternoon About Shutdown, Border
Washington (AP) — Trump says he will make a 'major announcement' on Saturday afternoon about the government shutdown and border security.
Trump Administration Separated Thousands More Migrants Than Previously Known
The Trump Administration separated thousands more migrant kids from their families at the border than it previously acknowledged, and the separations started months before the policy was announced, according to a federal audit released Thursday morning.
"More children over a longer period of time" were separated at the border than commonly known, an investigator with the Department of Health and Human Services inspector general's office told reporters Thursday morning.
"How many more children were separated is unknown, by us and HHS" because of failures to track families as they were being separated, he said.
HHS officials involved in caring for the separated children and reunifying families estimated "thousands" of additional children are separated at the border, the inspector general said.
The report sheds new light on the Trump administration's efforts to deter border crossings by separating migrant families. House Democrats who've condemned the separations as inhumane have vowed to investigate the administration's handling of the policy and its health effects on separated children, and the inspector general said additional investigations are in the works.
The inspector general report said some family separations continued, even after President Donald Trump in June 2018 ended the policy amid uproar and a federal court ordered his administration to reunify the families. The June 2018 court order called on the administration to reunify about 2,500 separated children in government custody. Most of those families were reunited within 30 days.
However, HHS received at least 118 separated children between July and early November, according to the report. DHS provided "limited" information about the reason for those separations. In slightly more than half of those cases, border officials cited the parent's criminal history as a reason to separate the families, although they did not always provide details. The court order requiring reunifications said family separations should only occur if border officials could specify when parents posed possible dangers to children or were otherwise unfit to care for them, the inspector general noted.
Federal investigators said they had no details about how many of the "thousands of separated children" who entered the care of HHS before the June 2018 court order had been reunited.
"We have no information about the status of the children who were released prior to the court order," Maxwell told reporters. [POLITICO]
Prince Phillip Involved in Car Crash
#BREAKING Duke of Edinburgh involved in car crash near Sandringham Estate but not injured, Buckingham Palace says.