Iran's enemies to blame for unrest, says supreme leader, as nine die overnight
Ayatollah Ali Khamenei accuses foreign powers of 'deploying every means at their disposal', amid intensifying crackdown on protesters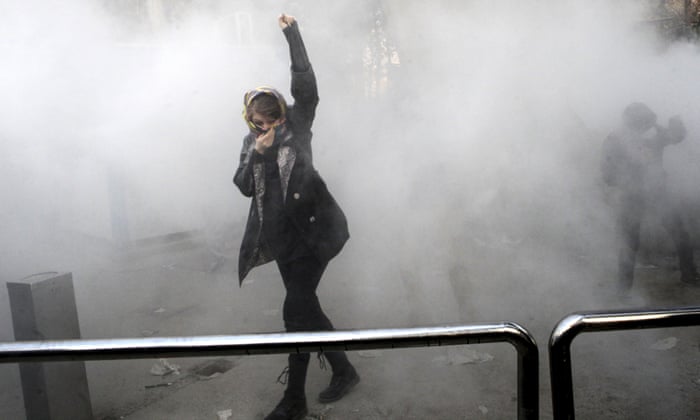 ---
This article titled "Iran's enemies to blame for unrest, says supreme leader, as death toll rises" was written by Saeed Kamali Dehghan and Julian Borger, for The Guardian on Tuesday 2nd January 2018 20.09 UTC
Iran's supreme leader has blamed the Islamic Republic's enemies for nationwide unrest, as authorities cracked down with increasing intensity on protesters, leading to the death toll rising.
"In the events of the past few days, the enemies of Iran are deploying every means at their disposal including money, arms and political and intelligence support to coordinate making troubles for the Islamic establishment," Ayatollah Ali Khamenei said in his first public remarks since the protests began on Thursday.
Videos posted on social networks suggest riot police and protesters are becoming more confrontational. In a sign that the rhetoric is also hardening, Esmail Kowsari, a senior Revolutionary Guards commander, vowed that the elite forces would crush those he said were disturbing the country's security. In the event that the unrest continued, "the authorities will undoubtedly make a decision and finish the business", Kowsari said.
The US ambassador to the United Nations, Nikki Haley, called for international action in solidarity with the demonstrators and said the US would seek emergency UN sessions on Iran.
Haley, one of the most hawkish figures on Iran in the Trump administration, rejected Khamenei's comments, saying the protests were "completely spontaneous".
"By the thousands, Iranian citizens are taking to the streets to protest the oppression of their own government. It takes great bravery for the Iranian people to use the power of their voice, especially when their government has a long history of murdering its own people who dare to speak the truth," Haley said. "We must not be silent,. The people of Iran are crying out for freedom."
The US Department of State spokeswoman, Heather Nauert, later denied that the US was calling for regime change, saying it was simply backing the right of the protesters to demand changed policies from their government.
The demonstrations, the largest seen in Iran since its disputed 2009 presidential election, resumed on Tuesday evening for the sixth consecutive day.
The protests began on Thursday when opponents of Iran's moderate president, Hassan Rouhani, gathered in north-eastern Iran to demonstrate over economic grievances. They then spread nationwide and took on more of an anti-regime dimension, including anti-Khamenei chants.
An intervention by Rouhani on Sunday, when he acknowledged the discontent, failed to quell the anger. Monday night's disturbances were the most violent so far.
At least 21 people are now thought to have died across the country. More than 450 people have been arrested in Tehran alone since Saturday – nationwide figures have not been released.
The UN secretary general, Antonio Guterres, expressed his "regret" at the rising death toll and called on Tehran to respect the rights of peaceful protesters. "We expect that the rights to peaceful assembly and expression of the Iranian people will be respected," his spokesman said.
A senior Iranian official directly blamed Saudi Arabia, Iran's regional rival, for the demonstrations.
Ali Shamkhani, the secretary of Iran's supreme national security council, told a Lebanese Arabic-language TV channel that the number of messages on social networks sent online via Saudi Arabia showed the country was involved. He warned that Iran would retaliate with "an appropriate response" in due course.
In the first intervention of its kind, the actor Taraneh Alidoosti – famous for her collaboration with Iran's Oscar-winning director Asghar Farhadi – called on Twitter for the authorities to refrain from using violence against protesters and instead to understand their anger and find a way to calm the situation.
State TV and semi-official news agencies that used relatively conciliatory language last week are increasingly referring to the protesters as mobs who want to destroy public property. On Tuesday judicial authorities gave an ultimatum to protesters, threatening harsher sentences if the unrest continued.
State television said six protesters had been killed overnight as they tried to attack a police station in the town of Qahderijan in the central Isfahan region. It also said an 11-year-old boy and a 20-year-old man had been killed in the town of Khomeinishahr, while a member of Iran's paramilitary militia was killed in the town of Najafabad. None of the reports could be confirmed independently.
Observers reported riot police riding on motorbikes and wielding batons on the streets of Tehran. Similar scenes were reported in other cities.
A Tehrani man who drives a taxi for Snapp, Iran's equivalent of Uber, told the Guardian that motorbike-riding security guards with batons had been out in full force in Tehran on Monday night.
"I was out at 8 or 9pm and the atmosphere was tense. In Tehran the riot police was unleashed near Vanak Square, in Enghelab Street and in Naziabad," he said. "I was in Vanak Square at 5pm and it was full of security guards."
The driver said the protests were more widespread in the provinces than in Tehran because working class people in the provinces were the most affected by Iran's economic problems. "In Kermanshah [in the west of Iran] there was an earthquake recently and a lot of those affected are still living outside," he said. "In Ahwaz, 30 years after the [Iran-Iraq] war, the situation is still bad.
"The city of Arak has many industries and a lot of people are without jobs. One of my relatives works for a petrochemical company in Arak – they haven't got salaries for a few months now, that's why they're out … Gradually people are getting fed up and raising their voice."
Rouhani spoke with a number of parliamentarians on Monday in a meeting that officials insisted had been planned before the protests began. The president acknowledged anger over the country's flagging economy, although he and others warned that the government would not hesitate to crack down on those it considered lawbreakers.
The Economist Intelligence Unit, a UK-based advisory business, said rising inflation and a recent increase in food prices were to blame for the protests, as well as a lack of economic development. Youth unemployment remained at about 40%, the EIU noted, despite a promise by the Rouhani administration that the 2015 nuclear deal would help to create jobs and improve people's living standards.
The scale and speed at which the protests have spread across Iran have puzzled many in the country, including reformists who are critical of the political atmosphere but are wary of any move towards regime change.
Iran blocked access to social networks including Telegram and Instagram on Sunday but insisted the move was temporary. On Tuesday the US urged Iran to stop blocking social media and advised its citizens to set up virtual private networks, or VPNs, to circumvent censorship.
One of Iran's most outspoken MPs, Mahmoud Sadeghi, said on Twitter he had urged the interior ministry not to link the protests with foreign powers, and instead to improve the economic situation, open up state television to diverse opinions and lift restrictions on regime critics.
In his latest tweet on the ongoing unrest, Donald Trump praised protesters for acting against Tehran's "brutal and corrupt" regime. "The people have little food, big inflation and no human rights. The US is watching!" Trump wrote. Iran's foreign ministry responded by saying the US president should focus on "homeless and hungry people" in his own country rather than insulting Iranians.
A spokeswoman for the EU foreign policy chief, Federica Mogherini, said the EU had been touch with authorities in Iran. "We expect that the right to peaceful demonstration and freedom of expression will be guaranteed," she said.
guardian.co.uk © Guardian News & Media Limited 2010
Published via the Guardian News Feed plugin for WordPress.
7.3 Earthquake hits New Britain island in Papua New Guinea
7.3 Earthquake hits New Britain island in Papua New Guinea.
Preliminary reports warn tsunami waves could hit areas within 300km of the earthquake's epicentre.
The quake hit off the coast New Britain region of Papua New Guinea earlier today. (Daily Star)
This is a breaking story and will be updated shortly
NY Man Planned to Blow Himself Up at Washington Mall
Police and FBI agents searched a Hudson Valley home Wednesday after learning about a man who was allegedly building a bomb in order to blow himself up in Washington D.C., two law enforcement officials told News 4 New York.
Investigators said they were concerned the man, identified as Paul Rosenfeld, at the home on Slocum Avenue in Orangetown was in the process of acquiring bomb parts.
Officials tell News 4 Rosenfeld had no criminal history but had told a reporter in Pennsylvania he planned to blow himself up on the Washington Mall around Election Day because he was angry about the country's direction. 
He had no plans to hurt anyone else, officials said. He is believed to be a lone actor not affiliated with any international terror group or ideology. 
Full Article at https://nts24.co.uk/2A2oWjM 
Trump 'demanding' answers from Saudis about missing writer
WASHINGTON (AP) — President Donald Trump said Wednesday the U.S. is "demanding" answers from Saudi Arabia about the disappearance of a well-known Saudi writer and government critic Turkish authorities say was slain inside his country's diplomatic mission in Istanbul.
Trump said he plans to invite to the White House the fiancée of Jamal Khashoggi, a writer for The Washington Post who has not been seen since he entered the Saudi consulate on Oct. 2 to get paperwork for his marriage.
Members of Congress have grown increasingly insistent that the administration find out what happened to Khashoggi. The Saudi government has become a closer ally under Trump and some lawmakers warn that relations could be jeopardized if it turns out the kingdom was involved in his disappearance.
Trump told reporters in the Oval Office that he has a call in to the fiancée, Hatice Cengiz, who had been waiting outside the consulate when Khashoggi went inside and has appealed to the president and first lady Melania Trump for help.
Trump said nobody knows exactly what happened and expressed hope that Khashoggi is not dead. He also said he had spoken with the Saudis about what he called a "bad situation," but he did not disclose details of his conversations.
Saudi Arabia denies involvement in the disappearance of Khashoggi, a former insider in Saudi government circles who has been living in self-imposed exile in the U.S. for the past year after fleeing a crackdown on intellectuals and activists in the country.
White House press secretary Sarah Huckabee Sanders said White House national security adviser John Bolton and White House senior adviser Jared Kushner spoke on Tuesday to Saudi Arabian Crown Prince Mohammed bin Salman about Khashoggi. Secretary of State Mike Pompeo then had a follow-up call with the crown prince to reiterate the U.S. request for information.
While angry members of Congress likely won't cause the administration to turn away from Prince Mohammed and end decades of close security ties with Saudi Arabia, they could throw a wrench into arms sales that require their approval and demand the U.S. scale back support for the Saudi military campaign against Iran-backed rebels in Yemen.
Republican Sen. Bob Corker, chairman of the Senate Foreign Relations Committee, said "there will definitely be consequences" if it turns out the Saudis were involved in Khashoggi disappearance. Republican Sen. Lindsey Graham of South Carolina said it would be "devastating" to the U.S.-Saudi relationship.
Sen. Chris Murphy, D-Conn, said if Saudi Arabia had lured a U.S. resident into a consulate and killed him, "it's time for the United States to rethink our military, political and economic relationship with Saudi Arabia." But he said it was unclear whether the Trump administration was willing to "go beyond words."
Sen. Rand Paul, R-Ky., a longtime critic of the Saudi government, said he'll try to force a vote in the Senate this week blocking U.S. arms sales to Saudi Arabia. He told local radio in his home state Tuesday that he wants to end the arms shipments if there's "any indication" the Saudis are "implicated in killing this journalist that was critical of them."
Trump's comments Wednesday were the toughest yet from his administration on the Khashoggi case. Officials have expressed concern but refused even to entertain questions about what the consequences would be if Turkish allegations turn out to be true. Pompeo has called on the Saudi government to conduct a thorough investigation and to be transparent about its results.
The reaction from European governments has also been cautious. British Foreign Secretary Jeremy Hunt told his Saudi counterpart that if media reports about Khashoggi were correct, it "would be extremely concerning and the U.K. will treat the incident very seriously," according to the Foreign Office.
The Saudi ambassador to Washington, Prince Khalid bin Salman bin Abdulaziz, has described the allegations as "malicious leaks and grim rumors" and said the kingdom is "gravely concerned" about Khashoggi. Saudi officials maintain he left the consulate shortly after entering, although it has failed to provide evidence.
Washington Post CEO and publisher Fred Ryan said reports suggested the journalist was victim of "state-sponsored, cold-blooded murder." He demanded answers in a statement Tuesday, saying "Silence, denials and delays are not acceptable."
Analysts said there were reasons for skepticism about the Turkish account. Ties between Ankara and Riyadh are at a low point over Turkey's support for Qatar in that country's yearlong dispute with Saudi Arabia and other Gulf nations. Saudi Arabia, a Sunni Muslim power, is also annoyed by Ankara's rapprochement with the kingdom's Shiite archrival, Iran.
Saudi authorities' failure to provide video footage of Khashoggi's movements at the consulate to rebut the Turkish allegations have only deepened suspicions.
The Trump administration, from the president on down, is heavily invested in the Saudi relationship. That's unlikely to change, said Robin Wright, a scholar at the Wilson Center think tank and close friend of the missing writer. The administration's Middle East agenda heavily depends on the Saudis, including efforts to counter Iranian influence in the region, fight extremism and build support for an expected plan for peace between Israel and the Palestinians.
Indication of those stakes came within four months of Trump taking office, when Saudi Arabia became his first destination on a presidential trip and he announced $110 billion in proposed arms sales.
Prince Mohammed has introduced some economic and social reforms, allowing women to drive and opening movie theaters in the deeply conservative Muslim nation. The flip side, however, is that he's also squelched dissent and imprisoned activists. He has championed the three-year military campaign against Iranian-backed Houthi rebels in Yemen that has pushed that nation toward famine and caused many civilian deaths.
Still, the Trump administration last month stood behind its support for that campaign with weapons, logistics and intelligence, certifying that the Saudis were taken adequate steps to prevent civilian despite mounting evidence to the contrary.
Karen Elliott House, a veteran writer on Saudi affairs and chair of the board of trustees at RAND Corp., said U.S. support for the Yemen war is likely to be the focus of congressional criticism but won't endanger a relationship that has endured for decades, underpinned by shared strategic interests. Even under the Obama administration, which had difficult relations with Riyadh compared with Trump, there were some $65 billion in completed arms sales.
"The U.S.-Saudi relationship is certainly not about shared moral values," House said. "It's about shared security interests."
___
Associated Press writers Susannah George, Matthew Lee and Deb Riechmann and video journalist Padmananda Rama contributed to this report.