Iran's enemies to blame for unrest, says supreme leader, as nine die overnight
Ayatollah Ali Khamenei accuses foreign powers of 'deploying every means at their disposal', amid intensifying crackdown on protesters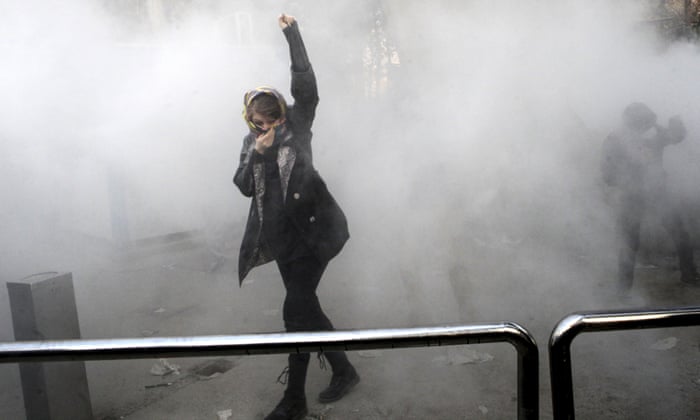 ---
This article titled "Iran's enemies to blame for unrest, says supreme leader, as death toll rises" was written by Saeed Kamali Dehghan and Julian Borger, for The Guardian on Tuesday 2nd January 2018 20.09 UTC
Iran's supreme leader has blamed the Islamic Republic's enemies for nationwide unrest, as authorities cracked down with increasing intensity on protesters, leading to the death toll rising.
"In the events of the past few days, the enemies of Iran are deploying every means at their disposal including money, arms and political and intelligence support to coordinate making troubles for the Islamic establishment," Ayatollah Ali Khamenei said in his first public remarks since the protests began on Thursday.
Videos posted on social networks suggest riot police and protesters are becoming more confrontational. In a sign that the rhetoric is also hardening, Esmail Kowsari, a senior Revolutionary Guards commander, vowed that the elite forces would crush those he said were disturbing the country's security. In the event that the unrest continued, "the authorities will undoubtedly make a decision and finish the business", Kowsari said.
The US ambassador to the United Nations, Nikki Haley, called for international action in solidarity with the demonstrators and said the US would seek emergency UN sessions on Iran.
Haley, one of the most hawkish figures on Iran in the Trump administration, rejected Khamenei's comments, saying the protests were "completely spontaneous".
"By the thousands, Iranian citizens are taking to the streets to protest the oppression of their own government. It takes great bravery for the Iranian people to use the power of their voice, especially when their government has a long history of murdering its own people who dare to speak the truth," Haley said. "We must not be silent,. The people of Iran are crying out for freedom."
The US Department of State spokeswoman, Heather Nauert, later denied that the US was calling for regime change, saying it was simply backing the right of the protesters to demand changed policies from their government.
The demonstrations, the largest seen in Iran since its disputed 2009 presidential election, resumed on Tuesday evening for the sixth consecutive day.
The protests began on Thursday when opponents of Iran's moderate president, Hassan Rouhani, gathered in north-eastern Iran to demonstrate over economic grievances. They then spread nationwide and took on more of an anti-regime dimension, including anti-Khamenei chants.
An intervention by Rouhani on Sunday, when he acknowledged the discontent, failed to quell the anger. Monday night's disturbances were the most violent so far.
At least 21 people are now thought to have died across the country. More than 450 people have been arrested in Tehran alone since Saturday – nationwide figures have not been released.
The UN secretary general, Antonio Guterres, expressed his "regret" at the rising death toll and called on Tehran to respect the rights of peaceful protesters. "We expect that the rights to peaceful assembly and expression of the Iranian people will be respected," his spokesman said.
A senior Iranian official directly blamed Saudi Arabia, Iran's regional rival, for the demonstrations.
Ali Shamkhani, the secretary of Iran's supreme national security council, told a Lebanese Arabic-language TV channel that the number of messages on social networks sent online via Saudi Arabia showed the country was involved. He warned that Iran would retaliate with "an appropriate response" in due course.
In the first intervention of its kind, the actor Taraneh Alidoosti – famous for her collaboration with Iran's Oscar-winning director Asghar Farhadi – called on Twitter for the authorities to refrain from using violence against protesters and instead to understand their anger and find a way to calm the situation.
State TV and semi-official news agencies that used relatively conciliatory language last week are increasingly referring to the protesters as mobs who want to destroy public property. On Tuesday judicial authorities gave an ultimatum to protesters, threatening harsher sentences if the unrest continued.
State television said six protesters had been killed overnight as they tried to attack a police station in the town of Qahderijan in the central Isfahan region. It also said an 11-year-old boy and a 20-year-old man had been killed in the town of Khomeinishahr, while a member of Iran's paramilitary militia was killed in the town of Najafabad. None of the reports could be confirmed independently.
Observers reported riot police riding on motorbikes and wielding batons on the streets of Tehran. Similar scenes were reported in other cities.
A Tehrani man who drives a taxi for Snapp, Iran's equivalent of Uber, told the Guardian that motorbike-riding security guards with batons had been out in full force in Tehran on Monday night.
"I was out at 8 or 9pm and the atmosphere was tense. In Tehran the riot police was unleashed near Vanak Square, in Enghelab Street and in Naziabad," he said. "I was in Vanak Square at 5pm and it was full of security guards."
The driver said the protests were more widespread in the provinces than in Tehran because working class people in the provinces were the most affected by Iran's economic problems. "In Kermanshah [in the west of Iran] there was an earthquake recently and a lot of those affected are still living outside," he said. "In Ahwaz, 30 years after the [Iran-Iraq] war, the situation is still bad.
"The city of Arak has many industries and a lot of people are without jobs. One of my relatives works for a petrochemical company in Arak – they haven't got salaries for a few months now, that's why they're out … Gradually people are getting fed up and raising their voice."
Rouhani spoke with a number of parliamentarians on Monday in a meeting that officials insisted had been planned before the protests began. The president acknowledged anger over the country's flagging economy, although he and others warned that the government would not hesitate to crack down on those it considered lawbreakers.
The Economist Intelligence Unit, a UK-based advisory business, said rising inflation and a recent increase in food prices were to blame for the protests, as well as a lack of economic development. Youth unemployment remained at about 40%, the EIU noted, despite a promise by the Rouhani administration that the 2015 nuclear deal would help to create jobs and improve people's living standards.
The scale and speed at which the protests have spread across Iran have puzzled many in the country, including reformists who are critical of the political atmosphere but are wary of any move towards regime change.
Iran blocked access to social networks including Telegram and Instagram on Sunday but insisted the move was temporary. On Tuesday the US urged Iran to stop blocking social media and advised its citizens to set up virtual private networks, or VPNs, to circumvent censorship.
One of Iran's most outspoken MPs, Mahmoud Sadeghi, said on Twitter he had urged the interior ministry not to link the protests with foreign powers, and instead to improve the economic situation, open up state television to diverse opinions and lift restrictions on regime critics.
In his latest tweet on the ongoing unrest, Donald Trump praised protesters for acting against Tehran's "brutal and corrupt" regime. "The people have little food, big inflation and no human rights. The US is watching!" Trump wrote. Iran's foreign ministry responded by saying the US president should focus on "homeless and hungry people" in his own country rather than insulting Iranians.
A spokeswoman for the EU foreign policy chief, Federica Mogherini, said the EU had been touch with authorities in Iran. "We expect that the right to peaceful demonstration and freedom of expression will be guaranteed," she said.
guardian.co.uk © Guardian News & Media Limited 2010
Published via the Guardian News Feed plugin for WordPress.
Legendary singer Aretha Franklin dies at age 76
Legendary singer Aretha Franklin has died.
The 76-year-old Queen of Soul was said to be "surrounded" by her closest friends and family in recent days, after battling extensive health problems in recent years.
The legendary singer was diagnosed with cancer in 2010, and delivered her most recent performance at the Elton John AIDS Foundation party in New York last November.
This is a Breaking News Story.
Timeline:
1954 – Sings her first solo at the New Bethel Baptist Church in Detroit.
1956 – Along with her two sisters, performs backup on her father's gospel recording for Gotham Records.
1960 – Leaves Detroit for New York, signs with Columbia Records and releases first album, "The Great Aretha Franklin."
1967 – Leaves Columbia Records after an unsuccessful attempt at developing a jazz style; signs with Atlantic Records; wins Grammy Award Best R&B Recording for "Respect."
1967-1974 – Wins a total of ten Grammy Awards.
April 9, 1968 – Sings "Precious Lord, Take My Hand" at the funeral of Dr. Martin Luther King Jr.
January 20, 1977 – Performs "God Bless America" at the inauguration gala of President Jimmy Carter.
1980 – Appears in the movie "The Blues Brothers" and performs the song "Think"; leaves Atlantic Records for Arista Records.
1981 – Wins Grammy Award for Best R&B Vocal Performance, Female for "Hold On I'm Comin'."
1985 – Wins Grammy Award for Best R&B Vocal Performance, Female for "Freeway Of Love."
January 3, 1987 – Is the first woman inducted into the Rock and Roll Hall of Fame.
1987 – Wins two Grammy Awards for Best R&B Vocal Performance, Female for "Aretha" and Best R&B Performance by a Duo, with George Michael, "I Knew You Were Waiting (For Me)."
1988 – Wins Grammy Award for Best Soul Gospel Performance, Female for "One Lord, One Faith, One Baptism."
1991 – Receives the Grammy Legend Award.
January 20, 1993 – Performs "I Dreamed a Dream" at the inauguration ball of President Bill Clinton.
1994 – Receives the Grammy Lifetime Achievement Award. She is the youngest recipient of a Kennedy Center Honor at that time.
1997 – Performs an aria from Puccini's La Boheme at the wedding of Vice-President Al Gore's daughter, Karenna.
February 6, 1998 – Reprises her roll of Mrs. Murphy from "The Blues Brothers" in the sequel "The Blues Brothers 2000."
February 25, 1998 – Substitutes for an ailing Luciano Pavarotti at the Grammy Awards performing "Nessun Dorma" by Puccini, unrehearsed.
September 1, 1999 – Publishes an autobiography "Aretha: From These Roots," where she discusses her private and personal life for the first time.
September 22, 1999 – Is named a winner of the National Medal of Arts by the National Endowment for the Arts.
2003 – Wins Grammy Award for Best Traditional R&B Vocal Performance for "Wonderful."
March 2004 – Is hospitalized and released for allergic reaction to antibiotics.
2004 – Starts her own record label, Aretha's Records.
2005 – Wins Grammy Award for Best Traditional R&B Vocal Performance for "A House Is Not A Home."
November 5, 2005 – Is awarded the Presidential Medal of Freedom by President George W. Bush.
2006 – After Franklin points out that no Motown talent was appearing in the Detroit Super Bowl halftime show, the NFL asks her to sing the national anthem along with Aaron Neville prior to the game.
2007 – Wins Grammy Award for Best Gospel Performance for "Never Gonna Break My Faith," shared with Mary J. Blige.
February 10, 2008 – Is Grammy's 2008 MusiCares Person of the Year.
February 14, 2008 – Receives the NAACP Vanguard Award at the annual Image Awards ceremony.
January 20, 2009 – Performs "My Country 'Tis of Thee" at the inauguration of President Barack Obama.
February 2010 – A Snickers commercial starring Franklin and Liza Minnelli airs for the first time.
July 27, 2010 – Appears on stage with former Secretary of State Condoleezza Rice on piano, in Philadelphia, to raise money for charity. Rice is a classical pianist. They perform individually and together, classical, pop and patriotic selections.
August 1, 2010 – Falls in her home, breaking two ribs. The incident forces her to cancel concert appearances for August.
February 25, 2011 – During an interview with Wendy Williams, Franklin reveals a loss of 85 lbs. The ailment that resulted in surgery in December remains undisclosed and a topic of conversation she dismisses with the comment, "I've left that behind, I'm feeling wonderful."
May 3, 2011 – Releases new album, "Aretha: A Woman Falling Out of Love."
October 8, 2014 – Achieves a milestone in music history by becoming the first female to earn her 100th hit on Billboard's Hot R&B song chart with "Rolling in the Deep (The Aretha Version)."
October 21, 2014 – Releases a new album, "Aretha Franklin Sings the Great Diva Classics."
March 5, 2015 – Performs live on the Motown themed episode of American Idol in Detroit.
September 26, 2015 – Franklin sings "Amazing Grace" at the Festival of Families, one of the events sponsored by the Vatican for Pope Francis' visit to Philadelphia.
February 7, 2017 – Franklin announces she will retire from performing in concert after the release of one more album. "I am retiring this year, she told a local television station in Detroit. "I will be recording, but this will be my last year in concert."
Car crashes into security barriers outside Houses Of Parliament
 Armed police surround driver after car smashes into Parliament security barriers
Kremlin "pleased" with Helsinki summit, US and Western intelligence assesses
CNN Reports:
Russian officials were "pleased" with the Helsinki summit between Presidents Donald Trump and Vladimir Putin, US and Western intelligence agencies have found, according to two intelligence sources with knowledge of the assessments.
The assessments, based on a broad range of intelligence, indicate that the Kremlin believes the July 16 summit delivered a better outcome than it had expected, but that Moscow is perplexed that Trump is not delivering more Russia-friendly policies in its aftermath.
The intelligence sources say the Russians were particularly satisfied with the press conference the two leaders gave in Helsinki after Trump and Putin met for about two hours without staff and accompanied only by translators. In the 45-minute press conference, Trump discredited US intelligence and American policies more broadly, saying "the United States has been foolish" about ties with Russia, a country that has engaged in ongoing attacks on US democracy.
A spokesperson for the Office of Director of National Intelligence declined to comment, and the White House did not respond to request for comment.
The administration's decision last week to impose sanctions on Russia for the poisoning of former Russian spy Sergei Skripal and his daughter left Russian officials puzzled that the President is not delivering more favorable policies.
Trump has repeatedly called for warmer relations with Moscow, but the Kremlin is neglecting to factor in the considerable role that Congress and others play in US policy-making, a Western intelligence official said.
Putin spokesperson Dmitry Peskov's comments last week reflected the deflated Russian hopes for improved ties with Washington or at least less punitive US policies.
"President Putin said in Helsinki that Russia still has hopes for the creation of a constructive relationship with Washington…We are sorry that often we are not met with cooperation on this account," Peskov said Aug. 9 in a regular press call with reporters.
Peskov's comments contrasted sharply with the evaluation Russian Foreign Minister Sergei Lavrov offered immediately after the summit, when he said that the talks had been "better than super."
Trump's performance in Helsinki sparked unusually public criticism, even from within his own party.
The administration's decision to impose the sanctions followed a July 26 letter from GOP Congressman Ed Royce, the Chairman of the House Committee on Foreign Affairs, urging the White House to comply with a law requiring the US to levy sanctions against countries that violate the 1991 Chemical and Biological Weapons and Warfare Elimination Act.