'A rolling walking stick': why do so many disabled people cycle in Cambridge?
Cycling may be easier than walking for two-thirds of disabled people, but disabled cyclists often remain invisible to society. Many don't realise that more than a quarter of disabled commutes in this university city are made by bike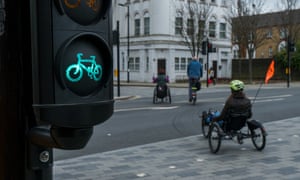 ---
This article titled "'A rolling walking stick': why do so many disabled people cycle in Cambridge?" was written by Laura Laker, for theguardian.com on Tuesday 2nd January 2018 07.30 UTC
Cycle around Cambridge and you'll see upright city bikes and hybrids, tricycles and four-wheeled cargo bikes. What may be surprising is that many of these machines are used as mobility aids: more than a quarter of disabled people's commutes here are by bike.
"Getting around Cambridge on a trike is fantastic for me," says Joanna Crosby, who has scoliosis, which affects her balance. "I can put all my shopping in the back of it and just go. Although I have tried a two-wheeler, I really never got the hang of it. I saw this lovely Pashley tricycle and saw it was the way to go."
In the context of an ageing global population, mobility experts are increasingly seeing cycling as a way to help people with disabilities move around cities independently. A bike can act as a "rolling walking stick"; yet looking at its owner you wouldn't know they had a disability: around 40% of disabled cyclists simply use a regular two-wheeled bike.
For two out of three disabled cyclists, riding a bike is easier than walking, easing joint strain, aiding balance and relieving breathing difficulties. According to recent research by Transport for London, 78% of disabled people are able to cycle, while 15% sometimes use a bike to get around.
"The biggest determinant of how many disabled people cycle to work is how levels of broader cycling are within that local authority," says Rachel Aldred, reader in transport at the University of Westminster, who has researched barriers to disabled cycling.
In Cambridge, where 26% of disabled people's commutes are by bike, cycling's total share of trips to work is 32% – the highest of any city in Britain.
In cities with low overall cycle commuting levels of 0.4 or 0.5%, the figure for disabled cycle commutes would typically be just 0.2%. "I think that shows you there's not some inherent limitation [for disabled cyclists]," she says. "It depends on how cycling-friendly the places are in general."
Isabelle Clement is the director of Wheels for Wellbeing, a UK-based charity that encourages and supports disabled cycling. She says her life was transformed once she adapted her own wheelchair as a hand cycle. Many disabled people rule cycling out as an option, without realising the wide variety of machines that are out there for a range of different needs, she says.
Active travel can tackle inactivity, isolation, mental health issues and reliance on expensive private transportation such as taxis; yet disabled people are more likely to be inactive than non-disabled people (37.8% in Britain compared with 18.2%, according to Public Health England). Reduced transport options are also a common barrier to accessing work, healthcare and a social life.
False assumptions
Research shows that minority ethnic people, women, older and disabled people have a disproportionately higher need for protected cycling infrastructure and direct routes – something Wheels for Wellbeing seeks to address in its new Guide to Inclusive Cycling.
Part of the problem is that most urban infrastructure is built by able-bodied engineers, who may not realise that bollards, speed bumps, kerbs and steps can be insurmountable for disabled cyclists. Clement argues that cities should consult disability representatives at a strategic level.
"Cycling facilities are built on the assumption we can all stand up," says Clement. "That cyclists all ride on two wheels, that we can all lift our cycles, can carry our gear … otherwise how can we get over the steps on that bridge?"
Shared space – where pedestrians, cars and cyclists interact – can be difficult for visually impaired pedestrians and disabled cyclists. As Dr Jamie Wood, a biology lecturer at the University of York, explains: "I find shared space with pedestrians very intimidating as a disabled cyclist. I end up stopping in very random places and find it very difficult to get going again."
The size and expense of specialised cycles is another factor. Narrow cycle lanes and chicanes are unusable for many non-standard bikes (side-by-side tandems can be more than a metre wide), while a third of disabled cyclists report being unable to park or store large bikes.
These bikes often cost as much as a secondhand car (tricycles can cost up to £3,000), an issue that can be addressed nationally with tax breaks such as the UK's Green Commute Initiative, or at city level with accessible cycle hire.
After much criticism that its bike share scheme excluded disabled people, Portland, Oregon, piloted a programme called Adaptive Biketown in July – offering tandems, handcycles and tricycles for rent.
"I would urge every city to have at least one inclusive cycling hub," says Clement. "That is the entry route to cycling for many disabled people and it's a very clear signal by cities saying, 'We believe that we should invest some of our public resources, in partnership with others, to ensure people have the option of cycling.'"
Although public transport may claim to be accessible, in practice this isn't always the case. In Lisbon, buses have ample space for cycles, but in UK cities they don't. Some trains can't carry larger adaptive bikes, or don't have a policy relating to disabled cyclists at all.
Meanwhile, those who do use bikes as mobility aids may be asked to dismount on pavements or station concourses, in the way someone with a wheelchair or mobility scooter wouldn't be.
Cycling imagery and language often excludes disabled cyclists, say campaigners. Better representation, along with "disabled cyclists permitted", or "cycles as mobility aids permitted" signage in otherwise non-cycling areas would help raise the profile of disabled cycling.
In January, London will launch a pilot scheme which recognises bikes as mobility aids, permitting disabled cyclists in pedestrian-only areas around the city.
"We don't know how it will work," says Will Norman, the city's cycling and walking commissioner, "but we need to pilot this and take a step towards it. If the pilot is successful, [I'll] share that data and the experience behind that with other cities so they can make up their own mind whether that works for them."
Neil Andrews of Wheels for Wellbeing says there are "some examples of good facilities and infrastructure out there" but "by and large they are few and far between". "Without consistently good inclusive infrastructure and facilities, disabled cyclists are unable to complete a journey," he says. "That means many people simply won't attempt a journey in the first place."
Disabled people are the canary in the coalmine for healthy streets – if disabled people are using your streets in high numbers, you are doing something right.
Follow Guardian Cities on Twitter, Facebook and Instagram to join the discussion, and explore our archive here
guardian.co.uk © Guardian News & Media Limited 2010
Published via the Guardian News Feed plugin for WordPress.
Car crashes into security barriers outside Houses Of Parliament
 Armed police surround driver after car smashes into Parliament security barriers
Kremlin "pleased" with Helsinki summit, US and Western intelligence assesses
CNN Reports:
Russian officials were "pleased" with the Helsinki summit between Presidents Donald Trump and Vladimir Putin, US and Western intelligence agencies have found, according to two intelligence sources with knowledge of the assessments.
The assessments, based on a broad range of intelligence, indicate that the Kremlin believes the July 16 summit delivered a better outcome than it had expected, but that Moscow is perplexed that Trump is not delivering more Russia-friendly policies in its aftermath.
The intelligence sources say the Russians were particularly satisfied with the press conference the two leaders gave in Helsinki after Trump and Putin met for about two hours without staff and accompanied only by translators. In the 45-minute press conference, Trump discredited US intelligence and American policies more broadly, saying "the United States has been foolish" about ties with Russia, a country that has engaged in ongoing attacks on US democracy.
A spokesperson for the Office of Director of National Intelligence declined to comment, and the White House did not respond to request for comment.
The administration's decision last week to impose sanctions on Russia for the poisoning of former Russian spy Sergei Skripal and his daughter left Russian officials puzzled that the President is not delivering more favorable policies.
Trump has repeatedly called for warmer relations with Moscow, but the Kremlin is neglecting to factor in the considerable role that Congress and others play in US policy-making, a Western intelligence official said.
Putin spokesperson Dmitry Peskov's comments last week reflected the deflated Russian hopes for improved ties with Washington or at least less punitive US policies.
"President Putin said in Helsinki that Russia still has hopes for the creation of a constructive relationship with Washington…We are sorry that often we are not met with cooperation on this account," Peskov said Aug. 9 in a regular press call with reporters.
Peskov's comments contrasted sharply with the evaluation Russian Foreign Minister Sergei Lavrov offered immediately after the summit, when he said that the talks had been "better than super."
Trump's performance in Helsinki sparked unusually public criticism, even from within his own party.
The administration's decision to impose the sanctions followed a July 26 letter from GOP Congressman Ed Royce, the Chairman of the House Committee on Foreign Affairs, urging the White House to comply with a law requiring the US to levy sanctions against countries that violate the 1991 Chemical and Biological Weapons and Warfare Elimination Act.
President Trump watches military exercise at Fort Drum, NY