'A rolling walking stick': why do so many disabled people cycle in Cambridge?
Cycling may be easier than walking for two-thirds of disabled people, but disabled cyclists often remain invisible to society. Many don't realise that more than a quarter of disabled commutes in this university city are made by bike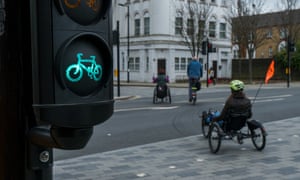 ---
This article titled "'A rolling walking stick': why do so many disabled people cycle in Cambridge?" was written by Laura Laker, for theguardian.com on Tuesday 2nd January 2018 07.30 UTC
Cycle around Cambridge and you'll see upright city bikes and hybrids, tricycles and four-wheeled cargo bikes. What may be surprising is that many of these machines are used as mobility aids: more than a quarter of disabled people's commutes here are by bike.
"Getting around Cambridge on a trike is fantastic for me," says Joanna Crosby, who has scoliosis, which affects her balance. "I can put all my shopping in the back of it and just go. Although I have tried a two-wheeler, I really never got the hang of it. I saw this lovely Pashley tricycle and saw it was the way to go."
In the context of an ageing global population, mobility experts are increasingly seeing cycling as a way to help people with disabilities move around cities independently. A bike can act as a "rolling walking stick"; yet looking at its owner you wouldn't know they had a disability: around 40% of disabled cyclists simply use a regular two-wheeled bike.
For two out of three disabled cyclists, riding a bike is easier than walking, easing joint strain, aiding balance and relieving breathing difficulties. According to recent research by Transport for London, 78% of disabled people are able to cycle, while 15% sometimes use a bike to get around.
"The biggest determinant of how many disabled people cycle to work is how levels of broader cycling are within that local authority," says Rachel Aldred, reader in transport at the University of Westminster, who has researched barriers to disabled cycling.
In Cambridge, where 26% of disabled people's commutes are by bike, cycling's total share of trips to work is 32% – the highest of any city in Britain.
In cities with low overall cycle commuting levels of 0.4 or 0.5%, the figure for disabled cycle commutes would typically be just 0.2%. "I think that shows you there's not some inherent limitation [for disabled cyclists]," she says. "It depends on how cycling-friendly the places are in general."
Isabelle Clement is the director of Wheels for Wellbeing, a UK-based charity that encourages and supports disabled cycling. She says her life was transformed once she adapted her own wheelchair as a hand cycle. Many disabled people rule cycling out as an option, without realising the wide variety of machines that are out there for a range of different needs, she says.
Active travel can tackle inactivity, isolation, mental health issues and reliance on expensive private transportation such as taxis; yet disabled people are more likely to be inactive than non-disabled people (37.8% in Britain compared with 18.2%, according to Public Health England). Reduced transport options are also a common barrier to accessing work, healthcare and a social life.
False assumptions
Research shows that minority ethnic people, women, older and disabled people have a disproportionately higher need for protected cycling infrastructure and direct routes – something Wheels for Wellbeing seeks to address in its new Guide to Inclusive Cycling.
Part of the problem is that most urban infrastructure is built by able-bodied engineers, who may not realise that bollards, speed bumps, kerbs and steps can be insurmountable for disabled cyclists. Clement argues that cities should consult disability representatives at a strategic level.
"Cycling facilities are built on the assumption we can all stand up," says Clement. "That cyclists all ride on two wheels, that we can all lift our cycles, can carry our gear … otherwise how can we get over the steps on that bridge?"
Shared space – where pedestrians, cars and cyclists interact – can be difficult for visually impaired pedestrians and disabled cyclists. As Dr Jamie Wood, a biology lecturer at the University of York, explains: "I find shared space with pedestrians very intimidating as a disabled cyclist. I end up stopping in very random places and find it very difficult to get going again."
The size and expense of specialised cycles is another factor. Narrow cycle lanes and chicanes are unusable for many non-standard bikes (side-by-side tandems can be more than a metre wide), while a third of disabled cyclists report being unable to park or store large bikes.
These bikes often cost as much as a secondhand car (tricycles can cost up to £3,000), an issue that can be addressed nationally with tax breaks such as the UK's Green Commute Initiative, or at city level with accessible cycle hire.
After much criticism that its bike share scheme excluded disabled people, Portland, Oregon, piloted a programme called Adaptive Biketown in July – offering tandems, handcycles and tricycles for rent.
"I would urge every city to have at least one inclusive cycling hub," says Clement. "That is the entry route to cycling for many disabled people and it's a very clear signal by cities saying, 'We believe that we should invest some of our public resources, in partnership with others, to ensure people have the option of cycling.'"
Although public transport may claim to be accessible, in practice this isn't always the case. In Lisbon, buses have ample space for cycles, but in UK cities they don't. Some trains can't carry larger adaptive bikes, or don't have a policy relating to disabled cyclists at all.
Meanwhile, those who do use bikes as mobility aids may be asked to dismount on pavements or station concourses, in the way someone with a wheelchair or mobility scooter wouldn't be.
Cycling imagery and language often excludes disabled cyclists, say campaigners. Better representation, along with "disabled cyclists permitted", or "cycles as mobility aids permitted" signage in otherwise non-cycling areas would help raise the profile of disabled cycling.
In January, London will launch a pilot scheme which recognises bikes as mobility aids, permitting disabled cyclists in pedestrian-only areas around the city.
"We don't know how it will work," says Will Norman, the city's cycling and walking commissioner, "but we need to pilot this and take a step towards it. If the pilot is successful, [I'll] share that data and the experience behind that with other cities so they can make up their own mind whether that works for them."
Neil Andrews of Wheels for Wellbeing says there are "some examples of good facilities and infrastructure out there" but "by and large they are few and far between". "Without consistently good inclusive infrastructure and facilities, disabled cyclists are unable to complete a journey," he says. "That means many people simply won't attempt a journey in the first place."
Disabled people are the canary in the coalmine for healthy streets – if disabled people are using your streets in high numbers, you are doing something right.
Follow Guardian Cities on Twitter, Facebook and Instagram to join the discussion, and explore our archive here
guardian.co.uk © Guardian News & Media Limited 2010
Published via the Guardian News Feed plugin for WordPress.
'I pray for Donald Trump, I do': Bishop Michael Curry addresses US divisions
The preacher who shone at the royal wedding has returned home to the progressive Reclaiming Jesus movement
This article titled "'I pray for Donald Trump, I do': Bishop Michael Curry addresses US divisions" was written by Lauren Gambino in Washington, for theguardian.com on Sunday 27th May 2018 11.49 UTC
Faith leaders working with Bishop Michael Curry to turn his sermons of love into a movement see his invitation to preach at the wedding of Prince Harry and Meghan Markle as a moment of divine intervention.
"God used a royal wedding to have the gospel preached probably to the largest audience at one time," said Jim Wallis, a progressive Christian leader and a founder of the Reclaiming Jesus movement. "My dear friend Bishop Curry was just being himself in that pulpit. But God made that happen in all kinds of humorous and miraculous ways."
For 24 hours after the ceremony at Windsor Castle last week, Curry rivaled Pope Francis as the most recognizable faith leader in the world. He was interviewed by major networks on both sides of the Atlantic. Fans asked for selfies. He was even parodied on Saturday Night Live.
Then the first African American leader of the Episcopal Church returned home, to embark on a new mission. He wants to address what he and other clergy behind Reclaiming Jesus call "a dangerous crisis of moral and political leadership at the highest levels of our government and in our churches".
"My hope and prayer is that what we're really doing is helping the average Christian person of faith find their voice," Curry told the Guardian. "We're trying to find a way to bring people together and the values that we share is our starting place for doing that."
The 65-year-old, who was born in Chicago and raised by his grandmother after his mother's death, is the descendent of slaves and sharecroppers in North Carolina. His presence at Westminster Abbey, a reflection of Markle's African American ancestry, was a symbolic moment for two countries riven by race and class. In his speech, Curry invoked Martin Luther King Jr and slavery, telling the couple: "Make of this old world, a new world."
That was the message he brought to Washington on Thursday, when he linked arms with prominent progressive leaders and led hundreds of Christians in silent procession to the White House. On the sidewalk facing the seat of American power, the elders read from a declaration as hundreds raised votive candles.
The Reclaiming Jesus movement, like other progressive religious groups, is asking people of faith to reject policies that ban refugees and immigrants from the US and equivocations on white supremacy – without joining a political side.
"We don't tell people how to vote," Curry said. "We don't tell people exactly what policies they must stand for. We identify what are the values that will guide you in your life. But the rest? That's between you and God."
The lengthy founding document lists six core principles the co-signers hope will help shift the conversation around what they believe are the core teachings of the Bible: a focus on the poor, the vulnerable and the disadvantaged. It does not mention Donald Trump by name but it does repudiate his policies and the forces unleashed by his election.
It calls on Christians to denounce the "resurgence of white nationalism and racism in our nation on many fronts, including the highest levels of political leadership", and rejects Trump's America First agenda.
The response from Trump's most ardent evangelical supporters has underlined how deep divisions are carved – and how difficult it will be to find common ground.
"There is nothing wrong with putting America first," Robert Jeffress, a pastor at First Baptist Dallas and a prominent member of the president's evangelical advisory board, told Fox News. "That is what a government is supposed to do. That is God's responsibility for government. As individual Christians, yes, we put others before ourselves but government doesn't do that."
Jeffress said Curry was "sincere" in his message but also "sincerely wrong" in his understanding of what the Bible says about the role of government.
Curry said he had expected a strong reaction to the Reclaiming Jesus declaration.
"It's a spiritual document and spiritual documents are moral and ethical statements so they have implications," he said. "We identify cultural maladies – we're not pointing the finger at anybody. We're not blaming anybody."
Asked if he prays for the president, Curry replied without reservation: "I pray for Donald Trump, I do. He's a child of God, just like the immigrant is a child of God."
If Curry had an audience with the president, he said, he would tell him the same thing he tells himself and anybody else he prays for: "Live by the practice of love for your neighbor."
"Selfish, self-centered living by any or all of us is what the Christian tradition has meant by sin all along," he said.
Before the vigil, Curry returned to the pulpit to deliver a soaring if brief sermon at the National City Christian Church.
"Love your neighbor," Curry said, in the magisterial cadence now recognized around the world. "Love the neighbor you like and the neighbor you don't like. Love the neighbor you agree with and the neighbor you don't agree with. Love your Democrat neighbor, your Republican neighbor, your black neighbor, your white neighbor, your Anglo neighbor, your Latino neighbor and your LGBTQ neighbor. Love your neighbor! That's why we're here!"
Among those listening were John Carr, who runs the Initiative on Catholic Social Thought and Public Life at Georgetown University. He said what he saw on Thursday was not a political movement but the "rise of the religious middle".
"In these incredibly polarizing and frankly demoralizing times," he said, "we need a moral message that's anchored in faith not ideology and politics".
guardian.co.uk © Guardian News & Media Limited 2010
Published via the Guardian News Feed plugin for WordPress.
Rudy Giuliani admits 'Spygate' is Trump PR tactic against Robert Mueller
President's lawyer gives meandering CNN interview
'It's for public opinion', he says of claims of campaign informant
This article titled "Rudy Giuliani admits 'Spygate' is Trump PR tactic against Robert Mueller" was written by Tom McCarthy, for theguardian.com on Sunday 27th May 2018 13.47 UTC
Former New York City mayor Rudy Giuliani said on Sunday that his repeated imputations of a supposed scandal at the heart of the Robert Mueller investigation – which Donald Trump calls "Spygate" – amounted to a tactic to sway public opinion and limit the risk of the president being impeached.
"Of course we have to do it to defend the president," Trump's lawyer told CNN State of the Union host Dana Bash, who accused him of being part of a campaign to undermine the Mueller investigation. Trump has repeatedly called the special counsel's work a "witch hunt", despite its producing five guilty pleas, including by three former Trump aides, and evidence of Russian tampering in US elections.
"It is for public opinion," Giuliani said of his public campaign of dissimulation. "Because eventually the decision here is going to be impeach or not impeach. Members of Congress, Democrats and Republicans, are going to be informed a lot by their constituents. And so our jury – and it should be – is the American people.
"So Republicans largely, many independents, even some Democrats now question the legitimacy of [the Mueller investigation]," Giuliani said. "Democrats I would suggest for their own self-interest, this is not a good issue to go into the midterms."
As Giuliani acknowledged the political nature of his public campaign against Mueller, Trump advanced that campaign on Twitter, lamenting what he said were "young and beautiful lives … devastated and destroyed" by the investigation of alleged collusion between the Trump campaign and Russia.
"They went back home in tatters!" Trump wrote. It was unclear who he was talking about.
Trump, Giuliani and other allies claim reports that an FBI informant monitored linkes between Trump aides and Russia show there was a "spy" on the Trump campaign. Senior figures in the intelligence community have rubbished such claims.
On ABC's This Week on Sunday, the Democrat Adam Schiff, ranking member of the House intelligence committee, said: "This is part of the propaganda machine. Let's spread a completely fallacious story and then say it needs to be investigated, and give it a life of its own."
Giuliani is a former US attorney for the southern district of New York. In his CNN appearance, he called former CIA director John Brennan and former director of national intelligence James Clapper, both fierce critics of Trump, "two clowns".
"I have no regard at all for Brennan or Clapper. I think they're two clowns…" Giuliani said. "They're not civil servants as far as I know."
Clapper told the same show: "In the space of a week I've progressed from being the dumbest intelligence officer on the planet, from President Trump, to a clown. So it's progress, I guess."
Michael Hayden, another former director of the CIA, told ABC Trump was "simply trying to delegitimize Mueller … and he's willing to throw anything against the wall.
"From the outside looking in, from everything I know, everyone has handled this just about the way it should have been handled."
Giuliani's month-old job as a spokesman for the president has been marked by confusion, contradiction and scandal. He began by saying money used to seal a 2016 hush agreement with the porn actor Stormy Daniels had come from Trump, who had earlier flatly denied, on camera, any knowledge of the $130,000.
"We're not changing any stories," Trump told reporters. Trump has denied having an affair with Daniels.
Giuliani also said earlier this month Trump would have had his personal lawyer, Michael Cohen, pay off women in addition to Daniels "if necessary". Giuliani told ABC he had "no knowledge" of any other payments to women.
Trump has repeatedly excused and praised Giuliani. "He started yesterday," Trump said on 4 May. "He'll get his facts straight. It's actually very simple, there has been a lot of misinformation really."
guardian.co.uk © Guardian News & Media Limited 2010
Published via the Guardian News Feed plugin for WordPress.
Harvey Weinstein appears in court charged with rape and other sexual offences
Disgraced movie producer handed himself in to New York police on Friday morning over claims by two women
This article titled "Harvey Weinstein appears in court charged with rape and other sexual offences" was written by Amanda Holpuch and Jamiles Lartey in New York, for theguardian.com on Friday 25th May 2018 16.51 UTC
The disgraced Hollywood film producer Harvey Weinstein has been charged with rape, a criminal sex act, sex abuse and sexual misconduct for alleged incidents involving two separate women, after he earlier surrendered to authorities in New York.
During a brief court appearance on Friday, Weinstein remained quiet as his lawyers agreed he would post $1m (£750,000) bail and wear an electronic monitoring device. He also surrendered his passport, and agreed not to travel beyond New York and Connecticut.
A prosecutor told the judge that the investigation was ongoing, and that authorities have encouraged other survivors to come forward.
"The defendant used his position, money and power to lure young women into situations where he was able to violate them sexually," she said.
Speaking outside court, Weinstein's lawyer, Benjamin Brafman, said his client intends to plead not guilty. He called the charges "constitutionally flawed" and "not factually supported".
It is the first criminal case to be brought against Weinstein since the revelations about him erupted last October and sparked the #MeToo movement.
Weinstein, 66, was led in handcuffs, with a detective on either side holding his arms, from the police station into a waiting car. A few minutes later he arrived at criminal court in Manhattan, and was marched in by the detectives to be arraigned on the charges. He has denied all allegations of non-consensual sex.
Weinstein was stone-faced and sullen, and did not respond to questions from reporters.
A statement from the New York police department said: "The NYPD thanks these brave survivors for their courage to come forward and seek justice."
Weinstein surrendered to police early Friday morning at the NYPD first precinct in Tribeca in lower Manhattan, where the Weinstein Company has its headquarters and where many of the alleged offenses are said to have taken place, either at the offices or a nearby hotel.
He stepped from a black SUV wearing a dark jacket over a light blue sweater and white open-necked shirt. He was carrying three books under his arm. He went into the police station before a crowd of news cameras. He did not respond to shouts of "Harvey!"
Two law enforcement officials told the Associated Press the case will include allegations by Lucia Evans, an aspiring actor who has said the Hollywood mogul forced her to perform oral sex on him in his office. She was among the first women to speak out about the producer.
One official said it was likely the case also will include at least one other victim who has not come forward publicly.
After Weinstein's arrest, Rose McGowan, one of his most prominent accusers, told the UK's BBC Radio 4: "It's a concrete slap in the face of abuse of power. I hope we emerge victorious and, if anything, we have emerged victorious, no mater what, because people are listening now."
Lucia Evans told the New Yorker in a story published in October that Weinstein forced her to perform oral sex during a daytime meeting at his New York office in 2004, the summer before her senior year at Middlebury College.
"I said, over and over, 'I don't want to do this, stop, don't,'" she said.
The Manhattan district attorney, Cyrus Vance, had been under enormous public pressure to bring a criminal case against Weinstein.
A grand jury has been hearing evidence in the case for weeks.
In March, Andrew Cuomo, the New York governor, took the extraordinary step of ordering the state's attorney general to investigate whether Vance acted properly in 2015 when he decided not to prosecute Weinstein over a previous allegation of unwanted groping, made by an Italian model. That investigation is in its preliminary stages.
More than 75 women have accused Weinstein of wrongdoing. Several actors and models accused him of criminal sexual assaults, but many of the encounters happened too long ago for any prosecution. Rose McGowan said Weinstein raped her in 1997 in Utah, the Sopranos actor Annabella Sciorra said Weinstein raped her in her New York apartment in 1992 and the Norwegian actor Natassia Malthe said Weinstein attacked her in a London hotel room in 2008.
The statute of limitations for rape and certain other sex crimes in New York was eliminated in 2006, but not for attacks that happened prior to 2001.
New York City police detectives said in early November that they were investigating allegations by another accuser, the Boardwalk Empire star Paz de la Huerta, who told police in October that Weinstein raped her twice in 2010. She is not one of the victims in the case on Friday; hers was still pending, officials said.
Authorities in California and London are also investigating assault allegations. Britain has no statute of limits on rape cases; some of the allegations under investigation there date to the 1980s.
Two of the books Weinstein carried into the police station have been identified as Something Wonderful: Rodgers and Hammerstein's Broadway Revolution by Todd S Purdum, and Elia Kazan: A Biography by Richard Schickel.
Something Wonderful was published last month. Weinstein might see something of himself in the story of successful showmen impresarios credited with changing the cultural landscape.
There are also possible parallels in the story of Elia Kazan, the immigrant director of groundbreaking, multi-award-winning classics such as On the Waterfront and A Streetcar Named Desire. Originally a communist, Kazan was later scorned by much of liberal Hollywood for testifying before the House committee on un-American activities in 1952. When Kazan was awarded an honorary Oscar in 1999, dozens of audience members chose not to applaud and 250 demonstrators picketed the event.
Schickel's 2005 biography also documents Kazan's many affairs. Three times married, he had affairs with many female actors and leading ladies including Marilyn Monroe. Yet Kazan's reputation as a formidable Hollywood artist weathered political and personal scandals.
guardian.co.uk © Guardian News & Media Limited 2010
Published via the Guardian News Feed plugin for WordPress.