'A rolling walking stick': why do so many disabled people cycle in Cambridge?
Cycling may be easier than walking for two-thirds of disabled people, but disabled cyclists often remain invisible to society. Many don't realise that more than a quarter of disabled commutes in this university city are made by bike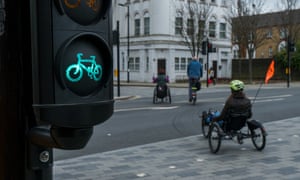 ---
This article titled "'A rolling walking stick': why do so many disabled people cycle in Cambridge?" was written by Laura Laker, for theguardian.com on Tuesday 2nd January 2018 07.30 UTC
Cycle around Cambridge and you'll see upright city bikes and hybrids, tricycles and four-wheeled cargo bikes. What may be surprising is that many of these machines are used as mobility aids: more than a quarter of disabled people's commutes here are by bike.
"Getting around Cambridge on a trike is fantastic for me," says Joanna Crosby, who has scoliosis, which affects her balance. "I can put all my shopping in the back of it and just go. Although I have tried a two-wheeler, I really never got the hang of it. I saw this lovely Pashley tricycle and saw it was the way to go."
In the context of an ageing global population, mobility experts are increasingly seeing cycling as a way to help people with disabilities move around cities independently. A bike can act as a "rolling walking stick"; yet looking at its owner you wouldn't know they had a disability: around 40% of disabled cyclists simply use a regular two-wheeled bike.
For two out of three disabled cyclists, riding a bike is easier than walking, easing joint strain, aiding balance and relieving breathing difficulties. According to recent research by Transport for London, 78% of disabled people are able to cycle, while 15% sometimes use a bike to get around.
"The biggest determinant of how many disabled people cycle to work is how levels of broader cycling are within that local authority," says Rachel Aldred, reader in transport at the University of Westminster, who has researched barriers to disabled cycling.
In Cambridge, where 26% of disabled people's commutes are by bike, cycling's total share of trips to work is 32% – the highest of any city in Britain.
In cities with low overall cycle commuting levels of 0.4 or 0.5%, the figure for disabled cycle commutes would typically be just 0.2%. "I think that shows you there's not some inherent limitation [for disabled cyclists]," she says. "It depends on how cycling-friendly the places are in general."
Isabelle Clement is the director of Wheels for Wellbeing, a UK-based charity that encourages and supports disabled cycling. She says her life was transformed once she adapted her own wheelchair as a hand cycle. Many disabled people rule cycling out as an option, without realising the wide variety of machines that are out there for a range of different needs, she says.
Active travel can tackle inactivity, isolation, mental health issues and reliance on expensive private transportation such as taxis; yet disabled people are more likely to be inactive than non-disabled people (37.8% in Britain compared with 18.2%, according to Public Health England). Reduced transport options are also a common barrier to accessing work, healthcare and a social life.
False assumptions
Research shows that minority ethnic people, women, older and disabled people have a disproportionately higher need for protected cycling infrastructure and direct routes – something Wheels for Wellbeing seeks to address in its new Guide to Inclusive Cycling.
Part of the problem is that most urban infrastructure is built by able-bodied engineers, who may not realise that bollards, speed bumps, kerbs and steps can be insurmountable for disabled cyclists. Clement argues that cities should consult disability representatives at a strategic level.
"Cycling facilities are built on the assumption we can all stand up," says Clement. "That cyclists all ride on two wheels, that we can all lift our cycles, can carry our gear … otherwise how can we get over the steps on that bridge?"
Shared space – where pedestrians, cars and cyclists interact – can be difficult for visually impaired pedestrians and disabled cyclists. As Dr Jamie Wood, a biology lecturer at the University of York, explains: "I find shared space with pedestrians very intimidating as a disabled cyclist. I end up stopping in very random places and find it very difficult to get going again."
The size and expense of specialised cycles is another factor. Narrow cycle lanes and chicanes are unusable for many non-standard bikes (side-by-side tandems can be more than a metre wide), while a third of disabled cyclists report being unable to park or store large bikes.
These bikes often cost as much as a secondhand car (tricycles can cost up to £3,000), an issue that can be addressed nationally with tax breaks such as the UK's Green Commute Initiative, or at city level with accessible cycle hire.
After much criticism that its bike share scheme excluded disabled people, Portland, Oregon, piloted a programme called Adaptive Biketown in July – offering tandems, handcycles and tricycles for rent.
"I would urge every city to have at least one inclusive cycling hub," says Clement. "That is the entry route to cycling for many disabled people and it's a very clear signal by cities saying, 'We believe that we should invest some of our public resources, in partnership with others, to ensure people have the option of cycling.'"
Although public transport may claim to be accessible, in practice this isn't always the case. In Lisbon, buses have ample space for cycles, but in UK cities they don't. Some trains can't carry larger adaptive bikes, or don't have a policy relating to disabled cyclists at all.
Meanwhile, those who do use bikes as mobility aids may be asked to dismount on pavements or station concourses, in the way someone with a wheelchair or mobility scooter wouldn't be.
Cycling imagery and language often excludes disabled cyclists, say campaigners. Better representation, along with "disabled cyclists permitted", or "cycles as mobility aids permitted" signage in otherwise non-cycling areas would help raise the profile of disabled cycling.
In January, London will launch a pilot scheme which recognises bikes as mobility aids, permitting disabled cyclists in pedestrian-only areas around the city.
"We don't know how it will work," says Will Norman, the city's cycling and walking commissioner, "but we need to pilot this and take a step towards it. If the pilot is successful, [I'll] share that data and the experience behind that with other cities so they can make up their own mind whether that works for them."
Neil Andrews of Wheels for Wellbeing says there are "some examples of good facilities and infrastructure out there" but "by and large they are few and far between". "Without consistently good inclusive infrastructure and facilities, disabled cyclists are unable to complete a journey," he says. "That means many people simply won't attempt a journey in the first place."
Disabled people are the canary in the coalmine for healthy streets – if disabled people are using your streets in high numbers, you are doing something right.
Follow Guardian Cities on Twitter, Facebook and Instagram to join the discussion, and explore our archive here
guardian.co.uk © Guardian News & Media Limited 2010
Published via the Guardian News Feed plugin for WordPress.
7.3 Earthquake hits New Britain island in Papua New Guinea
7.3 Earthquake hits New Britain island in Papua New Guinea.
Preliminary reports warn tsunami waves could hit areas within 300km of the earthquake's epicentre.
The quake hit off the coast New Britain region of Papua New Guinea earlier today. (Daily Star)
This is a breaking story and will be updated shortly
NY Man Planned to Blow Himself Up at Washington Mall
Police and FBI agents searched a Hudson Valley home Wednesday after learning about a man who was allegedly building a bomb in order to blow himself up in Washington D.C., two law enforcement officials told News 4 New York.
Investigators said they were concerned the man, identified as Paul Rosenfeld, at the home on Slocum Avenue in Orangetown was in the process of acquiring bomb parts.
Officials tell News 4 Rosenfeld had no criminal history but had told a reporter in Pennsylvania he planned to blow himself up on the Washington Mall around Election Day because he was angry about the country's direction. 
He had no plans to hurt anyone else, officials said. He is believed to be a lone actor not affiliated with any international terror group or ideology. 
Full Article at https://nts24.co.uk/2A2oWjM 
Trump 'demanding' answers from Saudis about missing writer
WASHINGTON (AP) — President Donald Trump said Wednesday the U.S. is "demanding" answers from Saudi Arabia about the disappearance of a well-known Saudi writer and government critic Turkish authorities say was slain inside his country's diplomatic mission in Istanbul.
Trump said he plans to invite to the White House the fiancée of Jamal Khashoggi, a writer for The Washington Post who has not been seen since he entered the Saudi consulate on Oct. 2 to get paperwork for his marriage.
Members of Congress have grown increasingly insistent that the administration find out what happened to Khashoggi. The Saudi government has become a closer ally under Trump and some lawmakers warn that relations could be jeopardized if it turns out the kingdom was involved in his disappearance.
Trump told reporters in the Oval Office that he has a call in to the fiancée, Hatice Cengiz, who had been waiting outside the consulate when Khashoggi went inside and has appealed to the president and first lady Melania Trump for help.
Trump said nobody knows exactly what happened and expressed hope that Khashoggi is not dead. He also said he had spoken with the Saudis about what he called a "bad situation," but he did not disclose details of his conversations.
Saudi Arabia denies involvement in the disappearance of Khashoggi, a former insider in Saudi government circles who has been living in self-imposed exile in the U.S. for the past year after fleeing a crackdown on intellectuals and activists in the country.
White House press secretary Sarah Huckabee Sanders said White House national security adviser John Bolton and White House senior adviser Jared Kushner spoke on Tuesday to Saudi Arabian Crown Prince Mohammed bin Salman about Khashoggi. Secretary of State Mike Pompeo then had a follow-up call with the crown prince to reiterate the U.S. request for information.
While angry members of Congress likely won't cause the administration to turn away from Prince Mohammed and end decades of close security ties with Saudi Arabia, they could throw a wrench into arms sales that require their approval and demand the U.S. scale back support for the Saudi military campaign against Iran-backed rebels in Yemen.
Republican Sen. Bob Corker, chairman of the Senate Foreign Relations Committee, said "there will definitely be consequences" if it turns out the Saudis were involved in Khashoggi disappearance. Republican Sen. Lindsey Graham of South Carolina said it would be "devastating" to the U.S.-Saudi relationship.
Sen. Chris Murphy, D-Conn, said if Saudi Arabia had lured a U.S. resident into a consulate and killed him, "it's time for the United States to rethink our military, political and economic relationship with Saudi Arabia." But he said it was unclear whether the Trump administration was willing to "go beyond words."
Sen. Rand Paul, R-Ky., a longtime critic of the Saudi government, said he'll try to force a vote in the Senate this week blocking U.S. arms sales to Saudi Arabia. He told local radio in his home state Tuesday that he wants to end the arms shipments if there's "any indication" the Saudis are "implicated in killing this journalist that was critical of them."
Trump's comments Wednesday were the toughest yet from his administration on the Khashoggi case. Officials have expressed concern but refused even to entertain questions about what the consequences would be if Turkish allegations turn out to be true. Pompeo has called on the Saudi government to conduct a thorough investigation and to be transparent about its results.
The reaction from European governments has also been cautious. British Foreign Secretary Jeremy Hunt told his Saudi counterpart that if media reports about Khashoggi were correct, it "would be extremely concerning and the U.K. will treat the incident very seriously," according to the Foreign Office.
The Saudi ambassador to Washington, Prince Khalid bin Salman bin Abdulaziz, has described the allegations as "malicious leaks and grim rumors" and said the kingdom is "gravely concerned" about Khashoggi. Saudi officials maintain he left the consulate shortly after entering, although it has failed to provide evidence.
Washington Post CEO and publisher Fred Ryan said reports suggested the journalist was victim of "state-sponsored, cold-blooded murder." He demanded answers in a statement Tuesday, saying "Silence, denials and delays are not acceptable."
Analysts said there were reasons for skepticism about the Turkish account. Ties between Ankara and Riyadh are at a low point over Turkey's support for Qatar in that country's yearlong dispute with Saudi Arabia and other Gulf nations. Saudi Arabia, a Sunni Muslim power, is also annoyed by Ankara's rapprochement with the kingdom's Shiite archrival, Iran.
Saudi authorities' failure to provide video footage of Khashoggi's movements at the consulate to rebut the Turkish allegations have only deepened suspicions.
The Trump administration, from the president on down, is heavily invested in the Saudi relationship. That's unlikely to change, said Robin Wright, a scholar at the Wilson Center think tank and close friend of the missing writer. The administration's Middle East agenda heavily depends on the Saudis, including efforts to counter Iranian influence in the region, fight extremism and build support for an expected plan for peace between Israel and the Palestinians.
Indication of those stakes came within four months of Trump taking office, when Saudi Arabia became his first destination on a presidential trip and he announced $110 billion in proposed arms sales.
Prince Mohammed has introduced some economic and social reforms, allowing women to drive and opening movie theaters in the deeply conservative Muslim nation. The flip side, however, is that he's also squelched dissent and imprisoned activists. He has championed the three-year military campaign against Iranian-backed Houthi rebels in Yemen that has pushed that nation toward famine and caused many civilian deaths.
Still, the Trump administration last month stood behind its support for that campaign with weapons, logistics and intelligence, certifying that the Saudis were taken adequate steps to prevent civilian despite mounting evidence to the contrary.
Karen Elliott House, a veteran writer on Saudi affairs and chair of the board of trustees at RAND Corp., said U.S. support for the Yemen war is likely to be the focus of congressional criticism but won't endanger a relationship that has endured for decades, underpinned by shared strategic interests. Even under the Obama administration, which had difficult relations with Riyadh compared with Trump, there were some $65 billion in completed arms sales.
"The U.S.-Saudi relationship is certainly not about shared moral values," House said. "It's about shared security interests."
___
Associated Press writers Susannah George, Matthew Lee and Deb Riechmann and video journalist Padmananda Rama contributed to this report.