New year, new rules: what changes around the world from 1 January
British rail fares will rise again this year and Californians will be able to buy marijuana legally for recreational purposes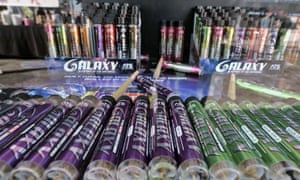 ---
This article titled "New year, new rules: what changes around the world from 1 January" was written by Mark Rice-Oxley, Richard Nelsson and Guardian correspondents, for theguardian.com on Monday 1st January 2018 06.00 UTC
Saudis and Emiratis will pay more tax, the Swiss will pay less, Brits will start taking more expensive train journeys and China will stop taking in the world's rubbish.
These are some of the changes that will take effect as the world ticks over into a new year.
In the US, New Yorkers will receive a more generous family leave entitlement, and more than 40 years after the summer of love, Californians will from New Year's Day finally be able to buy marijuana legally for recreational purposes. Some national parks will be more expensive to visit.
However, budding consumers may hit a snag, as state and local governments are still trying to figure out how to regulate cannabis, so few dispensaries will likely be ready to open their doors.
It is all change at the helm of the world's big trading blocs and axes, as Bulgaria has its first crack at presiding over the EU council – a chance for the EU's poorest member state to chair meetings and set its agenda.
Argentina, meanwhile, takes over the G20 presidency (its president, Mauricio Macri, has a thing for education technology and women's access to finance, so watch out for these to be themes of his year in charge).
Valletta in Malta and Leeuwarden in the Netherlands will start to enjoy being European capitals of culture.
Elsewhere, it will be harder to become Swiss, and more expensive to stay in Greece and Hawaii because of new tourist taxes, and if you are driving in Ukraine, you will find urban speed limits reduced from 60km/h to 50km/h.
Finland may be about to get a little boozier, as stronger alcohol is allowed in grocery stores. Seattle, meanwhile, will step up the battle against obesity with a sugar tax.
Perhaps one of the most striking changes, with global implications, is China's decision to stop importing a wide range of plastic and other waste. China has long been a repository for waste materials from around the world, as its hungry economy hoovers up all the resources it can get.
In 2016, China imported 7.3m tonnes of waste plastics. Developed countries will need to figure out what will happen to all those jettisoned bottles and containers.
This is not the only new year regulation that will affect the environment. In London, all new black cabs must be able to run on electric power, which is aimed at reducing high levels of nitrogen oxide and tiny particles in the air.
In Europe, all gas and wood-burning stoves must comply with strict emissions and energy efficiency rules. Open fires will no longer be allowed to be sold in EU member states. There will be tighter regulation of fertilisers, more fish protected by EU quotas in the Atlantic Ocean and North Sea, and a new law taxing pollution in China.
In the US, the Environmental Protection Agency is introducing various new standards. Any technician who wants to maintain, repair or dispose of appliances with HFCs will have to pass an exam, with the sale of HFCs restricted to certified outlets. The EPA estimates that the rules will reduce greenhouse gas emissions annually by 7.3m tonnes – roughly equivalent to taking 1.5m cars off the road a year.
The EU's most ambitious financial reforms will mostly come into effect on Wednesday. The markets in financial instruments directive, consisting of 1.4m paragraphs of rules, is intended to protect investors and bring more transparency into trading.
Gibraltar will bring in a new licence for fintech firms using blockchain, the first attempt anywhere in the world to regulate the technology behind cryptocurrencies.
In Russia, a bill obliging operators of internet messengers to verify the identity of every user comes into force. The law requires users to register their phone numbers to use chat apps. It also requires chat apps to limit or suspend access to users suspected of spreading illegal content, as well as to send messages from government bodies if asked.
The BBC faces tighter regulatory conditions obliging it to make more original – and regional – programming.
A new year typically means higher rail fares in Britain. This year, prices will rise by an average of 3.4% on Tuesday, well above inflation. Exasperated passengers are unlikely to welcome paying more for the delays, cancellations and undignified rush-hour overcrowding that blight many services.
Britain will get a new university regulator, the Office for Students, to oversee quality and standards, and decide which institutions deserve to call themselves universities and award degrees.
In sport, the 72 Football League clubs have agreed to try to increase the number of coaches and managers from minority groups by interviewing at least one BAME candidate for vacant posts. Fifa will begin monitoring international transfers in the women's game.
Reporting team: Oliver Milman and Jessica Glenza in New York, Shaun Walker in Moscow, Jennifer Rankin in Brussels and Lucy Lamble
guardian.co.uk © Guardian News & Media Limited 2010
Published via the Guardian News Feed plugin for WordPress.
7.3 Earthquake hits New Britain island in Papua New Guinea
7.3 Earthquake hits New Britain island in Papua New Guinea.
Preliminary reports warn tsunami waves could hit areas within 300km of the earthquake's epicentre.
The quake hit off the coast New Britain region of Papua New Guinea earlier today. (Daily Star)
This is a breaking story and will be updated shortly
NY Man Planned to Blow Himself Up at Washington Mall
Police and FBI agents searched a Hudson Valley home Wednesday after learning about a man who was allegedly building a bomb in order to blow himself up in Washington D.C., two law enforcement officials told News 4 New York.
Investigators said they were concerned the man, identified as Paul Rosenfeld, at the home on Slocum Avenue in Orangetown was in the process of acquiring bomb parts.
Officials tell News 4 Rosenfeld had no criminal history but had told a reporter in Pennsylvania he planned to blow himself up on the Washington Mall around Election Day because he was angry about the country's direction. 
He had no plans to hurt anyone else, officials said. He is believed to be a lone actor not affiliated with any international terror group or ideology. 
Full Article at https://nts24.co.uk/2A2oWjM 
Trump 'demanding' answers from Saudis about missing writer
WASHINGTON (AP) — President Donald Trump said Wednesday the U.S. is "demanding" answers from Saudi Arabia about the disappearance of a well-known Saudi writer and government critic Turkish authorities say was slain inside his country's diplomatic mission in Istanbul.
Trump said he plans to invite to the White House the fiancée of Jamal Khashoggi, a writer for The Washington Post who has not been seen since he entered the Saudi consulate on Oct. 2 to get paperwork for his marriage.
Members of Congress have grown increasingly insistent that the administration find out what happened to Khashoggi. The Saudi government has become a closer ally under Trump and some lawmakers warn that relations could be jeopardized if it turns out the kingdom was involved in his disappearance.
Trump told reporters in the Oval Office that he has a call in to the fiancée, Hatice Cengiz, who had been waiting outside the consulate when Khashoggi went inside and has appealed to the president and first lady Melania Trump for help.
Trump said nobody knows exactly what happened and expressed hope that Khashoggi is not dead. He also said he had spoken with the Saudis about what he called a "bad situation," but he did not disclose details of his conversations.
Saudi Arabia denies involvement in the disappearance of Khashoggi, a former insider in Saudi government circles who has been living in self-imposed exile in the U.S. for the past year after fleeing a crackdown on intellectuals and activists in the country.
White House press secretary Sarah Huckabee Sanders said White House national security adviser John Bolton and White House senior adviser Jared Kushner spoke on Tuesday to Saudi Arabian Crown Prince Mohammed bin Salman about Khashoggi. Secretary of State Mike Pompeo then had a follow-up call with the crown prince to reiterate the U.S. request for information.
While angry members of Congress likely won't cause the administration to turn away from Prince Mohammed and end decades of close security ties with Saudi Arabia, they could throw a wrench into arms sales that require their approval and demand the U.S. scale back support for the Saudi military campaign against Iran-backed rebels in Yemen.
Republican Sen. Bob Corker, chairman of the Senate Foreign Relations Committee, said "there will definitely be consequences" if it turns out the Saudis were involved in Khashoggi disappearance. Republican Sen. Lindsey Graham of South Carolina said it would be "devastating" to the U.S.-Saudi relationship.
Sen. Chris Murphy, D-Conn, said if Saudi Arabia had lured a U.S. resident into a consulate and killed him, "it's time for the United States to rethink our military, political and economic relationship with Saudi Arabia." But he said it was unclear whether the Trump administration was willing to "go beyond words."
Sen. Rand Paul, R-Ky., a longtime critic of the Saudi government, said he'll try to force a vote in the Senate this week blocking U.S. arms sales to Saudi Arabia. He told local radio in his home state Tuesday that he wants to end the arms shipments if there's "any indication" the Saudis are "implicated in killing this journalist that was critical of them."
Trump's comments Wednesday were the toughest yet from his administration on the Khashoggi case. Officials have expressed concern but refused even to entertain questions about what the consequences would be if Turkish allegations turn out to be true. Pompeo has called on the Saudi government to conduct a thorough investigation and to be transparent about its results.
The reaction from European governments has also been cautious. British Foreign Secretary Jeremy Hunt told his Saudi counterpart that if media reports about Khashoggi were correct, it "would be extremely concerning and the U.K. will treat the incident very seriously," according to the Foreign Office.
The Saudi ambassador to Washington, Prince Khalid bin Salman bin Abdulaziz, has described the allegations as "malicious leaks and grim rumors" and said the kingdom is "gravely concerned" about Khashoggi. Saudi officials maintain he left the consulate shortly after entering, although it has failed to provide evidence.
Washington Post CEO and publisher Fred Ryan said reports suggested the journalist was victim of "state-sponsored, cold-blooded murder." He demanded answers in a statement Tuesday, saying "Silence, denials and delays are not acceptable."
Analysts said there were reasons for skepticism about the Turkish account. Ties between Ankara and Riyadh are at a low point over Turkey's support for Qatar in that country's yearlong dispute with Saudi Arabia and other Gulf nations. Saudi Arabia, a Sunni Muslim power, is also annoyed by Ankara's rapprochement with the kingdom's Shiite archrival, Iran.
Saudi authorities' failure to provide video footage of Khashoggi's movements at the consulate to rebut the Turkish allegations have only deepened suspicions.
The Trump administration, from the president on down, is heavily invested in the Saudi relationship. That's unlikely to change, said Robin Wright, a scholar at the Wilson Center think tank and close friend of the missing writer. The administration's Middle East agenda heavily depends on the Saudis, including efforts to counter Iranian influence in the region, fight extremism and build support for an expected plan for peace between Israel and the Palestinians.
Indication of those stakes came within four months of Trump taking office, when Saudi Arabia became his first destination on a presidential trip and he announced $110 billion in proposed arms sales.
Prince Mohammed has introduced some economic and social reforms, allowing women to drive and opening movie theaters in the deeply conservative Muslim nation. The flip side, however, is that he's also squelched dissent and imprisoned activists. He has championed the three-year military campaign against Iranian-backed Houthi rebels in Yemen that has pushed that nation toward famine and caused many civilian deaths.
Still, the Trump administration last month stood behind its support for that campaign with weapons, logistics and intelligence, certifying that the Saudis were taken adequate steps to prevent civilian despite mounting evidence to the contrary.
Karen Elliott House, a veteran writer on Saudi affairs and chair of the board of trustees at RAND Corp., said U.S. support for the Yemen war is likely to be the focus of congressional criticism but won't endanger a relationship that has endured for decades, underpinned by shared strategic interests. Even under the Obama administration, which had difficult relations with Riyadh compared with Trump, there were some $65 billion in completed arms sales.
"The U.S.-Saudi relationship is certainly not about shared moral values," House said. "It's about shared security interests."
___
Associated Press writers Susannah George, Matthew Lee and Deb Riechmann and video journalist Padmananda Rama contributed to this report.