New year, new rules: what changes around the world from 1 January
British rail fares will rise again this year and Californians will be able to buy marijuana legally for recreational purposes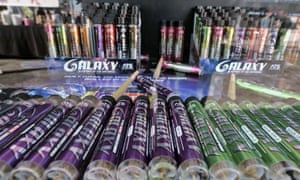 ---
This article titled "New year, new rules: what changes around the world from 1 January" was written by Mark Rice-Oxley, Richard Nelsson and Guardian correspondents, for theguardian.com on Monday 1st January 2018 06.00 UTC
Saudis and Emiratis will pay more tax, the Swiss will pay less, Brits will start taking more expensive train journeys and China will stop taking in the world's rubbish.
These are some of the changes that will take effect as the world ticks over into a new year.
In the US, New Yorkers will receive a more generous family leave entitlement, and more than 40 years after the summer of love, Californians will from New Year's Day finally be able to buy marijuana legally for recreational purposes. Some national parks will be more expensive to visit.
However, budding consumers may hit a snag, as state and local governments are still trying to figure out how to regulate cannabis, so few dispensaries will likely be ready to open their doors.
It is all change at the helm of the world's big trading blocs and axes, as Bulgaria has its first crack at presiding over the EU council – a chance for the EU's poorest member state to chair meetings and set its agenda.
Argentina, meanwhile, takes over the G20 presidency (its president, Mauricio Macri, has a thing for education technology and women's access to finance, so watch out for these to be themes of his year in charge).
Valletta in Malta and Leeuwarden in the Netherlands will start to enjoy being European capitals of culture.
Elsewhere, it will be harder to become Swiss, and more expensive to stay in Greece and Hawaii because of new tourist taxes, and if you are driving in Ukraine, you will find urban speed limits reduced from 60km/h to 50km/h.
Finland may be about to get a little boozier, as stronger alcohol is allowed in grocery stores. Seattle, meanwhile, will step up the battle against obesity with a sugar tax.
Perhaps one of the most striking changes, with global implications, is China's decision to stop importing a wide range of plastic and other waste. China has long been a repository for waste materials from around the world, as its hungry economy hoovers up all the resources it can get.
In 2016, China imported 7.3m tonnes of waste plastics. Developed countries will need to figure out what will happen to all those jettisoned bottles and containers.
This is not the only new year regulation that will affect the environment. In London, all new black cabs must be able to run on electric power, which is aimed at reducing high levels of nitrogen oxide and tiny particles in the air.
In Europe, all gas and wood-burning stoves must comply with strict emissions and energy efficiency rules. Open fires will no longer be allowed to be sold in EU member states. There will be tighter regulation of fertilisers, more fish protected by EU quotas in the Atlantic Ocean and North Sea, and a new law taxing pollution in China.
In the US, the Environmental Protection Agency is introducing various new standards. Any technician who wants to maintain, repair or dispose of appliances with HFCs will have to pass an exam, with the sale of HFCs restricted to certified outlets. The EPA estimates that the rules will reduce greenhouse gas emissions annually by 7.3m tonnes – roughly equivalent to taking 1.5m cars off the road a year.
The EU's most ambitious financial reforms will mostly come into effect on Wednesday. The markets in financial instruments directive, consisting of 1.4m paragraphs of rules, is intended to protect investors and bring more transparency into trading.
Gibraltar will bring in a new licence for fintech firms using blockchain, the first attempt anywhere in the world to regulate the technology behind cryptocurrencies.
In Russia, a bill obliging operators of internet messengers to verify the identity of every user comes into force. The law requires users to register their phone numbers to use chat apps. It also requires chat apps to limit or suspend access to users suspected of spreading illegal content, as well as to send messages from government bodies if asked.
The BBC faces tighter regulatory conditions obliging it to make more original – and regional – programming.
A new year typically means higher rail fares in Britain. This year, prices will rise by an average of 3.4% on Tuesday, well above inflation. Exasperated passengers are unlikely to welcome paying more for the delays, cancellations and undignified rush-hour overcrowding that blight many services.
Britain will get a new university regulator, the Office for Students, to oversee quality and standards, and decide which institutions deserve to call themselves universities and award degrees.
In sport, the 72 Football League clubs have agreed to try to increase the number of coaches and managers from minority groups by interviewing at least one BAME candidate for vacant posts. Fifa will begin monitoring international transfers in the women's game.
Reporting team: Oliver Milman and Jessica Glenza in New York, Shaun Walker in Moscow, Jennifer Rankin in Brussels and Lucy Lamble
guardian.co.uk © Guardian News & Media Limited 2010
Published via the Guardian News Feed plugin for WordPress.
Legendary singer Aretha Franklin dies at age 76
Legendary singer Aretha Franklin has died.
The 76-year-old Queen of Soul was said to be "surrounded" by her closest friends and family in recent days, after battling extensive health problems in recent years.
The legendary singer was diagnosed with cancer in 2010, and delivered her most recent performance at the Elton John AIDS Foundation party in New York last November.
This is a Breaking News Story.
Timeline:
1954 – Sings her first solo at the New Bethel Baptist Church in Detroit.
1956 – Along with her two sisters, performs backup on her father's gospel recording for Gotham Records.
1960 – Leaves Detroit for New York, signs with Columbia Records and releases first album, "The Great Aretha Franklin."
1967 – Leaves Columbia Records after an unsuccessful attempt at developing a jazz style; signs with Atlantic Records; wins Grammy Award Best R&B Recording for "Respect."
1967-1974 – Wins a total of ten Grammy Awards.
April 9, 1968 – Sings "Precious Lord, Take My Hand" at the funeral of Dr. Martin Luther King Jr.
January 20, 1977 – Performs "God Bless America" at the inauguration gala of President Jimmy Carter.
1980 – Appears in the movie "The Blues Brothers" and performs the song "Think"; leaves Atlantic Records for Arista Records.
1981 – Wins Grammy Award for Best R&B Vocal Performance, Female for "Hold On I'm Comin'."
1985 – Wins Grammy Award for Best R&B Vocal Performance, Female for "Freeway Of Love."
January 3, 1987 – Is the first woman inducted into the Rock and Roll Hall of Fame.
1987 – Wins two Grammy Awards for Best R&B Vocal Performance, Female for "Aretha" and Best R&B Performance by a Duo, with George Michael, "I Knew You Were Waiting (For Me)."
1988 – Wins Grammy Award for Best Soul Gospel Performance, Female for "One Lord, One Faith, One Baptism."
1991 – Receives the Grammy Legend Award.
January 20, 1993 – Performs "I Dreamed a Dream" at the inauguration ball of President Bill Clinton.
1994 – Receives the Grammy Lifetime Achievement Award. She is the youngest recipient of a Kennedy Center Honor at that time.
1997 – Performs an aria from Puccini's La Boheme at the wedding of Vice-President Al Gore's daughter, Karenna.
February 6, 1998 – Reprises her roll of Mrs. Murphy from "The Blues Brothers" in the sequel "The Blues Brothers 2000."
February 25, 1998 – Substitutes for an ailing Luciano Pavarotti at the Grammy Awards performing "Nessun Dorma" by Puccini, unrehearsed.
September 1, 1999 – Publishes an autobiography "Aretha: From These Roots," where she discusses her private and personal life for the first time.
September 22, 1999 – Is named a winner of the National Medal of Arts by the National Endowment for the Arts.
2003 – Wins Grammy Award for Best Traditional R&B Vocal Performance for "Wonderful."
March 2004 – Is hospitalized and released for allergic reaction to antibiotics.
2004 – Starts her own record label, Aretha's Records.
2005 – Wins Grammy Award for Best Traditional R&B Vocal Performance for "A House Is Not A Home."
November 5, 2005 – Is awarded the Presidential Medal of Freedom by President George W. Bush.
2006 – After Franklin points out that no Motown talent was appearing in the Detroit Super Bowl halftime show, the NFL asks her to sing the national anthem along with Aaron Neville prior to the game.
2007 – Wins Grammy Award for Best Gospel Performance for "Never Gonna Break My Faith," shared with Mary J. Blige.
February 10, 2008 – Is Grammy's 2008 MusiCares Person of the Year.
February 14, 2008 – Receives the NAACP Vanguard Award at the annual Image Awards ceremony.
January 20, 2009 – Performs "My Country 'Tis of Thee" at the inauguration of President Barack Obama.
February 2010 – A Snickers commercial starring Franklin and Liza Minnelli airs for the first time.
July 27, 2010 – Appears on stage with former Secretary of State Condoleezza Rice on piano, in Philadelphia, to raise money for charity. Rice is a classical pianist. They perform individually and together, classical, pop and patriotic selections.
August 1, 2010 – Falls in her home, breaking two ribs. The incident forces her to cancel concert appearances for August.
February 25, 2011 – During an interview with Wendy Williams, Franklin reveals a loss of 85 lbs. The ailment that resulted in surgery in December remains undisclosed and a topic of conversation she dismisses with the comment, "I've left that behind, I'm feeling wonderful."
May 3, 2011 – Releases new album, "Aretha: A Woman Falling Out of Love."
October 8, 2014 – Achieves a milestone in music history by becoming the first female to earn her 100th hit on Billboard's Hot R&B song chart with "Rolling in the Deep (The Aretha Version)."
October 21, 2014 – Releases a new album, "Aretha Franklin Sings the Great Diva Classics."
March 5, 2015 – Performs live on the Motown themed episode of American Idol in Detroit.
September 26, 2015 – Franklin sings "Amazing Grace" at the Festival of Families, one of the events sponsored by the Vatican for Pope Francis' visit to Philadelphia.
February 7, 2017 – Franklin announces she will retire from performing in concert after the release of one more album. "I am retiring this year, she told a local television station in Detroit. "I will be recording, but this will be my last year in concert."
Car crashes into security barriers outside Houses Of Parliament
 Armed police surround driver after car smashes into Parliament security barriers
Kremlin "pleased" with Helsinki summit, US and Western intelligence assesses
CNN Reports:
Russian officials were "pleased" with the Helsinki summit between Presidents Donald Trump and Vladimir Putin, US and Western intelligence agencies have found, according to two intelligence sources with knowledge of the assessments.
The assessments, based on a broad range of intelligence, indicate that the Kremlin believes the July 16 summit delivered a better outcome than it had expected, but that Moscow is perplexed that Trump is not delivering more Russia-friendly policies in its aftermath.
The intelligence sources say the Russians were particularly satisfied with the press conference the two leaders gave in Helsinki after Trump and Putin met for about two hours without staff and accompanied only by translators. In the 45-minute press conference, Trump discredited US intelligence and American policies more broadly, saying "the United States has been foolish" about ties with Russia, a country that has engaged in ongoing attacks on US democracy.
A spokesperson for the Office of Director of National Intelligence declined to comment, and the White House did not respond to request for comment.
The administration's decision last week to impose sanctions on Russia for the poisoning of former Russian spy Sergei Skripal and his daughter left Russian officials puzzled that the President is not delivering more favorable policies.
Trump has repeatedly called for warmer relations with Moscow, but the Kremlin is neglecting to factor in the considerable role that Congress and others play in US policy-making, a Western intelligence official said.
Putin spokesperson Dmitry Peskov's comments last week reflected the deflated Russian hopes for improved ties with Washington or at least less punitive US policies.
"President Putin said in Helsinki that Russia still has hopes for the creation of a constructive relationship with Washington…We are sorry that often we are not met with cooperation on this account," Peskov said Aug. 9 in a regular press call with reporters.
Peskov's comments contrasted sharply with the evaluation Russian Foreign Minister Sergei Lavrov offered immediately after the summit, when he said that the talks had been "better than super."
Trump's performance in Helsinki sparked unusually public criticism, even from within his own party.
The administration's decision to impose the sanctions followed a July 26 letter from GOP Congressman Ed Royce, the Chairman of the House Committee on Foreign Affairs, urging the White House to comply with a law requiring the US to levy sanctions against countries that violate the 1991 Chemical and Biological Weapons and Warfare Elimination Act.