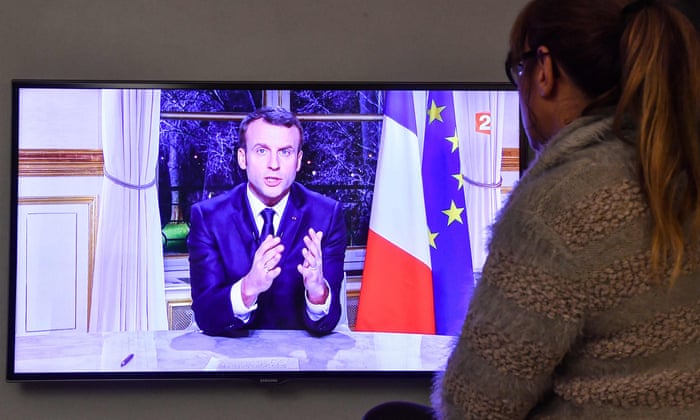 ---
This article titled "Macron's new year's speech: 'France can't succeed without a strong Europe'" was written by Angelique Chrisafis in Paris, for theguardian.com on Sunday 31st December 2017 21.57 UTC
The French president, Emmanuel Macron, appealed to European citizens "not to give in to nationalists and sceptics", as he used his new year's speech to promise to make the European Union "more united, more sovereign and more democratic".
Macron said in a televised address: "I deeply believe Europe can become that economic, social, environmentally-friendly, scientific power that will be able to face China and the United States." He added: "Europe is good for France. France can't succeed without a strong Europe."
The centrist, pro-business president, 40, is seeking to boost his standing on the world stage while at the same time pushing through a series of new laws in France in the coming year, including a controversial drive to harden immigration policy and increase expulsions of economic migrants. The plans have already drawn criticism from charities and even from some inside his own political movement.
In Macron's first televised new year's address since he was victorious against Marine Le Pen in May, he carefully promised to listen to dissenting voices, saying he would ensure France "showed solidarity at home and humanism internationally".
His long televised speech was delivered as a kind of pep-talk to France, borrowing a line from John F Kennedy as he urged the public: "Ask yourself every day what you can do for your country … I need that engagement."
Macron said France was "capable of the exceptional" and insisted the country would succeed in what he called its "universal mission" to "win peace" abroad. He said his priority was fighting Islamic terrorism abroad and at home. He has maintained France's military involvement in the battle against the Islamic State group in Iraq and Syria, and more than 4,000 troops fighting extremism in Africa's Sahel region. More recently, he offered to be a mediator in the Lebanon and Gulf crisis.
However, his speech came against the backdrop of a planned clampdown on illegal migrantion in France. Macron pointed to a France with problems such as discrimination on housing estates and warned against a country that was "too long divided", urging for more harmony. He promised a large-scale social project for 2018, without giving details.
A row broke out in December over Macron's planned new hardline immigration law, and charities and local government representatives have now been invited to consult with prime minister Edouard Philippe on the issue in January. The planned new law aims to speed up the process for asylum requests, but also to expel migrants without the possibility of claiming asylum. It would also double to 90 days the time a person without papers can be kept in a holding centre.
A set of new interior ministry orders in December sparked criticism after regional authorities were instructed to set up "mobile teams" to run checks in emergency housing to ascertain the status of migrants.
Macron said in his new year's speech that giving asylum was a "moral duty", and those who needed asylum would be welcomed. But he added: "We can't welcome everyone, and we can't act without rules. We have to check everyone's identity." He said he would hold a line of "humanity and efficiency".
Macron, a former investment banker who has found it hard to shake the tag of "president of the rich", saw a significant rise in popularity ratings in December. It is a turnaround rarely seen in recent years among French presidents. His approval ratings remain highest among older voters and high-earners, but he saw a recent rise in approval among younger voters.
Macron used his first eight months in office to push through changes to French labour laws, loosening worker protections and making it easier for companies to hire and fire. He also made sweeping changes to France's tax system, notably reducing the scope of the wealth tax for the richest by limiting it to property assets, and imposing a flat 30% levy on capital income. He called this a "profound transformation of France" in his new year's address – and said he would go further.
His plans for 2018 are complex, and include overhauling the unemployment benefits system and launching a constitutional reform of parliament.
guardian.co.uk © Guardian News & Media Limited 2010
Published via the Guardian News Feed plugin for WordPress.
Click here for reuse options!


Copyright 2018 News This Second Online
DON LEMON CUTS MIC ON PANELIST
---
This article titled "Donald Trump cancels London visit amid protest fears" was written by Heather Stewart Political editor, and David Smith in Washington, for The Guardian on Friday 12th January 2018 09.49 UTC
Donald Trump has cancelled a visit to Britain next month to open the new US embassy in London, amid fears of mass protests.
The president claimed on Twitter that the reason for calling off the trip was his displeasure at Barack Obama having sold the current embassy for "peanuts" and built a replacement for bn (£750m). "Bad deal," he wrote.
But the embassy's plan to move from Mayfair to Nine Elms in London was first reported in October 2008, when George W Bush was still president.
The London mayor, Sadiq Khan, said Trump had "got the message" that many Londoners staunchly opposed his policies and actions.
"It appears that President Trump got the message from the many Londoners who love and admire America and Americans but find his policies and actions the polar opposite of our city's values of inclusion, diversity and tolerance," Khan said on Friday.
"His visit next month would without doubt have been met by mass peaceful protests. This just reinforces what a mistake it was for Theresa May to rush and extend an invitation of a state visit in the first place."
The prime minister invited Trump for a state visit when she became the first world leader to visit the president in the White House a year ago. Activists immediately pledged to stage protests and MPs have said they would not give the president the opportunity to address parliament.
Asked about Trump's cancellation, a Downing Street spokesman repeated the government's longstanding position that "an invitation has been extended and accepted, but no date has been set".
The White House press secretary Sarah Sanders said: "The invitation was made and has been accepted we are still working to finalise a date."
Instead of a state visit, it had been expected that Trump would make a brief, less formal "working visit" in February to cut the ribbon on the embassy in south-west London, and hold meetings with May. Officials had also been examining plans for the president to meet the Queen without the pomp of a full-blown state banquet.
Government sources suggested Washington had signalled that the secretary of state, Rex Tillerson, would instead open the embassy.
Trump confirmed on Twitter late on Thursday night that the trip was off. "Reason I canceled my trip to London is that I am not a big fan of the Obama Administration having sold perhaps the best located and finest embassy in London for "peanuts," only to build a new one in an off location for 1.2 billion dollars," he wrote just before midnight local time. "Bad deal. Wanted me to cut ribbon-NO!"
Citing security and environmental reasons, the US state department agreed to sell the current embassy building in Grosvenor Square to the Qatari Diar Real Estate Investment Co, which plans to turn it into a luxury hotel. Estimates put the site's value at £500m before it was made a listed building, which would have diminished the value because of restrictions on development.
British relations with the president hit a low late last year when May criticised his decision to retweet videos posted by the far-right extremist group Britain First.
Trump responded by tweeting directly to the prime minister that she should focus on tackling domestic terrorism.
The government was so concerned about his decision to share the videos that Britain's ambassador to Washington, Sir Kim Darroch, took the rare step of raising the issue directly with the White House.
Trump's ambassador to London, Woody Johnson, subsequently insisted: "The president and the prime minister have a very, very good relationship. I know the president admires and respects the prime minister greatly."
May's government has been keen to strike up a close relationship with the Trump administration despite his erratic behaviour, because of Britain's desire to strike a swift trade deal with the world's largest economy when it leaves the European Union.
Trump has sparked alarm among diplomats by repeatedly entering into Twitter spats with key public figures, including the North Korean leader, Kim Jong-un, to whom he recently boasted about the size of the US nuclear arsenal.
The White House has been rocked in recent days by the revelations in an explosive book, Fire and Fury, by the US journalist Michael Wolff, who suggested senior figures in the administration questioned the president's fitness for office.
Asked about the revelations last weekend, May said she believed they were not serious, and Trump was a man making decisions "in the interests of the United States".
Trump faced fresh criticism on Thursday night after the Washington Post reported that he had questioned planned changes to immigration rules, asking colleagues why the US had to welcome arrivals from "shithole countries".
guardian.co.uk © Guardian News & Media Limited 2010
Published via the Guardian News Feed plugin for WordPress.
Click here for reuse options!


Copyright 2018 News This Second Online
---
This article titled "North Korea: Trump promises 'peace through strength' and denies strike plan" was written by Julian Borger in Washington Justin McCurry in Tokyo, for theguardian.com on Wednesday 10th January 2018 22.00 UTC
Donald Trump has promised "peace through strength" on the Korean peninsula, reportedly telling his South Korean counterpart that no US military action against Pyongyang is being contemplated while diplomacy is under way.
In a phone call with South Korea's president, Moon Jae-in, on Wednesday, Trump expressed his openness to talks with North Korea "at the appropriate time, under the right circumstances" according to a short White House account of the meeting, which gave no further details. The Trump administration has previously sent mixed signals on its preconditions before beginning a dialogue with the regime.
Speaking at the White House, Trump shrugged off reports in the press suggesting his administration was considering punitive air strikes against North Korea to show it is serious about curbing Pyongyang's development of nuclear and missile capabilities.
Stressing his commitment to military spending, Trump said: "We are going to have peace through strength."
He added: "I think we're going to have a long period of peace. I hope we do. We have certainly problems with North Korea but a lot of good talks are going on right now – a lot of good energy. I like it very much ."
According to a South Korean government spokesman, Trump promised Moon there would be no military action "of any kind" while the dialogue continued between the two Koreas. That dialogue restarted on Tuesday, after a break of two years, in talks in the border village of Panmunjoin, which resulted in North Korean regime agreeing to send a delegation to next month's Winter Olympics in Pyeongchang.
Moon briefed Trump on the Panmunjoin talks and went out of his way to thank Trump for his policy of imposing "maximum pressure" on North Korea.
"I think President Trump deserves big credit for bringing about the inter-Korean talks, and I want to show my gratitude," he told reporters in Seoul. "It could be the result of US-led sanctions and pressure."
In his version of his conversation with Moon, Trump also emphasised his owned role in creating conditions for the talks to occur.
"He's very thankful for what we've done. It was so reported today that … without our attitude, that would have never happened," Trump told reporters. "Who knows where it leads. Hopefully, it will lead to success for the world – not just for our country, but for the world. And we'll be seeing over the next number of weeks and months what happens."
In their telephone conversation on Wednesday, Trump also told Moon that vice-president Mike Pence would lead the US delegation to the Olympic Games, the White House said.
En route to South Korea, Pence will also travel to Alaska to review ballistic missile defense facilities, the White House said.
Moon's praise for Trump is being seen as an attempt to ease US concerns that the recent thaw in cross-border ties could drive a wedge between Seoul and Washington.
On Tuesday, North Korea agreed to send a large delegation to the Games, which open in Pyeongchang on 9 February. The two sides also agreed to hold military talks in an attempt to prevent an accidental conflict on the peninsula.
While Moon has been more open to the idea of engagement than either of his two conservative predecessors, he said Seoul and Washington shared a common aim: the denuclearisation of the Korean peninsula.
"This initial round of talks is for the improvement of relations between North and South Korea," he said. "Our task going forward is to draw North Korea to talks aimed at the denuclearisation of the North. That is our basic stance, and that will never be given up."
He added: "We cannot say talks are the sole answer. If North Korea engages in provocations again or does not show sincerity in resolving this issue, the international community will continue applying strong pressure and sanctions."
Moon said he was open to meeting his counterpart, Kim Jong-un, but he would not engage in "talks for the sake of talks".
"To hold a summit, the right conditions must be created and certain outcomes must be guaranteed," he said.
Lee Woo-young, a professor at the University of North Korean Studies in Seoul, said Moon had been right to praise Trump.
"By doing that, he can help the US build logic for moving toward negotiations and turning around the state of affairs in the future, so when they were ready to talk to the North, they can say the North came out of isolation because the sanctions were effective," he said.
guardian.co.uk © Guardian News & Media Limited 2010
Published via the Guardian News Feed plugin for WordPress.
Click here for reuse options!


Copyright 2018 News This Second Online