Macron's new year's speech: 'France can't succeed without a strong Europe'
French president promises to listen to dissenting voices but appeals to Europeans not to give in to 'nationalists and sceptics'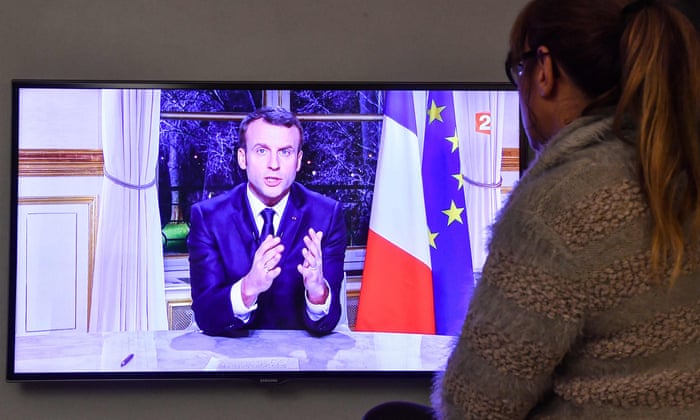 ---
This article titled "Macron's new year's speech: 'France can't succeed without a strong Europe'" was written by Angelique Chrisafis in Paris, for theguardian.com on Sunday 31st December 2017 21.57 UTC
The French president, Emmanuel Macron, appealed to European citizens "not to give in to nationalists and sceptics", as he used his new year's speech to promise to make the European Union "more united, more sovereign and more democratic".
Macron said in a televised address: "I deeply believe Europe can become that economic, social, environmentally-friendly, scientific power that will be able to face China and the United States." He added: "Europe is good for France. France can't succeed without a strong Europe."
The centrist, pro-business president, 40, is seeking to boost his standing on the world stage while at the same time pushing through a series of new laws in France in the coming year, including a controversial drive to harden immigration policy and increase expulsions of economic migrants. The plans have already drawn criticism from charities and even from some inside his own political movement.
In Macron's first televised new year's address since he was victorious against Marine Le Pen in May, he carefully promised to listen to dissenting voices, saying he would ensure France "showed solidarity at home and humanism internationally".
His long televised speech was delivered as a kind of pep-talk to France, borrowing a line from John F Kennedy as he urged the public: "Ask yourself every day what you can do for your country … I need that engagement."
Macron said France was "capable of the exceptional" and insisted the country would succeed in what he called its "universal mission" to "win peace" abroad. He said his priority was fighting Islamic terrorism abroad and at home. He has maintained France's military involvement in the battle against the Islamic State group in Iraq and Syria, and more than 4,000 troops fighting extremism in Africa's Sahel region. More recently, he offered to be a mediator in the Lebanon and Gulf crisis.
However, his speech came against the backdrop of a planned clampdown on illegal migrantion in France. Macron pointed to a France with problems such as discrimination on housing estates and warned against a country that was "too long divided", urging for more harmony. He promised a large-scale social project for 2018, without giving details.
A row broke out in December over Macron's planned new hardline immigration law, and charities and local government representatives have now been invited to consult with prime minister Edouard Philippe on the issue in January. The planned new law aims to speed up the process for asylum requests, but also to expel migrants without the possibility of claiming asylum. It would also double to 90 days the time a person without papers can be kept in a holding centre.
A set of new interior ministry orders in December sparked criticism after regional authorities were instructed to set up "mobile teams" to run checks in emergency housing to ascertain the status of migrants.
Macron said in his new year's speech that giving asylum was a "moral duty", and those who needed asylum would be welcomed. But he added: "We can't welcome everyone, and we can't act without rules. We have to check everyone's identity." He said he would hold a line of "humanity and efficiency".
Macron, a former investment banker who has found it hard to shake the tag of "president of the rich", saw a significant rise in popularity ratings in December. It is a turnaround rarely seen in recent years among French presidents. His approval ratings remain highest among older voters and high-earners, but he saw a recent rise in approval among younger voters.
Macron used his first eight months in office to push through changes to French labour laws, loosening worker protections and making it easier for companies to hire and fire. He also made sweeping changes to France's tax system, notably reducing the scope of the wealth tax for the richest by limiting it to property assets, and imposing a flat 30% levy on capital income. He called this a "profound transformation of France" in his new year's address – and said he would go further.
His plans for 2018 are complex, and include overhauling the unemployment benefits system and launching a constitutional reform of parliament.
guardian.co.uk © Guardian News & Media Limited 2010
Published via the Guardian News Feed plugin for WordPress.
George Herbert Walker Bush, the linchpin of an American political dynasty whose presidency saw the end of the Cold War and the close of an era of American bipartisanship that conflict fostered, has died. He was 94.
During his single term in the White House, the Berlin Wall fell, newly democratic states sprang up across Central and Eastern Europe, and the Soviet Union came to an end. And in the Middle East, the U.S. military launched its most successful offensive since World War II. For a time, Bush rode foreign policy triumphs to high popularity. But he saw his standing plunge during a 1990s recession and lost to Bill Clinton after one term.
On April 22nd President Bush was admitted to the Houston Methodist Hospital  after contracting an infection that spread to his blood. He was said to have been responding to treatments and appeared to be recovering.
Court Orders White House to give Jim Acosta his hard pass back
Federal judge Timothy J. Kelly sided with CNN on Friday, ordering the White House to reinstate chief White House correspondent Jim Acosta's press pass.
The ruling was an initial victory for CNN in its lawsuit against President Trump and several top aides.
The lawsuit alleges that CNN and Acosta's First and Fifth Amendment rights are being violated by the suspension of Acosta's press pass.
Kelly did not rule on the underlying case on Friday. But he granted CNN's request for a temporary restraining order.
This result means that Acosta will have his access to the White House restored for at least a short period of time. The judge said while explaining his decision that he believes that CNN and Acosta are likely to prevail in the case overall.
CNN is also asking for "permanent relief," meaning a declaration from the judge that Trump's revocation of Acosta's press pass was unconstitutional. This legal conclusion could protect other reporters from retaliation by the administration.
"The revocation of Acosta's credentials is only the beginning," CNN's lawsuit alleged, pointing out that Trump has threatened to strip others' press passes too.
That is one of the reasons why most of the country's major news organizations have backed CNN's lawsuit, turning this into an important test of press freedom.
But the judge will rule on all of that later. Further hearings are likely to take place in the next few weeks, according to CNN's lawyers.

(CNN)
CNN sues President Trump for banning reporter Jim Acosta
CNN is filing a lawsuit against President Trump and several of his aides, seeking the immediate restoration of chief White House correspondent Jim Acosta's access to the White House.
The lawsuit is a response to the White House's suspension of Acosta's press pass, known as a Secret Service "hard pass," last week. The suit alleges that Acosta and CNN's First and Fifth Amendment rights are being violated by the ban.
The suit is being filed in U.S. District Court in Washington, D.C. on Tuesday morning, a CNN spokeswoman confirmed.
Both CNN and Acosta are plaintiffs in the lawsuit. There are six defendants: Trump, chief of staff John Kelly, press secretary Sarah Sanders, deputy chief of staff for communications Bill Shine, Secret Service director Joseph Clancy, and the Secret Service officer who took Acosta's hard pass away last Wednesday. The officer is identified as John Doe in the suit, pending his identification.
The six defendants are all named because of their roles in enforcing and announcing Acosta's suspension.
Last Wednesday, shortly after Acosta was denied entry to the White House grounds, Sanders defended the unprecedented step by claiming that he had behaved inappropriately at a presidential news conference. CNN and numerous journalism advocacy groups rejected that assertion and said his pass should be reinstated.
On Friday, CNN sent a letter to the White House formally requesting the immediate reinstatement of Acosta's pass and warning of a possible lawsuit, the network confirmed.
In a statement on Tuesday morning, CNN said it is seeking a preliminary injunction as soon as possible so that Acosta can return to the White House right away, and a ruling from the court preventing the White House from revoking Acosta's pass in the future.
"CNN filed a lawsuit against the Trump Administration this morning in DC District Court," the statement read. "It demands the return of the White House credentials of CNN's Chief White House correspondent, Jim Acosta. The wrongful revocation of these credentials violates CNN and Acosta's First Amendment rights of freedom of the press, and their Fifth Amendment rights to due process. We have asked this court for an immediate restraining order requiring the pass be returned to Jim, and will seek permanent relief as part of this process."
CNN also asserted that other news organizations could have been targeted by the Trump administration this way, and could be in the future.
"While the suit is specific to CNN and Acosta, this could have happened to anyone," the network said. "If left unchallenged, the actions of the White House would create a dangerous chilling effect for any journalist who covers our elected officials."
Acosta has continued to do part of his job, contacting sources and filing stories, but he has been unable to attend White House events or ask questions in person — a basic part of any White House correspondent's role.
Acosta is on a previously scheduled vacation this week. He declined to comment on the lawsuit.
On CNN's side, CNN Worldwide chief counsel David Vigilante is joined by two prominent attorneys, Ted Boutrous and Theodore Olson. Both men are partners at Gibson, Dunn & Crutcher.
Last week, before he was retained by CNN, Boutrous tweeted that the action against Acosta "clearly violates the First Amendment." He cited the Sherrill case.
"This sort of angry, irrational, false, arbitrary, capricious content-based discrimination regarding a White House press credential against a journalist quite clearly violates the First Amendment," he wrote.
David McCraw, the top newsroom lawyer at The New York Times, said instances of news organizations suing a president are extremely rare.
Past examples are The New York Times v. U.S., the famous Supreme Court case involving the Pentagon Papers in 1971; and CNN's 1981 case against the White House and the broadcast networks, when CNN sued to be included in the White House press pool.
The backdrop to this new suit, of course, is Trump's antipathy for CNN and other news outlets. He regularly derides reporters from CNN and the network as a whole.
Abrams posited on "Reliable Sources" on Sunday that CNN might be reluctant to sue because the president already likes to portray the network as his enemy. Now there will be a legal case titled CNN Inc. versus President Trump.
But, Abrams said, "this is going to happen again," meaning other reporters may be banned too.
"Whether it's CNN suing or the next company suing, someone's going to have to bring a lawsuit," he said, "and whoever does is going to win unless there's some sort of reason."
(CNN)