Macron's new year's speech: 'France can't succeed without a strong Europe'
French president promises to listen to dissenting voices but appeals to Europeans not to give in to 'nationalists and sceptics'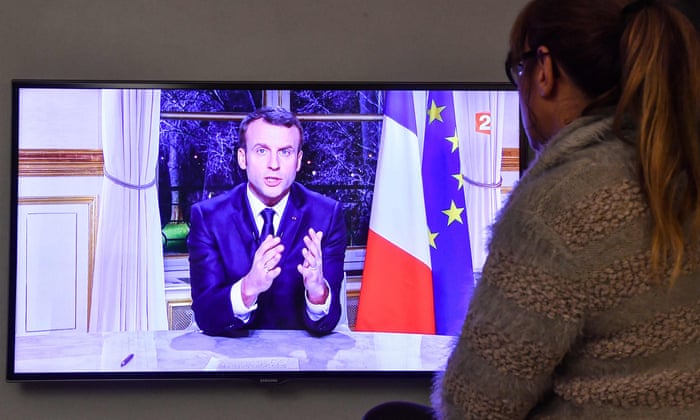 ---
This article titled "Macron's new year's speech: 'France can't succeed without a strong Europe'" was written by Angelique Chrisafis in Paris, for theguardian.com on Sunday 31st December 2017 21.57 UTC
The French president, Emmanuel Macron, appealed to European citizens "not to give in to nationalists and sceptics", as he used his new year's speech to promise to make the European Union "more united, more sovereign and more democratic".
Macron said in a televised address: "I deeply believe Europe can become that economic, social, environmentally-friendly, scientific power that will be able to face China and the United States." He added: "Europe is good for France. France can't succeed without a strong Europe."
The centrist, pro-business president, 40, is seeking to boost his standing on the world stage while at the same time pushing through a series of new laws in France in the coming year, including a controversial drive to harden immigration policy and increase expulsions of economic migrants. The plans have already drawn criticism from charities and even from some inside his own political movement.
In Macron's first televised new year's address since he was victorious against Marine Le Pen in May, he carefully promised to listen to dissenting voices, saying he would ensure France "showed solidarity at home and humanism internationally".
His long televised speech was delivered as a kind of pep-talk to France, borrowing a line from John F Kennedy as he urged the public: "Ask yourself every day what you can do for your country … I need that engagement."
Macron said France was "capable of the exceptional" and insisted the country would succeed in what he called its "universal mission" to "win peace" abroad. He said his priority was fighting Islamic terrorism abroad and at home. He has maintained France's military involvement in the battle against the Islamic State group in Iraq and Syria, and more than 4,000 troops fighting extremism in Africa's Sahel region. More recently, he offered to be a mediator in the Lebanon and Gulf crisis.
However, his speech came against the backdrop of a planned clampdown on illegal migrantion in France. Macron pointed to a France with problems such as discrimination on housing estates and warned against a country that was "too long divided", urging for more harmony. He promised a large-scale social project for 2018, without giving details.
A row broke out in December over Macron's planned new hardline immigration law, and charities and local government representatives have now been invited to consult with prime minister Edouard Philippe on the issue in January. The planned new law aims to speed up the process for asylum requests, but also to expel migrants without the possibility of claiming asylum. It would also double to 90 days the time a person without papers can be kept in a holding centre.
A set of new interior ministry orders in December sparked criticism after regional authorities were instructed to set up "mobile teams" to run checks in emergency housing to ascertain the status of migrants.
Macron said in his new year's speech that giving asylum was a "moral duty", and those who needed asylum would be welcomed. But he added: "We can't welcome everyone, and we can't act without rules. We have to check everyone's identity." He said he would hold a line of "humanity and efficiency".
Macron, a former investment banker who has found it hard to shake the tag of "president of the rich", saw a significant rise in popularity ratings in December. It is a turnaround rarely seen in recent years among French presidents. His approval ratings remain highest among older voters and high-earners, but he saw a recent rise in approval among younger voters.
Macron used his first eight months in office to push through changes to French labour laws, loosening worker protections and making it easier for companies to hire and fire. He also made sweeping changes to France's tax system, notably reducing the scope of the wealth tax for the richest by limiting it to property assets, and imposing a flat 30% levy on capital income. He called this a "profound transformation of France" in his new year's address – and said he would go further.
His plans for 2018 are complex, and include overhauling the unemployment benefits system and launching a constitutional reform of parliament.
guardian.co.uk © Guardian News & Media Limited 2010
Published via the Guardian News Feed plugin for WordPress.
FACT CHECK: Did President Obama lie about his knowledge of Hillary Clinton using a private email address
BNL News tweeted that President Obama 'lied' about his knowledge of Hillary Clinton using a private email address
LYING ALERT: Obama previously denied any knowledge of Hillary Clinton's private e-mail scheme. We now know that was a lie. https://t.co/soDfNmMCP8

— BNL NEWS (@BreakingNLive) June 14, 2018
However this claim is misleading,
News reports from that period back up the claim Obama denied knowledge of the use of a private email however The White House clarified that he was referring to his knowledge of the fact that she ran it out of her home.
New York Times Report (Click To View)
However the White House later clarified that Obama was referring to Clinton's apparently lack of compliance with State Department rules by not submitting the communications as formal records for nearly six years.
"Yes, he was aware of her email address. He traded emails with her," Earnest said. "But he was not aware of her personal email server or that she was using it exclusively for all her business."
A FactCheck.org article goes through this in depth, Click Here To Read
NewsThisSecond rates the claim misleading due to the tweet suggesting former President Obama lied.
READ: Inspector General Report on Justice Department, FBI, Clinton emails
READ:House GOP interim findings on Clinton email investigation
A Republican-authored document detailing some of the preliminary findings of a joint investigation by the House Judiciary and Oversight committees into the Hillary Clinton email investigation.