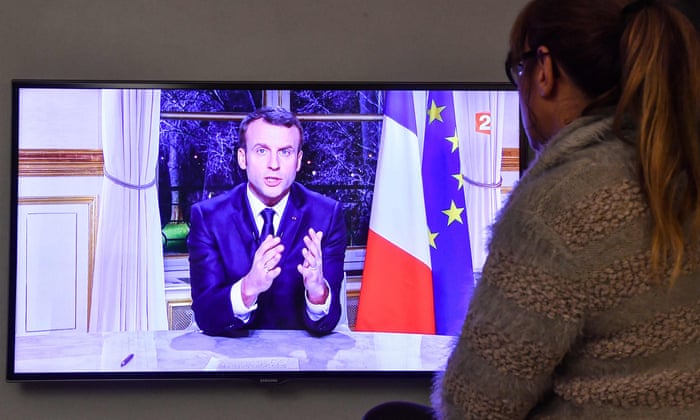 ---
This article titled "Macron's new year's speech: 'France can't succeed without a strong Europe'" was written by Angelique Chrisafis in Paris, for theguardian.com on Sunday 31st December 2017 21.57 UTC
The French president, Emmanuel Macron, appealed to European citizens "not to give in to nationalists and sceptics", as he used his new year's speech to promise to make the European Union "more united, more sovereign and more democratic".
Macron said in a televised address: "I deeply believe Europe can become that economic, social, environmentally-friendly, scientific power that will be able to face China and the United States." He added: "Europe is good for France. France can't succeed without a strong Europe."
The centrist, pro-business president, 40, is seeking to boost his standing on the world stage while at the same time pushing through a series of new laws in France in the coming year, including a controversial drive to harden immigration policy and increase expulsions of economic migrants. The plans have already drawn criticism from charities and even from some inside his own political movement.
In Macron's first televised new year's address since he was victorious against Marine Le Pen in May, he carefully promised to listen to dissenting voices, saying he would ensure France "showed solidarity at home and humanism internationally".
His long televised speech was delivered as a kind of pep-talk to France, borrowing a line from John F Kennedy as he urged the public: "Ask yourself every day what you can do for your country … I need that engagement."
Macron said France was "capable of the exceptional" and insisted the country would succeed in what he called its "universal mission" to "win peace" abroad. He said his priority was fighting Islamic terrorism abroad and at home. He has maintained France's military involvement in the battle against the Islamic State group in Iraq and Syria, and more than 4,000 troops fighting extremism in Africa's Sahel region. More recently, he offered to be a mediator in the Lebanon and Gulf crisis.
However, his speech came against the backdrop of a planned clampdown on illegal migrantion in France. Macron pointed to a France with problems such as discrimination on housing estates and warned against a country that was "too long divided", urging for more harmony. He promised a large-scale social project for 2018, without giving details.
A row broke out in December over Macron's planned new hardline immigration law, and charities and local government representatives have now been invited to consult with prime minister Edouard Philippe on the issue in January. The planned new law aims to speed up the process for asylum requests, but also to expel migrants without the possibility of claiming asylum. It would also double to 90 days the time a person without papers can be kept in a holding centre.
A set of new interior ministry orders in December sparked criticism after regional authorities were instructed to set up "mobile teams" to run checks in emergency housing to ascertain the status of migrants.
Macron said in his new year's speech that giving asylum was a "moral duty", and those who needed asylum would be welcomed. But he added: "We can't welcome everyone, and we can't act without rules. We have to check everyone's identity." He said he would hold a line of "humanity and efficiency".
Macron, a former investment banker who has found it hard to shake the tag of "president of the rich", saw a significant rise in popularity ratings in December. It is a turnaround rarely seen in recent years among French presidents. His approval ratings remain highest among older voters and high-earners, but he saw a recent rise in approval among younger voters.
Macron used his first eight months in office to push through changes to French labour laws, loosening worker protections and making it easier for companies to hire and fire. He also made sweeping changes to France's tax system, notably reducing the scope of the wealth tax for the richest by limiting it to property assets, and imposing a flat 30% levy on capital income. He called this a "profound transformation of France" in his new year's address – and said he would go further.
His plans for 2018 are complex, and include overhauling the unemployment benefits system and launching a constitutional reform of parliament.
guardian.co.uk © Guardian News & Media Limited 2010
Published via the Guardian News Feed plugin for WordPress.
Click here for reuse options!


Copyright 2018 News This Second Online
This article titled "'Homer Simpson' pulled over by police in Milton Keynes" was written by Nicola Slawson, for The Guardian on Sunday 18th March 2018 13.16 UTC
Choosing one of the world's most famous cartoon characters for a fake driving licence might seem like something only Homer Simpson himself would do, but this week police pulled over a driver who had done just that.
A unidentified male driver was stopped by police in Milton Keynes, Buckinghamshire, this week and presented the officer with the licence, featuring the character from The Simpsons.
The spoof licence came complete with an image of Simpson saying his "D'oh!" catchphrase, a signature and address. Thames Valley police said in a tweet: "The driver's car was seized and he was reported for driving with no insurance and driving without a proper licence. D'oh!"
Social media users have pointed out that the man did not even get the cartoon character's date of birth or address right.
The date of birth on the fake licence is 4 August 1963, while Simpson's date of birth in the TV show is 12 May 1956.
One person wrote: "Everyone knows that Homer Simpson lives at 742 Evergreen Terrace! Amateur … "
guardian.co.uk © Guardian News & Media Limited 2010
Published via the Guardian News Feed plugin for WordPress.
Click here for reuse options!


Copyright 2018 News This Second Online
This article titled "Stormy Daniels threatened with m in damages by Trump attorney" was written by Edward Helmore in New York, for theguardian.com on Saturday 17th March 2018 18.41 UTC
Donald Trump's lawyers are seeking m in damages from Stephanie Clifford, the pornographic actor whose professional name is Stormy Daniels and who claims to have had an affair with the future president in 2006 and 2007.
A lawyer representing Trump attorney Michael Cohen's company, Essential Consultants, claimed in federal court on Friday that Clifford had violated a non-disclosure agreement as many as 20 times.
Clifford has said she was secretly paid 0,000 to keep quiet. Cohen, who has said he was not reimbursed by the Trump Organization or the Trump campaign for making the payment, has not explained what the payment was for or whether Trump was aware of it.
According to Friday's filing with the US district court for the central district of California, Cohen now plans to force the dispute from state to federal court and into closed-door arbitration.
Trump has also obtained a restraining order against Clifford.
Clifford's counsel, Michael Avenatti, said the threat to pursue his client for millions and efforts to force the matter under the cover of anonymity amounted to bullying.
"To put it simply – they want to hide the truth from the American people. We will oppose this effort at every turn," Avenatti said.
"The fact that a sitting president is pursuing over m in bogus 'damages' against a private citizen, who is only trying to tell the public what really happened, is truly remarkable. Likely unprecedented in our history. We are not going away and we will not be intimidated by these threats."
The latest turn in the dispute trails what promises to be an explosive CBS 60 Minutes' interview with Clifford, scheduled for broadcast next Sunday.
This week, Avenatti claimed six other women had similar stories to tell, two of whom were similarly under non-disclosure agreements. He also said Clifford had been threatened.
Avenatti has claimed the non-disclosure agreement signed by his client is invalid because Trump failed to sign it too. If the courts determine the NDA is valid, the actor could face a penalty of m for each violation.
The White House press secretary, Sarah Sanders, has rejected the notion that Trump approved the payment to Clifford. The White House has also denied Trump had an affair with Daniels.
guardian.co.uk © Guardian News & Media Limited 2010
Published via the Guardian News Feed plugin for WordPress.
Click here for reuse options!


Copyright 2018 News This Second Online
This article titled "Crack in Florida bridge deemed no concern just hours before collapse" was written by Edward Helmore and agencies, for theguardian.com on Sunday 18th March 2018 04.24 UTC
Hours before a pedestrian bridge at Florida International University collapsed on Thursday, killing six people, engineers met the construction manager, state transportation officials and university representatives to discuss a crack on the structure.
The Miami-based university detailed the two-hour meeting in a statement released early on Saturday.
It said the session included a technical presentation by Figg Bridge Engineers that "concluded there were no safety concerns and the crack did not compromise the structural integrity of the bridge".
The meeting ended at 11am. Three hours later, the bridge fell.
The Florida department of transportation (FDot) announced late on Friday that an engineer hired by the university left a voicemail message with the state agency two days before the collapse, seeking to draw attention to the crack.
In the call, which was not picked up until after collapse and has been released to the public, engineer W Denney Pate mentioned "some cracking that's been observed on the north end" of the bridge but said he did not think it was a safety issue.
The state transportation department also said one of its consultants attended a meeting with the FIU bridge team hours before the collapse. It did not say the crack in the bridge had been discussed.
The National Transportation Safety Board chief investigator, Robert Accetta, said on Friday it was too soon to tell if cracks played a role in the bridge collapse.
"I would have to say that a crack in the bridge does not necessarily mean it's unsafe," he said.
University officials have said engineers had performed stress tests to determine the "resiliency of the concrete" in the bridge.
Late on Saturday police said that they believed they had recovered all the bodies of the victims of the collapse. Juan Perez, Miami-Dade police chief, told news media that they had recovered all five bodies of people in vehicles crushed under the bridge. A sixth person died at the hospital.
While police believed all victims had been accounted for, they nevertheless said the search and rescue was continuing.
One victim's uncle raged against what he called the "complete incompetence" and "colossal failure" that allowed people to drive on the six-lane highway beneath the unfinished concrete span.
"Why they had to build this monstrosity in the first place to get children across the street?" said Joe Smitha, whose niece, Alexa Duran, was crushed. "Then they decided to stress test this bridge while traffic was running underneath it?"
Authorities have not released Duran's name, but her family has said she died. The FIU freshman was studying political science.
In an emailed statement on Saturday night, the Florida International University president, Mark Rosenberg, said it would hold a moment's silence for the victims at 1:47pm on Monday – the same time that the bridge went down.
guardian.co.uk © Guardian News & Media Limited 2010
Published via the Guardian News Feed plugin for WordPress.
Click here for reuse options!


Copyright 2018 News This Second Online