Four young men killed in London new year stabbings
Men aged 17 to 20 die after separate knife attacks in 15-hour period in locations around capital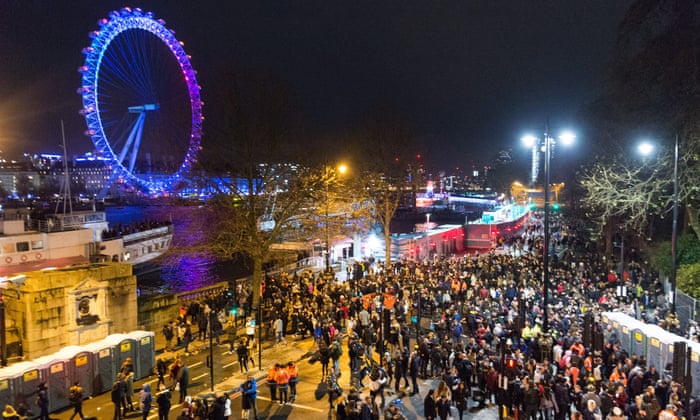 ---
This article titled "New year's attacks take stabbing death toll in London in 2017 to 80" was written by Jamie Grierson, for The Guardian on Monday 1st January 2018 22.00 UTC
Four young men were stabbed to death at the turn of the year in London bringing the total number of fatal knife attacks in the capital to 80 in 2017 alone.
The killings – three on New Year's Eve and a fourth on New Year's Day – were all unrelated and occurred within a 15-hour period at locations in north, east and south London.
The three deaths on Sunday bring the total number of fatal stabbings in the capital in 2017 to 80, Scotland Yard confirmed. The mayor of London, Sadiq Khan, who has struggled to control knife crime during his term so far, said he will "work tirelessly in 2018 and beyond to stamp out this scourge".
Figures revealed in the Guardian as part of the Beyond the Blade reporting revealed that 2017 was already the worst year for deaths of children and teenagers in England and Wales since 2009. As at the end of November, 35 people aged 19 or under in England and Wales had been stabbed to death. It was last higher in 2008 when 42 young people died as a result of an attack with a knife. Two of the victims of the most recent deaths were 18 and 17, while the other two men were both 20.
Last month, Cressida Dick, Britain's most senior police officer, said extra resources were needed to fight knife crime in the capital, describing her force and all public services as "stretched".
The first of the most recent spate of attacks was at 11.30am on 31 December when an 18-year-old man was stabbed in Enfield. He died in hospital that evening.
At about 7.30pm, a 20-year-old man was fatally stabbed in West Ham, and at about 10.40pm a 17-year-old boy was stabbed to death in Tulse Hill.
The fourth stabbing happened at 2.30am on 1 January, when a 20-year-old man was attacked in Old Street, east London. A second man, aged in his 20s, was taken to hospital with critical stab injuries. Police have arrested a 19-year-old man on suspicion of murder following the stabbing.
Commander Neil Jerome, of the Met's territorial policing command, said: "It is heartbreaking that, at a time when so many of us are contemplating what lies ahead in 2018, four families are dealing with the grief of losing a loved one to senseless violence and the callous use of knives as lethal weapons."
He urged anyone with information about the attacks to contact police or Crimestoppers.
Five men were arrested in connection with the murder in Enfield. There have been no arrests in the other cases.
Alison Cope, whose son Joshua Ribera, AKA the rapper Depzman, was stabbed to death at the age of 18 four years ago, said the government was not doing enough and was approaching the "epidemic" of knife violence with "token gestures".
"This will carry on and it will be exactly the same as last year, and the year before," she said. "We'll have who knows how many deaths this year."
Cope, who now campaigns to tackle knife crime, wants more funding and support for programmes that send people affected by knife crime – like herself – into schools and colleges to educate them on the impact.
"The government promotes things that look good to the public – like knife bins, or playing certain type of music in McDonald's when young people gather, faith-led intervention," she said. "But they're all token gestures.
"If you put a poster on a billboard that says "don't carry a knife" at no point is a young person who is carrying a weapon going to look at that and think 'I'm going to change my entire mindset because someone has printed something and put it up there'."
Cope, whose son was at a memorial tribute at a nightclub in Selly Oak held for a friend who had died a year earlier after being stabbed when he was killed, said you need children to feel something if you want to influence them.
"The only way they're going to feel is to meet people who have experienced it, lived it, who know what they're talking about," she said.
She said her love and thoughts were with the families of those stabbed over New Year's Eve. "They're not just headlines. Behind those headlines are mums, dads, grandparents, cousins, sisters, brothers all howling. Police swarming their house, telling them what happens next. Their children in a morgue, in freezers. The next stage will be the arrests, the court process. This is the beginning of a life changed forever."
Khan launched the high-profile "London needs you alive" campaign and knife crime strategy after he assumed office as mayor of London in May 2016.
He said: "My thoughts today are with the families of four young men who have tragically been killed in four unrelated stabbings in our city last night.
"The police have today assured me that everything is being done to bring to justice those responsible for these appalling acts of violence. I urge anyone with information to come forward.
"The police were out in force helping people enjoy our city's fantastic celebrations last night, and I thank them. However, it is horrific that knife crime has claimed another four young lives as the new year begins.
"We will work tirelessly in 2018 and beyond to stamp out this scourge. I want to be absolutely clear – if you use a knife the full force of the law will be brought down on you. You will be caught and prosecuted."
Meanwhile, West Mercia police said a woman who had suffered what is believed to be a knife injury was pronounced dead at an address in Bromsgrove, Worcestershire, at 12.12am. A 49-year-old man was arrested at the scene after police were called to the property at 11.52pm on New Year's Eve.
In Sheffield, South Yorkshire police said five men in their 20s were taken to hospital with knife wounds after an altercation at around 2.20am in Carver Street. Two of the men suffered life-threatening injuries and remain in hospital in a critical but stable condition.
guardian.co.uk © Guardian News & Media Limited 2010
Published via the Guardian News Feed plugin for WordPress.
Teen Found Guilty Of Killing Shopkeeper Over Cigarette Papers
A teenager found guilty of the killing of a family man outside his Mill Hill shop after he refused to sell cigarette papers to him and his friends has been sentenced to four years' imprisonment.
The 16-year-old from Brent was sentenced at the Old Bailey today [Friday 7 September] after being convicted of the manslaughter of Vijaykumar Patel on Monday, 9 July.
An investigation was launched after officers were initially called at about 23:45hrs on Saturday, 6 January by the London Ambulance Service to reports of a man who had been assaulted and injured on The Broadway, NW7.
Vijaykumar, 49, from the Colindale area was taken to a central London hospital for treatment but died during the evening of Monday, 8 January.
Detectives found that the victim had been at work in the shop on the evening of Saturday, 6 January. Three teenage boys came into the shop and tried to buy some items including cigarette papers. Due to concerns about their age and a potential breach of licensing laws they were refused service after they were unable to provide suitable identification.
The three were unhappy about the decision and became aggressive, threatening to vandalise the shop.
Vijaykumar and a colleague went outside after them to ensure no damage was done to the shop. The youth continued to be aggressive challenging the pair to a fight and being abusive.
Vijaykumar did not move towards or gesture at any of the group; he only went outside to ensure his shop would not be damaged. While he was waiting for them to move on he was struck by the 16-year-old boy with force across his neck causing him to fall to the floor and suffer catastrophic head injuries.
The colleague was also punched by the teenagers. He suffered minor injuries, but did not require hospital treatment.
A post-mortem examination held at Northwick Park Hospital Mortuary on Thursday, 11 January gave the provisional cause of Mr Patel's death as head injuries.
An investigation was immediately launched by officers from the Homicide and Major Crime Command. Forensic analysis was completed at the extensive crime scene and local CCTV footage from inside and outside the shop captured those involved.
They were circulated to local CID officers and detectives, and arrested two days later on Monday, 8 January. The youth refused to cooperate with police and answered "no comment" to even the most basic questions put to him.
Two boys – [B] aged 16 and [C] aged 15 – were arrested after they attended a central London police station on the evening of Wednesday, 10 January. They were subsequently bailed.
The 16-year-old [B] was given a youth caution on Thursday, 22 March for a Section 4 Public Order Act offence in relation to his actions towards the shop owner and witness. The 15-year-old [C] was released with no further action on all matters on Friday, 19 January.
Detective Chief Inspector Luke Marks, from the Homicide and Major Crime Command, said: "It beggars belief that a family man with two kids has lost his life over an argument about cigarette papers that got out of hand. This was an unprovoked spontaneous incident sparked entirely by the refusal to let the suspects buy what they wanted.
"A man has lost his life for no reason other than trying to uphold the law, which is there to protect everyone – including young people.
"I would like to praise the work of the team who built a strong case, and the victim's family and friends who have conducted themselves with the utmost dignity.
"Vijaykumar was a loving son, brother, father and husband, and his family are left mourning his death, wondering how someone could use such abhorrent and casual violence. I hope this conviction will bring some sense of justice to the family who have been devastated by Vijaykumar's murder. He truly was a decent, hard-working family man who in no way contributed to his own demise.
"I would like to add that the local policing team in the Mill Hill area are in regular contact with business owners and other members of the community. Since this attack, officers have been meeting local retailers to provide reassurance and crime prevention advice. Officers will continue to engage with the business community to gauge any concerns they have."
Man jailed for Grenfell fire fraud and drugs offences
A man who fraudulently obtained over £80,000 of funding that had been made available to those affected by the Grenfell Tower fire has been jailed at Isleworth Crown Court.
Yonatan Eyob, 26 (05.07.92) of no fixed address was sentenced today, (Friday, 7 September), to three years and four months' imprisonment after pleading guilty on 30 July to one count of fraud by false representation in relation to the Grenfell Tower fire.
Eyob was also jailed for a further three years and four months – making a total of six years and eight months' imprisonment – after pleading guilty on 6 July to the further offences of: 
– possession with intent to supply class A drugs (MDMA);
– possession with intent to supply class A drugs (cocaine);
– possession with intent to supply class B drugs (ketamine);
– possession with intent to supply class B drugs (cannabis);
– possession of criminal property.
The court heard how at the time of the fire, Eyob lived next to Grenfell Tower at an address in Hurstway Walk. However, he claimed he lived within Grenfell Tower in order to claim hotel accommodation and money – in total he fraudulently claimed £86,831.55.
Officers investigating matters of fraud linked to Grenfell Tower identified Eyob as a suspect and officers attended the hotel where he was being accommodated to arrest him. On entering the room, they found a large quantity of class A and class B drugs; over 120 wraps of MDMA, 89 wraps of cocaine, 30 wraps of Ketamine and 17 wraps of cannabis.
Eyob was further arrested for drug offences.
The drugs carried a street value of over £6,500. £3,000 cash was also seized as criminal property when officers discovered the drugs.
Detective Superintendent, Matt Bonner, the senior investigating officer for Operation Northleigh, said: "It is ironic that Eyob would have legitimately qualified to financial support if he had just told the truth as at the time of the fire he was living in a residence that fell within the Grenfell Tower footprint.
"However, he chose to concoct a story which he knew was false in a bid to obtain money and accommodation.
"His fraudulent acts were further compounded when officers found quantities of drugs within the hotel room he had been given to stay in.
"Eyob now must face the consequences of his actions with considerable time in jail."
2 dead, 4 critically injured after active shooter incident in downtown Cincinnati
Police in the US city of Cincinnati say they've responded to an active shooter situation at a building downtown.
The Cincinatti Police Department said in a tweet on Thursday they were investigating an "active shooter/officer involved shooting" at the Fifth Third Bank, which is located in the city's Fountain Square, a busy meeting place.
(Al Jazeera)