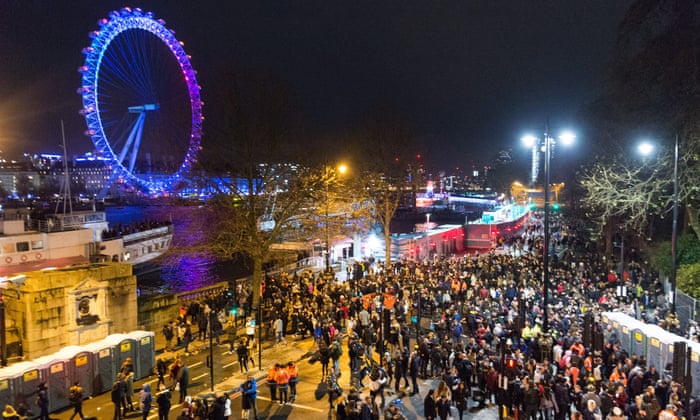 ---
This article titled "New year's attacks take stabbing death toll in London in 2017 to 80" was written by Jamie Grierson, for The Guardian on Monday 1st January 2018 22.00 UTC
Four young men were stabbed to death at the turn of the year in London bringing the total number of fatal knife attacks in the capital to 80 in 2017 alone.
The killings – three on New Year's Eve and a fourth on New Year's Day – were all unrelated and occurred within a 15-hour period at locations in north, east and south London.
The three deaths on Sunday bring the total number of fatal stabbings in the capital in 2017 to 80, Scotland Yard confirmed. The mayor of London, Sadiq Khan, who has struggled to control knife crime during his term so far, said he will "work tirelessly in 2018 and beyond to stamp out this scourge".
Figures revealed in the Guardian as part of the Beyond the Blade reporting revealed that 2017 was already the worst year for deaths of children and teenagers in England and Wales since 2009. As at the end of November, 35 people aged 19 or under in England and Wales had been stabbed to death. It was last higher in 2008 when 42 young people died as a result of an attack with a knife. Two of the victims of the most recent deaths were 18 and 17, while the other two men were both 20.
Last month, Cressida Dick, Britain's most senior police officer, said extra resources were needed to fight knife crime in the capital, describing her force and all public services as "stretched".
The first of the most recent spate of attacks was at 11.30am on 31 December when an 18-year-old man was stabbed in Enfield. He died in hospital that evening.
At about 7.30pm, a 20-year-old man was fatally stabbed in West Ham, and at about 10.40pm a 17-year-old boy was stabbed to death in Tulse Hill.
The fourth stabbing happened at 2.30am on 1 January, when a 20-year-old man was attacked in Old Street, east London. A second man, aged in his 20s, was taken to hospital with critical stab injuries. Police have arrested a 19-year-old man on suspicion of murder following the stabbing.
Commander Neil Jerome, of the Met's territorial policing command, said: "It is heartbreaking that, at a time when so many of us are contemplating what lies ahead in 2018, four families are dealing with the grief of losing a loved one to senseless violence and the callous use of knives as lethal weapons."
He urged anyone with information about the attacks to contact police or Crimestoppers.
Five men were arrested in connection with the murder in Enfield. There have been no arrests in the other cases.
Alison Cope, whose son Joshua Ribera, AKA the rapper Depzman, was stabbed to death at the age of 18 four years ago, said the government was not doing enough and was approaching the "epidemic" of knife violence with "token gestures".
"This will carry on and it will be exactly the same as last year, and the year before," she said. "We'll have who knows how many deaths this year."
Cope, who now campaigns to tackle knife crime, wants more funding and support for programmes that send people affected by knife crime – like herself – into schools and colleges to educate them on the impact.
"The government promotes things that look good to the public – like knife bins, or playing certain type of music in McDonald's when young people gather, faith-led intervention," she said. "But they're all token gestures.
"If you put a poster on a billboard that says "don't carry a knife" at no point is a young person who is carrying a weapon going to look at that and think 'I'm going to change my entire mindset because someone has printed something and put it up there'."
Cope, whose son was at a memorial tribute at a nightclub in Selly Oak held for a friend who had died a year earlier after being stabbed when he was killed, said you need children to feel something if you want to influence them.
"The only way they're going to feel is to meet people who have experienced it, lived it, who know what they're talking about," she said.
She said her love and thoughts were with the families of those stabbed over New Year's Eve. "They're not just headlines. Behind those headlines are mums, dads, grandparents, cousins, sisters, brothers all howling. Police swarming their house, telling them what happens next. Their children in a morgue, in freezers. The next stage will be the arrests, the court process. This is the beginning of a life changed forever."
Khan launched the high-profile "London needs you alive" campaign and knife crime strategy after he assumed office as mayor of London in May 2016.
He said: "My thoughts today are with the families of four young men who have tragically been killed in four unrelated stabbings in our city last night.
"The police have today assured me that everything is being done to bring to justice those responsible for these appalling acts of violence. I urge anyone with information to come forward.
"The police were out in force helping people enjoy our city's fantastic celebrations last night, and I thank them. However, it is horrific that knife crime has claimed another four young lives as the new year begins.
"We will work tirelessly in 2018 and beyond to stamp out this scourge. I want to be absolutely clear – if you use a knife the full force of the law will be brought down on you. You will be caught and prosecuted."
Meanwhile, West Mercia police said a woman who had suffered what is believed to be a knife injury was pronounced dead at an address in Bromsgrove, Worcestershire, at 12.12am. A 49-year-old man was arrested at the scene after police were called to the property at 11.52pm on New Year's Eve.
In Sheffield, South Yorkshire police said five men in their 20s were taken to hospital with knife wounds after an altercation at around 2.20am in Carver Street. Two of the men suffered life-threatening injuries and remain in hospital in a critical but stable condition.
guardian.co.uk © Guardian News & Media Limited 2010
Published via the Guardian News Feed plugin for WordPress.
Click here for reuse options!


Copyright 2018 News This Second Online
Trump directs Justice Department to ban gun modifications like bump stocks used in Las Vegas massacre
President Trump directs Justice Department to ban gun modifications like bump stocks used in Las Vegas massacre.
"Just a few moments ago, I signed a memorandum directing the Attorney General to propose regulations to ban all devices that turn legal weapons into machine guns," Trump said. "I expect that these critical regulations will be finalized, Jeff, very soon."
Trump spoke immediately after White House press secretary Sarah Sanders indicated that a decision would be released this week to implement that order.
Twelve of the rifles the gunman in the Las Vegas mass shooting had in his 32nd-floor hotel room were each modified with a "bump stock," an attachment that enables a semiautomatic rifle to fire faster. The same weapon was also used by Sandy Hook shooter Adam Lanza to kill 20 children at the elementary school in 2012
A "bump stock" replaces a rifle's standard stock, which is the part held against the shoulder. It frees the weapon to slide back and forth rapidly, harnessing the energy from the kickback shooters feel when the weapon fires.
The firing range at the National Rifle Association headquarters, like many ranges across the nation, bans the use of bump fire systems
Click here for reuse options!


Copyright 2018 News This Second Online
Florida gunman trained with white supremacist militia group before school shooting
A spokesperson for the white supremacist group Republic of Florida (ROF) told the Anti-Defamation League on Thursday, February 15, that Nikolas Cruz, the man charged with the previous day's deadly shooting spree at a Parkland, Florida, high school, was associated with his group.
On Wednesday, February 14, Cruz, 19, a former student at Marjory Stoneman Douglas High School, allegedly entered the school with an AR-15 and opened fire, killing at least 17 people and injuring 14 more. Cruz left the scene but was later captured by police and has been charged with premeditated murder.
After  self-described ROF members claimed on the discussion forum 4chan that Cruz had also been a member, the Anti-Defamation League called the ROF hotline and spoke with an ROF member who identified himself as Jordan Jereb.
Jereb, based in Tallahassee, is believed to be the leader of ROF.  In 2016, he was arrested on charges of threatening a staffer in the office of Florida Governor Rick Scott because he was allegedly angry at the staffer's son.
Jereb said that Cruz was associated with ROF, having been "brought up" by another member.  Jereb added that Cruz had participated in one or more ROF training exercises in the Tallahassee area, carpooling with other ROF members from south Florida.
ROF has members in north and south Florida. The alt right white supremacist group borrows paramilitary concepts from the anti-government extremist militia movement (not itself a white supremacist movement).  ROF describes itself as a "white civil rights organization fighting for white identitarian politics" and seeks to create a "white ethnostate" in Florida.  Most ROF members are young and the group itself is only a few years old.
Jereb added that ROF had not ordered or wanted Cruz to do anything like the school shooting.
(Anti-Defamation League)
Click here for reuse options!


Copyright 2018 News This Second Online
Six firefighters accused of gang raping a teenage girl are facing only misdemeanor charges.
Six volunteer firefighters in Virginia, including two department leaders, accused of allegedly gang-raping a 17-year-old girl — and then posting video of it on social media – have been charged in connection with the case, Virginia State Police confirmed on Tuesday.
Police have charged 26-year-old Nathan Hirschberg, 24-year-old Andrew Key, 36-year-old Dale King, 21-year-old Bradly Marlin, 32-year-old Christopher Pangle and 25-year-old Fabian Sosa with contributing to the delinquency of a minor. The misdemeanour could bring up to 12 months in jail and/or $2,500 in fines.
King is the Strasburg Fire Department's Fire Chief. Pangle is the department's operations captain.
Click here for reuse options!


Copyright 2018 News This Second Online