Four young men killed in London new year stabbings
Men aged 17 to 20 die after separate knife attacks in 15-hour period in locations around capital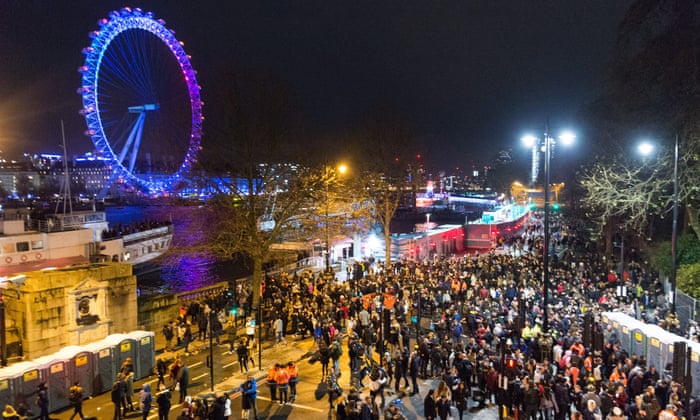 ---
This article titled "New year's attacks take stabbing death toll in London in 2017 to 80" was written by Jamie Grierson, for The Guardian on Monday 1st January 2018 22.00 UTC
Four young men were stabbed to death at the turn of the year in London bringing the total number of fatal knife attacks in the capital to 80 in 2017 alone.
The killings – three on New Year's Eve and a fourth on New Year's Day – were all unrelated and occurred within a 15-hour period at locations in north, east and south London.
The three deaths on Sunday bring the total number of fatal stabbings in the capital in 2017 to 80, Scotland Yard confirmed. The mayor of London, Sadiq Khan, who has struggled to control knife crime during his term so far, said he will "work tirelessly in 2018 and beyond to stamp out this scourge".
Figures revealed in the Guardian as part of the Beyond the Blade reporting revealed that 2017 was already the worst year for deaths of children and teenagers in England and Wales since 2009. As at the end of November, 35 people aged 19 or under in England and Wales had been stabbed to death. It was last higher in 2008 when 42 young people died as a result of an attack with a knife. Two of the victims of the most recent deaths were 18 and 17, while the other two men were both 20.
Last month, Cressida Dick, Britain's most senior police officer, said extra resources were needed to fight knife crime in the capital, describing her force and all public services as "stretched".
The first of the most recent spate of attacks was at 11.30am on 31 December when an 18-year-old man was stabbed in Enfield. He died in hospital that evening.
At about 7.30pm, a 20-year-old man was fatally stabbed in West Ham, and at about 10.40pm a 17-year-old boy was stabbed to death in Tulse Hill.
The fourth stabbing happened at 2.30am on 1 January, when a 20-year-old man was attacked in Old Street, east London. A second man, aged in his 20s, was taken to hospital with critical stab injuries. Police have arrested a 19-year-old man on suspicion of murder following the stabbing.
Commander Neil Jerome, of the Met's territorial policing command, said: "It is heartbreaking that, at a time when so many of us are contemplating what lies ahead in 2018, four families are dealing with the grief of losing a loved one to senseless violence and the callous use of knives as lethal weapons."
He urged anyone with information about the attacks to contact police or Crimestoppers.
Five men were arrested in connection with the murder in Enfield. There have been no arrests in the other cases.
Alison Cope, whose son Joshua Ribera, AKA the rapper Depzman, was stabbed to death at the age of 18 four years ago, said the government was not doing enough and was approaching the "epidemic" of knife violence with "token gestures".
"This will carry on and it will be exactly the same as last year, and the year before," she said. "We'll have who knows how many deaths this year."
Cope, who now campaigns to tackle knife crime, wants more funding and support for programmes that send people affected by knife crime – like herself – into schools and colleges to educate them on the impact.
"The government promotes things that look good to the public – like knife bins, or playing certain type of music in McDonald's when young people gather, faith-led intervention," she said. "But they're all token gestures.
"If you put a poster on a billboard that says "don't carry a knife" at no point is a young person who is carrying a weapon going to look at that and think 'I'm going to change my entire mindset because someone has printed something and put it up there'."
Cope, whose son was at a memorial tribute at a nightclub in Selly Oak held for a friend who had died a year earlier after being stabbed when he was killed, said you need children to feel something if you want to influence them.
"The only way they're going to feel is to meet people who have experienced it, lived it, who know what they're talking about," she said.
She said her love and thoughts were with the families of those stabbed over New Year's Eve. "They're not just headlines. Behind those headlines are mums, dads, grandparents, cousins, sisters, brothers all howling. Police swarming their house, telling them what happens next. Their children in a morgue, in freezers. The next stage will be the arrests, the court process. This is the beginning of a life changed forever."
Khan launched the high-profile "London needs you alive" campaign and knife crime strategy after he assumed office as mayor of London in May 2016.
He said: "My thoughts today are with the families of four young men who have tragically been killed in four unrelated stabbings in our city last night.
"The police have today assured me that everything is being done to bring to justice those responsible for these appalling acts of violence. I urge anyone with information to come forward.
"The police were out in force helping people enjoy our city's fantastic celebrations last night, and I thank them. However, it is horrific that knife crime has claimed another four young lives as the new year begins.
"We will work tirelessly in 2018 and beyond to stamp out this scourge. I want to be absolutely clear – if you use a knife the full force of the law will be brought down on you. You will be caught and prosecuted."
Meanwhile, West Mercia police said a woman who had suffered what is believed to be a knife injury was pronounced dead at an address in Bromsgrove, Worcestershire, at 12.12am. A 49-year-old man was arrested at the scene after police were called to the property at 11.52pm on New Year's Eve.
In Sheffield, South Yorkshire police said five men in their 20s were taken to hospital with knife wounds after an altercation at around 2.20am in Carver Street. Two of the men suffered life-threatening injuries and remain in hospital in a critical but stable condition.
guardian.co.uk © Guardian News & Media Limited 2010
Published via the Guardian News Feed plugin for WordPress.
Police step up patrols in London as spate of violent crime continues
Extra patrols working on bank holiday as mother of latest victim calls for end to violence
This article titled "Met steps up patrols amid series of violent incidents across UK" was written by Jamie Grierson, for The Guardian on Monday 7th May 2018 15.19 UTC
The Metropolitan police increased the number of police officers on the streets over the bank holiday weekend as London's violent crimewave showed no signs of abating, with one teenager shot dead and another caught in crossfire in a separate incident. There were also a number of violent incidents in other parts of the country.
As temperatures hit record levels for the early May bank holiday, the Met grappled with shootings, stabbings and acid attacks across the city.
The recently appointed home secretary, Sajid Javid, vowed to work with anyone determined to tackle serious violence, while the London mayor, Sadiq Khan, hit out at the failure of government ministers to tackle the problem.
Javid, whose predecessor, Amber Rudd, unveiled a serious violence strategy as one of her final acts as home secretary, tweeted: "Appalling to hear about children being killed and injured on our streets this bank holiday. Serious violence is robbing too many young people of their futures. I will work with anyone determined to tackle it."
The Met said extra patrols would be working on Monday to keep the capital's streets safe after a series of incidents on Saturday and Sunday.
Rhyhiem Ainsworth Barton, 17, was killed on Saturday. Paramedics and police were called to reports of gunshots on Cook's Road in Kennington, south London, just after 6pm. Rhyhiem was found on nearby Warham Street with a gunshot injury.
His mother, Pretana Morgan, called for the violence to end. "Let my son be the last and be an example to everyone," she said. "Just let it stop. What must be, must be.
"It's not about race, it's not about nation, it's not about culture. Nothing. It's just a human race. Just one human race. So children, please let my son be the last."
She said Rhyhiem was not in a gang and he had been trying to make a difference by learning to work with children. He was also an aspiring architect. No arrests have been made in connection with his death.
On Sunday a 13-year-old boy was struck in the head by shotgun pellets as he walked along a street with his parents in Wealdstone, north-west London. Police said they believed the teenager was an innocent bystander after a 15-year-old boy was attacked nearby.
Both teenagers suffered non-life-threatening injuries, and the younger one has been released from hospital. Officers have been made aware of a possible third victim who may have been at the scene with the 15-year-old.
DCS Simon Rose, the Harrow borough commander, said: "This was a callous, reckless and brazen act, without any thought by those responsible for the fact that there were families with children and people in the high street enjoying their weekend. This was quite simply appalling."
In east London, a man believed to be 17 years old was taken to an east London hospital after being stabbed on Leytonstone Road. His condition was initially deemed critical, police said, but is now thought to be not life-threatening. His family has been informed and detectives from Newham CID are investigating.
A 43-year-old man was also stabbed in Perivale, in north west London, after a dispute about driving.
Police said the man was attacked on Buckingham Avenue at around 9pm on Sunday after a number of residents questioned a man in a blue car about the nature of his driving in the small residential street.
Three people were injured in a "noxious substance" incident after an altercation between two groups in east London at around 5.20am on Sunday.
Police are investigating whether the men, aged 22 and 27, and a 17-year-old boy suffered life-changing injuries in the incident in Shacklewell Lane, Hackney.
In another incident in south-east London on Sunday, police were flagged down by a member of the public in New Cross Road just before 6.30pm, where they found a 22-year-old man with gunshot wounds. He was taken by ambulance to a central London hospital where his condition was not life-threatening, according to Scotland Yard.
Police said: "At this early stage, it is believed that two male suspects riding one moped shot the victim … Officers retain an open mind as to any motive."
Outside the capital, two men died in stabbings in Liverpool and Luton during the bank holiday weekend. Fatah Warsame, 20, from Cardiff, died after being stabbed in Liverpool city centre early on Sunday morning. On Sunday evening a 20-year-old man was killed in Bishopscote Road, Luton.
In Macclesfield, a 37-year-old man died after suffering knife injuries on Sunday evening. Cheshire police said a 15-year-old boy and 29-year-old man were arrested as part of their investigation into the incident.
Rudd launched the serious violence strategy last month amid controversy over the potential link between dwindling police numbers and the rise in crime. The strategy is to be backed by £40m of Home Office funding and a new offensive weapons bill to ban the sale of corrosive liquids to under-18s and introduce tougher restrictions on buying knives online. It will focus heavily on the links between illegal drug markets, particularly for crack cocaine, and violent crime.
Khan, who has faced criticism from some for the increase in violence since he became London mayor, said he was "doing all I can to compensate for the failure of government ministers" on the issue.
guardian.co.uk © Guardian News & Media Limited 2010
Published via the Guardian News Feed plugin for WordPress.
Explosion in Westchester Heights, New York
An explosion in Westchester Heights, New York has injured at least one person.
Suspicious package found near scene, bomb squad are en route to scene.
Shots fired at shopping mall in Nashville
Metro Nashville Police Department officials have responded to a shooting call at Opry Mills Mall.