Four young men killed in London new year stabbings
Men aged 17 to 20 die after separate knife attacks in 15-hour period in locations around capital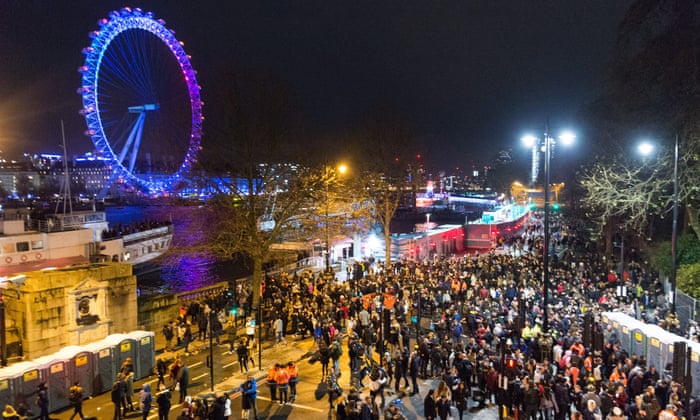 ---
This article titled "New year's attacks take stabbing death toll in London in 2017 to 80" was written by Jamie Grierson, for The Guardian on Monday 1st January 2018 22.00 UTC
Four young men were stabbed to death at the turn of the year in London bringing the total number of fatal knife attacks in the capital to 80 in 2017 alone.
The killings – three on New Year's Eve and a fourth on New Year's Day – were all unrelated and occurred within a 15-hour period at locations in north, east and south London.
The three deaths on Sunday bring the total number of fatal stabbings in the capital in 2017 to 80, Scotland Yard confirmed. The mayor of London, Sadiq Khan, who has struggled to control knife crime during his term so far, said he will "work tirelessly in 2018 and beyond to stamp out this scourge".
Figures revealed in the Guardian as part of the Beyond the Blade reporting revealed that 2017 was already the worst year for deaths of children and teenagers in England and Wales since 2009. As at the end of November, 35 people aged 19 or under in England and Wales had been stabbed to death. It was last higher in 2008 when 42 young people died as a result of an attack with a knife. Two of the victims of the most recent deaths were 18 and 17, while the other two men were both 20.
Last month, Cressida Dick, Britain's most senior police officer, said extra resources were needed to fight knife crime in the capital, describing her force and all public services as "stretched".
The first of the most recent spate of attacks was at 11.30am on 31 December when an 18-year-old man was stabbed in Enfield. He died in hospital that evening.
At about 7.30pm, a 20-year-old man was fatally stabbed in West Ham, and at about 10.40pm a 17-year-old boy was stabbed to death in Tulse Hill.
The fourth stabbing happened at 2.30am on 1 January, when a 20-year-old man was attacked in Old Street, east London. A second man, aged in his 20s, was taken to hospital with critical stab injuries. Police have arrested a 19-year-old man on suspicion of murder following the stabbing.
Commander Neil Jerome, of the Met's territorial policing command, said: "It is heartbreaking that, at a time when so many of us are contemplating what lies ahead in 2018, four families are dealing with the grief of losing a loved one to senseless violence and the callous use of knives as lethal weapons."
He urged anyone with information about the attacks to contact police or Crimestoppers.
Five men were arrested in connection with the murder in Enfield. There have been no arrests in the other cases.
Alison Cope, whose son Joshua Ribera, AKA the rapper Depzman, was stabbed to death at the age of 18 four years ago, said the government was not doing enough and was approaching the "epidemic" of knife violence with "token gestures".
"This will carry on and it will be exactly the same as last year, and the year before," she said. "We'll have who knows how many deaths this year."
Cope, who now campaigns to tackle knife crime, wants more funding and support for programmes that send people affected by knife crime – like herself – into schools and colleges to educate them on the impact.
"The government promotes things that look good to the public – like knife bins, or playing certain type of music in McDonald's when young people gather, faith-led intervention," she said. "But they're all token gestures.
"If you put a poster on a billboard that says "don't carry a knife" at no point is a young person who is carrying a weapon going to look at that and think 'I'm going to change my entire mindset because someone has printed something and put it up there'."
Cope, whose son was at a memorial tribute at a nightclub in Selly Oak held for a friend who had died a year earlier after being stabbed when he was killed, said you need children to feel something if you want to influence them.
"The only way they're going to feel is to meet people who have experienced it, lived it, who know what they're talking about," she said.
She said her love and thoughts were with the families of those stabbed over New Year's Eve. "They're not just headlines. Behind those headlines are mums, dads, grandparents, cousins, sisters, brothers all howling. Police swarming their house, telling them what happens next. Their children in a morgue, in freezers. The next stage will be the arrests, the court process. This is the beginning of a life changed forever."
Khan launched the high-profile "London needs you alive" campaign and knife crime strategy after he assumed office as mayor of London in May 2016.
He said: "My thoughts today are with the families of four young men who have tragically been killed in four unrelated stabbings in our city last night.
"The police have today assured me that everything is being done to bring to justice those responsible for these appalling acts of violence. I urge anyone with information to come forward.
"The police were out in force helping people enjoy our city's fantastic celebrations last night, and I thank them. However, it is horrific that knife crime has claimed another four young lives as the new year begins.
"We will work tirelessly in 2018 and beyond to stamp out this scourge. I want to be absolutely clear – if you use a knife the full force of the law will be brought down on you. You will be caught and prosecuted."
Meanwhile, West Mercia police said a woman who had suffered what is believed to be a knife injury was pronounced dead at an address in Bromsgrove, Worcestershire, at 12.12am. A 49-year-old man was arrested at the scene after police were called to the property at 11.52pm on New Year's Eve.
In Sheffield, South Yorkshire police said five men in their 20s were taken to hospital with knife wounds after an altercation at around 2.20am in Carver Street. Two of the men suffered life-threatening injuries and remain in hospital in a critical but stable condition.
guardian.co.uk © Guardian News & Media Limited 2010
Published via the Guardian News Feed plugin for WordPress.
Canadian police say at least 4 dead in shooting
FREDERICTON, New Brunswick (AP) — Police in the eastern Canadian city of Fredericton, New Brunswick say at least four people have been killed after a shooting.
Fredericton police are asking residents to avoid the area and stay in their homes. The circumstances of the shooting are unclear at this point.
Please continue to avoid the area of Brookside Drive between Main and Ring Road. An incident has resulted in at least four people killed. More information will be available when we can confirm.

— Fredericton Police (@CityFredPolice) August 10, 2018
Watch Macron's security aide attack a protester. The French government has now come under fire.
PARIS — The footage is striking.
In the same scenic Paris square that the writer Ernest Hemingway once called home, a protest erupted during France's annual May Day holiday. This part, at least, is no surprise: May 1 is International Workers' Day, typically marked by massive labor demonstrations that can bring the city to a standstill. That was especially the case this year, in the midst of President Emmanuel Macron's sweeping market reforms.
But what was a surprise is the degree of violence exhibited by one man, in particular — and who, exactly, this man turned out to be.
Video footage first published by France's Le Monde newspaper depicts none other than one of Macron's security aides, Alexandre Benalla, dragging a woman by the neck away from a protest scene, where national police officers were already teargassing a small group. After a beat, Benalla appears back on camera, this time to attack a young man the police had already dragged a fair amount.
The root of the scandal is this: Benalla is not a police officer; he was only dressed like one, wearing the type of visor they wear. According to Le Monde, he had taken a day off and had requested to "observe" police operations during the May Day protests. As the video shows, police did not intervene to stop Benalla.
Interviewed Thursday on French television, police officials could not explain why. "An observer doesn't act like that," said Philippe Capon, a spokesman for a large police union, speaking on BFM-TV.
But the context, Capon said, could have presented Benalla with an opportunity to abuse his position. "He was an observer from the Elysee," Capon said. "When police officials hear the word 'Elysee,' there is a particular apprehension."
The fact that Benalla was given a two-week suspension as a punishment immediately drew the ire of political opposition leaders, as well as allegations of a coverup. On Thursday, Macron stayed unusually silent on what French media have already christened "the Benalla Affair" when reporters questioned him during a visit to the Dordogne in central France.
Bruno Roger-Petit, a spokesman for the Elysee Palace, told French media Thursday that Benalla's punishment was the "most serious" ever given to a presidential aide.
But public outcry multiplied once France's BFM TV network reported Thursday that Benalla had participated in security services at the Pantheon burial of Holocaust survivor and noted feminist Simone Veil, as well as in the security operation surrounding the French national football team's victory parade — earlier this week.
Prominent members of Macron's government struggled to explain the situation, especially when pressed on the question of a potential legal double standard that had applied to an administration official.
Amid the outcry Thursday, the French public prosecutor opened an inquiry into the Benalla case, an investigation that could ultimately lead to charges against him, as well as further embarrassment to the Elysee Palace.
Macron's critics seized the opportunity to do precisely that, mostly to decry the persona of a president often called "Jupiterian," out of touch or "the president of the rich." Earlier in the summer, Macron came under fire for publicly scolding a sardonic high school student who addressed him by a nickname.
"When you are at the Elysee, you have to set an example," said Laurent Wauquiez, the hard-line leader of Les Républicains, France's mainstream conservative party, speaking Thursday on France's Europe 1 radio. Wauquiez, whose stances often mimic those of the far-right National Front, has sought to challenge centrist but pro-business Macron from the right.
"Today, one has the feeling that at the Elysee, they think they are above the law," Wauquiez said.
This article was written by James McAuley from The Washington Post
How MI5 and the FBI foiled plot to assassinate Prime Minister Theresa May
He knew what supplies he needed, including a black-and-gray Carbrini sports backpack and a hooded down jacket. Standard tourist provisions in Britain.
He had the timing all worked out. If he could just get past the gate, a 10-second sprint would find him at the most famous door in the world — the polished black entrance to 10 Downing Street, the emblem of the British state.
Once inside, Naa'imur Zakariyah Rahman hoped to behead the building's resident, Prime Minister Theresa May.
But Rahman was not the only one in on the plan. He shared his ambitions with a man, "Shaq," who presented himself as a weapons fixer for Islamic State militants. The supposed extremist helper was in fact an undercover police officer working alongside MI5, Britain's domestic security service, and the FBI, according to the BBC.
The undercover operation succeeded in nabbing Rahman, 20, who was convicted Wednesday at the Old Bailey courthouse in London of preparing acts of terrorism. He had been arrested in November 2017 and will be sentenced at a later date.
The resident of north London, who has given his nationality as Bangladeshi-British, was first flagged by authorities three years ago over concerns that the teenager, raised in an industrial town near Birmingham, was vulnerable to brainwashing by his uncle, British media reported. His uncle, who left Britain for Syria in 2014, aimed to persuade his nephew to stage an attack and had sent him bombmaking materials, according to authorities.
A coalition drone strike near Raqqa killed the uncle, Musadikur Rohaman, in June 2017. It was when Rahman learned of his family member's death, prosecutors alleged, that he set out to take revenge. His target became the prime minister of the country where he was sleeping in the back of a car, after quarrels with his mother and other relatives had left him homeless.
The same year, a probe into allegations that Rahman had sent lewd images to an underage girl turned up evidence that he had stayed in contact with his uncle. He was never charged in the initial investigation, but a search of his phone set off concern that he had developed extremist views, the Guardian reported.
The undercover operation began when Rahman made contact with an FBI agent impersonating an Islamic State official on social media. The American intelligence officer introduced him to MI5 agents posing as fellow extremists.
"Can you put me in a sleeper cell ASAP?" Rahman asked members of the security services appearing as Islamist militants over the Telegram messaging app. "I want to do a suicide bomb on parliament. I want to attempt to kill Theresa May."
He reaffirmed his resolve the next day, writing, "My objective is to take out my target. Nothing less than the death of the leaders of parliament."
His planning included surveying the grounds of the British civil service and government and giving a backpack and jacket to the undercover police officer, who promised to line the items with explosives. In conversations with the officer, he also praised the Manchester bomber who had left 23 dead, including himself, at an Ariana Grande concert months earlier. The mass-casualty event was among a string of terrorist attacks that buffeted Britain in 2017, putting security services on high alert. One strike unfolded outside the Palace of Westminster, the seat of the British Parliament.
Rahman seemed to draw inspiration from these attacks.
"I wanna drop a bag at the gate, so the gate blows up a bit and I can go through and then like, make a run, like I was thinking taking a human hostage until I get to the actual door," Rahman told "Shaq," the undercover police officer, in a recording played in court.
His intention, he said, was to "make a dash for Theresa May. She sleeps there every night." He told the undercover agent that his intention was to "take her head off."
Rahman's initial aim had been to obtain a truck bomb and firearms, but he revised his planning because he knew neither how to drive nor how to fire a gun. He settled for more crude weaponry and offered up a backpack and jacket to be outfitted for an attack. At the end of November, the agent returned Rahman's backpack and jacket with fake explosives. "Do you know? Now I've seen everything it feels good," Rahman told the officer as he took back the belongings, according to the recording played in court.
Rahman was detained as he walked away from the scene, later saying, "I'm glad it's over."
During the trial, which began in June, prosecutors said they believed Rahman had been days away from attempting to carry out his plot on May's life. The accused told jurors that his planning had been nothing more than fantasy, and that he had merely been trying to impress men he believed to be associates of his uncle.
Security precautions are designed to keep plans to infiltrate 10 Downing Street in the realm of fantasy. The street on which the residence sits has been closed to the public since 1989 and is heavily guarded. Defenses grew more severe after the Irish Republican Army launched mortar shells in an attempt to kill John Major, the prime minister at the time, along with cabinet members then presiding over British participation in the Gulf War.
This article was written by Isaac Stanley-Becker from The Washington Post