Trump aide told Australian diplomat Russia had dirt on Clinton – report
George Papadopoulos spoke to high commissioner Alexander Downer at London bar in May 2016, catalyzing FBI investigation, New York Times reports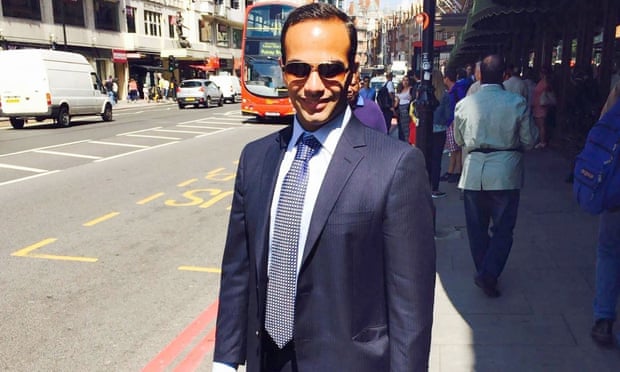 This article titled "Trump aide told Australian diplomat Russia had dirt on Clinton – report" was written by Sabrina Siddiqui in Washington, for The Guardian on Sunday 31st December 2017 00.17 UTC
The FBI reportedly launched its investigation into Russian meddling in the 2016 US election after George Papadopoulos, then a foreign policy adviser to Donald Trump, told an Australian diplomat that Moscow had damaging information about Hillary Clinton.
According to a report published by the New York Times on Saturday, Papadopoulos made the revelation to Alexander Downer, the Australian high commissioner to the UK, "during a night of heavy drinking" at the Kensington Wine Rooms in London in May 2016.
Papadopoulos reportedly told Downer that Russian officials possessed thousands of emails that could harm Clinton's candidacy.
Australia is part of the "Five Eyes" intelligence alliance, with the US, UK, Canada and New Zealand. When WikiLeaks began publishing hacked emails from Democratic officials two months later, Australian officials passed the information to their US counterparts, the Times report stated. The FBI then began its investigation.
A White House lawyer, Ty Cobb, declined to comment, saying in a statement that the administration was continuing to cooperate with the investigation now led by the special counsel Robert Mueller "to help complete their inquiry expeditiously".
In October, Papadopoulos pleaded guilty to lying to the FBI about the nature of his communications with the Russians. He is said to have been cooperating since July with Mueller, who was appointed in May to oversee the federal inquiry into links between Trump and Russia.
The White House has sought to portray Papadopoulos as a low-level staffer whose contacts with the Russians were made independently. The Times report said court documents showed Papadopoulos repeatedly tried to coordinate a meeting between Trump and the Russian president, Vladimir Putin, and notified senior campaign officials of his efforts.
The Times report comes as Republicans have escalated their attacks on the independence of Mueller's investigation, zeroing in on the FBI's use of a dossier regarding links between Trump and Russia compiled by a former British spy, Christopher Steele.
The dossier grew out of a commission by a conservative website to Steele's firm, Fusion GPS, for opposition research during the Republican primary. It was later funded by the Democratic National Committee and the Clinton campaign.
The NYT report stated that Steele was interviewed by the FBI in October 2016, three months after he presented some of his findings to agents in Rome. But US officials told the NYT Steele's research was not the catalyst for the counter-intelligence inquiry into Russian election interference.
Papadopoulos was appointed to Trump's team of foreign policy advisers in March 2016. He reportedly offered to facilitate a meeting with Putin at a meeting including Trump that month.
Jeff Sessions, Trump's attorney general, who led the foreign policy team, has claimed he told Papadopoulos to stand down. However, Sessions initially failed to mention the discussion while testifying before Congress. He later claimed that was because he had not recalled the meeting.
Papadopoulos edited an outline of Trump's first major foreign policy speech in April 2016, in which the candidate expressed his desire to improve US-Russia relations. Papadopoulos, the Times reported, highlighted the speech to his contacts in Moscow, suggesting it was a "signal to meet".
guardian.co.uk © Guardian News & Media Limited 2010
Published via the Guardian News Feed plugin for WordPress.
Judge Orders Parts of Mueller Report Un-Redacted In Michael Flynn Case
WASHINGTON (AP) — A federal judge has ordered portions of special counsel Robert Mueller's report to be un-redacted and made public in the criminal case against former national security adviser Michael Flynn.
U.S. District Judge Emmet Sullivan issued the limited order Thursday. Portions of the report relating to Flynn are redacted and would be made public under the order.
It is the first time a federal judge has ordered the Justice Department to make public portions of the report the agency had kept secret.
Mueller officially concluded his investigation in March. Attorney General William Barr released a redacted version of Mueller's report in April.
Flynn is awaiting sentence after admitting to lying to the FBI about his conversations with the Russian ambassador to the United States.
Michael Flynn Assisted In Mueller's Obstruction, WikiLeaks Investigations
As part of his guilty plea, President Trump's former national security adviser Michael Flynn assisted special counsel Robert Mueller in his investigations into the Trump campaign's discussions of WikiLeaks, as well as "potential efforts to interfere or otherwise obstruct" the special counsel, according to a new court filing.
---
Details: The filing, which states that Flynn is ready for sentencing, claims that the former top Trump aide informed prosecutors of multiple instances in which "either he or his lawyers received communications from persons connected to the Administration or Congress that could have affected both his willingness to cooperate and the completeness of that cooperation." The filing also states that Flynn "provided a voicemail recording of one such communication."
On the WikiLeaks front, Flynn gave prosecutors statements made in 2016 by Trump campaign officials after the release of the Podesta emails in which "the prospect of reaching out to WikiLeaks was discussed."
Why it matters: This filing suggests Flynn was a far more valuable witness to Mueller than previously known.
(Reporting by Axios)
Read the full court filing:
Senate Intelligence Committee Reaches Deal With Donald Trump Jr. For Interview
WASHINGTON (AP) — The Senate Intelligence Committee has struck a deal with Donald Trump Jr. to appear for a closed-door interview next month, pulling the two sides back, for now, from a confrontation over a subpoena as part of the panel's Russia investigation.
---
Under the terms of the deal, according to two people familiar with the agreement, Trump Jr. will talk to the committee in mid-June for up to four hours. The people spoke on condition of anonymity Tuesday to discuss the confidential terms.
The deal comes after the panel subpoenaed President Donald Trump's eldest son to discuss answers he gave the panel's staff in a 2017 interview. Trump Jr. had backed out of interviews twice, prompting the subpoena, according to people familiar with Senate Intelligence Committee Chairman Richard Burr's remarks to a GOP luncheon last week. Those people spoke on condition of anonymity to discuss Burr's remarks in the private senators' meeting.
The deadline for Trump Jr. to respond was Monday, according to one of the people familiar with the terms, and he expected to be held in contempt for declining to be interviewed. But the committee reached out Monday evening and the deal was struck.
A spokeswoman for Burr declined to comment. The North Carolina Republican has weathered fierce criticism for the subpoena from the president and his GOP colleagues.
Trump said on Tuesday said he believed that his son was being treated poorly.
"It's really a tough situation because my son spent, I guess, over 20 hours testifying about something that Mueller said was 100 percent OK and now they want him to testify again," Trump told reporters at the White House before traveling to Louisiana. "I don't know why. I have no idea why. But it seems very unfair to me."
It's the first known subpoena of a member of the president's immediate family, and some Republicans went as far as to say they thought Trump Jr. shouldn't comply.
Sen. Thom Tillis, R-N.C., tweeted, "It's time to move on & start focusing on issues that matter to Americans." Sen. John Cornyn of Texas, a GOP member of the panel, said he understood Trump Jr.'s frustration. Cornyn's Texas colleague, Republican Sen. Ted Cruz, said there was "no need" for the subpoena.
Senate Judiciary Committee Chairman Lindsey Graham, R-S.C., said on "Fox News Sunday" that if he were Trump Jr.'s lawyer, "I would tell him, 'You don't need to go back into this environment anymore.'"
Senate Majority Leader Mitch McConnell has defended Burr, telling his colleagues during the private GOP luncheon last week that he trusted the intelligence committee chairman. On Tuesday, McConnell told reporters that "none of us tell Chairman Burr how to run his committee."
Still, McConnell made it clear that he is eager to be finished with the probe, which has now gone on for more than two years.
Burr has "indicated publicly he believes they will find no collusion" with Russia, McConnell said. "We're hoping we will get a report on that subject sometime soon."
It's uncertain when the panel will issue a final report. Burr told The Associated Press earlier this month that he hopes to be finished with the investigation by the end of the year.
The subpoena has highlighted a delicate bind facing Burr, a third-term senator who has said he is not running for reelection in 2022. He has been adamant that the panel's Russia probe be bipartisan and fair and has worked closely with the panel's top Democrat, Virginia Sen. Mark Warner.
Burr's committee had renewed interest in talking to Trump Jr. after Trump's former lawyer, Michael Cohen, told a House committee in February that he had briefed Trump Jr. approximately 10 times about a plan to build a Trump Tower in Moscow before the presidential election. Trump Jr. told the Senate Judiciary Committee in a separate interview in 2017 he was only "peripherally aware" of the proposal.
The panel is also interested in talking to the president's eldest son about other topics, including a campaign meeting in Trump Tower with a Russian lawyer.