Trump aide told Australian diplomat Russia had dirt on Clinton – report
George Papadopoulos spoke to high commissioner Alexander Downer at London bar in May 2016, catalyzing FBI investigation, New York Times reports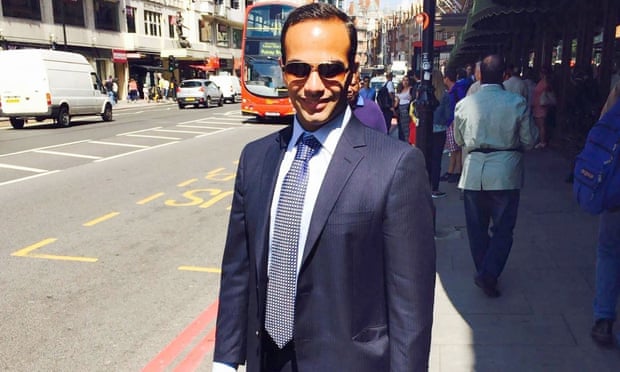 This article titled "Trump aide told Australian diplomat Russia had dirt on Clinton – report" was written by Sabrina Siddiqui in Washington, for The Guardian on Sunday 31st December 2017 00.17 UTC
The FBI reportedly launched its investigation into Russian meddling in the 2016 US election after George Papadopoulos, then a foreign policy adviser to Donald Trump, told an Australian diplomat that Moscow had damaging information about Hillary Clinton.
According to a report published by the New York Times on Saturday, Papadopoulos made the revelation to Alexander Downer, the Australian high commissioner to the UK, "during a night of heavy drinking" at the Kensington Wine Rooms in London in May 2016.
Papadopoulos reportedly told Downer that Russian officials possessed thousands of emails that could harm Clinton's candidacy.
Australia is part of the "Five Eyes" intelligence alliance, with the US, UK, Canada and New Zealand. When WikiLeaks began publishing hacked emails from Democratic officials two months later, Australian officials passed the information to their US counterparts, the Times report stated. The FBI then began its investigation.
A White House lawyer, Ty Cobb, declined to comment, saying in a statement that the administration was continuing to cooperate with the investigation now led by the special counsel Robert Mueller "to help complete their inquiry expeditiously".
In October, Papadopoulos pleaded guilty to lying to the FBI about the nature of his communications with the Russians. He is said to have been cooperating since July with Mueller, who was appointed in May to oversee the federal inquiry into links between Trump and Russia.
The White House has sought to portray Papadopoulos as a low-level staffer whose contacts with the Russians were made independently. The Times report said court documents showed Papadopoulos repeatedly tried to coordinate a meeting between Trump and the Russian president, Vladimir Putin, and notified senior campaign officials of his efforts.
The Times report comes as Republicans have escalated their attacks on the independence of Mueller's investigation, zeroing in on the FBI's use of a dossier regarding links between Trump and Russia compiled by a former British spy, Christopher Steele.
The dossier grew out of a commission by a conservative website to Steele's firm, Fusion GPS, for opposition research during the Republican primary. It was later funded by the Democratic National Committee and the Clinton campaign.
The NYT report stated that Steele was interviewed by the FBI in October 2016, three months after he presented some of his findings to agents in Rome. But US officials told the NYT Steele's research was not the catalyst for the counter-intelligence inquiry into Russian election interference.
Papadopoulos was appointed to Trump's team of foreign policy advisers in March 2016. He reportedly offered to facilitate a meeting with Putin at a meeting including Trump that month.
Jeff Sessions, Trump's attorney general, who led the foreign policy team, has claimed he told Papadopoulos to stand down. However, Sessions initially failed to mention the discussion while testifying before Congress. He later claimed that was because he had not recalled the meeting.
Papadopoulos edited an outline of Trump's first major foreign policy speech in April 2016, in which the candidate expressed his desire to improve US-Russia relations. Papadopoulos, the Times reported, highlighted the speech to his contacts in Moscow, suggesting it was a "signal to meet".
guardian.co.uk © Guardian News & Media Limited 2010
Published via the Guardian News Feed plugin for WordPress.
Michael Cohen To Testify In Three Days of Congressional Testimony
WASHINGTON (AP) — President Donald Trump's former lawyer, Michael Cohen, visited the Senate intelligence committee's offices on Thursday, meeting with his lawyers in preparation for three days of congressional testimony next week.
Cohen and one of his lawyers, Lanny Davis, each declined to say why they were there as they left separately. Davis wouldn't say whether they were reviewing documents, but it is not unusual for witnesses or their lawyers to want to review confidential committee materials before a hearing or interview.
Davis, who left before Cohen did, told reporters that Cohen and his lawyers had not spoken with Senate staff.
"I just can tell you we had discussion among ourselves, that's all I can say," Davis said.
Davis said Cohen was prepared to talk about "everything" over the course of three days of testimony, though not all of that will be public. Cohen is scheduled to talk to the Senate intelligence panel behind closed doors on Tuesday, a day before he testifies publicly before the House Oversight and Reform Committee. On Thursday, he will go back behind closed doors to talk to the House intelligence committee.
The Oversight hearing will be Cohen's first major public appearance since he turned on his former boss and since he was sentenced to three years in prison. Trump's fixer-turned-foe pleaded guilty last year to lying to both intelligence committees in 2017 and to campaign finance violations. He has also cooperated with special counsel Robert Mueller's Russia investigation.
While Cohen is expected to address that investigation in his closed-door interviews with the intelligence panels, the chairman of the Oversight panel, Maryland Rep. Elijah Cummings, has set a scope for questioning in an effort not to interfere with Mueller's probe. That scope includes the campaign finance violations, Trump's business practices and compliance with tax laws and "the accuracy of the president's public statements," according to a committee memo. The scope does not include matters related to Russia.
Cohen pleaded guilty to the campaign finance violations for his involvement in payments to two women who allege they had affairs with Trump. Federal prosecutors in New York have said Trump directed Cohen to arrange the payments to buy the silence of porn actress Stormy Daniels and former Playboy model Karen McDougal in the run-up to the 2016 campaign. Trump denies the allegations.
Cohen also pleaded guilty to lying to both of the intelligence committees after telling them in a written statement in 2017 that he had abandoned a Trump business proposal in Moscow in January 2016. Cohen later acknowledged he continued pursuing it for months after that.
Cohen was scheduled to speak to the three committees earlier this month, but rescheduled all of those appearances for different reasons. He said he needed to recover from surgery and also was concerned about threats to his family from Trump and the president's attorney spokesman, Rudy Giuliani.
House intelligence committee Chairman Adam Schiff postponed Cohen's appearance before that committee saying it was "in the interests of the investigation," with no additional detail.
Judge Tightens Gag Order On Ex-Trump Adviser Roger Stone, Warning He Could Be Jailed
WASHINGTON, Feb 21 (Reuters) – A visibly angry judge on Thursday ordered President Donald Trump's former political adviser Roger Stone to stop speaking publicly about U.S. Special Counsel Robert Mueller's criminal case against him or else he will be sent to jail pending trial.
In a tense court hearing on Thursday, U.S. Judge Amy Berman Jackson of the U.S. District Court for the District of Columbia said that Stone's apology and explanations for why he posted a photo of her next to the image of the crosshairs of a gun on his Instagram account were not credible.
Jackson made her ruling after a highly unusual hearing in which Stone, who is charged with crimes related to Mueller's investigation of Russian interference in the 2016 U.S. election, took the stand to testify about the posting.
Stone's seemingly contradictory statements and at times foggy recollections about the post's origins during a cross-examination by the government frustrated Jackson, who later concluded he "could not even keep his story straight on the stand."
Stone, a longtime Republican political operative, friend of Trump and self-proclaimed "dirty trickster," was arrested on Jan. 25. He has pleaded not guilty to charges of making false statements to Congress, obstruction and witness tampering.
Besides probing the conclusions of U.S. intelligence agencies that Moscow ran an operation to hack Democratic Party computers and spread disinformation to undermine candidate Hillary Clinton and the American electoral process, Mueller is also investigating possible coordination between the Trump campaign and Moscow officials.
Trump denies collusion and Russia denies allegations of meddling.
Stone apologized to the judge for the post on Instagram and asked for a second chance.
"Thank you, but the apology rings quite hollow," Jackson told Stone.
"What all of this means, Mr. Stone, is that any violation of this order will be a basis for revoking your bond and detaining you pending trial. So I want to be clear – today I gave you a second chance. But this is not baseball. There will not be a third chance."
Jackson had ordered Stone to appear in court to review whether the posting on his Instagram account violated his conditions of release and a narrowly tailored media gag order she imposed last week. He is out on a $250,000 bond and is free to travel without court permission to certain cities.
The media gag order did not explicitly bar Stone from speaking publicly about the case as long as he was not on courthouse grounds.
However, it cautioned him to tread carefully and said he would not be able to complain later if he decided his own comments had tainted the jury pool.
The original posting on Monday on Stone's Instagram account not only contained a photo of Jackson next to the crosshairs, but also had text that ranted against Mueller as a "hitman" and called Jackson "an Obama-appointed judge" a reference to Trump's Democratic predecessor in the White House.
Stone later took the image down and apologized, but afterwards he gave an interview on conspiracy website Infowars defending the post.
At Thursday's hearing, Stone said: "I abused the order," Stone said. "I am kicking myself over my own stupidity."
"Your honor, I can only beseech you to give me a second chance," Stone said. "Forgive me the trespass. I'm hurtfully sorry."
The investigation has clouded Trump's two years in office and has been a frequent target of the president and his allies. So far, the investigation has ensnared 34 people.
The most tense exchanges of Thursday's hearing were during a cross-examination by prosecutor Jonathan Kravis, who repeatedly tried to get Stone to reveal who had selected the image for him.
Stone testified he has between five and six volunteers who come and go freely from his home and have access to his cell phone. He rattled off the names of some volunteers, but also said he could not remember all of them.
At first when asked by his lawyer Bruce Rogow if one of those volunteers had posted the image, Stone testified he did not select or review it.
Later, however, Stone said he had seen the picture and posted it himself, but did not realize its implications.
"Excuse me, did you not just tell me under oath less than five minutes ago that someone else posted it?" Jackson asked Stone.
"That's not inconsistent – I didn't choose the image. I did post it," Stone replied.
Later, he again changed the story, saying he had at his disposal several images of the judge to choose from before the posting.
"I erased all of the images of your honor because I did not want to make the same mistake twice," he said.
"You had a choice?" an incredulous Jackson asked. "You closed your eyes and picked?"
(Reporting by Sarah N. Lynch and Mark Hosenball; additional reporting by Makini Brice; Writing by Tim Ahmann; editing by Grant McCool)
Justice Department Preparing For Mueller Report As Early As Next Week: CNN
Washington (CNN) Attorney General Bill Barr is preparing to announce as early as next week the completion of Robert Mueller's Russia investigation, with plans for Barr to submit to Congress soon after a summary of Mueller's confidential report, according to people familiar with the plans.
The preparations are the clearest indication yet that Mueller is nearly done with his almost two-year investigation.
The scope and contours of what Barr will send to Congress remain unclear. Also unclear is how long it will take Justice officials to prepare what will be submitted to lawmakers.
But with President Donald Trump soon to travel overseas for a summit with North Korean leader Kim Jong Un, Justice officials are mindful of not interfering with the White House's diplomatic efforts, which could impact the timing.
Barr has said that he wants to be as "transparent" as possible with Congress and the public, "consistent with the rules and the law."
Under the special counsel regulations, Mueller must submit a "confidential" report to the attorney general at the conclusion of his work, but the rules don't require it to be shared with Congress, or by extension, the public. And, as Barr has made clear, the Justice Department generally guards against publicizing "derogatory" information about uncharged individuals.
As a result, one of the most pressing questions Barr will face in the coming weeks is the extent to which Mueller's findings should be disclosed to Congress.
The regulations require Mueller to explain in his report all decisions to prosecute or not prosecute matters under scrutiny. Barr would also need to inform Congress if the Justice Department prevented the special counsel team from pursuing any investigative steps.
Speculation about the end of the probe has been running rampant in Washington. NBC News reported recently the probe would be done by mid-February.
Life After Mueller
While the Mueller investigation may soon come to a close, there continue to be court cases that will be handled by other federal prosecutors.
In addition, Mueller has referred certain matters that fell outside the scope of the Russia probe to other US Attorneys to pursue. Some of those investigations have already been revealed, including the investigation in New York into former Trump's former lawyer, Michael Cohen. That probe has spawned subsequent federal investigations in New York into the Trump Organization and the Trump Inaugural Committee. It is possible the special counsel's team has referred other matters that have not yet come to light.
For close watchers of the federal courthouse and the Mueller team, small changes have added up in recent weeks.
On Monday, Tuesday and Wednesday last week, special counsel's office employees carried boxes and pushed a cart full of files out of their office — an unusual move that could foreshadow a hand-off of legal work.
At the same time, the Mueller prosecutors' workload appears to be dwindling. Four of Mueller's 17 prosecutors have ended their tenures with the office, with most returning to other roles in the Justice Department.
And the grand jury that Mueller's prosecutors used to return indictments of longtime Trump confidant Roger Stone, former Trump campaign chairman Paul Manafort, and several Russians hasn't apparently convened since January 24 the day it approved the criminal charges against Stone.
Even with these signs of a wrap up, the DC US Attorney's office has stepped in to work on cases that may continue longer than Mueller is the special counsel.
That office has joined onto some of the Mueller's team's casework, including the cases against Stone, a Russian social media propaganda conspiracy, and in an ongoing foreign government-owned company's fight against a grand jury subpoena.
Mueller and his prosecutors are still reporting to work as frequently as ever — with some even coming in on recent snow days and Presidents' Day. But also visiting them more often than ever before are the prosecutors from the DC US Attorney's Office and others in the Justice Department who've worked on the Mueller cases.
In one court case, against Concord Management for its alleged support for the social media conspiracy prosecutors told a judge in January there's still a related "matter occurring before the grand jury."
In other cases, including Manafort's, the Mueller team has made heavy redactions to its recent public court filings, including to protect pending investigations and people who haven't been charged with crimes.