Trump aide told Australian diplomat Russia had dirt on Clinton – report
George Papadopoulos spoke to high commissioner Alexander Downer at London bar in May 2016, catalyzing FBI investigation, New York Times reports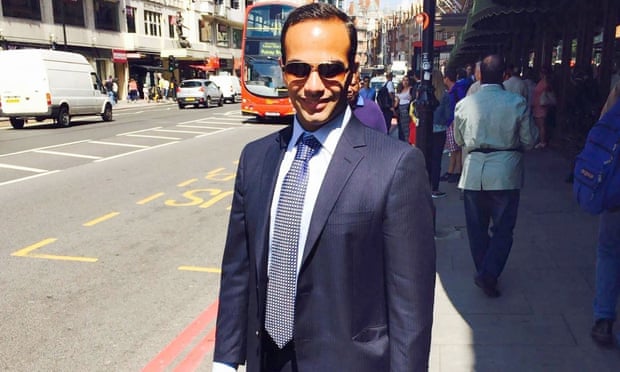 This article titled "Trump aide told Australian diplomat Russia had dirt on Clinton – report" was written by Sabrina Siddiqui in Washington, for The Guardian on Sunday 31st December 2017 00.17 UTC
The FBI reportedly launched its investigation into Russian meddling in the 2016 US election after George Papadopoulos, then a foreign policy adviser to Donald Trump, told an Australian diplomat that Moscow had damaging information about Hillary Clinton.
According to a report published by the New York Times on Saturday, Papadopoulos made the revelation to Alexander Downer, the Australian high commissioner to the UK, "during a night of heavy drinking" at the Kensington Wine Rooms in London in May 2016.
Papadopoulos reportedly told Downer that Russian officials possessed thousands of emails that could harm Clinton's candidacy.
Australia is part of the "Five Eyes" intelligence alliance, with the US, UK, Canada and New Zealand. When WikiLeaks began publishing hacked emails from Democratic officials two months later, Australian officials passed the information to their US counterparts, the Times report stated. The FBI then began its investigation.
A White House lawyer, Ty Cobb, declined to comment, saying in a statement that the administration was continuing to cooperate with the investigation now led by the special counsel Robert Mueller "to help complete their inquiry expeditiously".
In October, Papadopoulos pleaded guilty to lying to the FBI about the nature of his communications with the Russians. He is said to have been cooperating since July with Mueller, who was appointed in May to oversee the federal inquiry into links between Trump and Russia.
The White House has sought to portray Papadopoulos as a low-level staffer whose contacts with the Russians were made independently. The Times report said court documents showed Papadopoulos repeatedly tried to coordinate a meeting between Trump and the Russian president, Vladimir Putin, and notified senior campaign officials of his efforts.
The Times report comes as Republicans have escalated their attacks on the independence of Mueller's investigation, zeroing in on the FBI's use of a dossier regarding links between Trump and Russia compiled by a former British spy, Christopher Steele.
The dossier grew out of a commission by a conservative website to Steele's firm, Fusion GPS, for opposition research during the Republican primary. It was later funded by the Democratic National Committee and the Clinton campaign.
The NYT report stated that Steele was interviewed by the FBI in October 2016, three months after he presented some of his findings to agents in Rome. But US officials told the NYT Steele's research was not the catalyst for the counter-intelligence inquiry into Russian election interference.
Papadopoulos was appointed to Trump's team of foreign policy advisers in March 2016. He reportedly offered to facilitate a meeting with Putin at a meeting including Trump that month.
Jeff Sessions, Trump's attorney general, who led the foreign policy team, has claimed he told Papadopoulos to stand down. However, Sessions initially failed to mention the discussion while testifying before Congress. He later claimed that was because he had not recalled the meeting.
Papadopoulos edited an outline of Trump's first major foreign policy speech in April 2016, in which the candidate expressed his desire to improve US-Russia relations. Papadopoulos, the Times reported, highlighted the speech to his contacts in Moscow, suggesting it was a "signal to meet".
guardian.co.uk © Guardian News & Media Limited 2010
Published via the Guardian News Feed plugin for WordPress.
US attorney general Jeff Sessions fired by Trump
Attorney General Jeff Sessions has resigned as the country's chief law enforcement officer at President Donald Trump's request.
Sessions announced his plan to resign in a letter to the White House on Wednesday.
Trump announced in a tweet that Sessions' chief of staff Matt Whitaker would become the new acting attorney general.
The attorney general had endured more than a year of stinging and personal criticism from Trump over his recusal from the investigation into potential coordination between Russia and the Trump campaign.
Trump blamed the decision for opening the door to the appointment of special counsel Robert Mueller, who took over the Russia investigation and began examining whether Trump's hectoring of Sessions was part of a broader effort to obstruct justice.
Timeline:
1973-1975 – Practices law in Alabama.
1975-1977 – Assistant US Attorney for the Southern District of Alabama.
1981-1993 – US Attorney for the Southern District of Alabama.
1986 – President Ronald Reagan nominates Sessions to become a federal judge. The Senate Judiciary Committee opposes the nomination following testimony that Sessions made racist remarks and called the NAACP and ACLU "un-American."
1995-1997- Alabama Attorney General. During this time, an Alabama judge accuses Sessions of prosecutorial misconduct related to the handling of evidence in a case but ultimately, Sessions is not disciplined for ethics violations.
1996 – Elected to the US Senate. Re-elected in 2002, 2008 and 2014.
1997–February 2017 – Republican senator representing Alabama.
February 2, 2009 – Votes in favor of the confirmation of Eric Holder as attorney general.
April 23, 2015 – Votes against the confirmation of Loretta Lynch as attorney general.
February 28, 2016 – Becomes the first sitting US senator to endorse Donald Trump's presidential bid.
November 18, 2016 – President-elect Donald Trump announces he intends to nominate Sessions to be the next attorney general.
January 3, 2017 – An NAACP sit-in to protest the nomination of Sessions as US attorney general ends when six people are arrested at Sessions' Mobile, Alabama, office.
February 8, 2017 – After 30 hours of debate, the US Senate confirms Sessions as attorney general by a 52-47 vote.
March 1, 2017 – The Washington Post reports that Sessions failed to disclose pre-election meetings with the top Russian diplomat in Washington. Sessions did not mention either meeting during his confirmation hearings when he said he knew of no contacts between Trump surrogates and Russians.
March 2, 2017 – Sessions recuses himself from any involvement in a Justice Department probe into links between the Trump campaign and Moscow.
March 10, 2017 – The DOJ abruptly announces the firing of 46 US attorneys, including Preet Bharara of New York. Bharara said that during the transition, Trump asked him to stay on during a meeting at Trump Tower.
April 3, 2017 – The Department of Justice releases a memorandum ordering a review of consent decrees and other police reforms overseen by the federal government in response to complaints of civil rights abuses and public safety issues. During his confirmation hearing, Sessions expressed skepticism about the effectiveness of Justice Department interventions in local police matters.
July 21, 2017 – The Washington Post reports that Sessions discussed policy-related matters with Russian ambassador, Sergey Kislyak before the 2016 election, according to intelligence intercepts. Sessions had previously claimed that he did not talk about the campaign or relations with Russia during his meetings with Kislyak.
October 4, 2017 – In a memo to all federal prosecutors, Sessions says that a 1964 federal civil rights law does not protect transgender workers from employment discrimination and the department will take this new position in all "pending and future matters."
November 14, 2017 – During a House judiciary committee hearing, Sessions says he did not lie under oath in earlier hearings regarding communications with Russians during the 2016 presidential campaign, and denies participating in any collusion with Russia. Sessions also says the DOJ will consider investigations into Hillary Clinton and alleged ties between the Clinton Foundation and the sale of Uranium One.
January 4, 2018 – Sessions announces that the DOJ is rescinding an Obama-era policy of non-interference with states that have legalized recreational marijuana. The reversal frees up federal prosecutors to pursue cases in states where recreational marijuana is legal.
March 21, 2018 – Sessions issues a statement encouraging federal prosecutors to seek the death penalty for certain drug-related crimes, as mandated by law. Seeking capital punishment in drug cases is part of the Trump administration's efforts to combat opioid abuse.
May 7, 2018 – Sessions announces a "zero tolerance" policy for illegal border crossings, warning that parents could be separated from children if they try to cross to the US from Mexico. "If you cross the border unlawfully, even a first offense, we're going to prosecute you. If you're smuggling a child, we're going to prosecute you, and that child will be separated from you, probably, as required by law. If you don't want your child to be separated, then don't bring them across the border illegally."
May 30, 2018 – Trump again expresses regret for choosing Sessions to lead the Justice Department. In a tweet, he quotes a remark from Rep. Trey Gowdy (R-SC) who said that the president could have picked someone else as attorney general. "I wish I did!," Trump tweeted. He had first said that he was rethinking his choice of Sessions as attorney general during a July 2017 interview with the New York Times.
Ex-Trump Campaign Advisor George Papadopoulos Gets 14-Day Jail Term
George Papadopoulos, a one-time foreign policy adviser for Donald Trump's presidential campaign, was sentenced Friday to 14 days in jail for lying to federal agents investigating Russian interference in the 2016 election.
U.S. District Judge Randolph Moss in Washington rejected a push from Papadopoulos for a non-jail sentence. Moss also imposed 12 months of supervised release and 200 hours of community service. Prosecutors had urged Moss to sentence Papadopoulos to up to six months in jail for lying to federal investigators. (Law.com)
Justice Department plans to alert public to foreign operations targeting U.S. democracy
The Justice Department plans to alert the public to foreign operations targeting U.S. democracy under a new policy designed to counter hacking and disinformation campaigns such as the one Russia undertook in 2016 to disrupt the presidential election.
The government will inform American companies, private organizations and individuals that they are being covertly attacked by foreign actors attempting to affect elections or the political process.
"Exposing schemes to the public is an important way to neutralize them," said Deputy Attorney General Rod J. Rosenstein, who announced the policy at the Aspen Security Forum in Colorado, according to prepared remarks. "The American people have a right to know if foreign governments are targeting them with propaganda."
The Obama administration struggled in 2016 to decide whether and when to disclose the existence of the Russian intervention, fearing that it would be portrayed as a partisan move. Concerns about appearing to favor the Democratic nominee, Hillary Clinton, weighed on President Obama, who was reluctant to give then GOP-nominee Donald Trump ammunition for his accusation that the election was rigged.
"The Russian effort to influence the 2016 presidential election is just one tree in a growing forest," Rosenstein said. "Focusing merely on a single election misses the point."
He cited Director of National Intelligence Daniel Coats, who last Friday said Russia's actions continued. "As Director Coats made clear, "these actions are persistent, they are pervasive, and they are meant to undermine America's democracy on a daily basis, regardless of whether it is election time or not,' " Rosenstein said.
At the Aspen Forum on Thursday, a Microsoft executive said that Russian military intelligence, known as the GRU, has targeted at least three candidates running for election this year. Tom Burt, the company's Vice President for Customer Security and Trust, said that his team had discovered a spear-phishing campaign targeting the candidates. Spear-phishing is a technique hackers use to trick victims into clicking on malware-laced links in emails that enable access to the victims' computers.
Twelve GRU officers were charged last week by special counsel Robert S. Mueller III with conspiracy for their role in the hacking of the Democratic National Committee and the transfer of thousands of emails to the anti-secrecy group WikiLeaks, which published them at key moments in the campaign.
Pressure has been building on the Trump administration to commit to informing the public with lawmakers debating passage of a similar requirement, which would give it the force of law.
"It's absolutely crucial that the intelligence community lean forward, push the envelope on sharing as much of that information as possible because one of the biggest challenges we have is on education of the public, of the electorate, on foreign, read Russian-influence operations," said James R. Clapper Jr., former DNI, who last year at Aspen called for such transparency.
He called the move "quite significant" and said "making that a standard policy across the government is a good one." Other agencies, he said, "will take a cue" from the Justice Department, which is part of the intelligence community and receives information from spy agencies.
The policy, which is part of a report issued on a new Cyber Digital Task Force set up by Attorney General Jeff Sessions in February, also specifies that in considering whether to disclose, the department must protect intelligence sources and methods, investigations and other government operations.
"Partisan political considerations must play no role in efforts to alert victims, other affected individuals or the American public to foreign influence operations against the United States," the policy states. A foreign influence operation will be publicly disclosed "only when the government can attribute those activities to a foreign government with high confidence," it said.
Rosenstein noted that influence operations are not new. The Soviet Union used them against the United States throughout the 20th century, including in 1963 paying an American to distribute a book claiming that the FBI and the CIA assassinated President Kennedy.
The new task force for the first time spelled out five different types of threats covered under foreign influence operations.
Hackers can target election systems, trying to get into voter registration databases and voting machines. Foreign operatives can pursue political organizations, campaigns and public officials. They can offer to assist political organizations or campaigns, while concealing their links to foreign governments. They can seek to covertly influence public opinion and sow division through the use of social media and other outlets. And they can try to employ lobbyists, foreign media outlets and other foreign organizations to influence policy-makers and the public.
"Public attribution of foreign influence operations can help to counter and mitigate the harm caused by foreign government-sponsored disinformation," Rosenstein said. "When people are aware of the true sponsor, they can make better-informed decisions."
The task force works closely with the FBI, whose director, Christopher Wray, last year established a Foreign Influence Task Force to focus on the same issue. The Justice Department task force is broader, but includes as a key component foreign influence activities.
To counter foreign influence, the department will aggressively investigate and prosecute such activities, and will work with other departments, such as the Department of Homeland Security, to share information about threats and vulnerabilities with state and local election officials, political organizations and other potential victims so they can take measures to detect or prevent harm, the report said.
It also noted that DOJ supports other agencies' actions, such as financial or diplomatic sanctions and intelligence efforts. The department also is forming strategic relationships with social media providers to help them identify malign foreign influence activity.
This article was written by Ellen Nakashima from The Washington Post