Steve Bannon may have lost the battle in Alabama but his GOP civil war goes on
Trump's ex-chief strategist lost his White House job but, relishing his outsider status, he remains committed to his crusade against establishment Republicans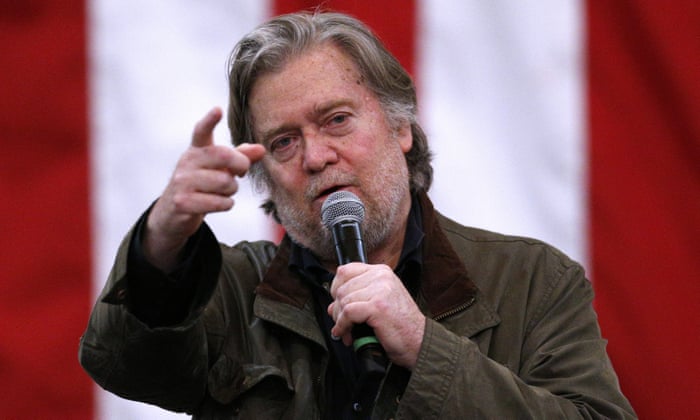 ---
This article titled "Steve Bannon may have lost the battle in Alabama but his GOP civil war goes on" was written by David Smith in Washington, for theguardian.com on Sunday 31st December 2017 12.00 UTC
Bloodied but unbowed by recent political events, Steve Bannon intends to continue defending Donald Trump, flying the flag of insurgent nationalism and waging war on the Republican party establishment in 2018.
The man who once seemed a shadowy power behind the throne – he at one point compared himself to Thomas Cromwell in the court of the Tudors – is also set to take on an ever more prominent role on the stump as campaigner and speechmaker.
"He'll continue to do what he's already started, being an outside manipulator for Donald Trump and executing his threat to take the party to civil war," said Michael Steele, former chairman of the Republican National Committee (RNC).
Bannon, 64, is at the end of a rollercoaster year. In February the then-White House chief strategist made the front cover of Time magazine and the phrase "President Bannon" gained popular currency, much to Trump's irritation. By August he had been forced out and returned to his post as executive chairman of conservative Breitbart News. In December he backed the controversial Republican candidate Roy Moore in the Senate special election in Alabama – and lost to a Democrat.
Bannon's aura of invincibility was shattered and his reputation as field general and master strategist of the Trump movement was mocked by mainstream Republicans. Josh Holmes, a former chief of staff to the Senate majority leader, Mitch McConnell, tweeted sarcastically: "I'd just like to thank Steve Bannon for showing us how to lose the reddest state in the union." But the Bannon camp read things differently, insisting that Moore had not been his original choice (Mo Brooks was) and blaming McConnell for failing to support the former judge.
Andy Surabian, a close Bannon confidant and senior adviser to the pro-Trump Great America Alliance, said: "We lost the battle because Team Mitch successfully delivered the seat to a liberal Democrat, but we won the war because we successfully nationalised Mitch McConnell as the embodiment of the Republican establishment for 2018."
While Trump's approval rating hovers around 40%, McConnell's is even worse. In an ABC News/ Washington Post poll conducted between 29 October and 1 November – before congressional Republicans notched up their first major legislative victory with tax reform – just 25% said they approved of the way McConnell was handling his job; 51% disapproved.
Bannon, still enjoying the patronage of megadonor Rebekah Mercer, recently declared a "season of war" on Republican elites and is reportedly lining up populist candidates to challenge seven of the eight Republican senators up for election in 2018. Surabian said: "Our plan is to elect Republicans in the 'America First' Trump mould. We want candidates who won't just vote with President Trump, but will fight for him and his agenda.
"Unfortunately there is a civil war in the Republican party. Steve is just the natural reaction to the civil war started by the failed establishment on the grassroots. The Democratic party establishment and donors broadly agree with their grassroots on nearly every issue; in the Republican party, the donors and establishment not only disagree with their grassroots, they think they're stupid, especially on issues like trade and immigration."
Surabian, once described by the Politico website as "a one-man army against Mitch McConnell", added: "Beltway Republicans like McConnell have sneered at actual Republican voters for years now. It's crazy when people say we must throw the Bannon/Breitbart/talk radio element out of the party; that's a good way to guarantee we will never be in the majority again."
Bannon's relationship with Trump is more complex. A recent profile in Vanity Fair magazine observed: "While the two men harbor contempt for each other that can ignite into rage, they can't quit each other, either." It cited an administration official as saying that, since Bannon left the White House, he has had five phone calls with Trump, most initiated by the president. Bannon seems set to continue as an ambassador for Trumpism if not Trump.
Surabian, who worked with him on the presidential election campaign and in the White House, added: "Who is Steve Bannon? Bannon is simply a reflection of the people who read Breitbart, listen to conservative radio and voted for President Trump. They know he has their backs. Steve is one of the biggest cheerleaders and advocates for Donald Trump on this planet."
Despite a past career on radio, Bannon was an enigmatic figure during the election campaign and in the West Wing. His appearance on stage at the Conservative Political Action Conference in February was the first time many journalists had heard his voice. But since leaving the administration, Bannon has given interviews, returned to his Sirius XM radio show and given speeches including at at Moore's rallies in Alabama – with mixed results.
Congressman Peter King told CNN: "This guy does not belong on the national stage. He looks like some dishevelled drunk that wandered on to the political stage."
Dan Cassino, associate professor of political science at Fairleigh Dickinson University in Madison, New Jersey, said: "In the past he was a behind-the-scenes player. Now he's speaking more but he's not a particularly good public speaker. He puts his foot in his mouth. But he does have an Alex Jones-type energy and that attracts a certain part of the electorate."
Bannon was a more inspiring public speaker than Moore during at least one rally in Alabama according to eyewitness Joshua Green, author of Devil's Bargain: Steve Bannon, Donald Trump, and the Storming of the Presidency. "He's actually quite effective as a speech maker," he said. "He's very good at channeling those Trumpian resentments and at connecting with the audience; what he's not so good at is getting Republicans elected."
Steele agreed: "How effective he is giving a stump speech is not the test for Steve Bannon. It's how successful he is at banding together a new generation of Republican candidates. And I won't even say Republican candidates – they're nationalists. How effective they are at branding will be one of the challenges they have if they want to be appealing to voters in both 2018 and 2020."
In solidly Republican states, Bannon's candidates may still benefit from the populist base that propelled Trump to victory against establishment rivals such Jeb Bush and John Kasich in last year's Republican primaries. But in swing states, they could alienate many moderates. Steele noted: "When you move from red to purple, a Bannon-Trump candidate becomes dramatically more problematic."
That proved the case in many Alabama suburbs where university-educated Republicans abstained or defected to Democrat Doug Jones rather than face the shame of electing an accused paedophile. Yet Bannon unabashedly continued to promote a candidate facing multiple allegations of sexual misconduct with girls, including a 14-year-old. He was reportedly pivotal in persuading Trump, Fox News host Sean Hannity and the RNC not to abandon Moore, who denies the allegations against him. But it backfired when Jones won in the Republican heartland.
Green said: "It was a big blow to Bannon's credibility because he put his name and his whole political reputation on the line and went a long way to convincing Trump and then they lost. His connection to the base wasn't enough to carry his candidate to victory."
Bannon suddenly seems less of a threat to the party, Green continued. "We can say for certain Bannon isn't going away and isn't scaling back his nationalist agenda or attacks on Mitch McConnell. But you saw McConnell and those around him move quickly to hold Bannon to account. Their main point was that bad candidates don't win races.
"If you're a member of the Republican establishment or 'swamp' it's a less terrifying prospect than it was if Bannon had got Roy Moore elected. It showed that voters have their own agency and their own ideas about what is and isn't appropriate."
But if Bannon's slate of candidates – set to include Kelli Ward in Arizona, Danny Tarkanian in Nevada and Kevin Nicholson in Wisconsin, all of whom oppose McConnell staying on as Senate leader – do succeed in taking down some Republican stalwarts, their hardline populism and lack of experience could cost the party dear in match-ups against Democrats.
"The role that Bannon seems likely to play is someone who could conceivably bring about Democratic control of the Senate," Green said. "That seems the likelier outcome than six or seven Bannon-endorsed nationalists getting to Washington to try to bring down Mitch McConnell."
Other mainstream Republicans agree with the idea that the novelty of Bannon is wearing thin. Rich Galen, a Republican strategist and former press secretary to Vice-President Dan Quayle and House speaker Newt Gingrich, said: "He is not spokesman for a growing movement. He is the spokesman for a fringe movement that has no potential for growth. In politics it comes down to: did you win or did you lose? So far Bannon is pretty much a loser."
Galen added: "I think Bannon is the 2018 version of Sarah Palin. She was the big deal. People wanted her endorsement, they wanted her for show, the press followed her around like puppies, but then people figured out she was yesterday's name. I think Bannon is heading in the same direction."
guardian.co.uk © Guardian News & Media Limited 2010
Published via the Guardian News Feed plugin for WordPress.
Keir Starmer elected as UK opposition Labour leader
The UK's main opposition Labour Party has elected Keir Starmer as its new leader, the party announced Saturday.
Starmer, 57 will replace Jeremy Corbyn, who announced he would step down after a bitter defeat at the last election that saw sweeping gains for the ruling Conservatives.
The change in leadership comes as the country battles its own coronavirus crisis and amid calls to improve public services, such as the National Health Service currently under strain.
Starmer is a former crown prosecutor who has promised to pursue policies aimed at improving social equality, including an increase to the top tax rate and a boost to social services, as well as take stronger action on climate change.
In a video posted to his Twitter account, Starmer said he would work with the Conservative government led by Prime Minister Boris Johnson to tackle the coronavirus crisis, while also pointing out "mistakes or faltering government."
"In times like this, we need good government. A government that saves lives and protects our country," he said.
"It's a huge responsibility. And whether we voted for this government or not, we all rely on it to get this right," he said.
Starmer rose to prominence as a young activist lawyer before his career in politics. He more recently raised his public profile as Labour's shadow Brexit spokesperson. In the UK, the main opposition party has "shadow" ministers who hold political portfolios.
Starmer won more than 56% of the party vote, beating fellow MPs Lisa Nandy and Rebecca Long-Bailey in one round.
The new leader has pitched himself as a unity candidate amid continued divisions in the Labour Party.
The Labour Party has been mired in criticism over anti-Semtic remarks by several MPs in the past. Corbyn was widely criticized for his lax response to the problem within the party.
Starmer said in his video that the party needs to face up to the issue with honesty and apologized to Jewish communities.
"On behalf of the Labour Party, I am sorry.
"And I will tear out this poison by its roots and judge success by the return of Jewish members and those who felt that they could no longer support us."
GOP Candidate in Disputed U.S. House Race Not Running Again
Raleigh, N.C. (AP) — The Republican candidate whose narrow lead in a North Carolina congressional race was thrown out because of suspicions of ballot fraud announced Tuesday he will not run in the newly ordered do-over election, saying he needs surgery late next month.
The withdrawal of Mark Harris, a candidate hobbled by links to alleged ballot fraud, could help Republicans in their effort to keep the competitive seat in North Carolina's 9th Congressional District.
Harris announced his decision in a statement that focused on his health problems. He did not mention the alleged ballot fraud scandal.
Harris had led Democrat Dan McCready by just 905 votes after November's election, but the outcome was never certified. State election officials grew concerned about reports that an operative working for Harris was illegally tampering with absentee ballots.
Harris last week stopped a special state elections board hearing by declaring he couldn't continue to testify. He cited health problems caused by a blood infection that required hospitalization and led to two strokes. He also said he agreed that a new election should be called, despite his previous calls to be declared the winner.
Shortly after Harris spoke last week, the elections board ordered a new contest . A date for the new election has not been announced.
On Tuesday, Harris encouraged his supporters to rally around Stony Rushing, a commissioner in Union County. The local official from the Charlotte suburbs would "stand firm on so many of the issues that concern us, including the issue of life, our national security, and religious freedom," Harris said.
Rushing, a firing range owner and licensed gun seller, has been a county commissioner off and on for more than eight years, first taking office in 2002. He didn't return a phone call to his shooting range seeking comment on Tuesday.
Only one other GOP candidate — former state Sen. Tommy Tucker of Union County — has publicly expressed interest in running for the seat. In a phone interview, Tucker said he's "95 percent sure" that he plans to run for the seat. He said he had no idea how Harris' near-endorsement of Rushing would affect the campaign.
Former U.S. Rep. Robert Pittenger, whom Harris defeated in last May's primary, told The Associated Press in an interview that it was "good for the country and the party" that Harris wasn't running. When asked why, he said simply: "I think it's just obvious."
Pittenger again closed the door on seeking his old job, saying he's involved in a series of conferences on counter-terrorism and security issues.
Former Gov. Pat McCrory said Monday he wouldn't seek the seat. He was previously mayor of Charlotte, a part of which is in the congressional district.
McCready has been assembling a new campaign staff and raising money to run again in the district that stretches from Charlotte through several counties to the east along the South Carolina border. His campaign finance report showed McCready raised $487,000 during the final five weeks of 2018. His campaign sent out a campaign fundraising plea late Thursday, citing the state elections board's decision.
McCready formally announced his intention to run Friday before several dozen supporters at a brewery in Waxhaw, near Charlotte.
"Folks, there's a lot of people that have had their confidence shaken in recent weeks because of the fraud conducted by Mark Harris's campaign," McCready said. "There's a lot of people right now in North Carolina that are disillusioned in our electoral process."
He told the crowd that he and his team were going to "knock on every door" in the district to earn votes and to reassure constituents that he's the type of politician who will do the right thing.
"We're going to talk to people about doing what's right instead of what's wrong," he said.
Harris struggled during testimony last week over why he prepared for his primary election last year by seeking out and signing up Bladen County political operative Leslie McCrae Dowless, a convicted felon who had been accused of ballot fraud in the 2016 elections. The state elections board turned over evidence of his actions in 2017 to federal prosecutors, who took no action.
According to testimony and other findings detailed at the hearing, Dowless conducted an illegal "ballot harvesting" operation: He and his assistants gathered up absentee ballots from voters by offering to put them in the mail.
Dowless' workers in rural Bladen County testified that they were directed to collect blank or incomplete ballots, forge signatures on them and even fill in votes for local candidates.
It is generally against the law in North Carolina for anyone other than the voter or a family member to handle someone's completed ballot.
No criminal charges have been filed in the case . Dowless declined to testify last week after the elections board refused to grant him immunity from prosecution based on what he might say.
North Carolina Election Board Unanimously Agrees To New House Election
Feb 21 (Reuters) – North Carolina's elections board on Thursday unanimously ordered a new election for a U.S. House seat after officials said corruption surrounding absentee ballots tainted the results of last November's vote.
The bipartisan board's 5-0 decision came after Republican candidate Mark Harris requested a new vote, telling the panel that evidence of possible ballot fraud had undermined confidence in the election.
In the televised hearing, board members said "corruption" and the "absolute mess with the absentee ballots" had cast doubt on the fairness of the contest and voters deserved a fresh election.
Harris' request for a new vote came as a surprise. For months, he had said he should be declared the victor in the 9th Congressional District after he led Democrat Dan McCready by 905 votes out of 282,717 ballots cast on Nov. 6. Elections officials, however, had refused to certify him as the winner due to allegations of irregularities in the vote.
"Through the testimony I've listened to over the past three days, I believe a new election should be called," Harris said at a hearing in Raleigh. "It's become clear to me that the public's confidence in the 9th district seat general election has been undermined to an extent that a new election is warranted."
Harris' statement came on the fourth day of a hearing on whether his campaign benefited from what state investigators called illegal election manipulation by political consultant Leslie McCrae Dowless.
Earlier on Thursday, Harris said he had known Dowless was going door to door on the candidate's behalf to help voters obtain absentee ballots, a process that is legal. Harris said Dowless assured him he would not collect the ballots from the voters, which would violate state law.
But residents of at least two counties in the district said Dowless and his paid workers collected incomplete absentee ballots and, in some instances, falsely signed as witnesses and filled in votes for contests left blank, according to testimony at the hearing.
Kim Strach, executive director of the state's election board, earlier this week called the operation a "coordinated, unlawful and substantially resourced absentee ballot scheme."
According to text messages Harris' attorneys turned over to the board on Thursday, Harris sought a meeting with Dowless when he learned that Dowless had led a successful absentee ballot program for Republican candidate Todd Johnson during a 2016 congressional primary election.
In those messages to a Bladen County judge, Harris asked about "the guy whose absentee ballot project for Johnson could have put me in the US House this term, had I known, and he had been helping us."
Harris campaign officials have said they did not pay Dowless to do anything illegal, and Dowless has maintained his innocence. (Editing by Colleen Jenkins, Dan Grebler and James Dalgleish)