Russia collusion inquiry faces a big 2018 – but will Trump let Mueller finish the job?
The investigation is likely to produce further indictments and perhaps an interview with the president himself, but things are not certain to run smoothly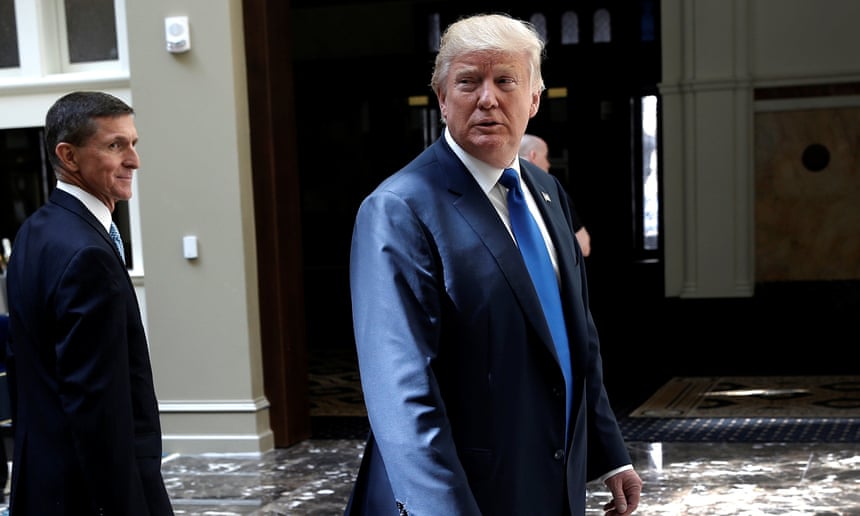 This article titled "Russia collusion inquiry faces a big 2018 – but will Trump let Mueller finish the job?" was written by Tom McCarthy in New York, for theguardian.com on Saturday 30th December 2017 12.00 UTC
From his starting point in May through the end of 2017, special counsel Robert Mueller indicted two former top aides to Donald Trump and made plea deals with two others, including the president's former national security adviser.
Mueller's work is almost done, the White House says – but almost no one else thinks that.
Mueller is investigating alleged collusion between Russia and the Trump presidential campaign during the election. He also spearheads an older counter-intelligence investigation into Russian tampering with the election.
Twenty-eighteen is going to be a big year for Mueller, former FBI and White House officials predict. They expect further indictments and, perhaps, a face-to-face interview with the president himself. They expect the investigation of the White House to run through the summer at least, and the investigation of Russia's election-tampering activities to last longer.
And that's if things unfold smoothly. There is an alternative set of scenarios widely regarded as plausible, in which the president decides to fire Mueller or Rod Rosenstein, Mueller's direct supervisor in the justice department. In such a scenario, a desperate struggle will be joined, in public and in secret, to preserve the essence of Mueller's investigation, even as the national discourse explodes with alarm over what kind of slide the country is on and what is at the bottom.
In one scenario, said Asha Rangappa, a former FBI special agent and senior lecturer at Yale University, Mueller uncovers evidence of criminality on the part of Trump personally, and then – what?
"If he [Mueller] gets to the point where there's maybe enough evidence to bring charges, there's a big question mark on what he does with that," said Rangappa. "Because it's not entirely clear as a matter of constitutional law whether you can indict the president. So what does he do at that point?
"It will create basically a big constitutional crisis."
Unlike for example Kenneth Starr, the independent prosecutor whose labors culminated in a 222-page report to Congress outlining 11 "acts that may constitute grounds for an impeachment" of Bill Clinton, Mueller is not explicitly authorized, and may be unable, to report to Congress, experts said.
"I'm not 100% sold that he has the authority to issue a report to Congress," said Andrew Wright, a former White House associate counsel under Barack Obama and a professor at Savannah Law School, adding: "I'm not sure he doesn't.
"Traditionally, Department of Justice regulations don't allow for a report like that in a criminal investigation, because the indictments speak for themselves and they speak in court. That same principle could potentially govern the special counsel's office."
Mueller's clear imperative is to submit a report to Rosenstein detailing what charges he has decided to bring, what charges he has declined to bring, and why. But that scenario, in turn, assumes that Rosenstein is around to receive the report, which is not a given.
The Washington Post reported in mid-December that behind closed doors, Trump has called Rosenstein weak and ranted that the deputy attorney general is a Democrat, though he is in fact a Republican. Similarly irascible rants by Trump, in public, about the former FBI director James Comey were followed by Comey's termination.
But for all the suspense attached to the endgame, Mueller does not appear to be more than midway through his work, analysts said.
"These are complex investigations," said Rangappa. "I think we have many more months to go."
A plea deal with Michael Flynn, in which the former national security adviser agreed to meet with investigators as frequently as needed to describe activity inside the Trump campaign and White House, is one month old. The revelation that Mueller had procured tens of thousands of emails from the presidential transition team is even more recent.
Major investigative activity surrounding figures close to the president, including Donald Trump Jr and son-in-law Jared Kushner, has yet to come to fruition, while whole oceans of information that Mueller has access to – tax documents, banking information, intercepted communications, tales from cooperating witnesses – have yet to come to public light.
"We just don't know what we don't know," said Wright. "But it's hard for me to imagine that this thing concludes without interviewing the vice-president and president at some point. And to my knowledge that hasn't happened yet. And so to me, that's going to be a signal that they're near the end of the White House phase."
What is clear is that the temperature between Trump and Mueller is rising, notwithstanding assurances earlier this month by a Trump lawyer that "we have been cooperative and transparent with the special counsel's office and will continue to be".
"It's pretty clear that the president has had an inside-outside game," said Wright. "The White House lawyers are doing the classic cooperation speech. Meanwhile, the president's allies are all on Fox News just bashing the heck out of the special counsel, really in a very coordinated smear campaign."
The best strategy for Trump may not be, in this case, the one with the most visceral appeal, said Rangappa.
"It's very risky for Trump to kind of go all out against Mueller," she said. "Because if it backfires, like I said, this investigation is not going to go away.
"So the last thing Trump wants is another event added as evidence to a potential obstruction of justice charge. So he's got to be very careful. Because I think he learned a very hard lesson from firing James Comey. That was a completely self-created debacle."
guardian.co.uk © Guardian News & Media Limited 2010
Published via the Guardian News Feed plugin for WordPress.
Lawyers: Ex-Obama White House Counsel Craig Expects Charges
WASHINGTON (AP) — Lawyers for former Obama administration White House counsel Greg Craig say they expect their client to be charged in a foreign lobbying investigation that grew out of the special counsel's Russia probe.
---
In a statement Wednesday night, the attorneys said the "government's stubborn insistence on prosecuting Mr. Craig is a misguided abuse of prosecutorial discretion."
The scrutiny of Craig stems from an investigation of former Trump campaign chairman Paul Manafort and his work on behalf of a pro-Russian political party in Ukraine. If filed, the charges would come about three months after Craig's former law firm agreed to pay more than $4.6 million and publicly acknowledge that it failed to report its work for the Ukrainian government.
A Justice Department spokesman declined to comment Wednesday night.
House Judiciary Panel Approves Subpoenas For Full Mueller Report
WASHINGTON (AP) — The House Judiciary Committee approved subpoenas Wednesday for special counsel Robert Mueller's full Russia report as Democrats pressure the Justice Department to release the document without redactions.
---
The committee voted 24-17 to give Judiciary Chairman Jerrold Nadler, D-N.Y., permission to issue subpoenas to the Justice Department for the final report, its exhibits and any underlying evidence or materials prepared for Mueller's investigation. Nadler has not yet said if he'll send the subpoenas.
House Democrats had given Attorney General William Barr until Tuesday to provide the full report to Congress. The Justice Department ignored that deadline, with Barr telling committee chairmen in a letter last week that a redacted version of the almost 400-page report would be released by mid-April, "if not sooner."
The vote further escalates the Democrats' battle with the Justice Department over how much of the report they will be able to see, a fight that could eventually end up in court if the two sides can't settle their differences through negotiation. Democrats have said they will not accept redactions and want to see the evidence unfiltered by Barr.
In the letter last week, Barr said he is scrubbing the report to avoid disclosing any grand jury information or classified material, in addition to portions of the report that pertain to ongoing investigations or that "would unduly infringe on the personal privacy and reputational interests of peripheral third parties."
Democrats say they want access to all of that information, even if some of it can't be disclosed to the public. Nadler said he will give Barr time to change his mind on redactions, but if they cannot reach an agreement they will issue the subpoenas "in very short order." He also said he is prepared to go to court to get the grand jury information.
"This committee requires the full report and the underlying materials because it is our job, not the attorney general's, to determine whether or not President Trump has abused his office," Nadler said.
The Judiciary panel also voted Wednesday to authorize subpoenas related to five of President Donald Trump's former top advisers, including strategist Steve Bannon, communications director Hope Hicks, chief of staff Reince Priebus, White House counsel Donald McGahn and counsel Ann Donaldson. Donaldson served as McGahn's chief of staff before both left the administration.
The five were key witnesses in Mueller's probe of possible obstruction of justice and were sent document requests by the Judiciary panel last month, along with dozens of other people connected to Trump. Nadler said he is concerned about reports that documents relevant to Mueller's investigation "were sent outside the White House," meaning the committee should have access to them because they may not be covered by executive privilege.
The top Republican on the Judiciary panel, Georgia Rep. Doug Collins, said at the vote that the five subpoenas are misguided because two of the individuals have already provided 3,000 documents to the committee and that the other three have indicated a willingness to cooperate.
Collins said the authorization for subpoenas is "reckless" and that Democrats shouldn't be asking for documents that the Justice Department can't legally disclose to the public. The committee rejected a GOP amendment that would have blocked the subpoenas from applying to grand jury information.
"We have a pre-emptive chairman who has gone out with pre-emptive subpoenas today on a report that has already been promised him," Collins said. "This is nothing but political theater."
Trump himself has largely deferred to Barr on the report's release while also saying he wouldn't mind if the full version was made public. Still, he has criticized Democrats for seeking the unredacted information. He tweeted Tuesday that "there is no amount of testimony or document production that can satisfy" Nadler or House Intelligence Chairman Adam Schiff, who has also called for the full release.
In a four-page summary of Mueller's report on March 24, Barr wrote that the special counsel did not find that Trump's campaign "conspired or coordinated" with the Russian government to influence the 2016 presidential election. He also said Mueller reached no conclusion on whether Trump obstructed the federal investigation, instead setting out "evidence on both sides" of the question.
Barr himself went further than Mueller in his summary letter, declaring that Mueller's evidence was insufficient to prove in court that Trump had committed obstruction of justice to hamper the probe.
Mueller Report Slated To Be Released By Mid-April, Perhaps Sooner
Washington (CNN) — Attorney General Bill Barr said Friday the Justice Department will have special counsel Robert Mueller's report ready to release by "mid-April, if not sooner."
---
In a letter to the chairmen of the House and Senate judiciary committees, Barr said his department is "well along" making redactions, with the assistance of the special counsel. Barr said the report is "nearly 400 pages long," not including appendices and tables and "sets forth the Special Counsel's findings, his analysis, and the reasons for his conclusions."
Barr offered to testify after the report is released, suggesting May 1 for the Senate committee and May 2 for the House committee.
Read Attorney General Barr's letter to Sens. Lindsey Graham and Jerrold Nadler below: