Russia collusion inquiry faces a big 2018 – but will Trump let Mueller finish the job?
The investigation is likely to produce further indictments and perhaps an interview with the president himself, but things are not certain to run smoothly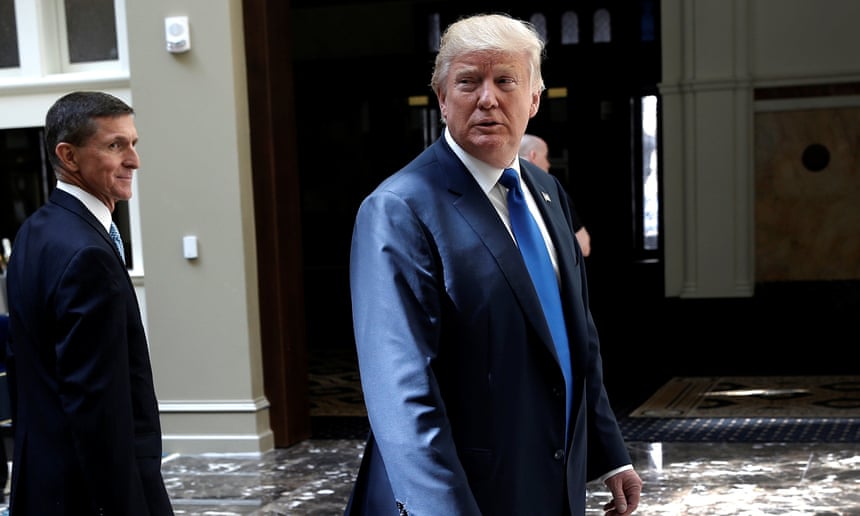 This article titled "Russia collusion inquiry faces a big 2018 – but will Trump let Mueller finish the job?" was written by Tom McCarthy in New York, for theguardian.com on Saturday 30th December 2017 12.00 UTC
From his starting point in May through the end of 2017, special counsel Robert Mueller indicted two former top aides to Donald Trump and made plea deals with two others, including the president's former national security adviser.
Mueller's work is almost done, the White House says – but almost no one else thinks that.
Mueller is investigating alleged collusion between Russia and the Trump presidential campaign during the election. He also spearheads an older counter-intelligence investigation into Russian tampering with the election.
Twenty-eighteen is going to be a big year for Mueller, former FBI and White House officials predict. They expect further indictments and, perhaps, a face-to-face interview with the president himself. They expect the investigation of the White House to run through the summer at least, and the investigation of Russia's election-tampering activities to last longer.
And that's if things unfold smoothly. There is an alternative set of scenarios widely regarded as plausible, in which the president decides to fire Mueller or Rod Rosenstein, Mueller's direct supervisor in the justice department. In such a scenario, a desperate struggle will be joined, in public and in secret, to preserve the essence of Mueller's investigation, even as the national discourse explodes with alarm over what kind of slide the country is on and what is at the bottom.
In one scenario, said Asha Rangappa, a former FBI special agent and senior lecturer at Yale University, Mueller uncovers evidence of criminality on the part of Trump personally, and then – what?
"If he [Mueller] gets to the point where there's maybe enough evidence to bring charges, there's a big question mark on what he does with that," said Rangappa. "Because it's not entirely clear as a matter of constitutional law whether you can indict the president. So what does he do at that point?
"It will create basically a big constitutional crisis."
Unlike for example Kenneth Starr, the independent prosecutor whose labors culminated in a 222-page report to Congress outlining 11 "acts that may constitute grounds for an impeachment" of Bill Clinton, Mueller is not explicitly authorized, and may be unable, to report to Congress, experts said.
"I'm not 100% sold that he has the authority to issue a report to Congress," said Andrew Wright, a former White House associate counsel under Barack Obama and a professor at Savannah Law School, adding: "I'm not sure he doesn't.
"Traditionally, Department of Justice regulations don't allow for a report like that in a criminal investigation, because the indictments speak for themselves and they speak in court. That same principle could potentially govern the special counsel's office."
Mueller's clear imperative is to submit a report to Rosenstein detailing what charges he has decided to bring, what charges he has declined to bring, and why. But that scenario, in turn, assumes that Rosenstein is around to receive the report, which is not a given.
The Washington Post reported in mid-December that behind closed doors, Trump has called Rosenstein weak and ranted that the deputy attorney general is a Democrat, though he is in fact a Republican. Similarly irascible rants by Trump, in public, about the former FBI director James Comey were followed by Comey's termination.
But for all the suspense attached to the endgame, Mueller does not appear to be more than midway through his work, analysts said.
"These are complex investigations," said Rangappa. "I think we have many more months to go."
A plea deal with Michael Flynn, in which the former national security adviser agreed to meet with investigators as frequently as needed to describe activity inside the Trump campaign and White House, is one month old. The revelation that Mueller had procured tens of thousands of emails from the presidential transition team is even more recent.
Major investigative activity surrounding figures close to the president, including Donald Trump Jr and son-in-law Jared Kushner, has yet to come to fruition, while whole oceans of information that Mueller has access to – tax documents, banking information, intercepted communications, tales from cooperating witnesses – have yet to come to public light.
"We just don't know what we don't know," said Wright. "But it's hard for me to imagine that this thing concludes without interviewing the vice-president and president at some point. And to my knowledge that hasn't happened yet. And so to me, that's going to be a signal that they're near the end of the White House phase."
What is clear is that the temperature between Trump and Mueller is rising, notwithstanding assurances earlier this month by a Trump lawyer that "we have been cooperative and transparent with the special counsel's office and will continue to be".
"It's pretty clear that the president has had an inside-outside game," said Wright. "The White House lawyers are doing the classic cooperation speech. Meanwhile, the president's allies are all on Fox News just bashing the heck out of the special counsel, really in a very coordinated smear campaign."
The best strategy for Trump may not be, in this case, the one with the most visceral appeal, said Rangappa.
"It's very risky for Trump to kind of go all out against Mueller," she said. "Because if it backfires, like I said, this investigation is not going to go away.
"So the last thing Trump wants is another event added as evidence to a potential obstruction of justice charge. So he's got to be very careful. Because I think he learned a very hard lesson from firing James Comey. That was a completely self-created debacle."
guardian.co.uk © Guardian News & Media Limited 2010
Published via the Guardian News Feed plugin for WordPress.
Rudy Giuliani admits 'Spygate' is Trump PR tactic against Robert Mueller
President's lawyer gives meandering CNN interview
'It's for public opinion', he says of claims of campaign informant
This article titled "Rudy Giuliani admits 'Spygate' is Trump PR tactic against Robert Mueller" was written by Tom McCarthy, for The Guardian on Sunday 27th May 2018 18.03 UTC
Former New York City mayor Rudy Giuliani said on Sunday that his repeated imputations of a supposed scandal at the heart of the Robert Mueller investigation – which Donald Trump calls "Spygate" – amounted to a tactic to sway public opinion and limit the risk of the president being impeached.
"Of course we have to do it to defend the president," Trump's lawyer told CNN State of the Union host Dana Bash, who accused him of being part of a campaign to undermine the Mueller investigation. Trump has repeatedly called the special counsel's work a "witch hunt", despite its producing five guilty pleas, including by three former Trump aides, and evidence of Russian tampering in US elections.
"It is for public opinion," Giuliani said of his public campaign of dissimulation. "Because eventually the decision here is going to be impeach or not impeach. Members of Congress, Democrats and Republicans, are going to be informed a lot by their constituents. And so our jury – and it should be – is the American people.
"So Republicans largely, many independents, even some Democrats now question the legitimacy of [the Mueller investigation]," Giuliani said. "Democrats I would suggest for their own self-interest, this is not a good issue to go into the midterms."
As Giuliani acknowledged the political nature of his public campaign against Mueller, Trump advanced that campaign on Twitter, lamenting what he said were "young and beautiful lives … devastated and destroyed" by the investigation of alleged collusion between the Trump campaign and Russia.
"They went back home in tatters!" Trump wrote. It was unclear who he was talking about.
Trump, Giuliani and other allies claim reports that an FBI informant monitored links between Trump aides and Russia show there was a "spy" on the Trump campaign. Senior figures in the intelligence community have rubbished such claims.
On ABC's This Week on Sunday, the Democrat Adam Schiff, ranking member of the House intelligence committee, said: "This is part of the propaganda machine. Let's spread a completely fallacious story and then say it needs to be investigated, and give it a life of its own."
The Arizona senator Jeff Flake, a rare Republican critic of Trump, told NBC's Meet the Press the "Spygate" claims were a "diversion tactic, obviously".
He added: "There is concern that the president is laying the groundwork to [fire] Bob Mueller or [deputy attorney general Rod] Rosenstein. If that were to happen, obviously, that would cause a constitutional crisis."
According to a CNN poll from 10 May, views of the Mueller investigation have shifted significantly among Republicans since March. The poll found that Republican approval of Mueller had declined to 17%, from 29%. Approval among Democrats had fallen slightly, from 69% to 64%. A majority of respondents from both parties disapproved of Trump's handling of the Mueller investigation.
Giuliani is a former US attorney for the southern district of New York. In his CNN appearance, he called former CIA director John Brennan and former director of national intelligence James Clapper, both fierce critics of Trump, "two clowns".
"I have no regard at all for Brennan or Clapper. I think they're two clowns…" Giuliani said. "They're not civil servants as far as I know."
Clapper told the same show: "In the space of a week I've progressed from being the dumbest intelligence officer on the planet, from President Trump, to a clown. So it's progress, I guess."
Michael Hayden, another former director of the CIA, told ABC that Trump was "simply trying to delegitimize Mueller … and he's willing to throw anything against the wall.
"From the outside looking in, from everything I know, everyone has handled this just about the way it should have been handled."
Giuliani's month-old job as a spokesman for the president has been marked by confusion, contradiction and scandal. He began by saying money used to seal a 2016 hush agreement with the porn actor Stormy Daniels had come from Trump, who had earlier flatly denied, on camera, any knowledge of the 0,000.
"We're not changing any stories," Trump told reporters. Trump has denied having an affair with Daniels.
Giuliani also said earlier this month Trump would have had his personal lawyer, Michael Cohen, pay off women in addition to Daniels "if necessary". Giuliani told ABC he had "no knowledge" of any other payments to women.
Trump has repeatedly excused and praised Giuliani. "He started yesterday," Trump said on 4 May. "He'll get his facts straight. It's actually very simple, there has been a lot of misinformation really."
guardian.co.uk © Guardian News & Media Limited 2010
Published via the Guardian News Feed plugin for WordPress.
Former Trump Lawyer: Mueller Raised Possibility of Trump Subpoena
Special Counsel Robert Mueller, in a meeting with President Donald Trump's lawyers in March, raised the possibility of issuing a subpoena for Trump if he declines to talk to investigators in the Russia probe, a former lawyer for the president said on Tuesday.
John Dowd told Reuters that Mueller mentioned the possibility of a subpoena in the early March meeting. Mueller's subpoena warning was first reported by the Washington Post, which cited four people familiar with the encounter.
"This isn't some game. You are screwing with the work of the president of the United States," Dowd said he told the investigators, who are probing possible collusion between the Trump campaign and Russia. Dowd left the president's legal team about two weeks after the meeting.
The Post said Mueller had raised the possibility of a subpoena after Trump's lawyers said the president had no obligation to talk with federal investigators involved in the probe.
After the March meeting, Mueller's team agreed to provide the president's lawyers with more specific information about the subjects they wished to ask Trump, the Post reported.
With that information, Trump's lawyer Jay Sekulow compiled a list of 49 questions the president's legal team believed he would be asked, according to the Post.
That list, first reported by the New York Times on Monday, includes questions on Trump's ties to Russia and others to determine whether the president may have unlawfully tried to obstruct the investigation.
Trump on Tuesday criticized the leak of the questions.
"So disgraceful that the questions concerning the Russian Witch Hunt were 'leaked' to the media. No questions on Collusion," Trump wrote on Twitter. "It would seem very hard to obstruct justice for a crime that never happened!"
Russia has denied interfering in the 2016 U.S. presidential election, as U.S. intelligence agencies allege, and Trump has denied there was any collusion between his campaign and Moscow.
Sekulow did not immediately respond to a request for comment. A spokesman for Mueller declined to comment.
Republished With Permission from VOA – Voice Of America
Paul Manafort asks judge to investigate leaks after Mueller questions revealed
Trump's ex-campaign chairman blames 'government officials'
Leak suggests special counsel asked about Manafort-Russia links
This article titled "Paul Manafort asks judge to investigate leaks after Mueller questions revealed" was written by Jon Swaine, for theguardian.com on Tuesday 1st May 2018 16.00 UTC
Donald Trump's former campaign chairman Paul Manafort has asked a judge to investigate leaks about his case, after a list of questions that Trump could face from prosecutors, published by the New York Times, indicated that authorities may have new information linking Manafort to Russia.
Attorneys for Manafort complained in a court filing on Monday evening that "numerous unidentified government officials" had prejudiced his case by leaking information about the inquiry by special counsel Robert Mueller, who has charged Manafort with several crimes.
"Such leaks impugn the character of the individual under investigation and substantially undermine a fundamental principle of our judicial system; ie, the right of the defendant to have the case determined by an impartial jury on the facts," said the filing to a federal court in Virginia, where Manafort is charged with bank fraud and filing false tax returns.
Manafort has denied any wrongdoing.
As Manafort's lawyers filed their request, the New York Times published the leaked questions. One question relating to Manafort stood out as a potential indicator of information not yet publicly known.
It asked: "What knowledge did you have of any outreach by your campaign, including by Paul Manafort, to Russia about potential assistance to the campaign?"
Most of the questions appeared to focus on whether Trump obstructed justice by interfering with the Russia investigation.
No direct contact between Manafort and Russian government officials has been alleged in court documents filed so far by Mueller's team. They have accused Manafort of failing to register as an agent for the then pro-Russian government of Ukraine. Manafort's former business partner, Richard Gates, is cooperating with investigators.
The Times reported that the questions had been read by Mueller's investigators to the president's lawyers, who compiled them into a list.
"That document was provided to the Times by a person outside Mr Trump's legal team," it said.
John Dean, a White House counsel to Richard Nixon who was jailed for his part in the Watergate scandal, said the leak could itself amount to an "act of obstruction", by alerting others to what Mueller was investigating.
Dean told CNN late on Monday a Trump ally may have leaked the questions "to try to somehow disrupt the flow of information, the tipping off of witnesses in advance to what the question was going to be".
Ryan Goodman, a law professor at New York University and former special counsel at the defense department, described the Manafort question as the "most interesting" on the leaked list and pointed to a CNN report from August 2017 for possible context.
That report said US intelligence agencies had intercepted communications in which suspected Russian spies discussed their efforts to work with Manafort in an attempt to damage Hillary Clinton's election campaign.
"The suspected operatives relayed what they claimed were conversations with Manafort, encouraging help from the Russians," CNN reported, citing unidentified US officials.
Matthew Miller, a former top justice department spokesman, told the Guardian the Manafort question contained the "only new piece of possible evidence" but cautioned that even this might be attributable to an error such as faulty transcription by someone on Trump's team.
Miller said Trump should not take comfort from the lack of previously undisclosed information in the remaining questions on Mueller's list.
"The president would be making a huge mistake if he thought these were the only questions he would be asked," said Miller. "He should be ready to talk about anything. It's not an ambush to ask you to tell the truth.
"These are broad subject areas that would be followed up with very specific questions based on the evidence Mueller has gathered."
At Tuesday's White House briefing, press secretary Sarah Sanders repeatedly declined to comment on the leaked questions. "As with all questions of this nature, I would refer you to the president's outside personal attorneys, Jay Sekulow and Rudy Giuliani," she said.
Asked if the White House was concerned that Democratic congressman Adam Schiff said most of the questions point to obstruction of justice, Sanders shot back: "We here at the White House try never to be concerned with anything dealing Adam Schiff."
Additional reporting by David Smith in Washington
guardian.co.uk © Guardian News & Media Limited 2010
Published via the Guardian News Feed plugin for WordPress.