---
This article titled "Rouhani acknowledges Iranian discontent as protests continue" was written by Saeed Kamali Dehghan Iran correspondent, for The Guardian on Sunday 31st December 2017 19.09 UTC
Iranian authorities have threatened a crackdown against protesters and scrambled to block social media apps allegedly used to incite unrest as the biggest demonstrations in nearly a decade continued for a fourth day.
People across Iran took to the streets again on Sunday evening in defiance of a heavy presence of riot police and state warnings to stay away.
The demonstrations began over economic grievances on Thursday but have since taken on a political dimension, with unprecedented calls for the supreme leader, Ayatollah Ali Khamenei, to step down.
Iran's president, Hassan Rouhani, in his first comments about the protests, aired on national television on Sunday night, said "people have the right to criticise", but said the authorities would not tolerate antisocial behaviour. He said criticism was "different from violence and destroying public properties".
Officials said they arrested at least 200 people during demonstrations in central Tehran on Saturday. It was not clear how many were arrested in the provinces, which saw protests on a bigger scale than the capital. Two protesters were killed in western Iran on Saturday.
The protests are the biggest in Iran since 2009, when demonstrators called for the removal of Mahmoud Ahmadinejad as president after what they regarded as his fraudulent re-election.
Videos posted on social media from Saturday night in Tehran showed protesters taking down large banners depicting the ayatollah's image, in acts of resistance rarely seen since the 1979 Islamic revolution.
One video showed demonstrators taking down an image of the leader of Iran's powerful Quds force, Qassem Suleimani, who is spearheading Iran's involvement in regional affairs, particularly the war in Syria.
Rouhani, urging the nation to be vigilant, acknowledged that people were unhappy about the state of economy, corruption and a lack of transparency. "People are allowed under the constitution to criticise or even protest but […] in a way that at the end they lead to a better situation in the country for the people," he said.
Condemning the US president, Donald Trump, who has voiced support for the protests, Rouhani said: "This gentleman who today sympathises with our people has forgotten that a few months ago he called us a terrorist nation. The one who has opposed the Iranian nation from his head to his toe has no right to express sympathy for people of Iran."
On Sunday Trump tweeted that "people are finally getting wise as to how their money and wealth is being stolen and squandered on terrorism", adding that the US was "watching very closely for human rights violations".
Earlier in the day, Iran's interior minister, Abdolreza Rahmani-Fazil, said authorities would not tolerate the "spreading of violence, fear and terror", which he said would "definitely be confronted".
"Those who damage public property, disrupt order, people's security and break the law must be responsible for their behaviour and should answer and pay the price," he said, according to the website of the state broadcaster Irib.
The broadcaster said authorities had blocked Instagram and the messaging app Telegram, which is the most popular social networking platform in Iran, citing an anonymous source who said the move was "in line with maintaining peace and security of the citizens". Authorities said the filtering was temporary.
Telegram's CEO, Pavel Durov, said it had blocked access to the popular Amadnews channel after it had "started to instruct their subscribers to use Molotov cocktails against police".
A source in Iran told the Guardian the state had started blocking access to Telegram, but it was not covering all provinces yet.
Authorities said two protesters were killed in the western province of Lorestan on Saturday, but denied it was the result of clashes between demonstrators and riot police.
The deputy governor for Lorestan, Habibollah Khojastehpour, said police and security guards had not opened fire, and instead blamed "Takfiri groups" – Iran's term for Sunni extremists – and foreign intelligence services. "Unfortunately in these clashes two citizens from [the city of] Doroud were killed," he said.
Many senior figures within the reformist camp and the opposition Green movement remain perplexed as to how to respond to the current wave of unrest. The sharp nature of some of the slogans, which have challenged the foundations of the Islamic republic, has left them mute.
There have been anti-Khamenei chants such as "Death to the dictator" and slogans opposing Iran's regional policy, including "Let go of Syria, think about us" and "I give my life for Iran, not Gaza, not Lebanon".
There were also nostalgic slogans in support of the monarchy and the late shah, as well as some with a nationalistic nature, including "We are of Aryaee [Aryan] race, we don't worship Arabs." Relatively fewer chants were heard in support of two opposition leaders under house arrest, Mir Hossein Mousavi and Mehdi Karroubi.
Some videos showed protesters apparently setting bins on fire and trying to break into government buildings. The semi-official Tasnim news, which is close to the elite Revolutionary Guards, published a photo that it said showed a protester setting fire to the Iranian flag. There were chants of "Death to the Revolutionary Guards" in at least one city.
Many Iranians are sceptical about how the protests have spread so quickly. One prominent senior reformist commentator, Hamidreza Jalaipour, said reformists were opposed to protests instigated by "advocates of regime change", implying that the new wave of protests was not spontaneous.
A protester from Tehran University told the Guardian by phone that although students were puzzled about how the protests were organised and spreading so quickly, they were not "getting leads from anyone".
Ali Vaez, Iran project director at International Crisis Group, called the protests "an explosion of the Iranian people's pent-up frustrations over economic and political stagnation", but he said: "This is neither a revolution nor a movement."
Vaez said: "Given its lack of leadership, organisation and mission, it is likely to peter out or will be quelled. The Rouhani administration has two options: it can follow the example of its predecessors ([Ali Akbar Hashemi] Rafsanjani after the protests of the early 1990s and [Mohammad] Khatami after the 1999 student uprising) and opt for a more cautious path, or capitalise on public discontent to push the system towards more genuine reforms. That choice will ultimately determine the Islamic Republic's fate."
Iranian conservatives, while acknowledging ordinary people were protesting for what they said were mainly economic reasons, accused foreign powers of inciting violence and exploiting the situation.
guardian.co.uk © Guardian News & Media Limited 2010
Published via the Guardian News Feed plugin for WordPress.
Click here for reuse options!


Copyright 2017 News This Second Online
Powerful earthquake shakes Mexico City
A 7.5 magnitude earthquake struck near Pinotepa de Don Luis, Mexico, south of Mexico City, this evening, according to the U.S. Geological Survey.
LIVE:
Videos on social media showed buildings shaking in Mexico City.
Mexico is susceptible to major earthquakes because it sits near the boundaries of three fault lines. A magnitude 7.1 earthquake in central Mexico on Sept. 19 left 228 people dead in the capital and 369 across the region.
Over the past few weeks, quakes have hit near Japan, Guam and Taiwan around the planet's so-called 'Ring of Fire' – a geological disaster zone.
Research in California says aftershocks can occur on the margins of the area in which the quake took place following a cluster of tremors.
There may also be the possibility of a 'big one' in the immediate area, according to the researchers.
Over 300 people, including schoolchildren, died from a powerful earthquake in central Mexico last September.
Click here for reuse options!


Copyright 2018 News This Second Online
Ex-FBI agent breaks down over school shooting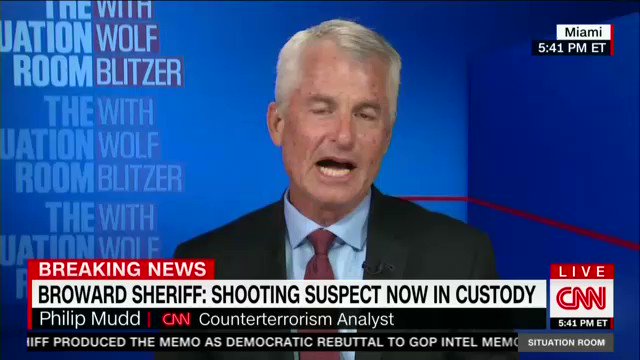 At least 17 people were killed Wednesday in a high school shooting in Parkland, Florida, Broward County Sheriff Scott Israel said.
The suspect, 19-year-old former student Nikolaus Cruz, is in custody, the sheriff said. The sheriff said he was expelled for unspecified disciplinary reasons. Police are investigating his digital profile, he said. So far, what they've found is "very, very disturbing," Israel said.
At least 17 people have been taken to area hospitals, said Dr. Evan Boyar of Broward Health.
Law enforcement responded to reports of a shooting at Marjory Stoneman Douglas High School shortly before 3 p.m. The shooting sent students and staff streaming out of the school in a panic.
The victims included students and adults, Israel said. Twelve were killed inside the building and two died outside, he said. One died in the street and two died at the hospital, the sheriff said.
Click here for reuse options!


Copyright 2018 News This Second Online
17 dead in Florida school shooting, law enforcement sources say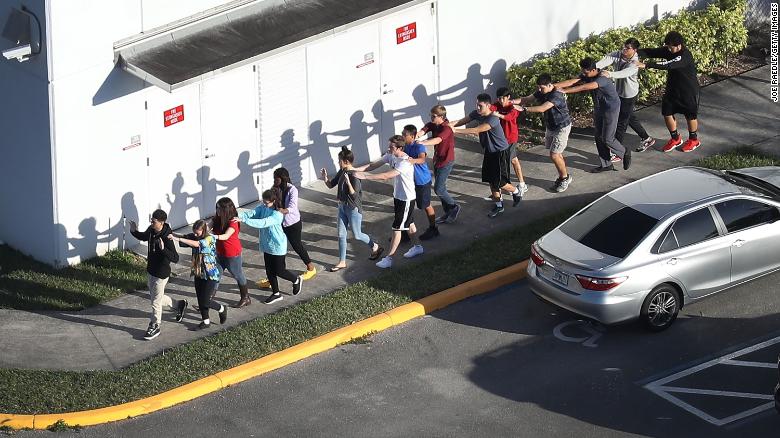 At least 17 people were killed Wednesday in a high school shooting in Parkland, Florida, Broward County Sheriff Scott Israel said.
The suspect, 19-year-old former student Nikolas Cruz, is in custody, the sheriff said. The sheriff said he was expelled for unspecified disciplinary reasons.
At least 14 people have been taken to area hospitals following the shooting, Israel said.
Law enforcement responded to reports of a shooting at the school shortly before 3 p.m. The shooting sent students and staff streaming out of the school in a panic.
Immediately after the shooting, aerial footage from CNN affiliate WSVN showed people lying on the ground outside the school, being treated for injuries and moved to ambulances.
Freshman Kayden Hanafi said he heard two gunshots and saw people running out of another building on campus. As he and his classmates went into lockdown in a classroom, many thought the noise might have been firecrackers.
"It's really a blessing to still be alive," he said.
Nicole Baltzer, 18, said she was in trigonometry class about 10 minutes before the end of the school day when the fire alarm went off. As students evacuated, she heard six gunshots and everyone started running back inside the school
"I heard so many gunshots, at least like six. They were very close," Baltzer said.
A police officer told her to close her eyes as she walked past a classroom with broken glass, telling her "there's nothing good to see in there," she said.
A freshman named Aidan posted a photo on social media from inside his math class while on lockdown. Since then, he has left the building.
"We have been liberated. God bless, America," Aidan tweeted after being evacuated from the building. "Love each other. You may never know when it may be the last day you meet someone."
There had been a fire drill at the school earlier in the day, leading some to believe at first that the afternoon incident was another drill, a student told WSVN. "Everyone just started freaking out."
"But then word started going around that it was shots and not just, like, something else, everyone just started running towards the canal," the student said.
Parkland, with a population of 31,000 people in 2016, was named Florida's safest city last year, according to an analysis by the Washington-based National Council for Home Safety and Security, a home security industry trade association. The south Florida city had seven reported violent crimes and 186 property crimes the previous year, according to the analysis.
Stoneman Douglas High School had an enrollment of about 3,100 students in the 2015-16 year, according to the National Center for Education Statistics.
As news of the shooting spread, desperate parents gathered near the property searching for their children.
Lissette Rozenblat told CNN that her daughter safely evacuated the school and took shelter at a nearby Walmart.
"She was very nervous, she said that she could hear the person who was shot crying out for help, and was just a nervous wreck," Rozenblat said.
Agents from the Miami office of the Bureau of Alcohol, Tobacco, Firearms and Explosives are responding to the scene, a spokesman said.
Click here for reuse options!


Copyright 2018 News This Second Online