Private prison investors set for giant windfall from Trump tax bill
Prison firms that restructured as real estate investment trusts see substantial tax cut – more good news for those who benefit from increased incarceration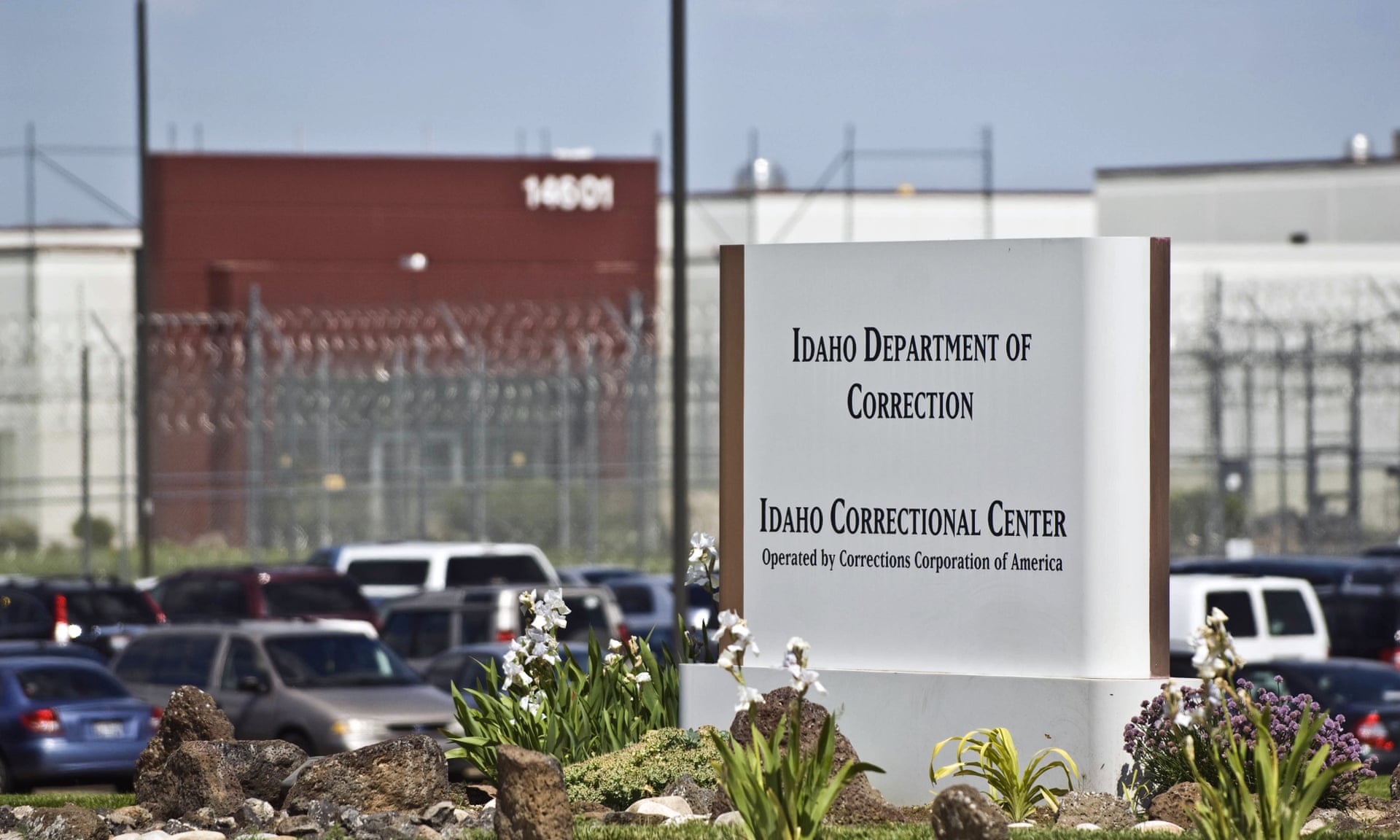 ---
This article titled "Private prison investors set for giant windfall from Trump tax bill" was written by Jamiles Lartey in New York, for theguardian.com on Thursday 28th December 2017 12.00 UTC
Individual investors in US private prisons are poised to collect their most lucrative earnings ever thanks to changes in the tax code signed by Donald Trump, continuing what has been a banner year for the industry since the 2016 election.
"It's going to be great for the investors, banks and hedge funds that own shares in private prisons, and are dependent on increased incarceration and criminalization," said Jamie Trinkle, campaign and research coordinator with the racial and economic justice coalition Enlace.
Under the new GOP law, investments in so-called "real estate investment trusts" (reits) will see a 25% reduction in tax, from 39.6% down to 29.6% .
Corecivic, formerly Corrections Corporation of America (CCA), and the Geo Group, which together own more than 80% of private prison beds in the US, both restructured as reits in 2013 after a private letter ruling by the Obama Administration IRS green-lit the change.
"This tax act is of unprecedented benefit for reit investors," said David Miller, a tax partner at Proskauer Rose. "I think reits will explode in popularity as a result of this act."
With dividends of more than 0m paid out by the two major private prison companies in 2017, in theory, prison investors could see an additional m in dividend earnings next year, thanks to the GOP legislation. The actual figure will be lower than that, however, as some proportion of those shares are owned by institutional investors which are taxed differently from individuals. The exact breakdown between the two is not available in public filings.
Even without the new lower tax rate, the reit classification was already a huge boon to the private prison industry. Before converting to a reit in 2013, Corecivic was subject to a 36% corporate tax rate. After the reorganization, it reported paying an effective tax rate in the first quarter of 2015 of just 3%.
Lauren-Brooke Eisen, an attorney at the Brennan Center for Justice, said: "The way they are able to get away with that, is that they're not allowed to keep a lot of cash on hand, they have to give it back to investors though dividends. But it allows them to have an incredibly low tax rate."
According to Eisen, prison companies have essentially argued that renting out cells to the government is the equivalent of charging a tenant rent, thus making such business primarily a real estate venture. In her new book, Inside Private Prisons, Eisen examines the way this classification has boosted industry earnings.
Oregon Democratic senator Ron Wyden, a ranking member on the finance committee, has called the use of the reit structure by prisons "unfair" and "unjust". In 2016, after being pressed by Enlace, he introduced legislation to end such practices. The bill was reintroduced this year but it has yet to make it out of committee and is not likely to do so any time soon.
A CoreCivic representative told the Guardian that, in their view, "there are far more pressing matters for Congress to pursue" than the reit tax classifications. The Geo Group added they are "treated exactly the same as other real estate investment trusts without any special tax treatments or loopholes". The point that activists make, though, is that treating prisons as real estate is a loophole.
A dramatic shift
Sixteen months ago, the outlook for private prisons seemed bleak: that was when the Obama Department of Justice announced it was phasing out their use. That announcement followed the release of a scathing government report, which concluded that private facilities were less safe than government-run ones.
The announcement only applied to the 18% of federal prisoners held in private facilities, not the 8% of state prisoners or 65% of immigration detainees held in private facilities. But it still signaled serious trouble. Corecivic and the Geo Group saw their stock prices plummet by about half and trading remained cratered until Trump's surprise election victory.
By February, Trump's first full month in office, it had become clear that the new administration would discontinue Obama's efforts to shrink the size of the US prison population. One of Jeff Sessions' first acts as attorney general was to undo the DoJ directive phasing out private prisons. That month the two companies each reached two-year stock highs.
The tax bill gift to private prison investors mirrors the cosy relationship Trump has had with the industry overall. After years elsewhere, in 2017 the Geo Group hosted its annual leadership conference at the Trump National Doral golf club in Miami. The company also gave nearly half a million dollars to Trump through his inauguration committee and Super Pacs. Shortly thereafter, it secured the administration's first contract for an immigration detention center, a deal potentially worth millions.
Despite all that momentum, though, Jamie Trinkle at Enlace still sees a potential for organizers to stem the resurgence of private prisons. Divestment campaigns have successfully pulled more than bn out of banks (principally Wells Fargo) and other organizations that invest in the industry.
"Since the tax benefit goes directly to the investors, I think the divestment work actually becomes more important as a way to fight back and stop the flow of capital," Trinkle said.
This piece was amended on 28 December 2017, to clarify the circumstances under which the Geo Group and Corecivic restructured as reits.
guardian.co.uk © Guardian News & Media Limited 2010
Published via the Guardian News Feed plugin for WordPress.
Prezzo in Salisbury cordoned off by police after man and woman fall ill
Police have sealed off a restaurant in Salisbury and the surrounding area after two people were taken ill.

The ambulance service called officers to Prezzo, in High Street, at 18:45 BST following "a medical incident" involving a man and a woman.

A Wiltshire Police statement said it had cordoned off the area as a precaution while it established "what has led them to fall ill".
A witness reported seeing a person in a a hazardous material suit attend.
(BBC)
California to launch its 'own damn satellite'
California is set to launch a satellite to track greenhouse gases, as former US Secretary of State John Kerry and island nation leaders warned that the world is far off course to avoid the worst effects of rising temperatures.
---
This article titled "California to launch its 'own damn satellite' to track greenhouse gases" was written by Emily Holden and Oliver Milman in San Francisco, for theguardian.com on Friday 14th September 2018 20.49 UTC
California is set to launch a satellite to track greenhouse gases, as former US Secretary of State John Kerry and island nation leaders warned that the world is far off course to avoid the worst effects of rising temperatures.
Gov. Jerry Brown announced plans for the satellite on the last day of a climate change summit hosted by San Francisco, in a final rebuke to President Donald Trump's denial of man-made warming.
"With science still under attack," Brown said "we're going to launch our own satellite, our own damn satellite, to figure out where the pollution is." Brown said the satellite will help pinpoint the source of planet-warming emissions.
California will team up with Planet Labs, a company run by ex-Nasa scientists. The data collected, including on carbon dioxide emissions and methane leaks from oil and gas operations, could be made public as part of a partnership with the advocacy group Environmental Defense Fund. The new project comes as Trump has proposed slashing Nasa climate research mission budgets. It is one of dozens of commitments of mixed significance unveiled by states, cities and businesses at the event.
Despite the optimism on show at the summit, Kerry said climate efforts must ramp up.
"I am going to tell the truth, and the truth is we are not anywhere near where we need to be with respect to the overall challenge of climate change," said Kerry, who worked to secure the 2015 global Paris climate agreement under former president Barack Obama.
Kerry blasted Donald Trump for deciding to leave that deal, calling it "one of the single greatest acts of irresponsibility by a president of the United States anywhere at any time."
Leaders of the countries already suffering most from sea-level rise and ocean acidification echoed Kerry's concerns, saying that international action is slowing.
"The world has lost, all of us have lost, momentum since Paris in 2015. Although the rate of increase has slowed, we've not yet peaked our global emissions. But we must do so by 2020. We really cannot afford to wait any longer," said Mia Mottley, prime minister of the Caribbean island nation of Barbados.
Mottley's country is in the direct path of hurricanes that are growing in strength and may narrowly avoid a more direct hit from tropical storm Isaac this week.
The world is set to watch temperatures rise 3C above pre-industrial levels by the time a child born today is old, Mottley said, even if countries adhere to the goals they said.
Frank Bainimarama, prime minister of Fiji, said countries need to speed their work.
"We all know that the levels of ambition in our national plans need to be ramped up because we are not on track to meet the targets of the Paris agreement," Bainimarama said.
Former US vice-president Al Gore struck a more positive tone.
"We must do it. We can do it. I'm convinced ever more because of the success of this summit here in San Francisco that we will do it," he said, reminding that the US has not technically left the Paris deal yet and that a new president could re-enter.
The warnings were at odds with the overall atmosphere of the summit.
On the eve of the gathering, California governor Jerry Brown signed a bill that would make the state's electricity supply carbon-free by 2045. A separate executive order by Brown is more sweeping, committing to net zero emissions across the entire California economy, also by 2045.
Other cities and regions from around the world have followed this with various pledges, with New York City promising $4bn to renewable energy and clean water and cities including Los Angeles, Tokyo, Honolulu, Oslo and Greater Manchester pledging to build energy efficient buildings or deploy fleets of electric buses.
A group of 29 philanthropists committed $4bn over five years to combat climate change, the largest such investment of its kind, while companies such as Ikea, Walmart and Unilever promised to reduce emissions through measures such as electrified trucks for deliveries and action to prevent deforestation in the tropics.
Jonathan Pershing, the State Department's climate negotiator under Obama, said the summit brings hope to the climate cause.
"The story here is optimistic. The question here is does the optimism translate, and can this message get out globally," Pershing said. "There is a good broad cross-section of people from around the world, but it's just a few thousand people, and it's a problem that's going to require engagement by millions."
guardian.co.uk © Guardian News & Media Limited 2010
Published via the Guardian News Feed plugin for WordPress.
Christine Blasey accuses Kavanaugh of assault in letter to senator
Update:Christine Blasey Ford, the woman who wrote the letter accusing Supreme Court nominee Brett Kavanaugh of sexual assault, is going public with her story, saying she thought he might kill her. More to come.
'I thought he might inadvertently kill me,' said Ford, now a 51-year-old research psychologist in northern California, to The Washington Post. 'He was trying to attack me and remove my clothing.'
A woman is accusing Supreme Court nominee Brett Kavanaugh of assaulting her when they were in high school in the early 1980s, according to a source familiar with the allegations, which were relayed in a letter to Sen. Dianne Feinstein earlier this summer.
CNN reports the letter details an incident when the woman, who has not come forward publicly, attended a party with Kavanaugh and others in a suburban Maryland home. Feinstein, the top Democrat on the Senate Judiciary Committee, has referred the letter to the FBI.
Kavanaugh physically pushed her into a bedroom, the accuser said. Along with another male, Kavanaugh locked the door from the inside and played loud music that the accuser said precluded successful attempts to yell for help.
Both men were drunk, she said, and Kavanaugh attempted to remove her clothes.
At one point, Kavanaugh was on top of her laughing as the other male in the room periodically jumped onto Kavanaugh.
Kavanaugh held his hand over her mouth at one point, and she said she felt her life was inadvertently in danger.
She said she was able to leave the room and go into a hallway bathroom. After Kavanaugh and the other male began talking to others in the house, she went home.
There is no indication the woman reported the incident to law enforcement at the time, but she said she has received medical treatment regarding the alleged assault. The woman also declined to come forward publicly after sending the letter to Feinstein. The accuser's name was redacted before Feinstein forwarded it to the FBI.
In a statement Friday, Kavanaugh denied the allegation.
"I categorically and unequivocally deny this allegation. I did not do this back in high school or at any time," he said.
Kavanaugh testified for three days before the Senate Judiciary Committee last week, where the issue was not raised. The Judiciary panel is scheduled to consider Kavanaugh's nomination next Thursday, and the full Senate may vote on confirmation later this month.
The New Yorker first reported the details of the letter to Feinstein. The woman declined a request from the magazine for comment.
Old Article:
Sen. Dianne Feinstein (D-CA) has said that she possesses a sensitive document about Supreme Court nominee Brett Kavanaugh and is referring the matter to the Justice Department.
In a statement she said:
"I have received information from an individual concerning the nomination of Brett Kavanaugh to the Supreme Court," Feinstein said in a statement. "That individual strongly requested confidentiality, declined to come forward or press the matter further, and I have honored that decision. I have, however, referred the matter to federal investigative authorities."
The document in question is believed to be a letter detailing an interaction between an unnamed woman and Kavanaugh dating back to their time together in high school.