Private prison investors set for giant windfall from Trump tax bill
Prison firms that restructured as real estate investment trusts see substantial tax cut – more good news for those who benefit from increased incarceration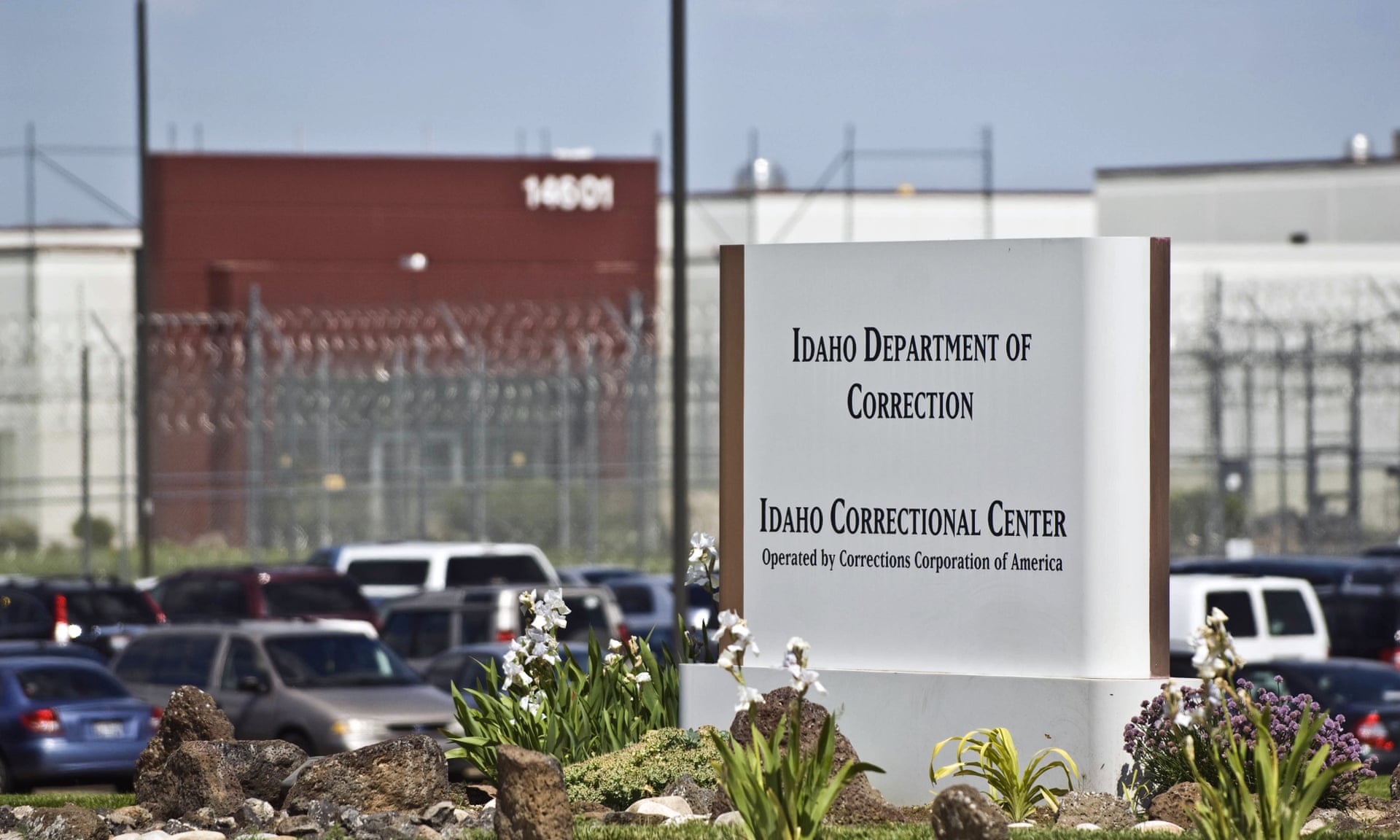 ---
This article titled "Private prison investors set for giant windfall from Trump tax bill" was written by Jamiles Lartey in New York, for theguardian.com on Thursday 28th December 2017 12.00 UTC
Individual investors in US private prisons are poised to collect their most lucrative earnings ever thanks to changes in the tax code signed by Donald Trump, continuing what has been a banner year for the industry since the 2016 election.
"It's going to be great for the investors, banks and hedge funds that own shares in private prisons, and are dependent on increased incarceration and criminalization," said Jamie Trinkle, campaign and research coordinator with the racial and economic justice coalition Enlace.
Under the new GOP law, investments in so-called "real estate investment trusts" (reits) will see a 25% reduction in tax, from 39.6% down to 29.6%.
Corecivic, formerly Corrections Corporation of America (CCA), and the Geo Group, which together own more than 80% of private prison beds in the US, both restructured as reits in 2013 after a private letter ruling by the Obama Administration IRS green-lit the change.
"This tax act is of unprecedented benefit for reit investors," said David Miller, a tax partner at Proskauer Rose. "I think reits will explode in popularity as a result of this act."
With dividends of more than 0m paid out by the two major private prison companies in 2017, in theory, prison investors could see an additional m in dividend earnings next year, thanks to the GOP legislation. The actual figure will be lower than that, however, as some proportion of those shares are owned by institutional investors which are taxed differently from individuals. The exact breakdown between the two is not available in public filings.
Even without the new lower tax rate, the reit classification was already a huge boon to the private prison industry. Before converting to a reit in 2013, Corecivic was subject to a 36% corporate tax rate. After the reorganization, it reported paying an effective tax rate in the first quarter of 2015 of just 3%.
Lauren-Brooke Eisen, an attorney at the Brennan Center for Justice, said: "The way they are able to get away with that, is that they're not allowed to keep a lot of cash on hand, they have to give it back to investors though dividends. But it allows them to have an incredibly low tax rate."
According to Eisen, prison companies have essentially argued that renting out cells to the government is the equivalent of charging a tenant rent, thus making such business primarily a real estate venture. In her new book, Inside Private Prisons, Eisen examines the way this classification has boosted industry earnings.
Oregon Democratic senator Ron Wyden, a ranking member on the finance committee, has called the use of the reit structure by prisons "unfair" and "unjust". In 2016, after being pressed by Enlace, he introduced legislation to end such practices. The bill was reintroduced this year but it has yet to make it out of committee and is not likely to do so any time soon.
A CoreCivic representative told the Guardian that, in their view, "there are far more pressing matters for Congress to pursue" than the reit tax classifications. The Geo Group added they are "treated exactly the same as other real estate investment trusts without any special tax treatments or loopholes". The point that activists make, though, is that treating prisons as real estate is a loophole.
A dramatic shift
Sixteen months ago, the outlook for private prisons seemed bleak: that was when the Obama Department of Justice announced it was phasing out their use. That announcement followed the release of a scathing government report, which concluded that private facilities were less safe than government-run ones.
The announcement only applied to the 18% of federal prisoners held in private facilities, not the 8% of state prisoners or 65% of immigration detainees held in private facilities. But it still signaled serious trouble. Corecivic and the Geo Group saw their stock prices plummet by about half and trading remained cratered until Trump's surprise election victory.
By February, Trump's first full month in office, it had become clear that the new administration would discontinue Obama's efforts to shrink the size of the US prison population. One of Jeff Sessions' first acts as attorney general was to undo the DoJ directive phasing out private prisons. That month the two companies each reached two-year stock highs.
The tax bill gift to private prison investors mirrors the cosy relationship Trump has had with the industry overall. After years elsewhere, in 2017 the Geo Group hosted its annual leadership conference at the Trump National Doral golf club in Miami. The company also gave nearly half a million dollars to Trump through his inauguration committee and Super Pacs. Shortly thereafter, it secured the administration's first contract for an immigration detention center, a deal potentially worth millions.
Despite all that momentum, though, Jamie Trinkle at Enlace still sees a potential for organizers to stem the resurgence of private prisons. Divestment campaigns have successfully pulled more than bn out of banks (principally Wells Fargo) and other organizations that invest in the industry.
"Since the tax benefit goes directly to the investors, I think the divestment work actually becomes more important as a way to fight back and stop the flow of capital," Trinkle said.
This piece was amended on 28 December 2017, to clarify the circumstances under which the Geo Group and Corecivic restructured as reits.
guardian.co.uk © Guardian News & Media Limited 2010
Published via the Guardian News Feed plugin for WordPress.
George Herbert Walker Bush, the linchpin of an American political dynasty whose presidency saw the end of the Cold War and the close of an era of American bipartisanship that conflict fostered, has died. He was 94.
During his single term in the White House, the Berlin Wall fell, newly democratic states sprang up across Central and Eastern Europe, and the Soviet Union came to an end. And in the Middle East, the U.S. military launched its most successful offensive since World War II. For a time, Bush rode foreign policy triumphs to high popularity. But he saw his standing plunge during a 1990s recession and lost to Bill Clinton after one term.
On April 22nd President Bush was admitted to the Houston Methodist Hospital  after contracting an infection that spread to his blood. He was said to have been responding to treatments and appeared to be recovering.
Court Orders White House to give Jim Acosta his hard pass back
Federal judge Timothy J. Kelly sided with CNN on Friday, ordering the White House to reinstate chief White House correspondent Jim Acosta's press pass.
The ruling was an initial victory for CNN in its lawsuit against President Trump and several top aides.
The lawsuit alleges that CNN and Acosta's First and Fifth Amendment rights are being violated by the suspension of Acosta's press pass.
Kelly did not rule on the underlying case on Friday. But he granted CNN's request for a temporary restraining order.
This result means that Acosta will have his access to the White House restored for at least a short period of time. The judge said while explaining his decision that he believes that CNN and Acosta are likely to prevail in the case overall.
CNN is also asking for "permanent relief," meaning a declaration from the judge that Trump's revocation of Acosta's press pass was unconstitutional. This legal conclusion could protect other reporters from retaliation by the administration.
"The revocation of Acosta's credentials is only the beginning," CNN's lawsuit alleged, pointing out that Trump has threatened to strip others' press passes too.
That is one of the reasons why most of the country's major news organizations have backed CNN's lawsuit, turning this into an important test of press freedom.
But the judge will rule on all of that later. Further hearings are likely to take place in the next few weeks, according to CNN's lawyers.

(CNN)
CNN sues President Trump for banning reporter Jim Acosta
CNN is filing a lawsuit against President Trump and several of his aides, seeking the immediate restoration of chief White House correspondent Jim Acosta's access to the White House.
The lawsuit is a response to the White House's suspension of Acosta's press pass, known as a Secret Service "hard pass," last week. The suit alleges that Acosta and CNN's First and Fifth Amendment rights are being violated by the ban.
The suit is being filed in U.S. District Court in Washington, D.C. on Tuesday morning, a CNN spokeswoman confirmed.
Both CNN and Acosta are plaintiffs in the lawsuit. There are six defendants: Trump, chief of staff John Kelly, press secretary Sarah Sanders, deputy chief of staff for communications Bill Shine, Secret Service director Joseph Clancy, and the Secret Service officer who took Acosta's hard pass away last Wednesday. The officer is identified as John Doe in the suit, pending his identification.
The six defendants are all named because of their roles in enforcing and announcing Acosta's suspension.
Last Wednesday, shortly after Acosta was denied entry to the White House grounds, Sanders defended the unprecedented step by claiming that he had behaved inappropriately at a presidential news conference. CNN and numerous journalism advocacy groups rejected that assertion and said his pass should be reinstated.
On Friday, CNN sent a letter to the White House formally requesting the immediate reinstatement of Acosta's pass and warning of a possible lawsuit, the network confirmed.
In a statement on Tuesday morning, CNN said it is seeking a preliminary injunction as soon as possible so that Acosta can return to the White House right away, and a ruling from the court preventing the White House from revoking Acosta's pass in the future.
"CNN filed a lawsuit against the Trump Administration this morning in DC District Court," the statement read. "It demands the return of the White House credentials of CNN's Chief White House correspondent, Jim Acosta. The wrongful revocation of these credentials violates CNN and Acosta's First Amendment rights of freedom of the press, and their Fifth Amendment rights to due process. We have asked this court for an immediate restraining order requiring the pass be returned to Jim, and will seek permanent relief as part of this process."
CNN also asserted that other news organizations could have been targeted by the Trump administration this way, and could be in the future.
"While the suit is specific to CNN and Acosta, this could have happened to anyone," the network said. "If left unchallenged, the actions of the White House would create a dangerous chilling effect for any journalist who covers our elected officials."
Acosta has continued to do part of his job, contacting sources and filing stories, but he has been unable to attend White House events or ask questions in person — a basic part of any White House correspondent's role.
Acosta is on a previously scheduled vacation this week. He declined to comment on the lawsuit.
On CNN's side, CNN Worldwide chief counsel David Vigilante is joined by two prominent attorneys, Ted Boutrous and Theodore Olson. Both men are partners at Gibson, Dunn & Crutcher.
Last week, before he was retained by CNN, Boutrous tweeted that the action against Acosta "clearly violates the First Amendment." He cited the Sherrill case.
"This sort of angry, irrational, false, arbitrary, capricious content-based discrimination regarding a White House press credential against a journalist quite clearly violates the First Amendment," he wrote.
David McCraw, the top newsroom lawyer at The New York Times, said instances of news organizations suing a president are extremely rare.
Past examples are The New York Times v. U.S., the famous Supreme Court case involving the Pentagon Papers in 1971; and CNN's 1981 case against the White House and the broadcast networks, when CNN sued to be included in the White House press pool.
The backdrop to this new suit, of course, is Trump's antipathy for CNN and other news outlets. He regularly derides reporters from CNN and the network as a whole.
Abrams posited on "Reliable Sources" on Sunday that CNN might be reluctant to sue because the president already likes to portray the network as his enemy. Now there will be a legal case titled CNN Inc. versus President Trump.
But, Abrams said, "this is going to happen again," meaning other reporters may be banned too.
"Whether it's CNN suing or the next company suing, someone's going to have to bring a lawsuit," he said, "and whoever does is going to win unless there's some sort of reason."
(CNN)