Iranians chant 'death to dictator' in biggest unrest since crushing of protests in 2009
Trump warns Tehran regime to respect freedom of speech as at least two protesters die in demonstrations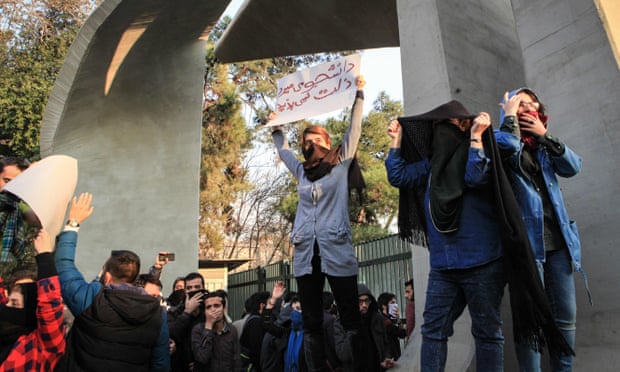 This article titled "Iranians chant 'death to dictator' in biggest unrest since crushing of protests in 2009" was written by Saeed Kamali Dehghan and Emma Graham-Harrison, for The Observer on Sunday 31st December 2017 09.41 UTC
Iranians took to the streets for a third day of anti-government protests in what appeared to be the biggest domestic political challenge to Tehran's leaders since the 2009 Green movement was crushed by security forces.
At least two protesters were killed in the city of Doroud, in Iran's western Lorestan province, as riot police opened fire to contain a group of people said to have been trying to occupy the local governor's office. Clashes between demonstrators and anti-riot police became violent in some cities as the demonstrations spread.
The two men killed in Doroud have been identified as Hamzeh Lashni and Hossein Reshno, according to an Iranian journalist with the Voice of America's Persian service who spoke to their families. Videos posted online showed their bodies on the ground, covered in blood. Another video showed protesters carrying their bodies to safety. At least two others were also reported to have been killed in Doroud, but this could not be independently verified.
Early on Sunday, Iran's interior minister warned protestors that their actions will have consequences. "Those who damage public property, disrupt order and break the law must be responsible for their behaviour and pay the price," Abdolrahman Rahmani Fazli said on state television.
Elsewhere, it appeared that the security forces held people back with sporadic use of teargas. The number of people joining the protests increased as night fell, making it difficult for the authorities to target those taking part.
"Death to Khamenei" chants, calling for the demise of the country's supreme leader, Ayatollah Ali Khamenei, featured in many demonstrations. Videos posted on social media from Tehran and at least one other city – Abhar in Zanjan province – showed protesters taking down banners depicting him. Such chants and acts of resistance are unprecedented in a country where the supreme leader holds ultimate authority and criticising him is taboo.
There were also chants in support of the late shah. The scale of protests in the provinces appeared bigger than those witnessed in 2009, but in Tehran there have so far been fewer people on the streets than there were then.
Donald Trump had earlier used Twitter to warn the Iranian government against a crackdown as thousands of pro-government Iranians also marched in long-scheduled protests in support of the leadership. But, for the third day running, ordinary Iranians, frustrated by the feeble economy, rising inflation and lack of opportunity, defied warnings against "illegal gatherings".
"Everyone is fed up with the situation, from the young to the old," said Ali, who lives near the city of Rasht, where there were large protests on Friday. He asked not to be identified. "Every year thousands of students graduate, but there are no jobs for them. Fathers are also exhausted because they don't earn enough to provide for their family."
Students near Tehran University chanted "death to the dictator", and clashes with security forces followed. It was not clear how many were detained in the capital on Saturday, but scores of protesters are believed to have been arrested in western Kermanshah and eastern Mashhad, the conservative second city of Iran, where the latest unrest began.
Although small-scale economic protests about failed banks or shrinking pensions are not unusual in Iran, it is uncommon for demonstrations to escalate across the country or to mix political slogans with other complaints.
"It spread very quickly in a way that nobody had really anticipated," said Ali Ansari, a professor of Iranian history at the University of St Andrews. "It's the biggest demonstration since 2009. The widespread nature of it and provincial nature of it has been quite a surprise."
He thinks the protests were originally sanctioned by hardliners seeking to undermine the country's moderate president, Hassan Rouhani, but says their apparently spontaneous organisation makes it hard to predict how they will evolve.
"I think they started something and then they lost control of it; it has taken a life of its own. We have to see if it gains traction. The trouble is that there is no organisation. I don't know what the outcome will be."
The state broadcaster Irib covered the protests briefly and they featured on the front pages of many newspapers, unlike in 2009, when most news of protests was kept out of official media.
The Revolutionary Guard, whose Basij militia coordinated the 2009 crackdown, warned that it would "not allow the country to be hurt". But leaders in Tehran, already facing a government in Washington hostile to them and friendly to the country's regional rival, Saudi Arabia, know they are under close scrutiny.
On Twitter, Trump wrote: "Many reports of peaceful protests by Iranian citizens fed up with regime's corruption and its squandering of the nation's wealth to fund terrorism abroad. Iranian govt should respect their people's rights, including right to express themselves. The world is watching! #IranProtests."
That intervention is unlikely to go down well in Iran, where the US is widely believed to be seeking regime change. In June, the US secretary of state, Rex Tillerson, told the US Congress that America was working towards "support of those elements inside of Iran that would lead to a peaceful transition of that government".
There are already deep frustrations that unilateral US financial sanctions have made most banks wary of processing money for Iran or extending credit to its firms. The 2015 nuclear deal led to the lifting of international sanctions so that Iran could sell oil again on international markets but, without access to capital, it is struggling to unleash the growth that Rouhani and his supporters hoped would follow.
The economic problems this creates are serious. Youth unemployment stands at about 40%, more than 3 million Iranians are jobless and the prices of some basic food items, such as poultry and eggs, have recently soared by almost half.
"This has started from the bottom of the society, from the less fortunate," Reza, a Mashhad resident, said. "This is not middle-class protesting, this is lower-class demonstrating, people of the suburbs. Many are fed up with situation."
guardian.co.uk © Guardian News & Media Limited 2010
Published via the Guardian News Feed plugin for WordPress.
Trump Adviser Rudy Giuliani Captured In Compromising Position With Woman He Was Told Was A Reporter In 'Borat Subsequent Moviefilm'
The forthcoming "Borat" sequel reportedly features Rudy Giuliani engaging in provocative behavior with a woman he'd been told was a reporter.
(The Hill) — The forthcoming "Borat" sequel reportedly features Rudy Giuliani engaging in provocative behavior with a woman he'd been told was a reporter.
The adviser to President Trump appears to have unknowingly participated in "Borat Subsequent Moviefilm," the comedy starring Sacha Baron Cohen that is poised to be released Friday on Amazon Prime Video.
According to multiple reports, Giuliani sits down for an interview at a New York hotel with the character Tutar, Borat's teenage daughter who's posing as a TV journalist and was played by 24-year-old actress Maria Bakalova.
The 76-year-old former New York mayor is heard complimenting the supposed reporter and following her to a bedroom, where eventually he stretches out on the bed.
Vanity Fair describes the scene captured on hidden cameras, saying of Giuliani, "His hand is in his pants. Watching it, your brain turns into an exclamation point."
Cohen, as Borat, then reportedly runs into the hotel room sporting a bikini and exclaiming, "She's 15. She's too old for you."
Giuliani did not respond to The Hill's request for comment.
He told the New York Post in July that he had agreed to participate in what he believed was an interview about the Trump administration's COVID-19 response.
"This person comes in yelling and screaming," Giuliani said of Cohen, "and I thought this must be a scam or a shake-down, so I reported it to the police. He then ran away."
Pope Francis Announces Support For Civil Unions For Same-Sex Couples In New Documentary
(CNN) — Pope Francis has declared support for civil unions for same-sex couples for the first time, according to the Catholic News Agency.
The Pope made the historic remarks in a new documentary film, "Francesco," which was released in Rome on Wednesday.
"Homosexual people have a right to be in a family. They're children of God and have a right to a family. Nobody should be thrown out or be made miserable over it," the Pope said in the film, the Catholic News Agency reported."
"What we have to create is a civil union law. That way they are legally covered," the Pope said.
Francis has suggested in past interviews that he is not against civil unions, but this is the first time as Pope that he has directly come out in favor of them.
As Archbishop of Buenos Aires, Francis advocated for same-sex civil unions as an alternative when Argentina was discussing whether to legalize same-sex marriage.
Person Who Flown With Biden In Recent Days Tests Positive For COVID-19
(ABC News) — The Biden campaign has announced that someone who flew with former Vice President Joe Biden to Ohio on Monday and Florida on Tuesday has tested positive for COVID-19. The positive result was discovered through the contact tracing that the campaign undertook following the positive diagnosis of Sen. Kamala Harris' communications director and a non-staff flight crew member.
"Around noon on Thursday, October 15th, we learned – as part of our contact tracing of the crew member on Senator Harris' plane that tested positive for COVID last night – that an administrative member of the Aviation company that charters Vice President Biden's aircraft tested positive for COVID-19," Campaign manager Jen O'Malley Dillon wrote in a statement.
However, the campaign says that Biden and the member who tested positive did not have any passing or close contact during the flight and he is not required to isolate.
"Vice President Biden was not in close contact, as defined by the CDC, with this individual at any time. In fact, the Vice President did not even have passing contact: this individual was over 50 feet from VP Biden at all times, entered and exited the aircraft from a rear entrance, and both the individual and the Vice President wore masks for the entire flight. Given these facts, we have been advised by the Vice President's doctor and the campaign's medical advisors that there is no need for the Vice President to quarantine," she added.