Iranians chant 'death to dictator' in biggest unrest since crushing of protests in 2009
Trump warns Tehran regime to respect freedom of speech as at least two protesters die in demonstrations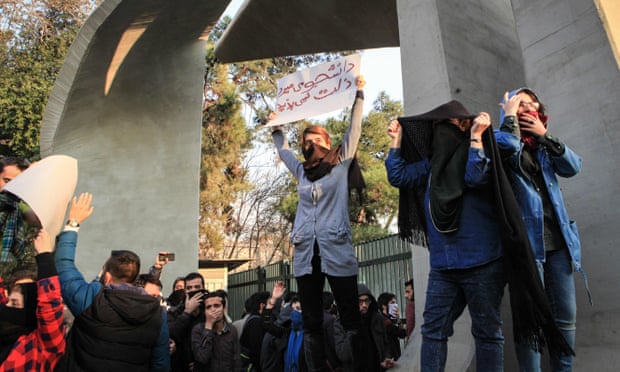 This article titled "Iranians chant 'death to dictator' in biggest unrest since crushing of protests in 2009" was written by Saeed Kamali Dehghan and Emma Graham-Harrison, for The Observer on Sunday 31st December 2017 09.41 UTC
Iranians took to the streets for a third day of anti-government protests in what appeared to be the biggest domestic political challenge to Tehran's leaders since the 2009 Green movement was crushed by security forces.
At least two protesters were killed in the city of Doroud, in Iran's western Lorestan province, as riot police opened fire to contain a group of people said to have been trying to occupy the local governor's office. Clashes between demonstrators and anti-riot police became violent in some cities as the demonstrations spread.
The two men killed in Doroud have been identified as Hamzeh Lashni and Hossein Reshno, according to an Iranian journalist with the Voice of America's Persian service who spoke to their families. Videos posted online showed their bodies on the ground, covered in blood. Another video showed protesters carrying their bodies to safety. At least two others were also reported to have been killed in Doroud, but this could not be independently verified.
Early on Sunday, Iran's interior minister warned protestors that their actions will have consequences. "Those who damage public property, disrupt order and break the law must be responsible for their behaviour and pay the price," Abdolrahman Rahmani Fazli said on state television.
Elsewhere, it appeared that the security forces held people back with sporadic use of teargas. The number of people joining the protests increased as night fell, making it difficult for the authorities to target those taking part.
"Death to Khamenei" chants, calling for the demise of the country's supreme leader, Ayatollah Ali Khamenei, featured in many demonstrations. Videos posted on social media from Tehran and at least one other city – Abhar in Zanjan province – showed protesters taking down banners depicting him. Such chants and acts of resistance are unprecedented in a country where the supreme leader holds ultimate authority and criticising him is taboo.
There were also chants in support of the late shah. The scale of protests in the provinces appeared bigger than those witnessed in 2009, but in Tehran there have so far been fewer people on the streets than there were then.
Donald Trump had earlier used Twitter to warn the Iranian government against a crackdown as thousands of pro-government Iranians also marched in long-scheduled protests in support of the leadership. But, for the third day running, ordinary Iranians, frustrated by the feeble economy, rising inflation and lack of opportunity, defied warnings against "illegal gatherings".
"Everyone is fed up with the situation, from the young to the old," said Ali, who lives near the city of Rasht, where there were large protests on Friday. He asked not to be identified. "Every year thousands of students graduate, but there are no jobs for them. Fathers are also exhausted because they don't earn enough to provide for their family."
Students near Tehran University chanted "death to the dictator", and clashes with security forces followed. It was not clear how many were detained in the capital on Saturday, but scores of protesters are believed to have been arrested in western Kermanshah and eastern Mashhad, the conservative second city of Iran, where the latest unrest began.
Although small-scale economic protests about failed banks or shrinking pensions are not unusual in Iran, it is uncommon for demonstrations to escalate across the country or to mix political slogans with other complaints.
"It spread very quickly in a way that nobody had really anticipated," said Ali Ansari, a professor of Iranian history at the University of St Andrews. "It's the biggest demonstration since 2009. The widespread nature of it and provincial nature of it has been quite a surprise."
He thinks the protests were originally sanctioned by hardliners seeking to undermine the country's moderate president, Hassan Rouhani, but says their apparently spontaneous organisation makes it hard to predict how they will evolve.
"I think they started something and then they lost control of it; it has taken a life of its own. We have to see if it gains traction. The trouble is that there is no organisation. I don't know what the outcome will be."
The state broadcaster Irib covered the protests briefly and they featured on the front pages of many newspapers, unlike in 2009, when most news of protests was kept out of official media.
The Revolutionary Guard, whose Basij militia coordinated the 2009 crackdown, warned that it would "not allow the country to be hurt". But leaders in Tehran, already facing a government in Washington hostile to them and friendly to the country's regional rival, Saudi Arabia, know they are under close scrutiny.
On Twitter, Trump wrote: "Many reports of peaceful protests by Iranian citizens fed up with regime's corruption and its squandering of the nation's wealth to fund terrorism abroad. Iranian govt should respect their people's rights, including right to express themselves. The world is watching! #IranProtests."
That intervention is unlikely to go down well in Iran, where the US is widely believed to be seeking regime change. In June, the US secretary of state, Rex Tillerson, told the US Congress that America was working towards "support of those elements inside of Iran that would lead to a peaceful transition of that government".
There are already deep frustrations that unilateral US financial sanctions have made most banks wary of processing money for Iran or extending credit to its firms. The 2015 nuclear deal led to the lifting of international sanctions so that Iran could sell oil again on international markets but, without access to capital, it is struggling to unleash the growth that Rouhani and his supporters hoped would follow.
The economic problems this creates are serious. Youth unemployment stands at about 40%, more than 3 million Iranians are jobless and the prices of some basic food items, such as poultry and eggs, have recently soared by almost half.
"This has started from the bottom of the society, from the less fortunate," Reza, a Mashhad resident, said. "This is not middle-class protesting, this is lower-class demonstrating, people of the suburbs. Many are fed up with situation."
guardian.co.uk © Guardian News & Media Limited 2010
Published via the Guardian News Feed plugin for WordPress.
Court Orders White House to give Jim Acosta his hard pass back
Federal judge Timothy J. Kelly sided with CNN on Friday, ordering the White House to reinstate chief White House correspondent Jim Acosta's press pass.
The ruling was an initial victory for CNN in its lawsuit against President Trump and several top aides.
The lawsuit alleges that CNN and Acosta's First and Fifth Amendment rights are being violated by the suspension of Acosta's press pass.
Kelly did not rule on the underlying case on Friday. But he granted CNN's request for a temporary restraining order.
This result means that Acosta will have his access to the White House restored for at least a short period of time. The judge said while explaining his decision that he believes that CNN and Acosta are likely to prevail in the case overall.
CNN is also asking for "permanent relief," meaning a declaration from the judge that Trump's revocation of Acosta's press pass was unconstitutional. This legal conclusion could protect other reporters from retaliation by the administration.
"The revocation of Acosta's credentials is only the beginning," CNN's lawsuit alleged, pointing out that Trump has threatened to strip others' press passes too.
That is one of the reasons why most of the country's major news organizations have backed CNN's lawsuit, turning this into an important test of press freedom.
But the judge will rule on all of that later. Further hearings are likely to take place in the next few weeks, according to CNN's lawyers.

(CNN)
CNN sues President Trump for banning reporter Jim Acosta
CNN is filing a lawsuit against President Trump and several of his aides, seeking the immediate restoration of chief White House correspondent Jim Acosta's access to the White House.
The lawsuit is a response to the White House's suspension of Acosta's press pass, known as a Secret Service "hard pass," last week. The suit alleges that Acosta and CNN's First and Fifth Amendment rights are being violated by the ban.
The suit is being filed in U.S. District Court in Washington, D.C. on Tuesday morning, a CNN spokeswoman confirmed.
Both CNN and Acosta are plaintiffs in the lawsuit. There are six defendants: Trump, chief of staff John Kelly, press secretary Sarah Sanders, deputy chief of staff for communications Bill Shine, Secret Service director Joseph Clancy, and the Secret Service officer who took Acosta's hard pass away last Wednesday. The officer is identified as John Doe in the suit, pending his identification.
The six defendants are all named because of their roles in enforcing and announcing Acosta's suspension.
Last Wednesday, shortly after Acosta was denied entry to the White House grounds, Sanders defended the unprecedented step by claiming that he had behaved inappropriately at a presidential news conference. CNN and numerous journalism advocacy groups rejected that assertion and said his pass should be reinstated.
On Friday, CNN sent a letter to the White House formally requesting the immediate reinstatement of Acosta's pass and warning of a possible lawsuit, the network confirmed.
In a statement on Tuesday morning, CNN said it is seeking a preliminary injunction as soon as possible so that Acosta can return to the White House right away, and a ruling from the court preventing the White House from revoking Acosta's pass in the future.
"CNN filed a lawsuit against the Trump Administration this morning in DC District Court," the statement read. "It demands the return of the White House credentials of CNN's Chief White House correspondent, Jim Acosta. The wrongful revocation of these credentials violates CNN and Acosta's First Amendment rights of freedom of the press, and their Fifth Amendment rights to due process. We have asked this court for an immediate restraining order requiring the pass be returned to Jim, and will seek permanent relief as part of this process."
CNN also asserted that other news organizations could have been targeted by the Trump administration this way, and could be in the future.
"While the suit is specific to CNN and Acosta, this could have happened to anyone," the network said. "If left unchallenged, the actions of the White House would create a dangerous chilling effect for any journalist who covers our elected officials."
Acosta has continued to do part of his job, contacting sources and filing stories, but he has been unable to attend White House events or ask questions in person — a basic part of any White House correspondent's role.
Acosta is on a previously scheduled vacation this week. He declined to comment on the lawsuit.
On CNN's side, CNN Worldwide chief counsel David Vigilante is joined by two prominent attorneys, Ted Boutrous and Theodore Olson. Both men are partners at Gibson, Dunn & Crutcher.
Last week, before he was retained by CNN, Boutrous tweeted that the action against Acosta "clearly violates the First Amendment." He cited the Sherrill case.
"This sort of angry, irrational, false, arbitrary, capricious content-based discrimination regarding a White House press credential against a journalist quite clearly violates the First Amendment," he wrote.
David McCraw, the top newsroom lawyer at The New York Times, said instances of news organizations suing a president are extremely rare.
Past examples are The New York Times v. U.S., the famous Supreme Court case involving the Pentagon Papers in 1971; and CNN's 1981 case against the White House and the broadcast networks, when CNN sued to be included in the White House press pool.
The backdrop to this new suit, of course, is Trump's antipathy for CNN and other news outlets. He regularly derides reporters from CNN and the network as a whole.
Abrams posited on "Reliable Sources" on Sunday that CNN might be reluctant to sue because the president already likes to portray the network as his enemy. Now there will be a legal case titled CNN Inc. versus President Trump.
But, Abrams said, "this is going to happen again," meaning other reporters may be banned too.
"Whether it's CNN suing or the next company suing, someone's going to have to bring a lawsuit," he said, "and whoever does is going to win unless there's some sort of reason."
(CNN)
US attorney general Jeff Sessions fired by Trump
Attorney General Jeff Sessions has resigned as the country's chief law enforcement officer at President Donald Trump's request.
Sessions announced his plan to resign in a letter to the White House on Wednesday.
Trump announced in a tweet that Sessions' chief of staff Matt Whitaker would become the new acting attorney general.
The attorney general had endured more than a year of stinging and personal criticism from Trump over his recusal from the investigation into potential coordination between Russia and the Trump campaign.
Trump blamed the decision for opening the door to the appointment of special counsel Robert Mueller, who took over the Russia investigation and began examining whether Trump's hectoring of Sessions was part of a broader effort to obstruct justice.
Timeline:
1973-1975 – Practices law in Alabama.
1975-1977 – Assistant US Attorney for the Southern District of Alabama.
1981-1993 – US Attorney for the Southern District of Alabama.
1986 – President Ronald Reagan nominates Sessions to become a federal judge. The Senate Judiciary Committee opposes the nomination following testimony that Sessions made racist remarks and called the NAACP and ACLU "un-American."
1995-1997- Alabama Attorney General. During this time, an Alabama judge accuses Sessions of prosecutorial misconduct related to the handling of evidence in a case but ultimately, Sessions is not disciplined for ethics violations.
1996 – Elected to the US Senate. Re-elected in 2002, 2008 and 2014.
1997–February 2017 – Republican senator representing Alabama.
February 2, 2009 – Votes in favor of the confirmation of Eric Holder as attorney general.
April 23, 2015 – Votes against the confirmation of Loretta Lynch as attorney general.
February 28, 2016 – Becomes the first sitting US senator to endorse Donald Trump's presidential bid.
November 18, 2016 – President-elect Donald Trump announces he intends to nominate Sessions to be the next attorney general.
January 3, 2017 – An NAACP sit-in to protest the nomination of Sessions as US attorney general ends when six people are arrested at Sessions' Mobile, Alabama, office.
February 8, 2017 – After 30 hours of debate, the US Senate confirms Sessions as attorney general by a 52-47 vote.
March 1, 2017 – The Washington Post reports that Sessions failed to disclose pre-election meetings with the top Russian diplomat in Washington. Sessions did not mention either meeting during his confirmation hearings when he said he knew of no contacts between Trump surrogates and Russians.
March 2, 2017 – Sessions recuses himself from any involvement in a Justice Department probe into links between the Trump campaign and Moscow.
March 10, 2017 – The DOJ abruptly announces the firing of 46 US attorneys, including Preet Bharara of New York. Bharara said that during the transition, Trump asked him to stay on during a meeting at Trump Tower.
April 3, 2017 – The Department of Justice releases a memorandum ordering a review of consent decrees and other police reforms overseen by the federal government in response to complaints of civil rights abuses and public safety issues. During his confirmation hearing, Sessions expressed skepticism about the effectiveness of Justice Department interventions in local police matters.
July 21, 2017 – The Washington Post reports that Sessions discussed policy-related matters with Russian ambassador, Sergey Kislyak before the 2016 election, according to intelligence intercepts. Sessions had previously claimed that he did not talk about the campaign or relations with Russia during his meetings with Kislyak.
October 4, 2017 – In a memo to all federal prosecutors, Sessions says that a 1964 federal civil rights law does not protect transgender workers from employment discrimination and the department will take this new position in all "pending and future matters."
November 14, 2017 – During a House judiciary committee hearing, Sessions says he did not lie under oath in earlier hearings regarding communications with Russians during the 2016 presidential campaign, and denies participating in any collusion with Russia. Sessions also says the DOJ will consider investigations into Hillary Clinton and alleged ties between the Clinton Foundation and the sale of Uranium One.
January 4, 2018 – Sessions announces that the DOJ is rescinding an Obama-era policy of non-interference with states that have legalized recreational marijuana. The reversal frees up federal prosecutors to pursue cases in states where recreational marijuana is legal.
March 21, 2018 – Sessions issues a statement encouraging federal prosecutors to seek the death penalty for certain drug-related crimes, as mandated by law. Seeking capital punishment in drug cases is part of the Trump administration's efforts to combat opioid abuse.
May 7, 2018 – Sessions announces a "zero tolerance" policy for illegal border crossings, warning that parents could be separated from children if they try to cross to the US from Mexico. "If you cross the border unlawfully, even a first offense, we're going to prosecute you. If you're smuggling a child, we're going to prosecute you, and that child will be separated from you, probably, as required by law. If you don't want your child to be separated, then don't bring them across the border illegally."
May 30, 2018 – Trump again expresses regret for choosing Sessions to lead the Justice Department. In a tweet, he quotes a remark from Rep. Trey Gowdy (R-SC) who said that the president could have picked someone else as attorney general. "I wish I did!," Trump tweeted. He had first said that he was rethinking his choice of Sessions as attorney general during a July 2017 interview with the New York Times.