Iranians chant 'death to dictator' in biggest unrest since crushing of protests in 2009
Trump warns Tehran regime to respect freedom of speech as at least two protesters die in demonstrations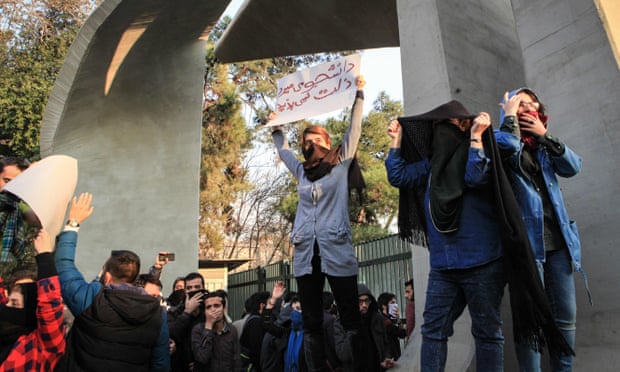 This article titled "Iranians chant 'death to dictator' in biggest unrest since crushing of protests in 2009" was written by Saeed Kamali Dehghan and Emma Graham-Harrison, for The Observer on Sunday 31st December 2017 09.41 UTC
Iranians took to the streets for a third day of anti-government protests in what appeared to be the biggest domestic political challenge to Tehran's leaders since the 2009 Green movement was crushed by security forces.
At least two protesters were killed in the city of Doroud, in Iran's western Lorestan province, as riot police opened fire to contain a group of people said to have been trying to occupy the local governor's office. Clashes between demonstrators and anti-riot police became violent in some cities as the demonstrations spread.
The two men killed in Doroud have been identified as Hamzeh Lashni and Hossein Reshno, according to an Iranian journalist with the Voice of America's Persian service who spoke to their families. Videos posted online showed their bodies on the ground, covered in blood. Another video showed protesters carrying their bodies to safety. At least two others were also reported to have been killed in Doroud, but this could not be independently verified.
Early on Sunday, Iran's interior minister warned protestors that their actions will have consequences. "Those who damage public property, disrupt order and break the law must be responsible for their behaviour and pay the price," Abdolrahman Rahmani Fazli said on state television.
Elsewhere, it appeared that the security forces held people back with sporadic use of teargas. The number of people joining the protests increased as night fell, making it difficult for the authorities to target those taking part.
"Death to Khamenei" chants, calling for the demise of the country's supreme leader, Ayatollah Ali Khamenei, featured in many demonstrations. Videos posted on social media from Tehran and at least one other city – Abhar in Zanjan province – showed protesters taking down banners depicting him. Such chants and acts of resistance are unprecedented in a country where the supreme leader holds ultimate authority and criticising him is taboo.
There were also chants in support of the late shah. The scale of protests in the provinces appeared bigger than those witnessed in 2009, but in Tehran there have so far been fewer people on the streets than there were then.
Donald Trump had earlier used Twitter to warn the Iranian government against a crackdown as thousands of pro-government Iranians also marched in long-scheduled protests in support of the leadership. But, for the third day running, ordinary Iranians, frustrated by the feeble economy, rising inflation and lack of opportunity, defied warnings against "illegal gatherings".
"Everyone is fed up with the situation, from the young to the old," said Ali, who lives near the city of Rasht, where there were large protests on Friday. He asked not to be identified. "Every year thousands of students graduate, but there are no jobs for them. Fathers are also exhausted because they don't earn enough to provide for their family."
Students near Tehran University chanted "death to the dictator", and clashes with security forces followed. It was not clear how many were detained in the capital on Saturday, but scores of protesters are believed to have been arrested in western Kermanshah and eastern Mashhad, the conservative second city of Iran, where the latest unrest began.
Although small-scale economic protests about failed banks or shrinking pensions are not unusual in Iran, it is uncommon for demonstrations to escalate across the country or to mix political slogans with other complaints.
"It spread very quickly in a way that nobody had really anticipated," said Ali Ansari, a professor of Iranian history at the University of St Andrews. "It's the biggest demonstration since 2009. The widespread nature of it and provincial nature of it has been quite a surprise."
He thinks the protests were originally sanctioned by hardliners seeking to undermine the country's moderate president, Hassan Rouhani, but says their apparently spontaneous organisation makes it hard to predict how they will evolve.
"I think they started something and then they lost control of it; it has taken a life of its own. We have to see if it gains traction. The trouble is that there is no organisation. I don't know what the outcome will be."
The state broadcaster Irib covered the protests briefly and they featured on the front pages of many newspapers, unlike in 2009, when most news of protests was kept out of official media.
The Revolutionary Guard, whose Basij militia coordinated the 2009 crackdown, warned that it would "not allow the country to be hurt". But leaders in Tehran, already facing a government in Washington hostile to them and friendly to the country's regional rival, Saudi Arabia, know they are under close scrutiny.
On Twitter, Trump wrote: "Many reports of peaceful protests by Iranian citizens fed up with regime's corruption and its squandering of the nation's wealth to fund terrorism abroad. Iranian govt should respect their people's rights, including right to express themselves. The world is watching! #IranProtests."
That intervention is unlikely to go down well in Iran, where the US is widely believed to be seeking regime change. In June, the US secretary of state, Rex Tillerson, told the US Congress that America was working towards "support of those elements inside of Iran that would lead to a peaceful transition of that government".
There are already deep frustrations that unilateral US financial sanctions have made most banks wary of processing money for Iran or extending credit to its firms. The 2015 nuclear deal led to the lifting of international sanctions so that Iran could sell oil again on international markets but, without access to capital, it is struggling to unleash the growth that Rouhani and his supporters hoped would follow.
The economic problems this creates are serious. Youth unemployment stands at about 40%, more than 3 million Iranians are jobless and the prices of some basic food items, such as poultry and eggs, have recently soared by almost half.
"This has started from the bottom of the society, from the less fortunate," Reza, a Mashhad resident, said. "This is not middle-class protesting, this is lower-class demonstrating, people of the suburbs. Many are fed up with situation."
guardian.co.uk © Guardian News & Media Limited 2010
Published via the Guardian News Feed plugin for WordPress.
Trump Says He'll Make a 'Major Announcement' Saturday Afternoon About Shutdown, Border
Washington (AP) — Trump says he will make a 'major announcement' on Saturday afternoon about the government shutdown and border security.
Trump Administration Separated Thousands More Migrants Than Previously Known
The Trump Administration separated thousands more migrant kids from their families at the border than it previously acknowledged, and the separations started months before the policy was announced, according to a federal audit released Thursday morning.
"More children over a longer period of time" were separated at the border than commonly known, an investigator with the Department of Health and Human Services inspector general's office told reporters Thursday morning.
"How many more children were separated is unknown, by us and HHS" because of failures to track families as they were being separated, he said.
HHS officials involved in caring for the separated children and reunifying families estimated "thousands" of additional children are separated at the border, the inspector general said.
The report sheds new light on the Trump administration's efforts to deter border crossings by separating migrant families. House Democrats who've condemned the separations as inhumane have vowed to investigate the administration's handling of the policy and its health effects on separated children, and the inspector general said additional investigations are in the works.
The inspector general report said some family separations continued, even after President Donald Trump in June 2018 ended the policy amid uproar and a federal court ordered his administration to reunify the families. The June 2018 court order called on the administration to reunify about 2,500 separated children in government custody. Most of those families were reunited within 30 days.
However, HHS received at least 118 separated children between July and early November, according to the report. DHS provided "limited" information about the reason for those separations. In slightly more than half of those cases, border officials cited the parent's criminal history as a reason to separate the families, although they did not always provide details. The court order requiring reunifications said family separations should only occur if border officials could specify when parents posed possible dangers to children or were otherwise unfit to care for them, the inspector general noted.
Federal investigators said they had no details about how many of the "thousands of separated children" who entered the care of HHS before the June 2018 court order had been reunited.
"We have no information about the status of the children who were released prior to the court order," Maxwell told reporters. [POLITICO]
Prince Phillip Involved in Car Crash
#BREAKING Duke of Edinburgh involved in car crash near Sandringham Estate but not injured, Buckingham Palace says.