M5 crash: Three remain critically injured as four killed
A woman and two children remain critically injured in hospital after an M5 crash that killed four people.
A lorry crashed through the central reservation at about 14:30 BST on Saturday and hit at least two vehicles heading northwards, police said.
Highways England said it expected the northbound carriageway between junctions 16 and 14, just north of Bristol, to remain shut on Sunday.
The southbound carriageway reopened shortly before 06:00.
Highways England has tweeted delays are building up from junction 17 and has warned drivers there are also delays on the diversion route along the A38.
No details of the four people killed in the crash, which happened between junctions 15 and 14, have yet been released by police.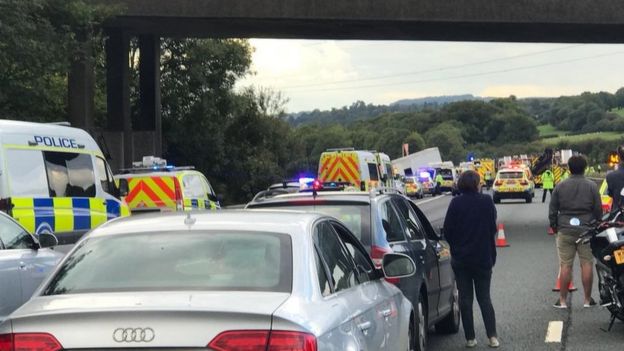 The injured woman and children were taken to hospitals in Bristol after the crash, where they were described as being in life-threatening conditions.
The driver of the lorry was taken to hospital to be checked over as a precaution.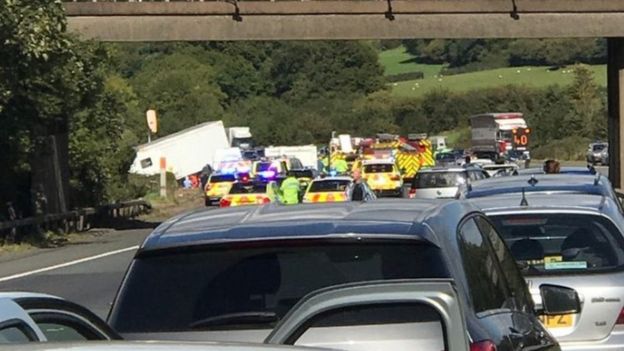 Supt Simon Ellis, of Avon and Somerset Police, previously said the rescue and recovery operation was "painstaking work".
He said officers' priorities were to notify the victims' next of kin and thanked members of the public who "courageously went to the aid of those involved" in the crash.
Motorists were stuck for hours on the motorway following the crash.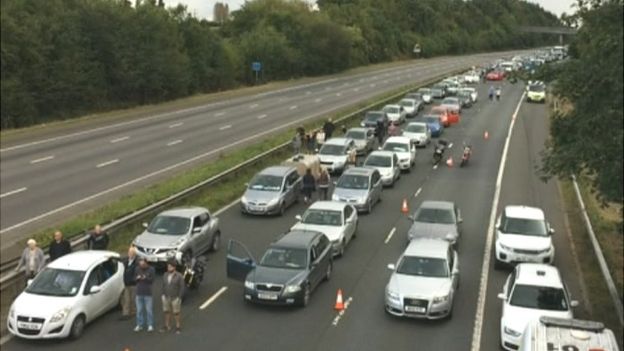 Cardiologist Dr Amer Hamed, who was in a car travelling northbound, seconds behind the vehicles caught up in the collision, said: "There was a lorry involved and at least two other cars. One was absolutely destroyed and another had flipped over."
Dr Hamed said that he and a GP, who was also in a car at the scene, treated an injured woman.
He said motorists who had been stuck on the carriageway for several hours were "very helpful" and had offered food and water to other people who were stuck.
Jasper Fox was travelling southbound with two friends and said they were one of the first on the scene after the collision and did what they could to help.
He said: "The crash was utterly horrific – it is not anything I'd wish anyone to see.
"We've been quoted as heroes but it is just human nature."
Trump Administration Plan To Reopen America Being Released Thursday.
President Donald Trump's plan to re-open the American economy after a near-total shutdown due to the coronavirus pandemic consists of three graduated phases, according to a copy of the proposed actions obtained by ABC News.
Trump unveiled the plan in a video conference call with the nation's governors on Thursday afternoon. The state leaders were instructed that they could move through the guidelines at their own pace and that the guidelines are not formal orders from the federal government, according to a person familiar with the call.
"Phase one" calls on employers to telework where possible, return to work in phases, minimize non-essential travel and make accommodations for the vulnerable populations within the workforce. It calls on all vulnerable individuals to "shelter in place," and when in public, all individuals should continue social distancing.
However, a critical piece to this is the "gating criteria" that all states and regions should achieve before they can move on to phase one. This includes a "downward trajectory" of reported "influenza-like illnesses," "covid-like syndromic cases" and "documented cases" or "positive tests as a percent of total tests" within a 14-day period, as well as the ability for hospitals to "treat all patients without crisis care" and have a "robust testing program in place for at-risk healthcare workers, including emerging antibody testing."
In "phase two," non-essential travel for employers can resume. Schools and organized youth activity can reopen. Bars, gyms and large venues can reopen with proper social distancing measures in places. Churches can open with social distancing. Elective surgeries can resume.
The third phase says bars, gyms and large venues can reopen with limited social distancing and proper sanitation.
The president described the guidelines "as a bit of a negotiation," a source said.
This is a developing story. Please check back for updates.
Preview the Trump Adminstration US reopening plan here or below.
U.K. government extends national lockdown for at least three more weeks to slow country's coronavirus outbreak.
Bernie Sanders Suspends Presidential Campaign
WASHINGTON (AP) — Sen. Bernie Sanders, who saw his once strong lead in the Democratic primary evaporate as the party's establishment lined swiftly up behind rival Joe Biden, ended his presidential bid on Wednesday, an acknowledgment that the former vice president is too far ahead for him to have any reasonable hope of catching up.
The Vermont senator's announcement makes Biden the presumptive Democratic nominee to challenge President Donald Trump in November.
Sanders plans to talk to his supporters later Wednesday.
Sanders initially exceeded sky-high expectations about his ability to recreate the magic of his 2016 presidential bid, and even overcame a heart attack last Octoberon the campaign trail. But he found himself unable to convert unwavering support from progressives into a viable path to the nomination amid "electability" fears fueled by questions about whether his democratic socialist ideology would be palatable to general election voters.
The 78-year-old senator began his latest White House bid facing questions about whether he could win back the supporters who chose him four years ago as an insurgent alternative to the party establishment's choice, Hillary Clinton. Despite winning 22 states in 2016, there were no guarantees he'd be a major presidential contender this cycle, especially as the race's oldest candidate.
Sanders, though, used strong polling and solid fundraising — collected almost entirely from small donations made online — to more than quiet early doubters. Like the first time, he attracted widespread support from young voters and was able to make new inroads within the Hispanic community, even as his appeal with African Americans remained small.
Sanders amassed the most votes in Iowa and New Hampshire, which opened primary voting, and cruised to an easy victory in Nevada — seemingly leaving him well positioned to sprint to the Democratic nomination while a deeply crowded and divided field of alternatives sunk around him.
But a crucial endorsement of Biden by influential South Carolina Rep. Jim Clyburn, and a subsequent, larger-than-expected victory in South Carolina, propelled the former vice president into Super Tuesday, when he won 10 of 14 states.
In a matter of days, his top former Democratic rivals lined up and announced their endorsement of Biden. The former vice president's campaign had appeared on the brink of collapse after New Hampshire but found new life as the rest of the party's more moderate establishment coalesced around him as an alternative to Sanders.
Things only got worse the following week when Sanders lost Michigan, where he had campaigned hard and upset Clinton in 2016. He was also beaten in Missouri, Mississippi and Idaho the same night and the results were so decisive that Sanders headed to Vermont without speaking to the media.
Sanders had scheduled a rally in Ohio but canceled it amid fears about the spread of coronavirus — and the outbreak kept him home as his campaign appeared unsure of its next move. The senator addressed reporters the following day, but also sounded like a candidate who already knew he'd been beaten.
"While our campaign has won the ideological debate, we are losing the debate over electability," Sanders said then.